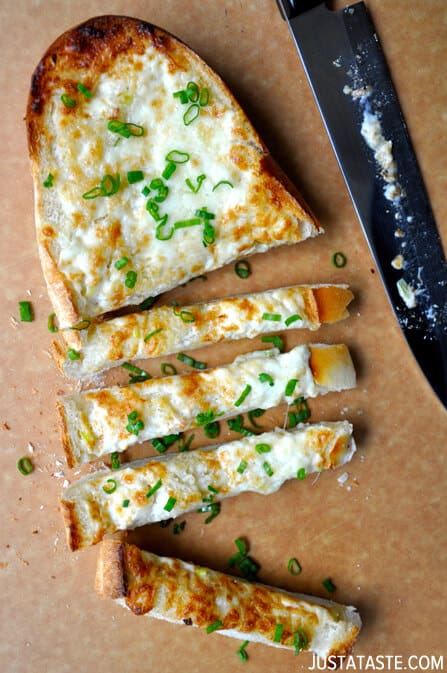 The travelling continued this weekend with a quick trip home to La Jolla for the chance to relax with my family and my three furry best buddies. We spent some quality time both by the pool and in the kitchen, where my mom shared with me her latest culinary find/addiction in the form of Cheesy Garlic Bread. But this isn't your average garlic bread. It's made with a secret ingredient that's the key to the creaminess: mayonnaise.
I know what you're thinking. "Ah, yes. The perfect pairing — a bikini and carbs slathered with an egg yolk emulsion and two types of cheese." But I dare you to stick to just one serving of this gooey, garlicky side. Serve up a slice with a simple spaghetti dish, a citrus-inspired cocktail or make it your main dish as the ultimate poolside snack.
Secret Ingredient Cheesy Garlic Bread

Yield: 10 servings

Prep Time:

Cook Time:

Ingredients:

½ cup (1 stick) butter, softened
1 cup shredded Asiago cheese
1 cup shredded Monterey Jack cheese
1 cup mayonnaise
1 bunch scallions, chopped, green and white parts divided
2 cloves garlic, minced
1 loaf French bread

Directions:

Preheat the oven to 350ºF.
In a bowl, combine the softened butter, Asiago cheese, Monterey Jack cheese, mayonnaise, white parts of the chopped scallions and minced garlic. Stir until thoroughly combined.
Split the loaf of bread in half lengthwise and spread both sides with the cheese mixture.
Bake the bread for 7 minutes then place it under the broiler just until golden brown, about 3 minutes.
Top the bread with the green parts of the chopped scallions, cut it into slices and serve.