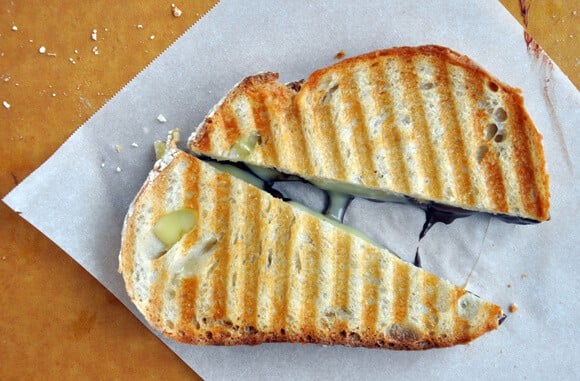 Chocolate with cheese? Has she lost her mind?
Not entirely! Although your first reaction may be to cringe at the sight of this unlikely duo, I hope you'll stick around for a hot, gooey second and allow me to explain.
Chocolate and cheese go together like pork chops and applesauce, like spaghetti and meatballs, like Jersey Shore marathons and my average Saturday night. They just work.
Mark my words: This combination is almost too good to be true, which is probably why so few people have ever gone the route of sandwiching two such fatty stellar ingredients between buttery, toasted sourdough slices.
But I have The Smile restaurant in New York City's lower east side to thank for clueing me in to this combo. After seeing the panini offered on their menu, and then a similar version (with marshmallow fluff and bananas subbed in for cheese) on The Purple Pig's menu in Chicago, I knew the dessert panini trend was starting to take shape.
So throw caution (and your pant size) to the wind and give this uncommon combo a shot. I guarantee you won't be able to stick to just one creamy, crunchy salty-sweet bite.
Chocolate and Brie Panini

Yield: 2 sandwiches (2-4 servings)

Prep Time:

Cook Time:

Ingredients:

4 slices crunchy sourdough bread
4 oz. Brie cheese, cut into slices
2 oz. milk chocolate
2 Tablespoons unsalted butter, melted

Directions:

Preheat the panini to medium-high heat. (Alternately, heat a large non-stick pan over medium-high heat.)
Arrange half the cheese on two pieces of bread, then top each slice with half the chocolate.
Top each stacked slice of bread with another slice of bread to form sandwiches and brush the tops with melted butter.
Place one of the sandwiches butter-side down onto the panini press. Butter the top piece of bread, then close the panini and allow the sandwich to cook for 2 minutes, or until the bread is golden brown and toasted. (Alternately, place the sandwich into the pan and cover it with a lid. Once the first side is toasted, butter the top, flip the sandwich and toast the second side.)
Remove the toasted sandwich from the panini or the pan, slice it in half and serve immediately.
Kelly's Notes:
Because this is such a simple recipe, it all comes down to the quality of the ingredients you use. Allow yourself to splurge on a higher quality chocolate and wedge of Brie. It'll be well worth it!
Brie is much easier to slice when it's cold, rather than at room temperature, so keep it in the fridge until the last possible minute.