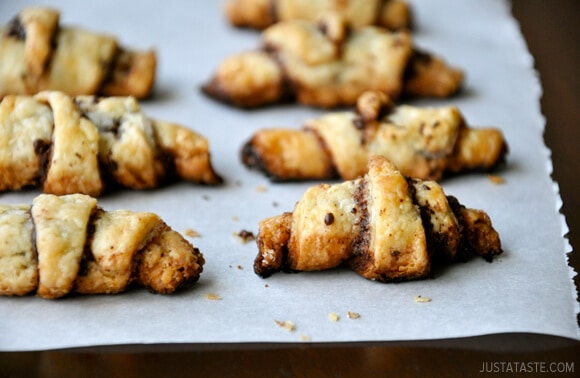 The cookie craze continues, with this week's recipe starring bittersweet chocolate chunks rolled into flaky cream cheese dough. Being in the second week of December, I seem to be hitting my yearly quota of white flour and sugar on an almost daily basis. And this recipe for Chocolate Rugelach, or "little twists," takes the indulgence a step further by cutting cream cheese into a buttery dough sprinkled with cinnamon sugar and rich chocolate chunks.
I splurged on a higher end chocolate simply because it's the centerfold of this dessert. Scharffen Berger makes incredible baking bars and baking chunks with a quality and taste that's hard to match. And if you're looking to save a little time, you can freeze the unbaked regulach then defrost them and bake off batches as needed.
Chocolate Rugelach

Yield: 4 dozen

Prep Time:

Cook Time:

Ingredients:

For the cream cheese dough:
1 (8-oz.) package cream cheese, cold and cubed
2 sticks unsalted butter, cold and cubed
2 1/2 cups flour, plus additional for rolling out the dough
1/2 teaspoon salt
For the chocolate filling:
1 Tablespoon cinnamon
1/2 cup sugar
6 ounces bittersweet chocolate, cut into small pieces or shavings
4 Tablespoons butter, melted

Directions:

Make the dough by combining the cream cheese, butter, flour and salt in the bowl of a food processor. Pulse the ingredients together until the fat becomes evenly dispersed within the flour (the dough will be crumbly but still stick together).
Shape the dough into a ball, place it into a bowl and cover the bowl with plastic wrap. Refrigerate the dough for one hour or up to one day.
Remove the dough from the refrigerator and cut it into 4 pieces. Place 3 pieces back into the refrigerator.
Combine the cinnamon and sugar in a small bowl. Set aside.
Place the ball of dough on a lightly floured surface, and using a rolling pin, roll it into a circle that's about 1/8-inch thick. The dough will be very hard, so it's best to first beat it down with a rolling pin (as if you were making puff pastry). It will loosen up as it comes to room temperature.
Immediately brush the rolled out dough with one-fourth of the melted butter and sprinkle it with one-fourth of the cinnamon-sugar mixture. Sprinkle one-fourth of the chocolate onto the dough, pressing it lightly into the dough.
Cut the dough into 12 wedges.
Roll each wedge up, starting from the thickest end, until you form a crescent shape.
Repeat the rolling, topping and shaping process with the other three pieces of dough.
Place the rugelach on a parchment paper-lined baking sheet and refrigerate it for 30 minutes. (You can also freeze the rugelach at this point for later use.)
Bake the rugelach in a 350ºF oven for 18 to 20 minutes until golden brown. Transfer the rugelach to a cooling rack and let cool completely.