Ever since I moved to New York five years ago, Peter Luger Steakhouse has held the top spot on my restaurant bucket list. I've spent months trying to finagle my way into the notoriously difficult reservation schedule, but this past Monday at 7:45 p.m., I made my way from Manhattan to the borough of Brooklyn to take on the holy grail of steakhouses.
Walking in the front door of Luger's, I had all I could do not to break into an energetic, off-tune rendition of Phil Collins' In the Air Tonight. "I've been waiting for this moment for all my life … Oh, Lord." (Someone cue the drums.)
But Luger's—for all its fame and notoriety—is a love it or hate it spot. "Ugh, so overrated," my friend chimed in last week. "Oh, good. Because now I really can't wait to go." Needless to say, the hype machine was on overdrive. You'll have to tune in to Friday's newsletter for the full report, but you can catch a sneak peek of the meal below (yes, that's the famous Extra Thick-Cut Sizzling Bacon appetizer) and over on Instagram.
What this all has to do with Easy Strawberry Shortcake with Whipped Cream, I am not entirely certain. But Luger's serves their desserts with a side of "schlag," which is essentially a thick, yet fluffy homemade whipped cream that pairs well with pie, cake, strudel, and I'm venturing to say cardboard and/or wallpaper. I'm adding a dollop to the easiest strawberry shortcake you will ever make. Just imagine a one-bowl biscuit recipe that yields buttery, flaky shortcakes perfect for halving and stuffing with strawberries, and of course, extra schlag.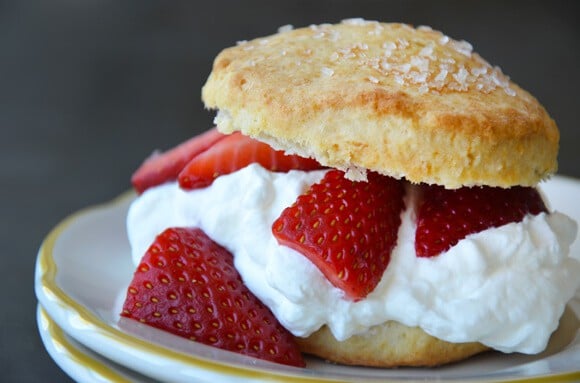 Craving more? Sign up for the Just a Taste newsletter for a fresh serving of content delivered every week to your inbox! And stay in touch on Facebook, Twitter and Pinterest for all of the latest updates.
Easy Strawberry Shortcake with Whipped Cream

Yield: 8 servings

Prep Time:

Cook Time:

Ingredients:

For the shortcakes:
4 cups sliced strawberries
2 Tablespoons sugar
2 cups all-purpose flour
3 teaspoons baking powder
1/2 teaspoon salt
1 1/3 cups heavy cream, plus additional for brushing on shortcakes
2 teaspoons decorative sanding sugar (optional)
For the whipped cream:
1 cup chilled heavy cream
1/4 cup sour cream
3 Tablespoons sugar
1 teaspoon vanilla extract
Equipment: 3-inch circular cookie cutter (optional)

Directions:

Make the shortcakes:
Preheat the oven to 425ºF with a rack in the middle. Lightly butter a baking sheet.
In a small bowl, stir together the sliced strawberries with the sugar. Set aside.
In a large bowl, whisk together the flour, baking powder and salt. Stir in the heavy cream just until a dough forms. Gather the dough into a ball and knead it on a lightly floured surface one to two times. (Don't over-knead the dough or your biscuits will be tough.)
Roll out the dough until it's 1/2-inch thick. Using the cookie cutter, cut out 8 shortcakes and transfer them to the baking sheet. (Alternately, you can trim the sides of the dough into a square and then, using a sharp knife, cut the dough into 8 square shortcakes.)
Brush the tops of the shortcakes with additional heavy cream and then sprinkle them with the sanding sugar (optional). Bake the shortcakes until golden, 15 to 20 minutes, and then transfer them to a rack to cool.
Make the whipped cream:
In the bowl of a stand mixer fitted with the whisk attachment, whisk the heavy cream, sour cream, sugar and vanilla extract on high speed until soft peaks form.
Assemble the shortcakes:
Slice the shortcakes in half and then sandwich the strawberries and whipped cream inside them.