A few weeks ago I took the train out to Philadelphia to see the Phillies face off against the San Francisco Giants. But before I could cheer on my favorite RHP, I knew I had to make the most of my 24-hour visit and grab a table at one of Philly's culinary landmarks: Barclay Prime.
Visions of stadium soft pretzels were quickly eclipsed by the golden brown glory set down on the bread plate in front of me. Eggy, cheesy, and piping hot, Barclay Prime's gruyere and chive popovers were softball-sized and begging for a slathering of butter. I tore off a crunchy corner and a wisp of steam escaped, exposing an airy interior and an aroma of melted gruyere.
I've been on a mission to recreate the popovers in my own kitchen, and sure enough, this past weekend my entire apartment swelled with the scent of melted butter, chopped fresh chives and freshly grated gruyere. If savory isn't your thing, swing over to my Popovers with Whipped Strawberry Butter for a fruit-filled take on the ultimate dinner roll substitute.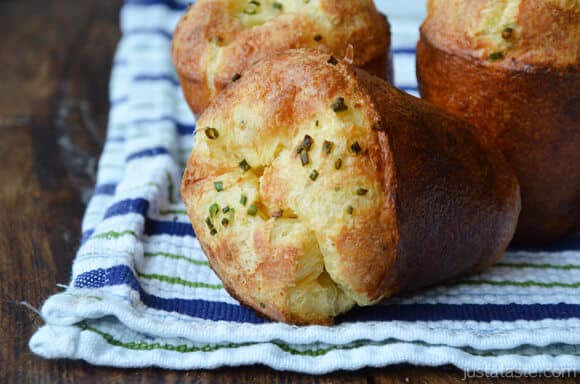 Craving more? Sign up for the Just a Taste newsletter for a second fresh serving of content delivered straight to your inbox each week! And stay in touch on Facebook and Twitter for all of the latest updates.
Gruyere Chive Popovers

Yield: 12 popovers

Prep Time: 10 min

Cook Time: 30 min

Ingredients:

3 cups whole milk
3 cups flour
1 1/2 teaspoons salt
6 eggs
1 1/4 cups (lightly packed) shredded Gruyere cheese, separated
2 Tablespoons minced fresh chives
2 Tablespoons unsalted butter, cut into cubes

Directions:

Preheat oven to 400ºF.

In a medium saucepan over medium heat, warm the milk just until bubbles form around the edges.

Sift the flour and salt together in a bowl. Set aside.

In a separate large bowl, whisk the eggs until frothy, and then slowly whisk the warm milk into the eggs, whisking constantly so eggs don't cook. Whisk in the flour mixture just until combined, then whisk in 1 cup of the cheese and the chives.

Place the popover pan in the oven for 2 minutes to heat. Remove it and add a pat of butter to each cup. Once the butter has melted, portion the batter into the cups, filling each about 3/4 full. Top with a portion of the remaining cheese.

Bake the popovers for 20 minutes, then reduce the oven temperature to 300ºF, and continue baking about 10 more minutes. (See Kelly's Notes.)

Remove the popovers from the oven and serve warm.

Kelly's Notes:

When measuring flour, never scoop the cup into the flour, as it condenses the flour and causes you to use more than the recipe intends. Instead, spoon the flour into your measuring cup and level it with a knife.

The key to perfectly puffed popovers is to keep the oven closed during the entire baking process. As tempting as it is to peek, keep that door shut!