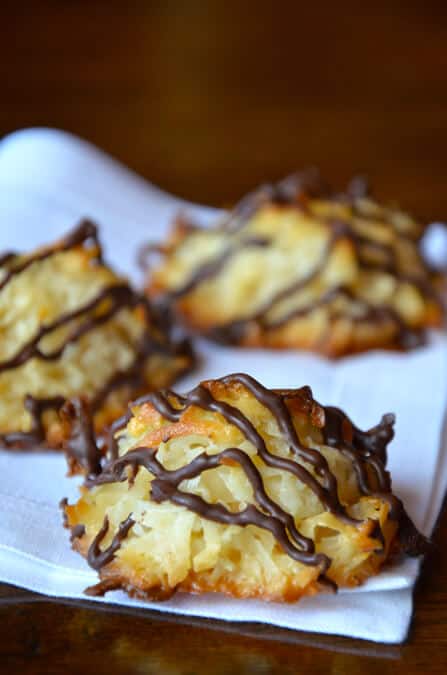 It doesn't get much easier than this. All it takes is five ingredients and 15 minutes to make the softest, chewiest coconut macaroons that are slightly crisped on the edges. Keep 'em simple sans garnishes or fancify each bite with a drizzle of chocolate and a showering of sprinkles atop each bite-sized sweet.
Coconut Macaroons with Chocolate

Yield: 3 to 4 dozen

Prep Time:

Cook Time:

Ingredients:

6 cups sweetened shredded coconut flakes
1 (14-oz.) can sweetened condensed milk
2 teaspoons vanilla extract
1 cup semisweet chocolate chips
1 Tablespoon vegetable oil

Directions:

Preheat the oven to 350ºF.
In a large bowl, stir together the coconut flakes, sweetened condensed milk and vanilla until well combined.
Use a small spoon to scoop out roughly 3 Tablespoons of the mixture to form small mounds, spaced about 2 inches apart on a parchment paper-lined baking sheet.
Bake for 12 to 18 minutes until the tops are golden brown and the macaroons are your desired level of crispiness.
Remove the macaroons from the oven and allow them to cool on the baking sheet for 5 minutes before transferring them to a cooling rack to cool completely.
Melt the chocolate chips and vegetable oil in the microwave or a double-boiler, stirring until smooth. Drizzle the cooled macaroons with the chocolate and serve.