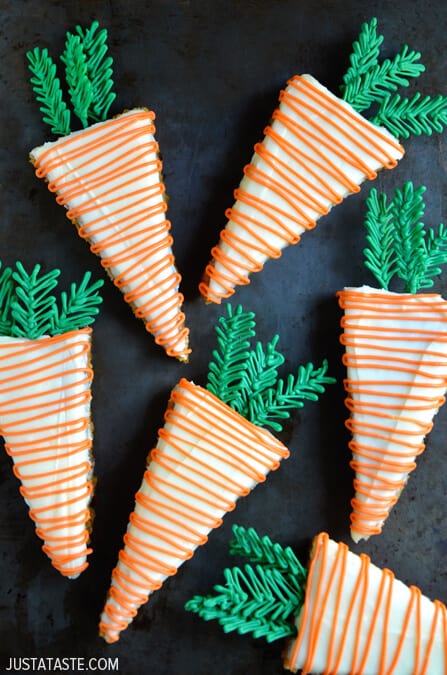 You can now enjoy both your fruits and your veggies all in one serving … of cake. Call me crazy, but I'm pretty sure that information falls under the win-win category. And that is exactly where this easy recipe for Pineapple Carrot Cake with Cream Cheese Frosting should be filed.
If you hate really moist cakes, then we should probably part ways at this point. Because this cake has mastered a moist crumb with a dense texture and the full flavor of pineapple and carrots. And did I mention there's no butter involved? That is, until we get to the tangy bowl-licking-worthy cream cheese frosting. But I couldn't stop there. Someone cue the kitchen twine, candy melts, piping bags and pastry tips!
As it turns out, cutting a 9-by-13-inch cake into carrot-shaped pieces requires a strong understanding of geometry. Either that, or Tetris. So rather than start slicing away until you reach that "oh crud" moment, I've devised a nifty trick: Use kitchen twine to outline and adjust your cuts prior to slicing.
You can follow the pattern I've outlined above to get 10 carrot-shaped slices with a few scraps left over for your favorite taste tester. What's that? Your favorite taste tester is you? Hey! We're twins! Now go preheat your oven and get ready to flex those mental muscles for Pineapple Carrot Cake with Cream Cheese Frosting. It's a workout for the mind and the body.