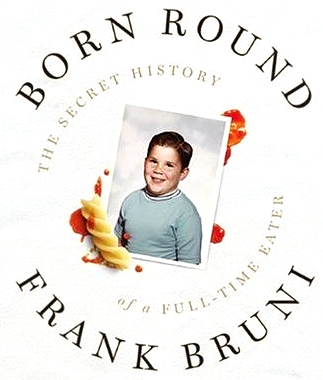 I sped through Frank Bruni's latest novel Born Round faster than a chocolate-dipped cone at Dairy Queen. One minute I'm flipping open the cover, and the next thing I know my eyes are glancing over the final words of this shockingly realistic portrayal of a man and his relationship with food. And while I realize I'm about six months late to the Bruni book craze, I figured I'd share some thoughts as I sit here brainstorming my next recipe post.
Bruni's latest release is more than a food novel. It's an intimately exposed diary. And like all diaries, it contains a series of giddy highs and crashing lows dictated in a way that make the reader feel as if they've been leaked access to a man's deepest, darkest secrets. There were the binges, and then the purges. There were the pills, and then the crash diets. It was a never-ending war waged between a man's calorie-obsessed psyche and his ballooning weight.
Bruni describes a lifelong intimacy with food through a series of anecdotes that stretch from the time he could crawl to the time he was writing reviews as arguably the most powerful culinary pen in the world. The former New York Times restaurant critic recounts,
My life-defining relationship, after all, wasn't with a parent, a sibling, a teacher, a mate. It was with my stomach. And among all the doubts, insecurities and second-guessing that had so often shadowed me, there was one certainty, one constant. I could eat.
And eat he did. Bruni takes the reader on an emotional and gastronomical roller coaster through every high-end restaurant and kitchen across the globe. And with each dip and swerve Bruni makes use of his weight as signposts along the journey. He's fat, he's thin. He's fat, he's thin. I found myself repeatedly flipping to the picture on the back cover, a spoiler of sorts. Did he ever make it back into those size 32 khakis?
Ultimately we learn that Bruni's ironic fate as a full-time eater unleashes a determination that perhaps would otherwise have gone untested. To pair struggle with triumph is to succeed, and for Bruni, success came in the form of overcoming a body image that had him trapped. "Born round, you don't die square," he quotes his grandmother as saying. But while he may have been born round, Bruni makes a pretty convincing claim that with willpower we do have the opportunity to transform our fates.
This post may contain affiliate links.