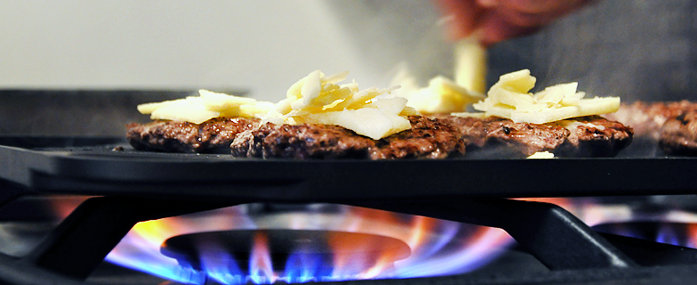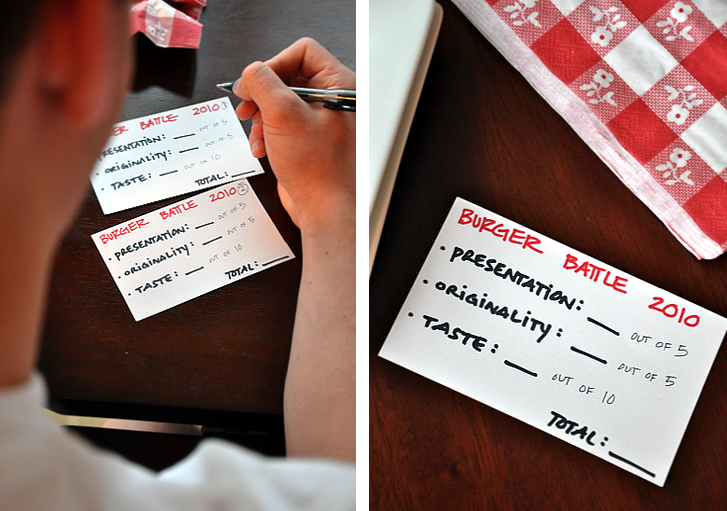 Weekends exist for one purpose and one purpose only: food battles. What can I say … I'm slightly competitive. The latest showdown was of cow-sized proportions, as my friend Jay (yep, the Jay of Recessipe fame) and I went tong-to-tong in Battle Burger.
We sauteed. We grilled. We toasted. We conquered.
Weeks of planning elapsed in minutes as we assembled our distinct creations and served 'em up hot to a panel of highly qualified judges (re: two significant others and my brother, all of whom like to eat). Our efforts were judged on presentation (5 points), originality (5 points) and taste (10 points), and our flavor profiles and burger styles couldn't have been more unique.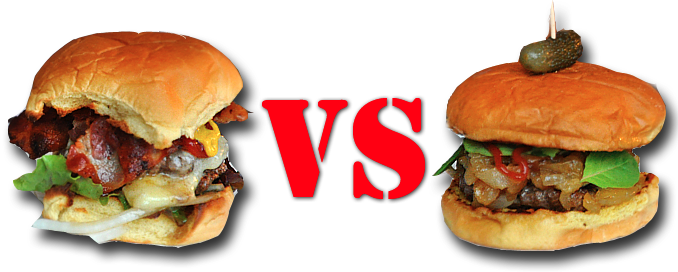 Entry One: Jay
Meat: 85/15 ground beef
Patty Size: two thin, 3-ounce patties
Seasoning: Salt and pepper
Bun: Martin's Potato Roll, toasted
Toppings: bacon, sharp white cheddar cheese, red leaf lettuce, sliced vidalia onion
Condiments: ketchup and mustard
Entry Two: Kelly
Meat: original mix of ground sirloin and ground chuck
Patty Size: one 6-ounce patty
Seasoning: Montreal Steak Seasoning (garlic, black pepper and paprika), Worcestershire Sauce
Bun: Golden Potato Roll, grilled with unsalted butter
Toppings: caramelized onions, Swiss cheese and arugula
Condiments: ketchup
Our burgers were strikingly different, like east and west side of Manhattan different. Jay's carpaccio-thin patties (pictured on the left) threw me off my game momentarily. Two is always better than one. Why didn't I think of that? I stayed true to my plan, creating an original blend of sirloin and chuck mixed with coarsely ground steak seasoning and Worcestershire.
Jay's standout topping was his bacon-cheese combo, a marriage of lean-cut pork and sharp white cheddar. While Jay manned the bacon, I babysat my caramelized onions, sweating them in unsalted butter, sugar and Kosher salt for more than 30 minutes.
Assembly time required strategic maneuvering as we shuffled up and down my 7-by 3-foot kitchen. Jay toasted his bun in the oven. I slathered mine in unsalted butter and slapped it on the grill to crisp amidst the leftover burger juices. We piled our toasted buns high and made our way to the judging table.
No explanation was needed. We cut the burgers into quarters, tried each competitor's creation, then exited to allow the judges to caucus. Minutes later pens scratched away at score cards.
"Overall, I could taste each flavor of Jay's burger better," one judge said. "I preferred the caramelized onions and I hate mustard. So you automatically lose, Jay," another said. We were clearly dealing with some robust palettes and strict judging criteria. In the end, we vowed that each burger had its better qualities and that we were both winners and still, shockingly, friends … that is, until Battle Mac n' Cheese and I blow Jay out of the Béchamel waters. Consider yourself warned.