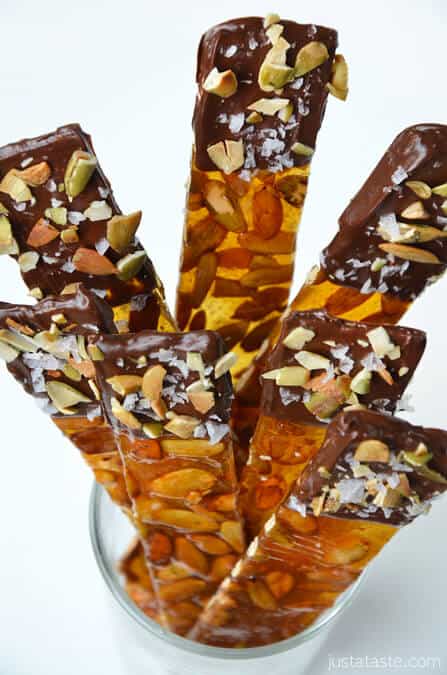 While I'm all about a well-crafted Halloween costume, I could do without the jack-o-lanterns. The distinctive feel of sticking your bare hand into the slippery, hollowed-out core of a pumpkin makes me squirmish. But the tasty treat that rests inside is well worth its tricky retrieval.
Pumpkin seeds go from savory to sweet when toasted and caramelized into crunchy brittle. Cut the homemade Halloween candy into thin sticks or go the more rustic route by breaking it into pieces. Either way, a creamy chocolate coating sprinkled with more pumpkin seeds and a pinch of sea salt will kick those store-bought sweets to the curb.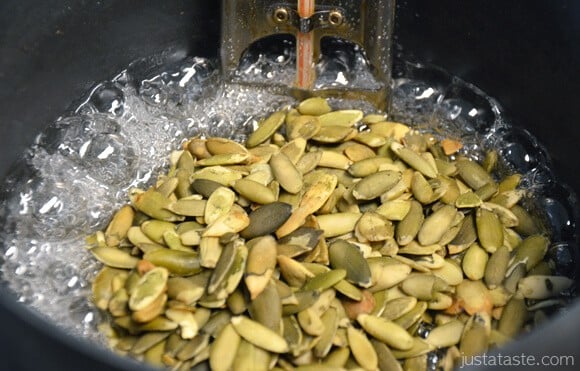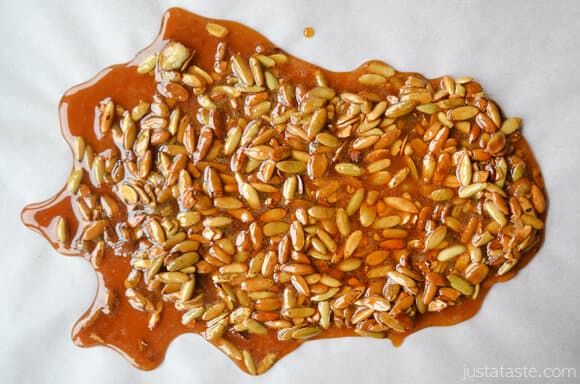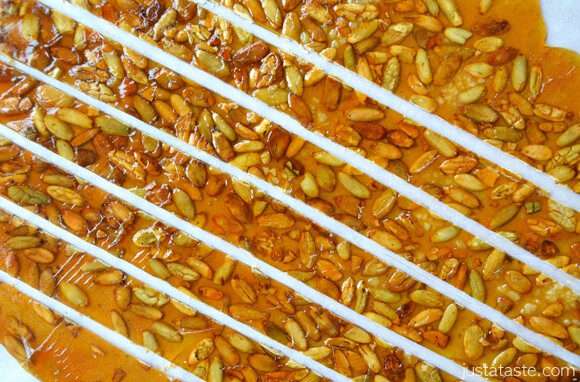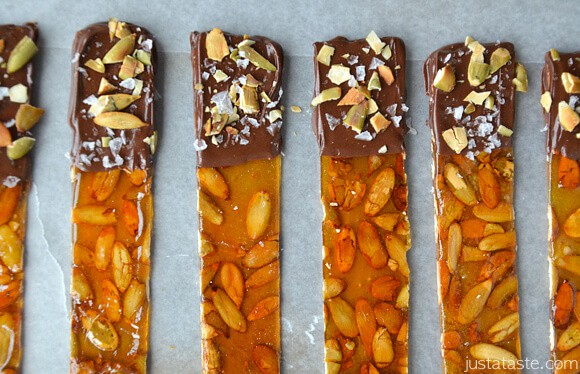 Craving more? Sign up for the Just a Taste newsletter for a fresh serving of content delivered twice a month to your inbox! And stay in touch on Facebook, Twitter and Pinterest for all of the latest updates.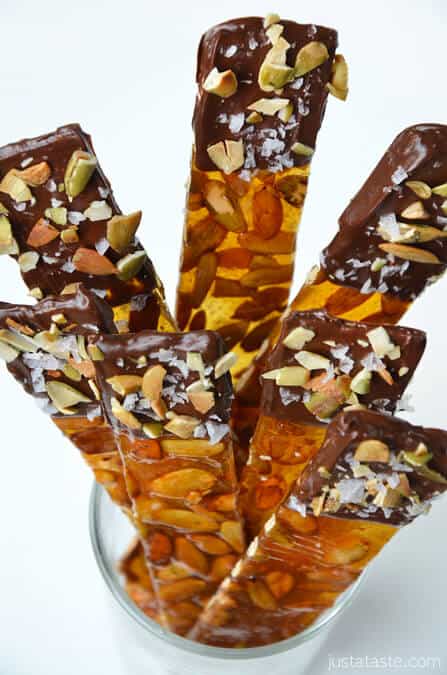 Ingredients
1

cup

sugar

1/2

cup

water

1/8

teaspoon

fine sea salt

1

cup

raw green (hulled) pumpkin seeds (not toasted)

3/4

cup

bittersweet chocolate chips

1

Tablespoon

large-flake sea salt
Instructions
Tape a 24- by 12-inch sheet of parchment paper on your work surface.

In a medium saucepan, bring the sugar, water and fine sea salt to a boil, stirring until the sugar is dissolved. Cook the mixture, without stirring, washing down any sugar crystals from the side of the pan with a pastry brush dipped in cold water, until the syrup registers 238ºF (soft-ball stage) on a candy thermometer, 10 to 12 minutes (sugar syrup will be colorless).

Remove the mixture from the heat and stir in ¾ cup of the seeds with a wooden spoon, then continue stirring until syrup crystallizes, 3 to 4 minutes. The mixture will become dry and crumbly.

Return the pan to medium heat and cook, stirring constantly, until the sugar melts completely and turns a deep caramel color, 4 to 5 minutes.

Pour hot mixture onto parchment and cover with a second sheet of parchment paper. Immediately roll out the mixture between the two sheets as thin as possible with a rolling pin (pressing firmly).

Peel back the top layer of parchment and immediately cut the brittle into pieces with a sharp knife (or allow it to cool until firm and then break it into pieces). Cool brittle completely.

Melt the chocolate in a double-boiler or the microwave. Chop the remaining ¼ cup pumpkin seeds. Dip the cooled brittle in the chocolate then immediately sprinkle the chocolate-covered area with the chopped pumpkin seeds and large-flake sea salt. Let cool until chocolate is firm then serve.

★ Did you make this recipe? Don't forget to give it a star rating below!
Nutrition
Calories:
155
kcal
,
Carbohydrates:
23
g
,
Protein:
2
g
,
Fat:
6
g
,
Saturated Fat:
3
g
,
Sodium:
618
mg
,
Potassium:
114
mg
,
Sugar:
20
g
,
Vitamin C:
0.1
mg
,
Calcium:
37
mg
,
Iron:
0.6
mg