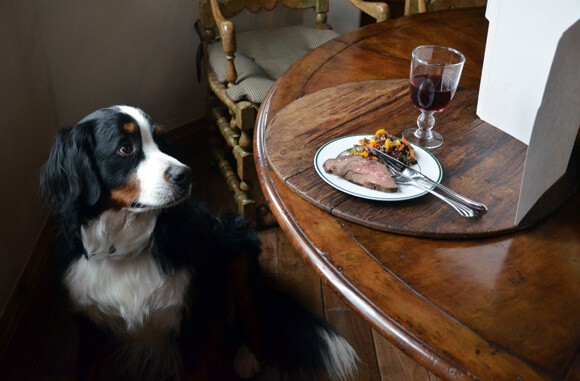 Before I dive into how you can create the ultimate in-home photo setup, I'd like to first announce the winner of last week's Food Blogging For Dummies giveaway. The winner, as selected by Random.org, is Ann (comment number 17) of Cooking Healthy for Me!
As promised, I'll be giving away one copy of the book every Monday until it hits shelves on April 17, so read on to learn about photo setups and then leave a comment for your chance to win! 
Photos are undeniably one of the strongest draws to any food blog, and one of my biggest goals in writing Food Blogging For Dummies was to share how a few simple tricks can turn blah images into mouthwatering masterpieces. But there's no need to break the bank to make it happen.
One of the most common questions I am asked is, "What kind of camera do you use?" And while I'm more than happy to share the model (Nikon D7000) and my go-to lens (18-105mm), what's more important is discovering how you can make the most of any shot, regardless if you're shooting with a digital single-lens reflex (dSLR) camera, a point-and-shoot or even a camera phone.
I dedicated three entire chapters in the book to the subjects of food photography and styling, with an emphasis on how you can best use the equipment and props you already own to capture stunning food images. And while I can't divulge every last tip from the book in this post, I can share one of the most important parts: your in-home photo setup.
The image below depicts my basic in-home setup for photographing food. My camera, located at the 6 o'clock position, is facing the dish, and the light (in this case, it's natural sunlight) is entering the frame from the 3 o'clock position. I've placed a white foam core board, which you can purchase for $1 or less, on the left side of the frame so that it reflects the incoming light back onto the dish.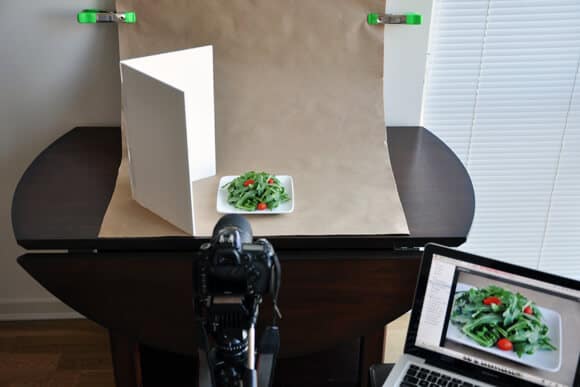 In the book I cover how moving the foam core board, known as a bounce card, closer and further away from the subject affects how much light you are reflecting, and thus how your dish will appear. I also address the wide variety of backdrops and props, and why certain ones work better than others (Hint: Save those paper grocery bags!).
You can check out the Food Blogging For Dummies online Cheat Sheet for more practical tips and pick up a copy of the book for the full tutorial!
*UPDATE: THIS GIVEAWAY IS NOW CLOSED.
To enter to win a copy of Food Blogging For Dummies, leave a comment below that answers the following question:
What is the hardest food to photograph and why?
A single winner will be selected via Random.org and announced on Monday, April 2. This giveaway closes on Sunday, April 1 at 12 p.m. EST.
Craving more? Sign up for the Just a Taste newsletter for a second fresh serving of content straight to your inbox each week! And stay in touch on Facebook and Twitter for all of the latest updates.