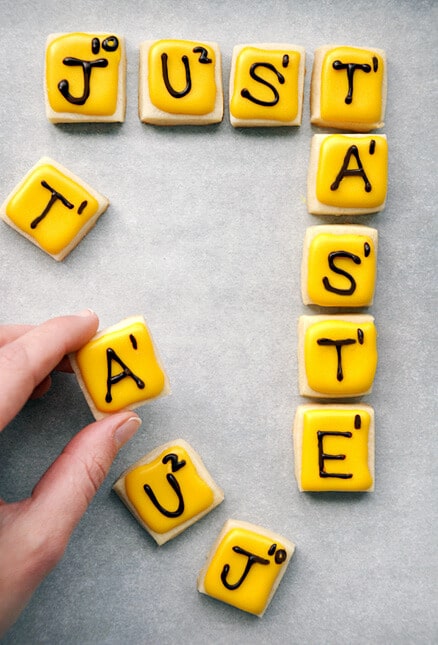 I jumped on the trend train a few months ago and tested out Words with Friends on my iPhone. Needless to say, it took just 2 short months to go from a time killer to an addiction. But I like to count the Scrabble of the 21st century among my healthy obsessions. After all, it helps me learn new words like "VARS" (78 points) and "QI" (63 points). Do I know how to use those words in a sentence? Heck no.
My entire family is hooked on the game and we all enjoy the daily dose of healthy competition. So healthy, in fact, that we take screengrabs of our biggest plays and blast them out in group emails laced with shame. That type of behavior usually leads certain people to be left with Words with No Friends, but ultimately all humiliation is forgotten with the touch of the "re-match" button.
Gaming obsession aside, these buttery sugar cookies are a great way to bake up hours of educational and edible fun. Bakers of all ages can get their hands on these tiny sweets, icing them with different colors then topping them off with their favorite letters.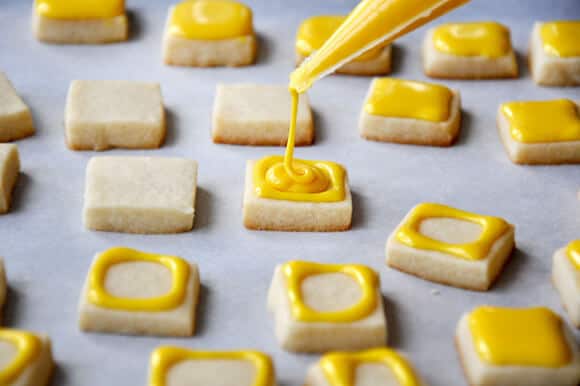 Ingredients
For the cookies:
3

cups

all-purpose flour

2

teaspoons

baking powder

1

cup

sugar

2

sticks salted butter, cold and cut into cubes

1

egg

1

teaspoon

vanilla extract
For the royal icing:
2

large egg whites

2

teaspoons

fresh lemon juice

3

cups

confectioners sugar, sifted

Yellow food coloring

1

cup

chopped bittersweet chocolate
Equipment:
piping bag (or plastic bag); small circular piping tip
Instructions
Make the cookies:
Preheat the oven to 350ºF and lightly flour your work surface.

Sift together the flour and baking powder. Set it aside.

In the bowl of a stand mixer fitted with the paddle attachment, cream together the sugar and butter.

Add the egg, and then add the vanilla extract.

Add the flour mixture to the butter mixture in thirds and beat it just until combined making sure to scrape down the sides of the bowl as needed.

Transfer the dough to the lightly floured surface and roll it until it's about 1/4-inch thick all over.

Using a pizza cutter or sharp knife, cut the dough into small squares measuring about 3/4-inch on all sides.

Transfer the squares to a parchment paper-lined baking sheet and bake the cookies for 6 to 8 minutes until they're pale golden brown.

Transfer the cookies to a cooling rack, and while the cookies cool, make the frosting.
Make the royal icing:
In the bowl of a stand mixer fitted with the whisk attachment, beat the egg whites with the lemon juice until combined. Add the sifted confectioners sugar in batches and beat on "low" until combined and the frosting has a smooth texture.

Add the yellow food coloring, 1 teaspoon at a time, until you achieve your desired color. Transfer the icing to the pastry bag then pipe the icing onto the cookies, starting by piping a border around each square and then filling in the center. If you're not using the icing immediately, transfer it to an airtight container, as it will harden when exposed to air.

Once the yellow icing has dried fully, melt the chocolate in a microwave, stirring until smooth. Transfer the melted chocolate to a pastry bag and pipe on your desired letters and corresponding numbers.

Allow the chocolate to harden fully then serve.

★ Did you make this recipe? Don't forget to give it a star rating below!
Nutrition
Calories:
577
kcal
,
Carbohydrates:
117
g
,
Protein:
7
g
,
Fat:
9
g
,
Saturated Fat:
5
g
,
Cholesterol:
1
mg
,
Sodium:
19
mg
,
Potassium:
287
mg
,
Fiber:
3
g
,
Sugar:
77
g
,
Vitamin A:
10
IU
,
Vitamin C:
0.5
mg
,
Calcium:
64
mg
,
Iron:
3.7
mg
This post may contain affiliate links.
Cookie recipe adapted from Bake at 350, whose Scrabble cookies were an inspiration. Royal icing recipe adapted from Joy of Baking.