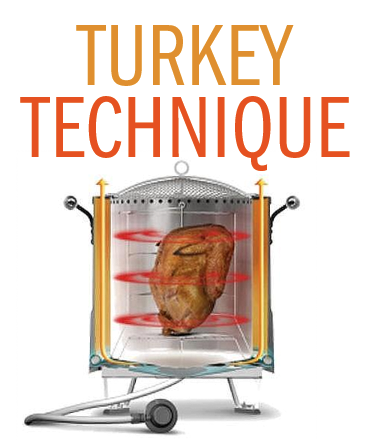 We're staying true to tradition this year and heading to my grandmother's house in Crown Point, Indiana, for our annual Thanksgiving rendezvous. The trip is five days worth of feasting with more than 20 family members, and it includes our traditional favorites like Veggie Bars, Texas Caviar, 24-hour Salad, Pumpkin Bars and more. But the real treat has always been the dueling turkeys.
Forget roasting. When our extended families join forces, it's all about the deep-frying. Last year I blogged about infrared being the new black, and it looks like the cutting edge take on turkey technique will be making a reappearance at this year's Thanksgiving table. We'll also be doing a second fry with our more traditional method, which includes an outdoor burner, a cauldron of scalding oil, a meat hook and a hockey stick.
Intrigued? Stay tuned for pictures and feel free to share your favorite Thanksgiving recipes and nontraditional turkey techniques.
Image courtesy of Char-Broil.