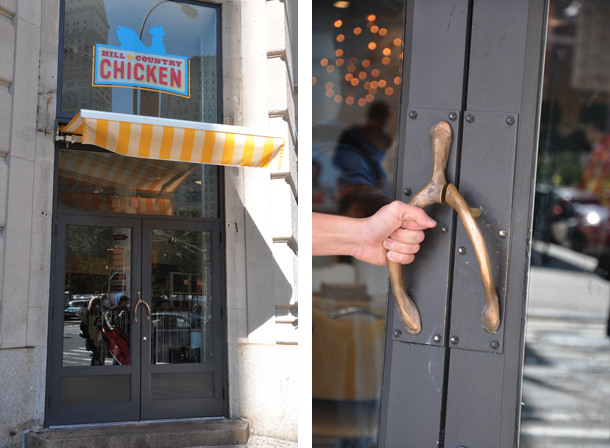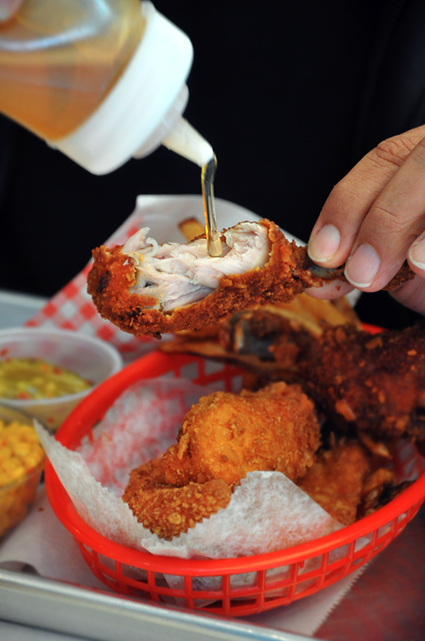 Hill Country Chicken opened less than a month ago, adding the third and final point to what I like to refer to as the Bermuda Triangle of Overindulgence. New York City's Flatiron District is home to Shake Shack, Eataly and now, Hill Country Chicken, all within a block of one another.
A Shake Shack loyalist for years and an Eataly convert, I was actually pleasantly surprised by what greeted me at Hill Country Chicken. I'm the first to admit that I am not a fan of their sister joint, Hill Country Barbecue, as I'm more of a Brother Jimmy's girl. But I figured the non-stop crowds had to be attributed to something more than Eataly's overflow.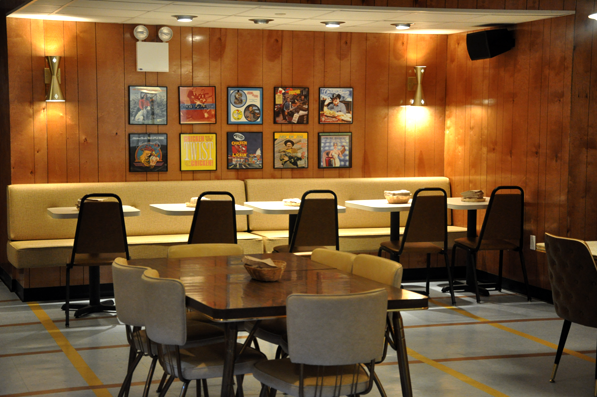 Our Sunday lunch at the newest neighborhood joint proved to be worth the trip. The decor is a throwback to any grandmother's postwar-era living room and kitchen, complete with a basement (pictured above) full of additional seating. A steady line of customers form alongside the cafeteria-style countertops piled high with towering mounds of fried chicken. My eating crew and I stepped up to the plate, ordering a selection of chicken tenders and drumsticks along with fries, biscuits, spicy pickles and roasted corn salad. We paired our crispy picks with honey mustard, homemade ranch and barbecue for dipping. And who could ignore the allure of homemade soda?
We took our selections to a table by the window and then unleashed our appetites. Crispy on the outside, moist in the center, the chicken tenders were ounce after ounce of perfection. The batter was perplexingly light and yet it clung endlessly to the skinless tenders. I dipped back and forth between the barbecue and the buttermilk ranch. Four tenders later and I still couldn't pick my favorite.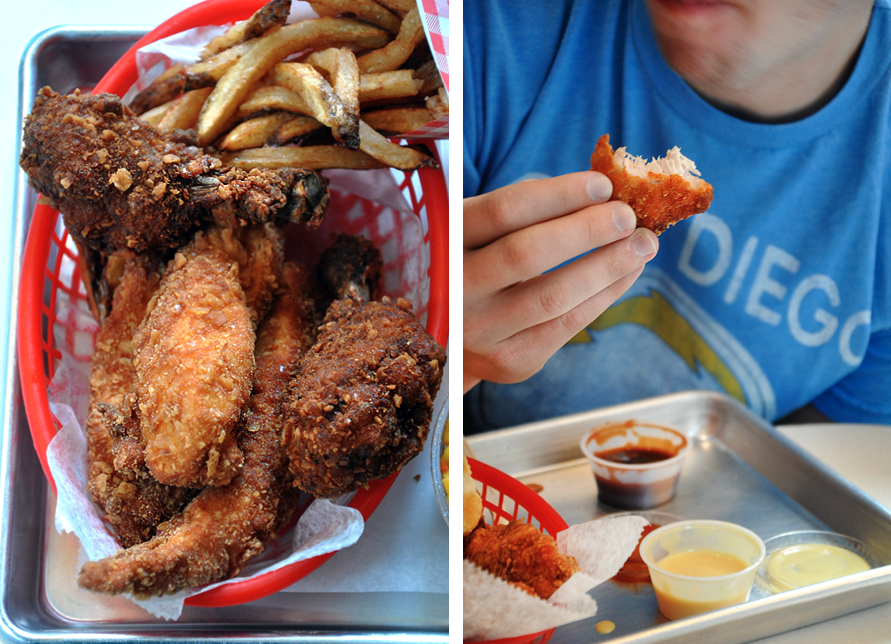 The fries were decent, but definitely not awe-inspiring, and the biscuits were exceedingly rich. But the pickles were a surprise stand-out, offering both a sweet and spicy kick to an otherwise entirely savory meal. We washed it all down with homemade rootbeer and cola.
The fried chicken ranks among the best I have ever tasted, and the overall friendliness of the environment makes Hill Country Chicken a new spot on my list of New York City favorites.
Hill Country Chicken
1123 Broadway (corner of 25th Street)
New York, NY 10010
http://www.hillcountrychicken.com/