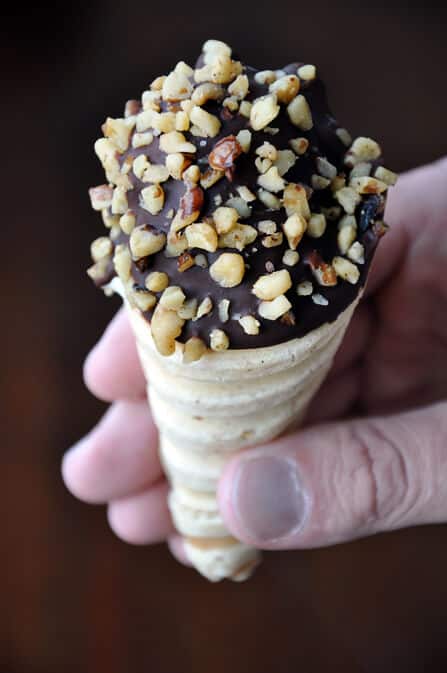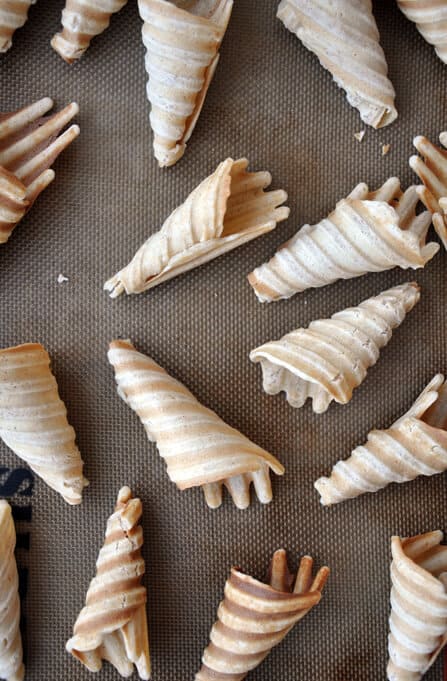 I have a confession to make. I've been eating out at restaurants a lot recently. And I mean a lot.
Not that I need an excuse to sample New York City's bustling food scene, but my brother is moving to Chicago in a week, which means I'm losing my culinary partner in crime. Our latest meal landed us at Burger & Barrel Winepub on the corner of West Houston and Mercer, where we sampled tuna tartare, short rib tacos, the award-winning Bash-Style Burger with bacon jam and caramelized onions, crispy tater tots and the sweet cap to our savory gluttony: Miniature Ice Cream Drumsticks.
It took me three bites to down the entire cone. And the second I got home I was thinking about how I wanted to have another. Scratch that. I needed to have another. So I started searching and arrived at Panini Happy, authored by my fellow San Diegan, the talented Kathy Strahs. Homemade waffle cones, no waffle iron required? I'm in!
I preheated my panini press, cranked out two dozen or so mini waffle cones and then filled and decorated until I could no longer stand the temptation. We all know a watched pot won't boil, but what about a watched ice cream cone in a freezer? The second the chocolate hardened I was handing out the cones to my taste-testers. Crunchy, creamy and with a salty-sweet bite, the drumsticks were the perfect blend of flavors and textures right down to the very last lick.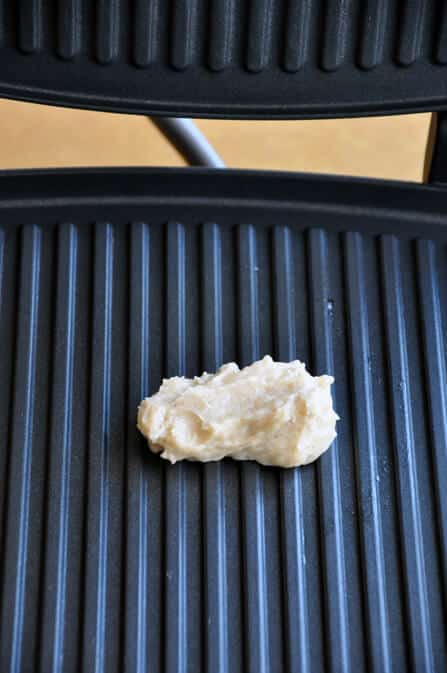 The best way to get a circular cone is to start with the batter in the shape of a brick.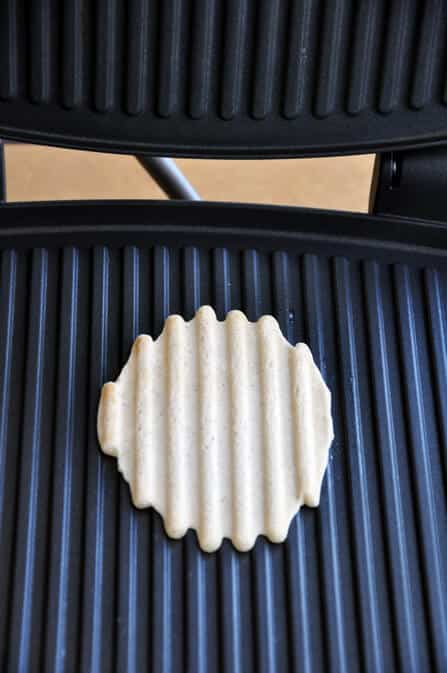 The batter will grow more in length than in width, resulting in a circular waffle.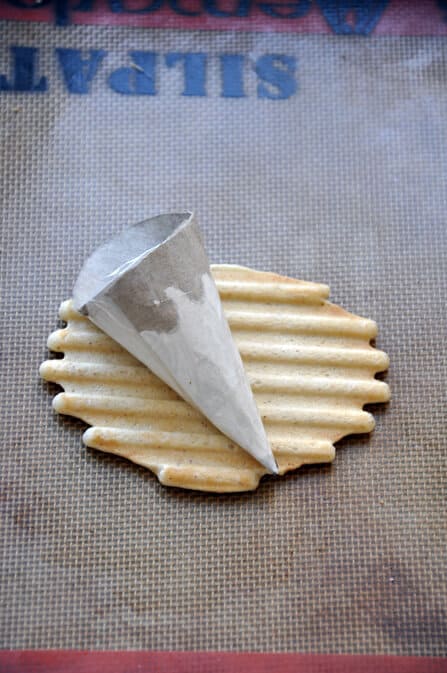 You can make a cone mold using any sort of pliable cardboard. (I made mine from a sandwich bag box.) But the key is to work very quickly to form the cones while they're still hot off the press.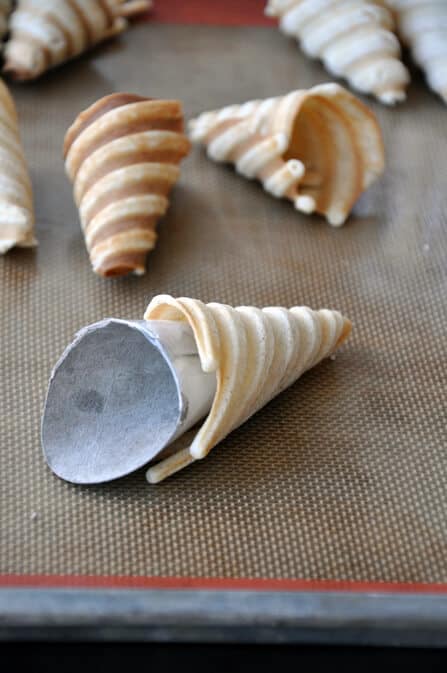 Allow the formed cones to harden around the mold for 30 seconds and then repeat the process until you have used all of the batter.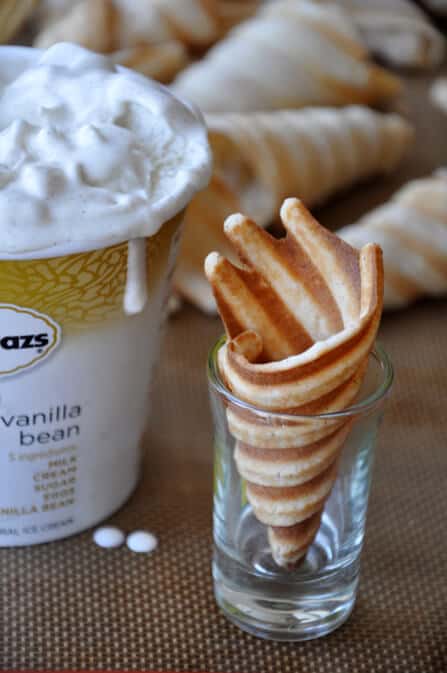 I microwaved my favorite store-bought ice cream for 15 seconds so that it was just soft enough to scoop. It's also easiest to fill the cones by propping them up in a shot glass.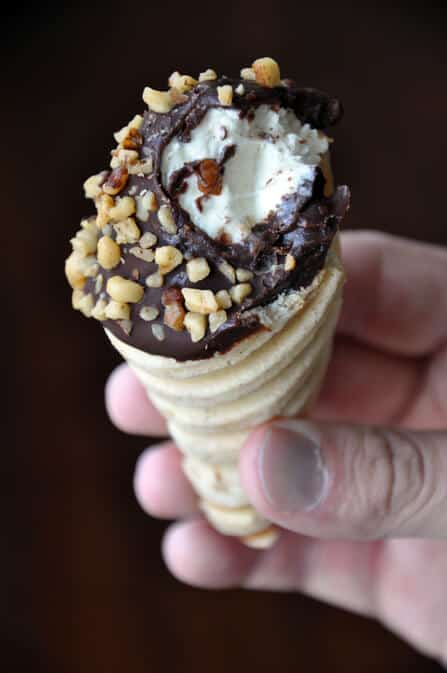 The frozen cones go for a quick dip in a chocolate bath and then get doused with toppings. And in case you're wondering why I stopped short at chopped nuts and toasted coconut for garnishes, it's because my rainbow sprinkles ended up here…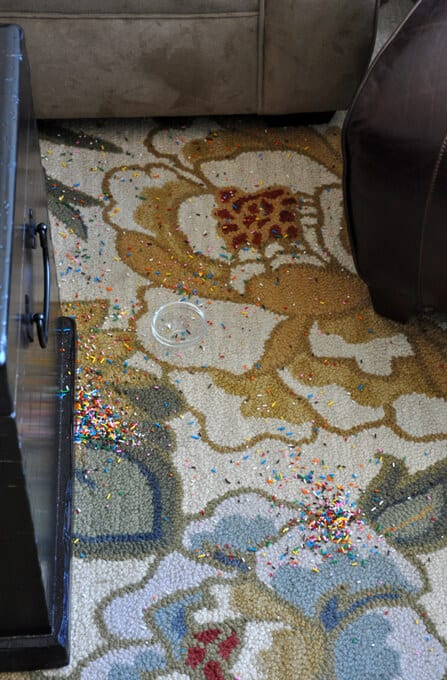 …ground into my living room rug. Party foul or not, my newfound love of homemade waffle cones isn't going to be a one-post wonder. I have even bigger dreams for Mr. Panini, so stay tuned for a special confectionery throwback circa 1999! And in the meantime, I'd love to know: What other nontraditional things do you make on your panini press?

Update: A big shout out to BlogHer for featuring this recipe as part of their Month of Ice Cream series!
Craving more? Sign up for the Just a Taste newsletter for a second fresh serving of content straight to your inbox each week! And stay in touch on Facebook and Twitter for all of the latest updates.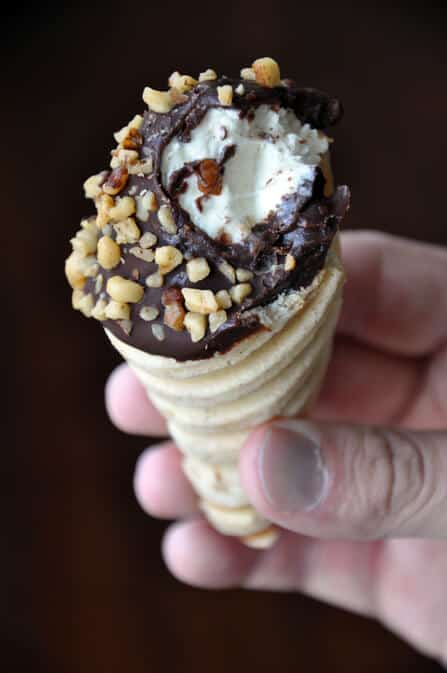 Servings
24
mini drumsticks
Ingredients
For the waffle cones:
1

cup

heavy cream

1 1/2

teaspoons

vanilla extract

1 1/2

cups

powdered sugar

1 1/2

cups

all-purpose flour

1/4

teaspoon

ground cinnamon

1

tablespoon

cornstarch
For assembly:
1 1/2

cups

semisweet chocolate chips

5

Tablespoons

unsalted butter

2

pints

vanilla ice cream (Recommended: Häagen-Dazs Five, vanilla bean)
Toppings:
chopped nuts, toasted coconut, sprinkles or toffee bits
Instructions
In the bowl of a stand mixer fitted with the whisk attachment, whip the heavy cream with the vanilla extract on medium-high speed until mousse-like, about 5 minutes.

Sift together the powdered sugar, flour, cinnamon and cornstarch in a separate bowl then gently fold the dry mixture into the wet until it is fully incorporated. Cover the bowl with plastic wrap and let it sit at room temperature for 30 minutes.

Heat the panini press to medium-high heat (or 375°F).

Place a heaping tablespoon of batter in the center of the panini press, close the lid and cook the waffle for about 90 seconds.

Quickly remove the waffle from the press and shape it around your cone mold, pressing together the bottom point to close the tip of the cone. Allow the cone to cool around the mold for 1 minute. Repeat the process with the remainder of the batter.

Microwave the ice cream for 15 seconds, or just until it is easy to scoop.

Fill each cone with ice cream, placing the filled cones in the freezer as you work. Freeze the cones for at least 30 minutes.

Bring a large saucepot of water to a boil, then add the chocolate chips and butter to a smaller saucepot and hold it over the larger to create a double boiler. Use a spatula to stir together the chocolate and butter until it is fully melted and smooth.

One by one, dip the frozen cones into the melted chocolate and garnish them immediately with your toppings of choice. Return the dumsticks to the freezer for 15 minutes before serving.
Kelly's Notes:
To prevent the ice cream from dripping out of the bottom of the cones, drop a few chocolate chips or nuts into the cone before filling it.

Some freezer drawers have grates, which are perfect for holding the ice cream cones as they freeze. Otherwise, lay them flat on a sheet tray.

The chocolate will be very hot, but the key is to make sure the filled cones are frozen solid so that the ice cream doesn't melt when it touches the chocolate.

Immediately garnish your dipped cones with toppings, as the chocolate will dry in an instant.

★ Did you make this recipe? Don't forget to give it a star rating below!
Nutrition
Calories:
261
kcal
,
Carbohydrates:
29
g
,
Protein:
3
g
,
Fat:
14
g
,
Saturated Fat:
8
g
,
Cholesterol:
37
mg
,
Sodium:
37
mg
,
Potassium:
158
mg
,
Fiber:
1
g
,
Sugar:
19
g
,
Vitamin A:
390
IU
,
Vitamin C:
0.3
mg
,
Calcium:
66
mg
,
Iron:
1.1
mg
This post may contain affiliate links.