Join me in my kitchen as I share the before and after reveal of the Just a Taste kitchen remodel, including how I created a multipurpose space that functions as my office, photo and video studio, and prop closet.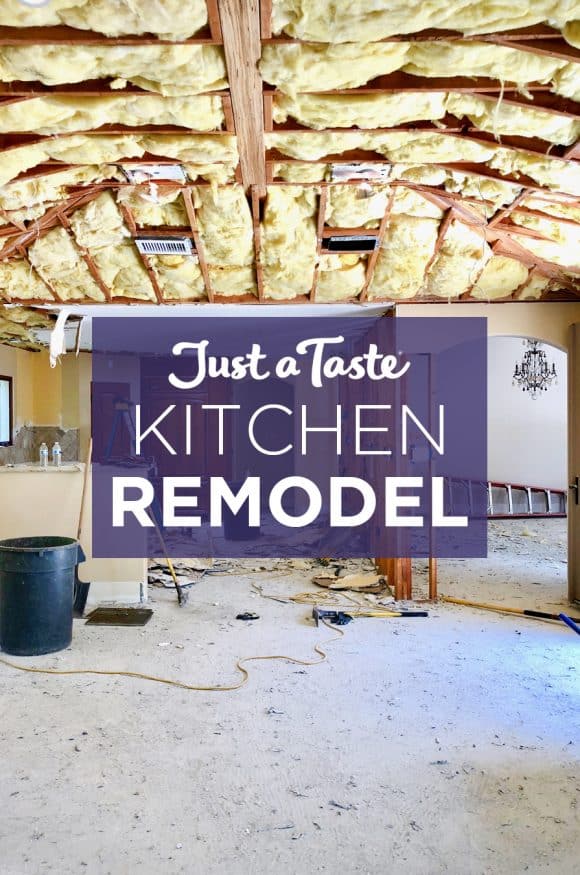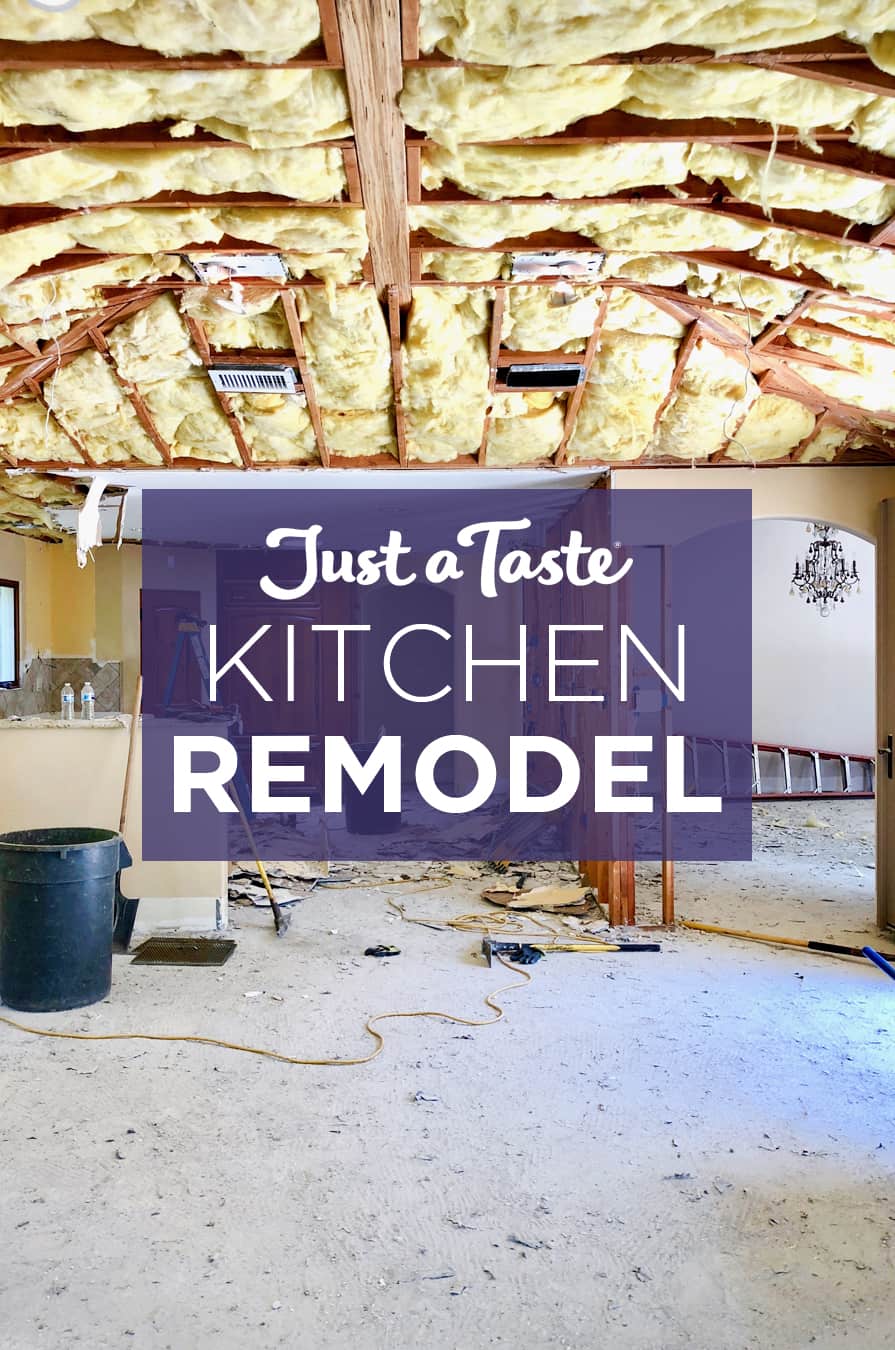 Ten years.
That's how long I have spent waiting for the Just a Taste kitchen.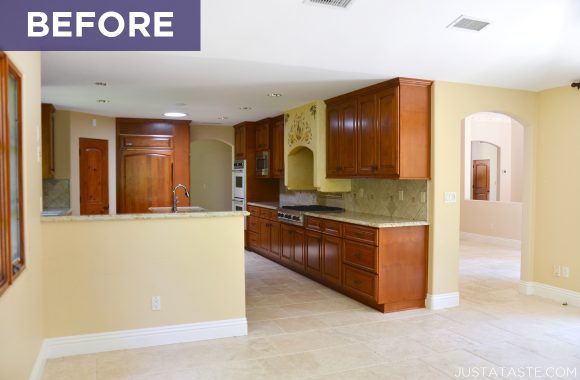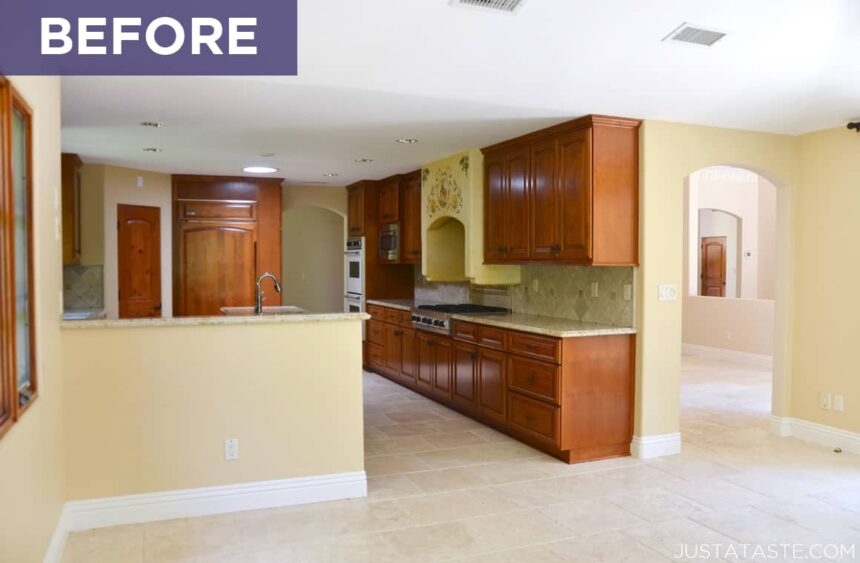 It seems only fitting that my dream kitchen finally became a reality during the same year I marked the 10-year anniversary of the site. In the past decade, I've shared more than 850 recipes, graduated from culinary school, wrote a book, moved across the country, got married, got a dog, had two kids (in less than two years!) and been inspired by our corner of the internet that includes millions of cooking enthusiasts that span the globe, a.k.a. YOU!
Now, after 10 years and six moves, I've finally turned my dream kitchen into a reality.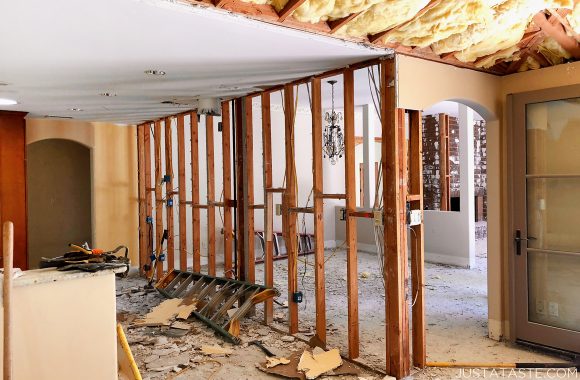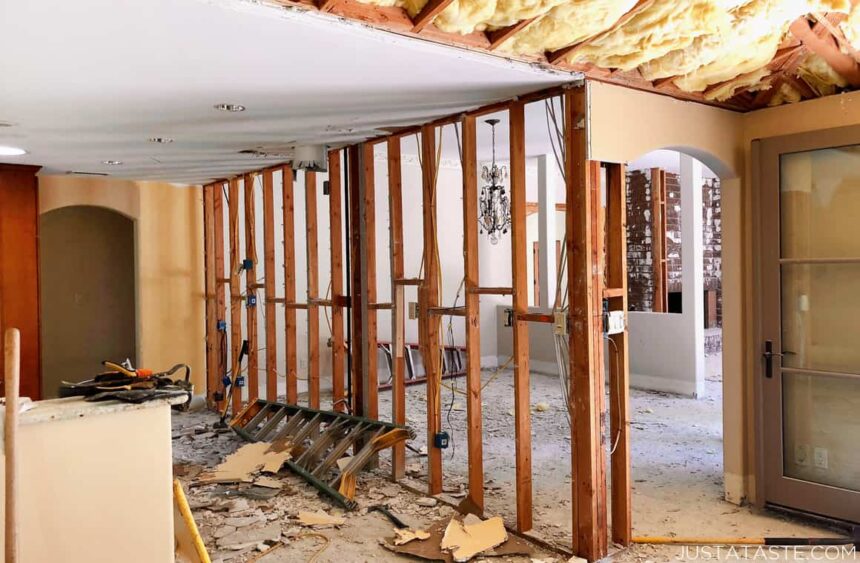 Designing a home kitchen comes with many decisions, but when that kitchen also serves as my office, my photo and video studio, and my prop closet, well, you can imagine the time spent laying out every single inch of this space.
The biggest change we made to the existing layout was the removal of the wall dividing the kitchen (pictured above) from the formal dining room (pictured below). With two small kids, we don't have much need for a formal dining area, so the decision to knock down the wall separating the two spaces allowed us to get the open feel we were hoping for.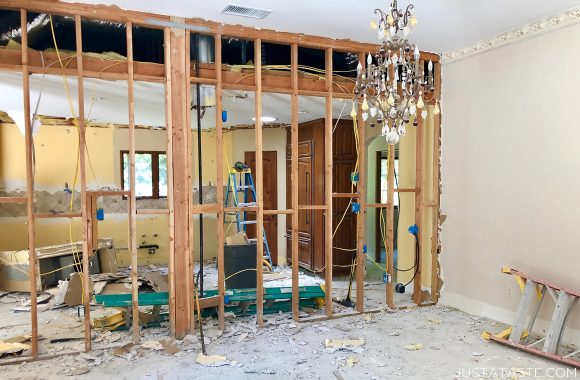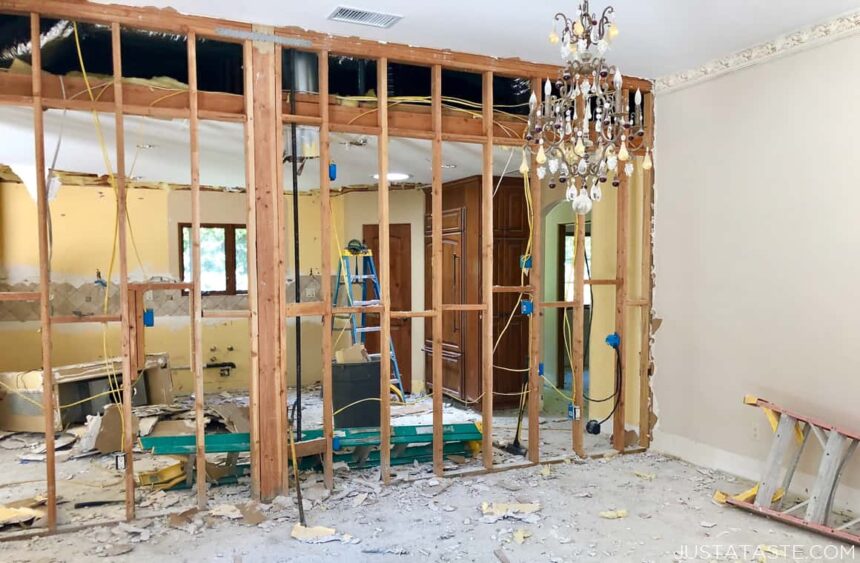 I worked with the talented interior designer Mindy Gayer of Mindy Gayer Design Co. to bring my kitchen vision to life. With just a few buzzwords ("Light! Bright! White!"), she not only captured the exact look and feel I was aiming for, but she also ever-so-gently nudged me out of my comfort zone. (Hello, blue kitchen island!)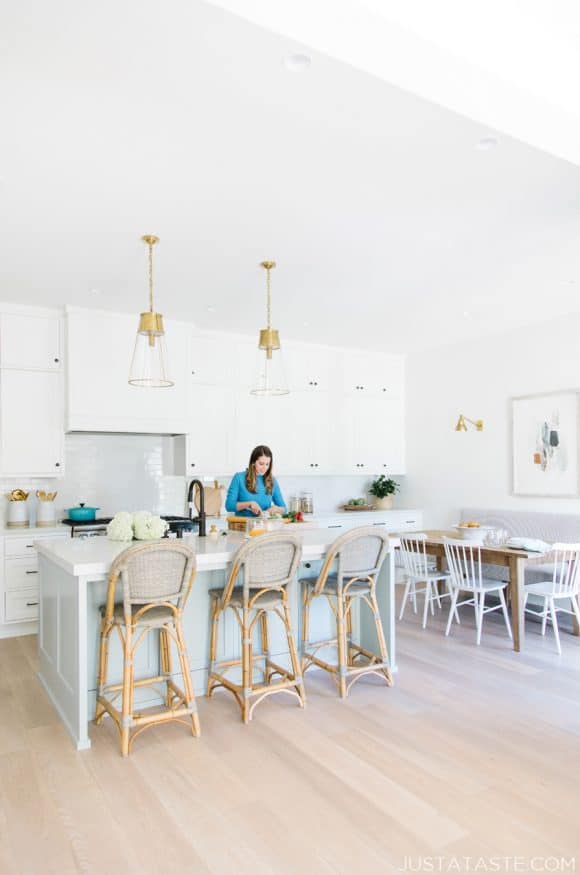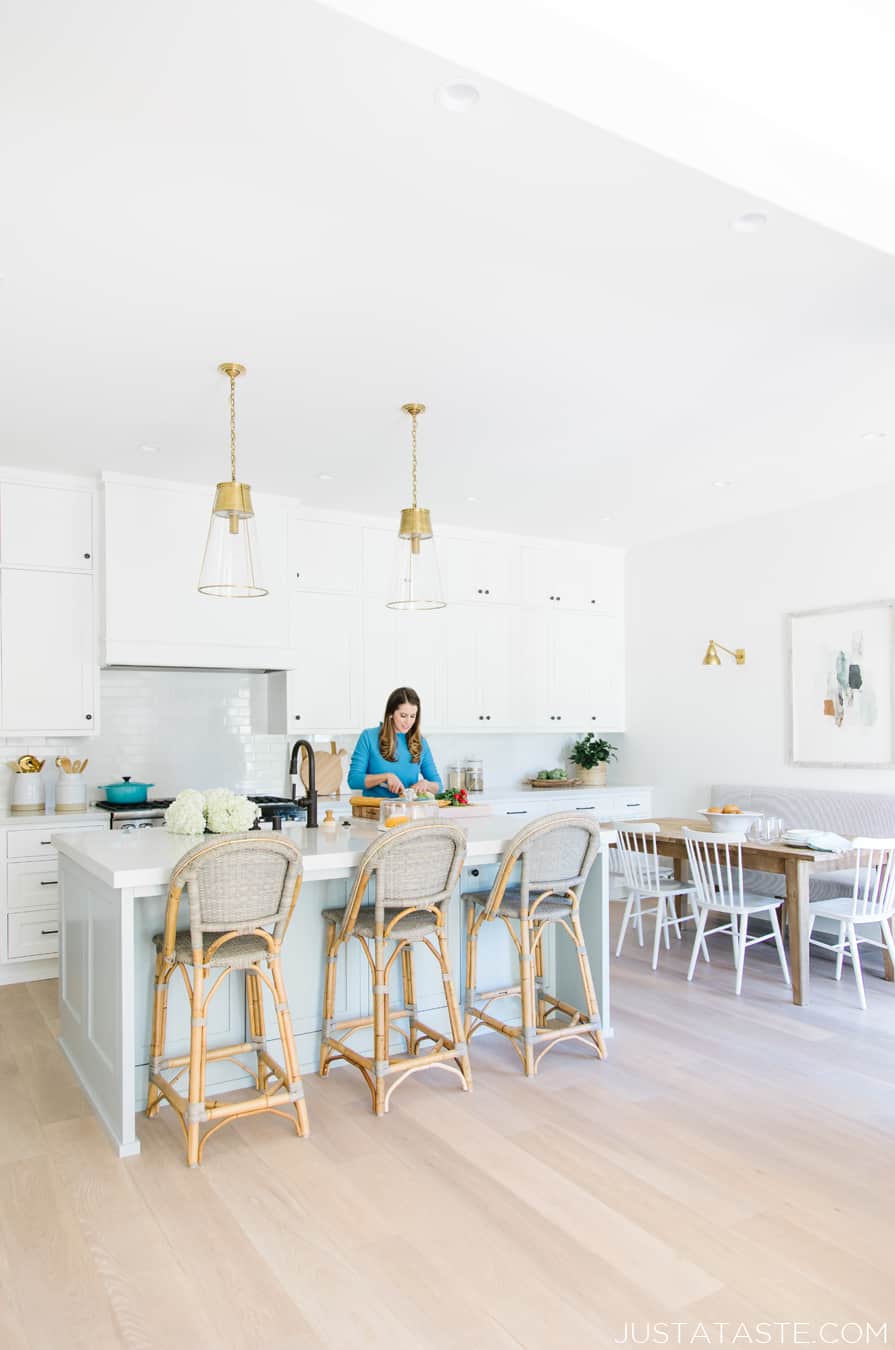 Mindy's space-planning expertise is fully on display, as she crafted a casual dining area within the larger kitchen by selecting furniture pieces that maximized the amount of seating without making it feel crowded.
The banquet bench is a favorite spot for me to brainstorm recipe creations and edit photos, while the boys love having snacktime perched atop the sun-washed rattan barstools.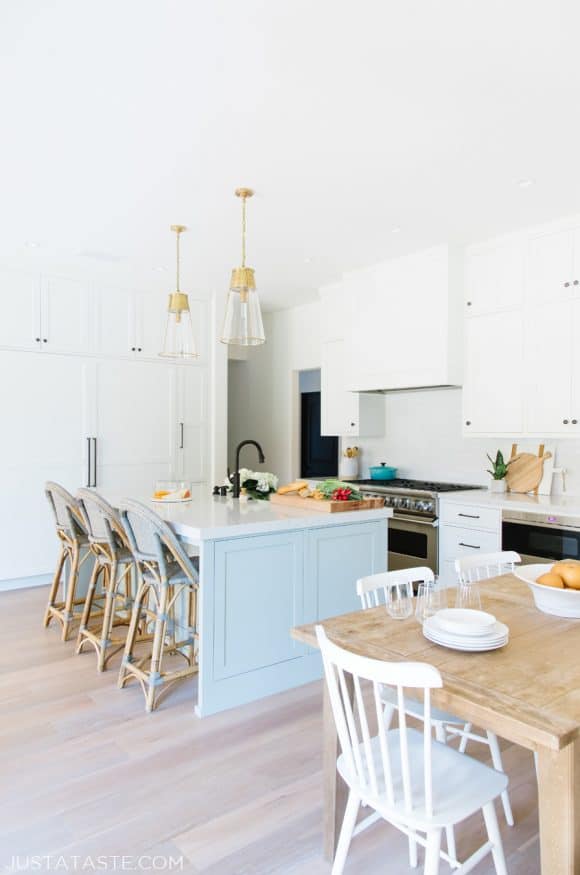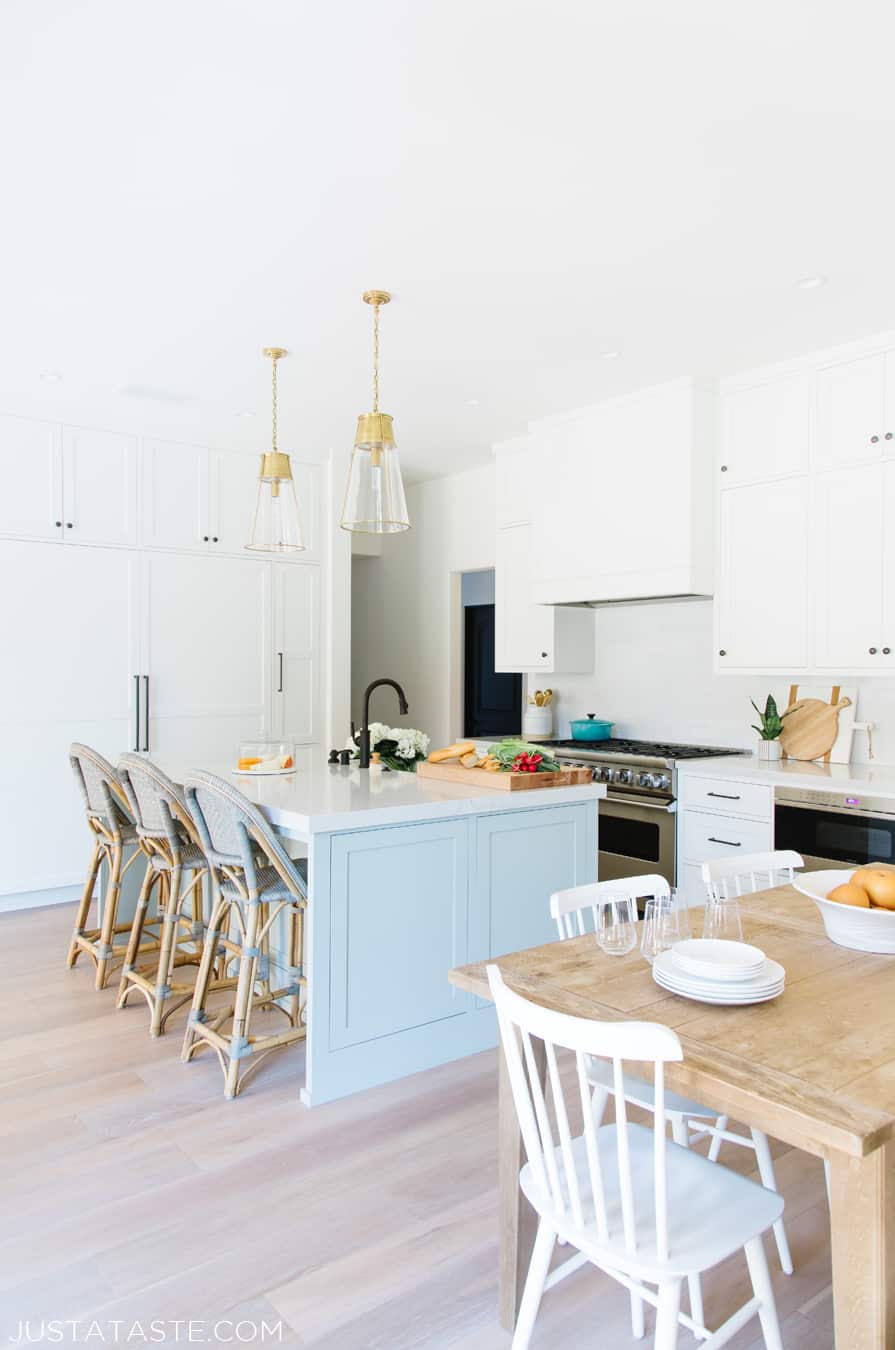 I also teamed up with Bedrosians Tile & Stone, who provided the durable quartzite countertops and classic subway tile backsplash that set the tone for the entire space. I opted for quartzite with a Carrara marble-esque feel to blend my aesthetic desires with my practical needs as a mom of two boys who cooks seven days a week.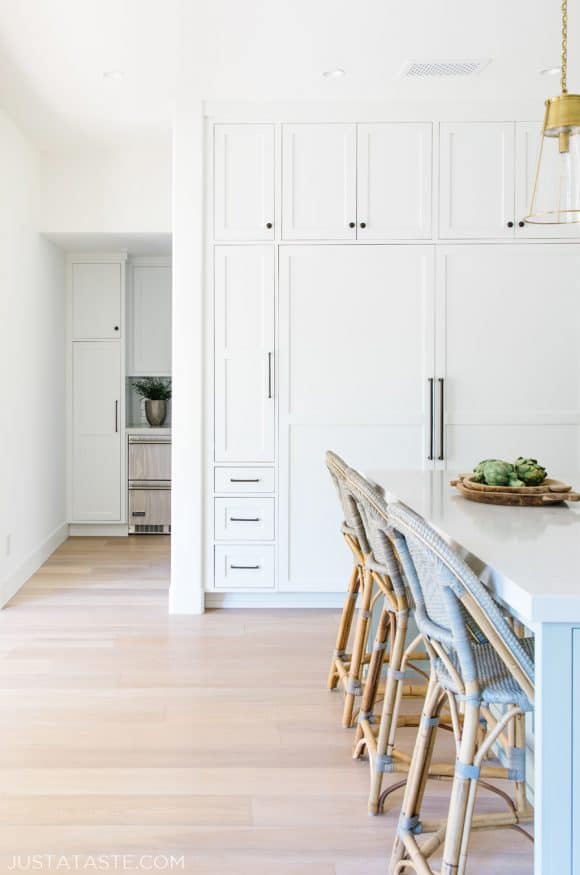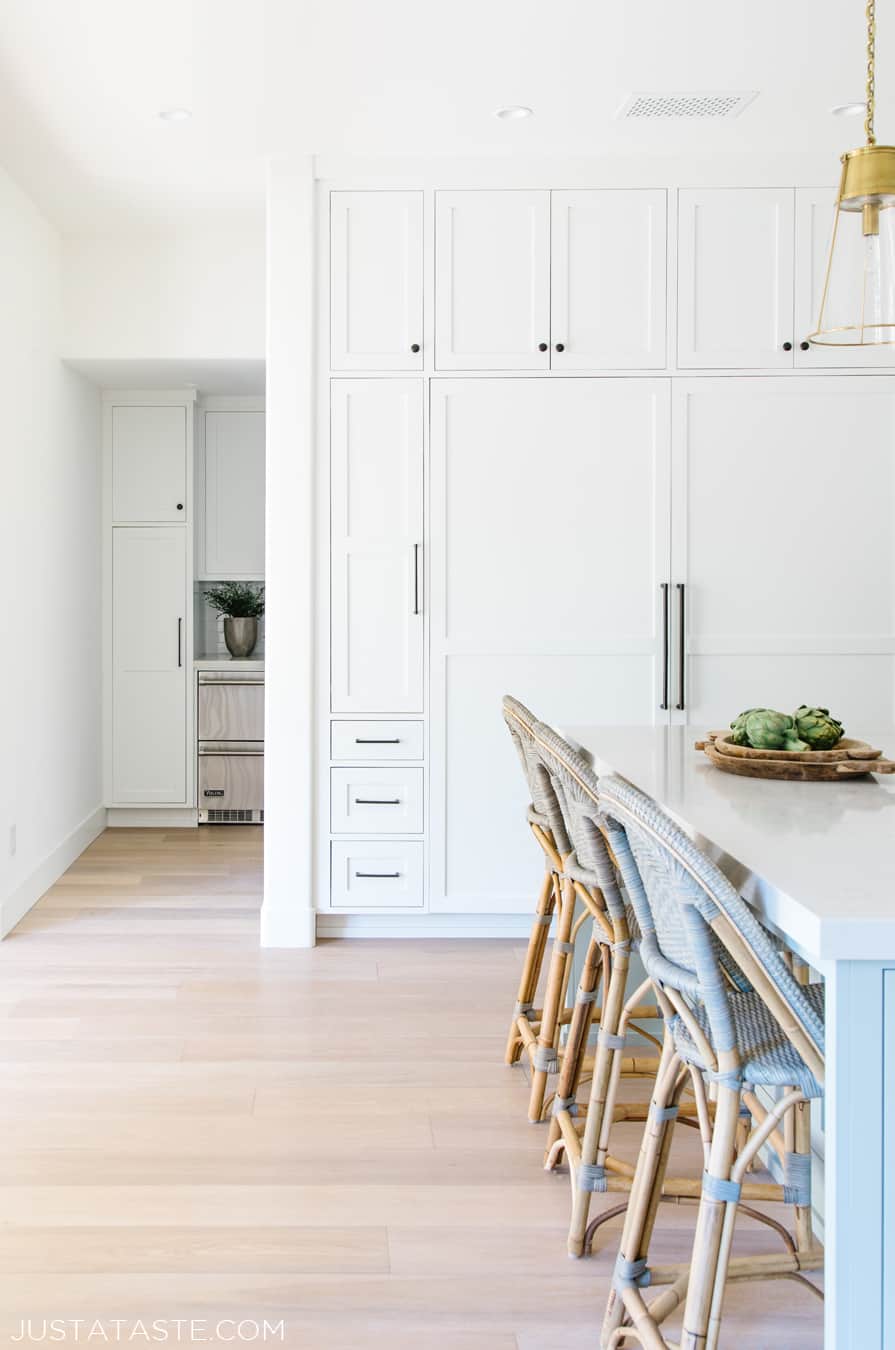 One of the most unique features of our kitchen is that it's actually two kitchens—a full kitchen (or "show kitchen") and a back kitchen (or "dirty kitchen"). A side-by-side refrigerator and freezer serves as the divider between the two spaces.
This decision was made to provide ample room for everything I need to have on the countertops (bottle warmers, sippy cup drying racks, toaster, etc.) but don't necessarily want to see at all times, especially during filming!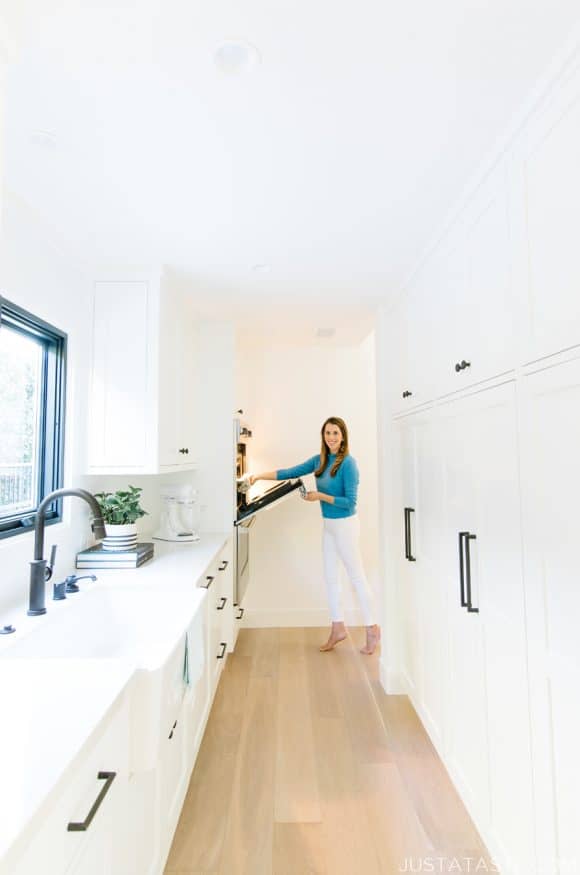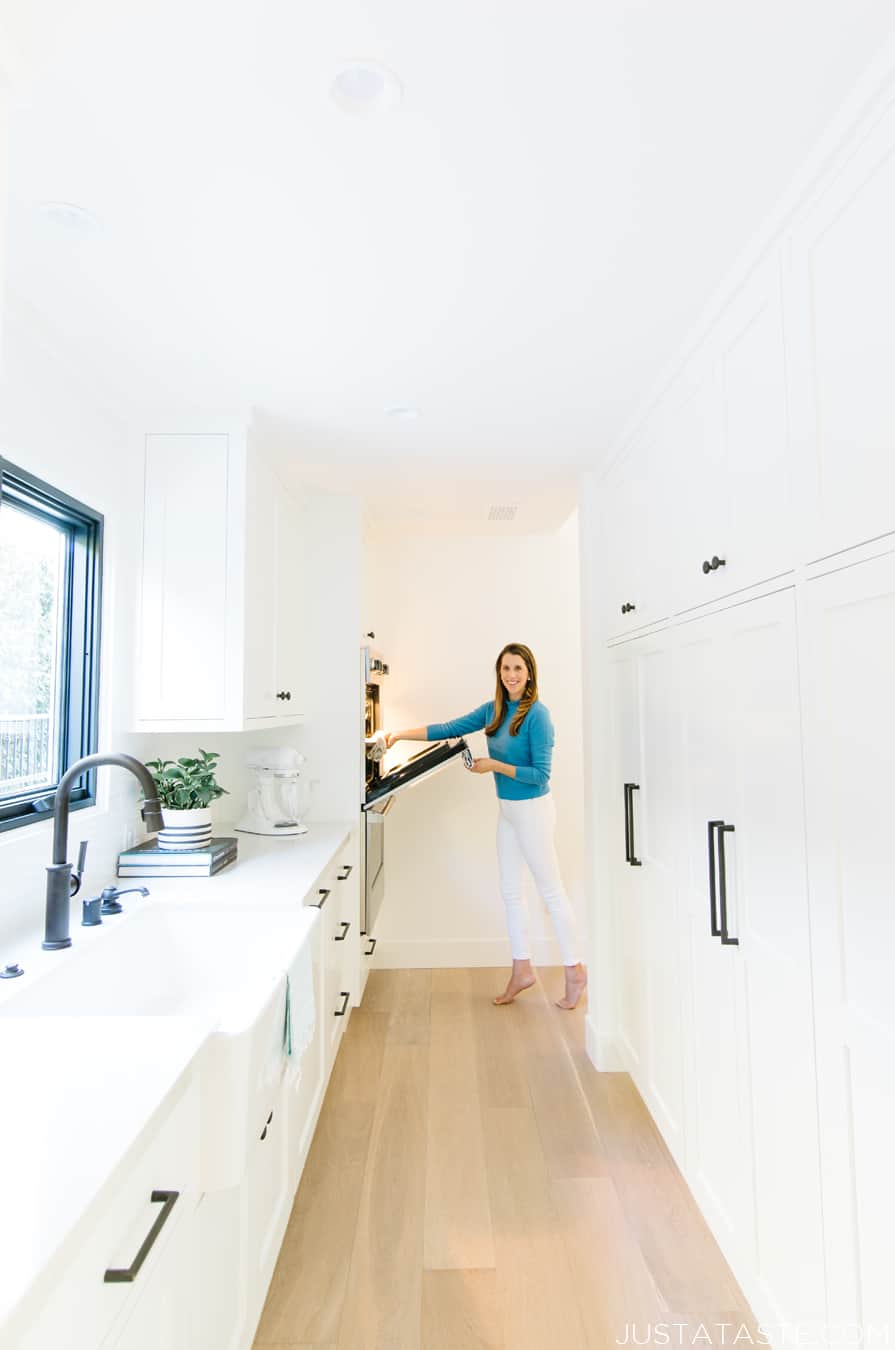 We also placed the double-stacked ovens in the "dirty kitchen" so that the main kitchen could function as a filming set free of reflective surfaces. When I film, all you see behind me is the Viking range and white cabinetry, which is a clean, distraction-free background.
The flow of the kitchen with regards to how the ovens, range, fridge and sink are positioned is something I spent weeks drafting on paper. Although my kitchen is also my office and studio, it is predominantly the place where I cook for my family. Aesthetics were important, but functionality was top of the list.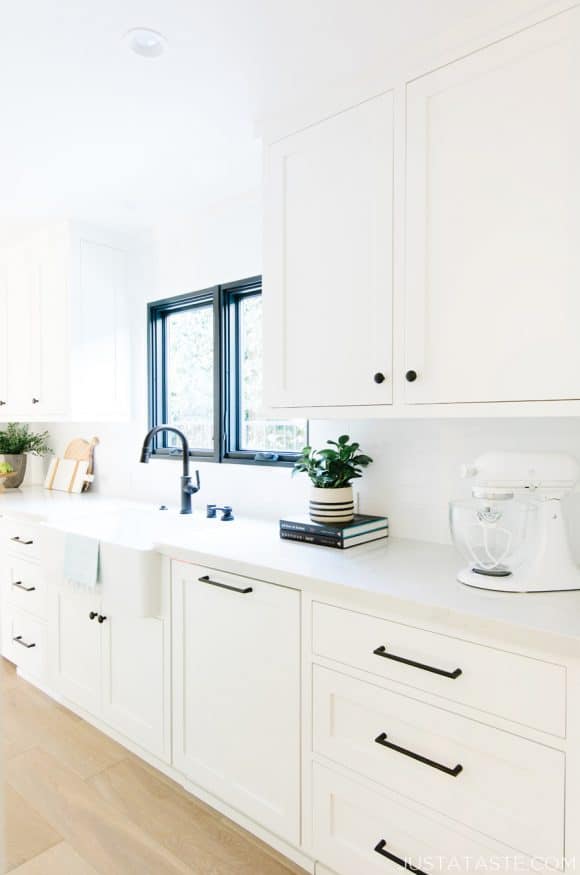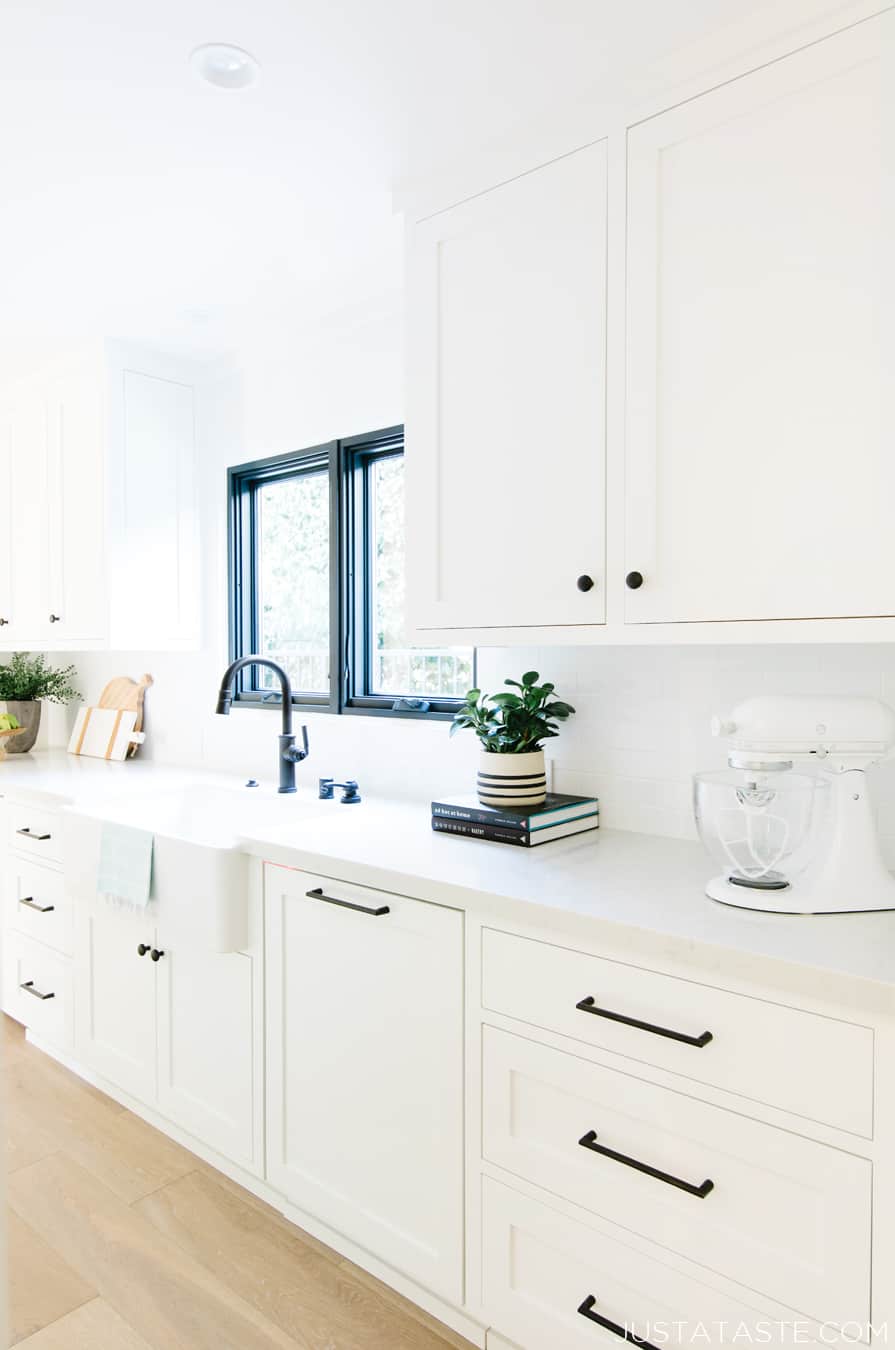 The "dirty kitchen" is also home to:
a second dishwasher
a crushed ice machine
a large pantry
refrigerator drawers
The Viking refrigerator drawers have been game-changers. I keep them stocked with our favorite drinks, which frees up space in the fridge for all of the boys' snacks, fresh fruit and veggies, and meals I prep for them throughout the day.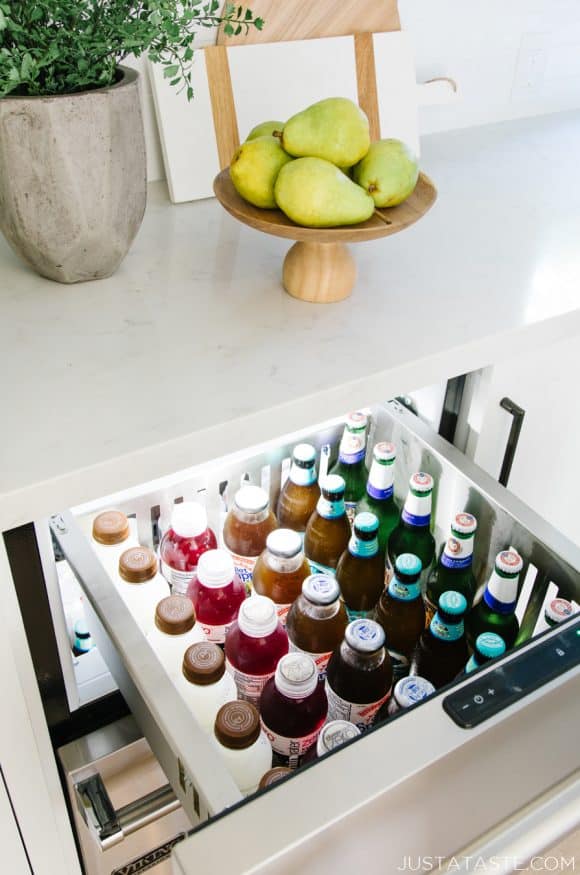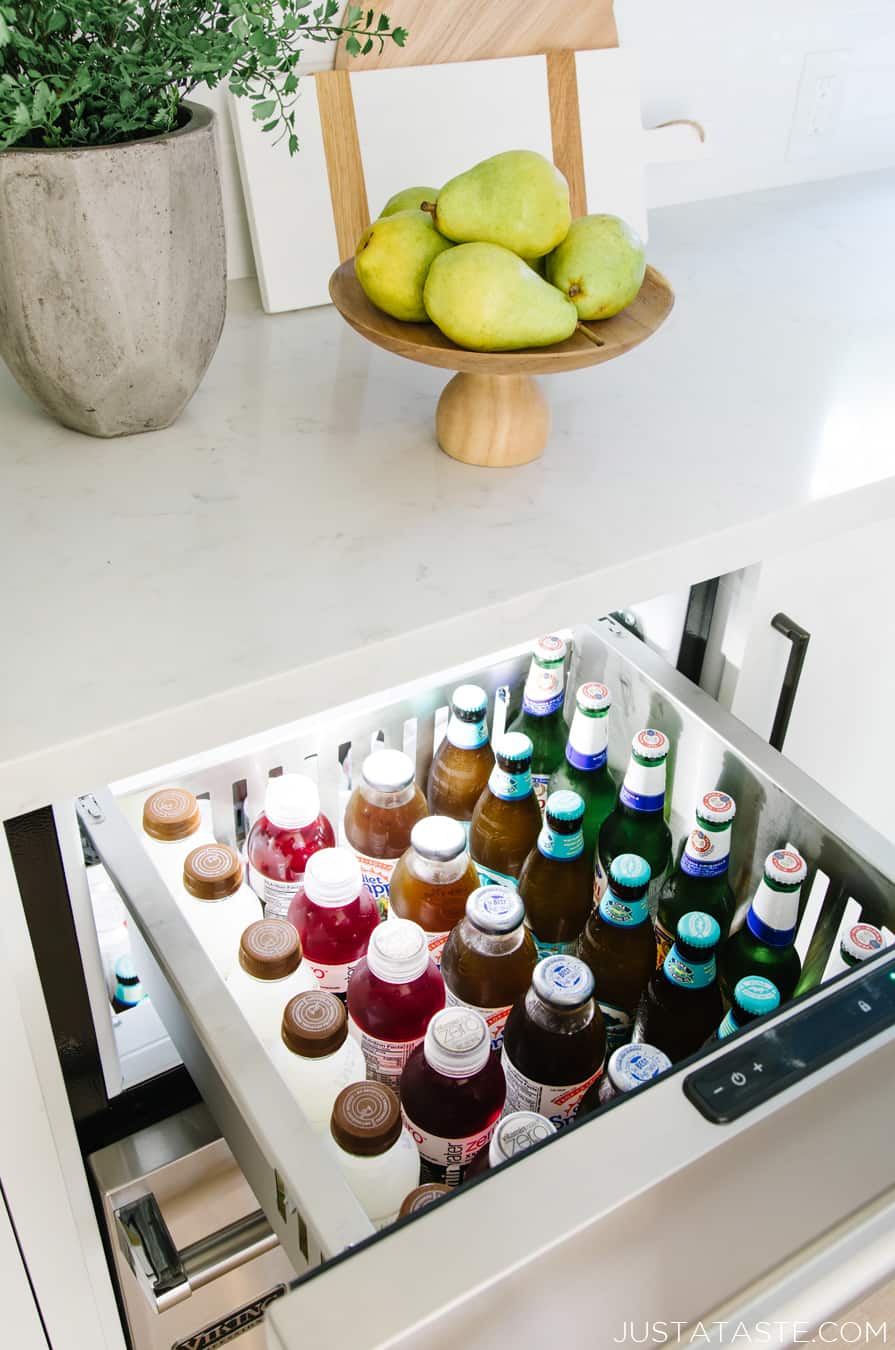 Speaking of storage…
Let's talk prop closet! I shoot photos and videos every week for the site, and that leads to dishes—a lot of dishes.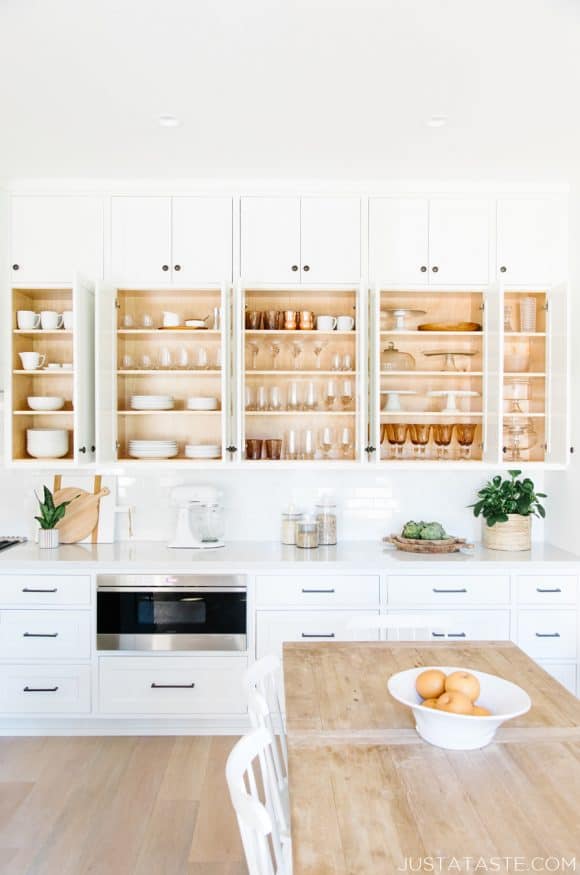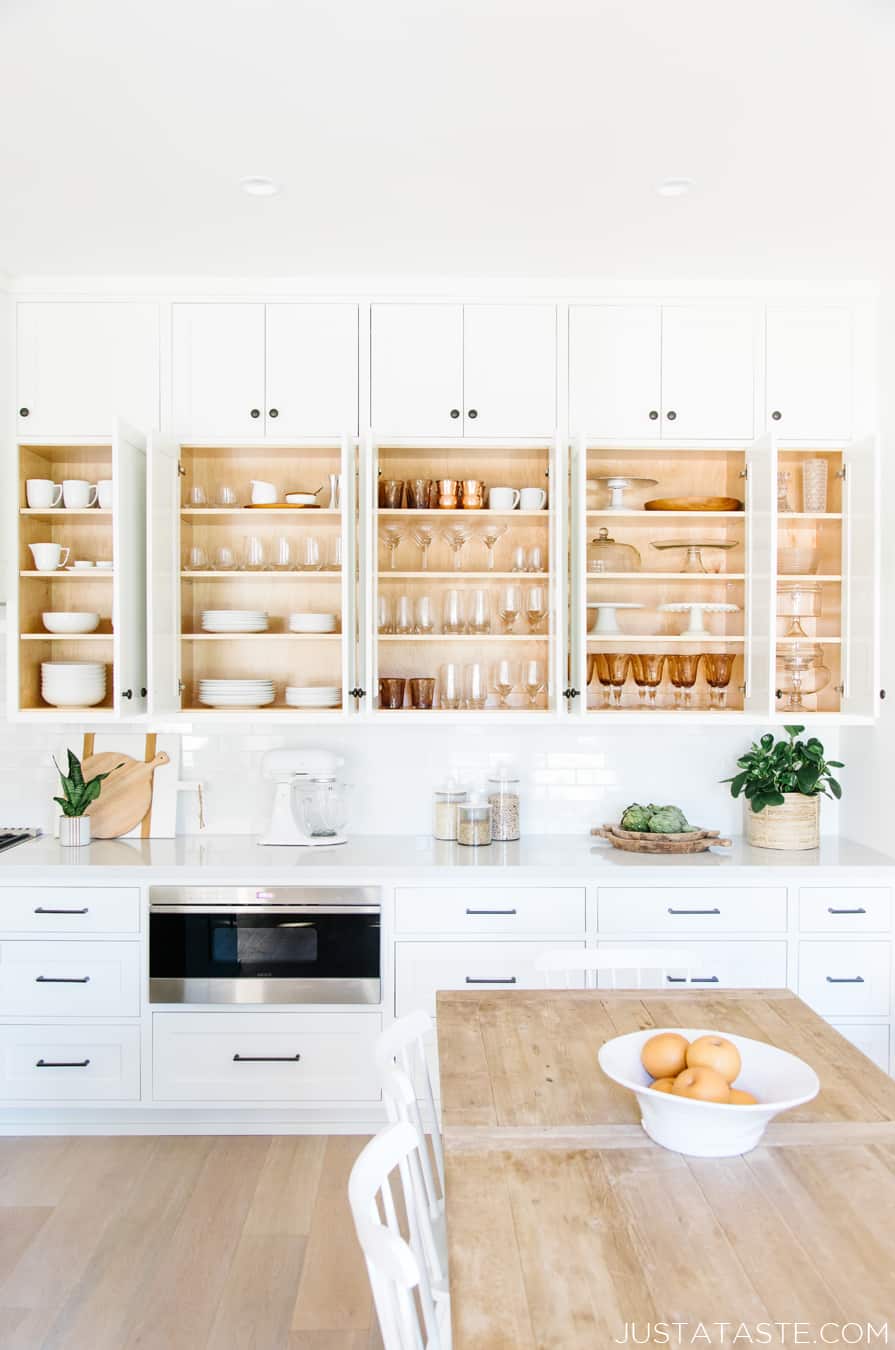 I am a Type A girl who cannot work unless everything is in its place. So when it came time to lay out the cabinetry in the kitchen, I wanted to maximize the extra height we added to the ceiling to give myself plenty of storage for the hundreds of plates, bowls, cups, cake stands and everything else I've collected over the past decade.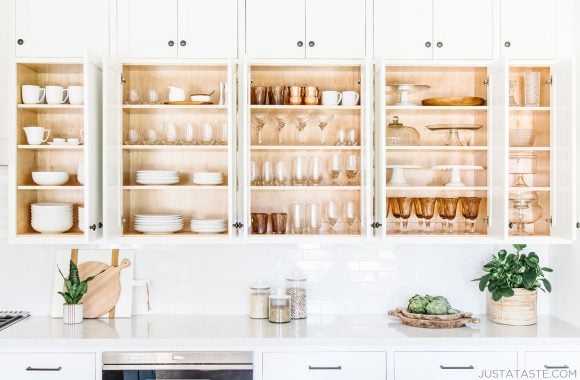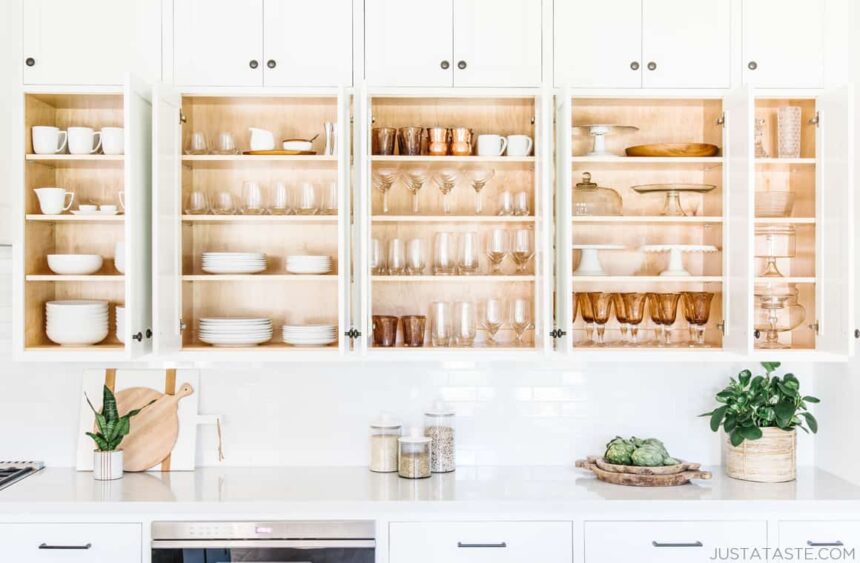 I have come a long way from my first apartment kitchen in Chicago, and the five other kitchens in New York City and southern California I've called my "office" over the past decade.
It was my goal to seamlessly blend a work space with a home space so that the Just a Taste kitchen could be functional for my job but also practical for my family.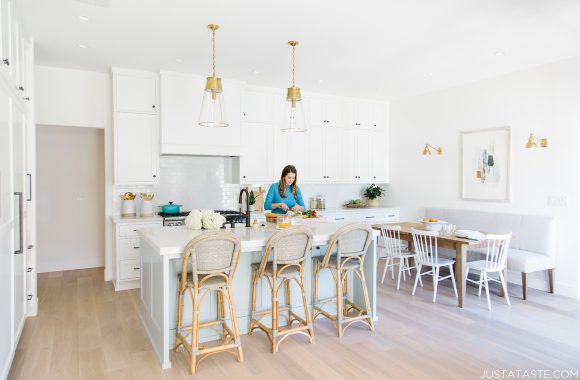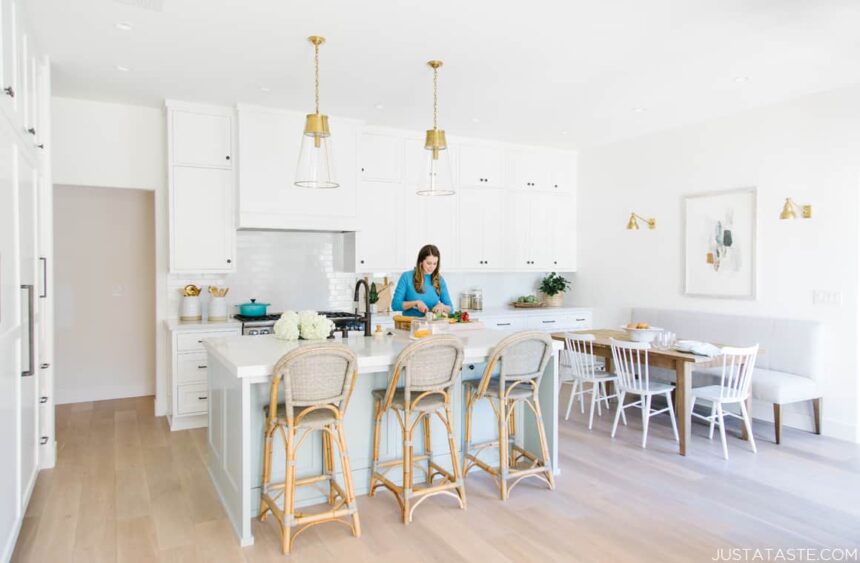 The result is an open, bright kitchen that is my dream office and studio, and most importantly, the heart of our home.
Questions about anything you see here? Leave a comment below and I'd be happy to share additional details!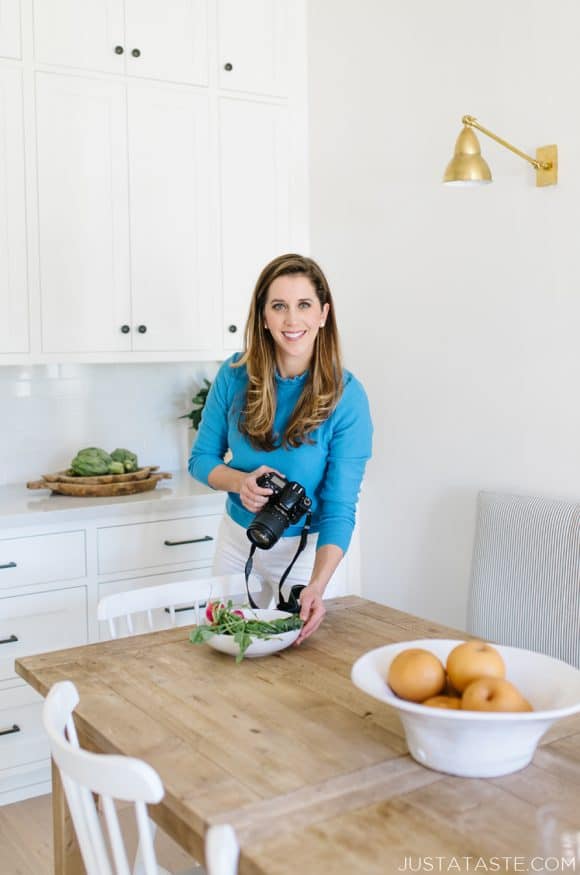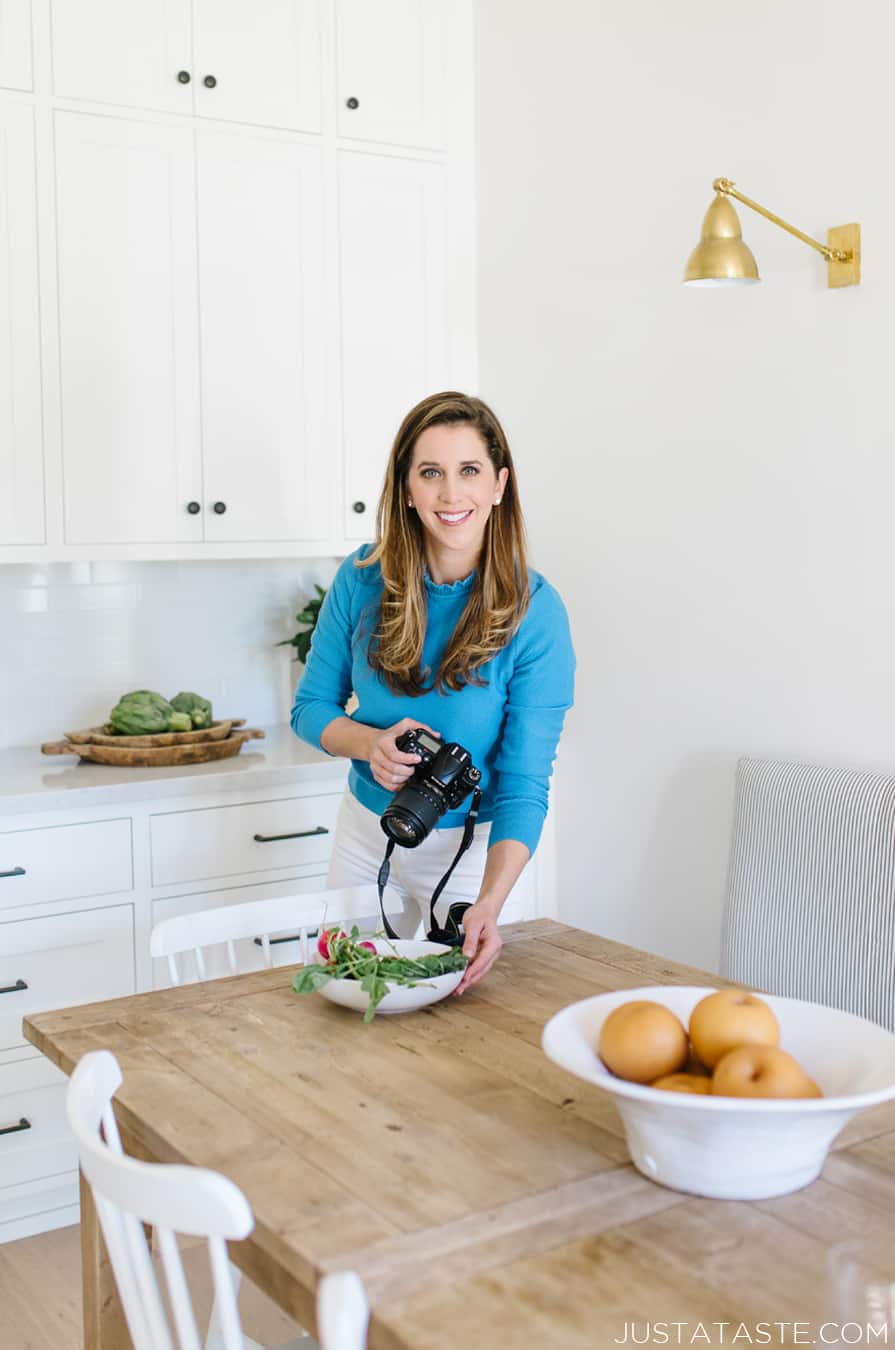 Craving more? Subscribe to Just a Taste to get new recipes, meal plans and a newsletter delivered straight to your inbox! And stay in touch on Facebook, Twitter, Pinterest and Instagram for all of the latest updates.
This post may contain affiliate links.