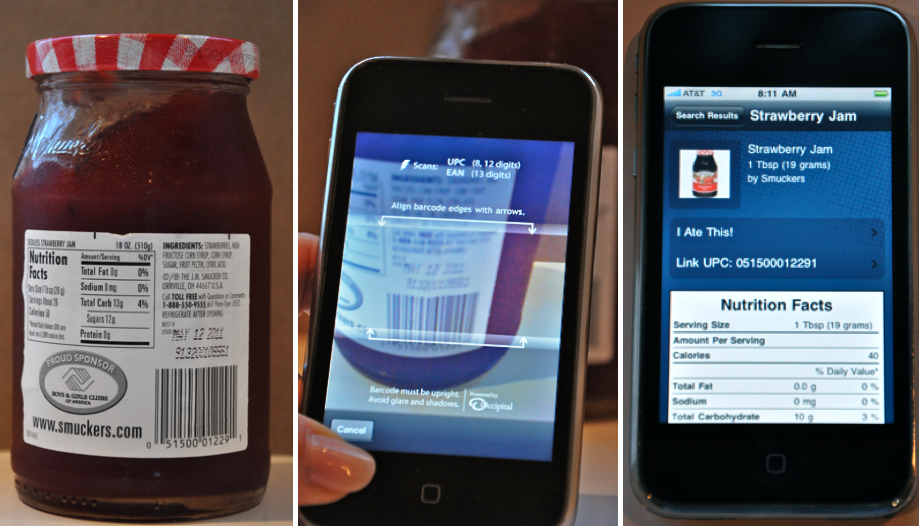 The gadget gurus behind Apple's never ending supply of iPhone applications have done it once again. Behold the iPhone FoodScanner, the ultimate technological advancement for calorie counters, food buffs and nutritional nuts everywhere.
The brainiacs at Daily Burn have introduced FoodScanner (download price: $2.99) as the first ever app that uses the iPhone's camera to scan food barcodes. With the touch of a button you can scan your next meal and be provided with the complete nutritional information for every ingredient. Touch a second button to add "I Ate This!" and you're well on your way to logging a day's worth of calories.
The app can be just as useful for those of us with bigger concerns than how many calories that bag of Cheetos will cost us. And in case the example of "Cheetos" doesn't give it away, I'll be blunt and say that despite a healthy dose of organizational OCD, I could never count every calorie that entered my mouth.
Why buy the app? I'm convinced that even if you aren't a calorie-counter, this little device will change the way you shop by providing access and ease with the touch of a satisfyingly sweet button. If nothing else, I've spent the better part of my morning wandering my house and scanning everything in sight. A welcome distraction indeed.
Inner gadget geek craving more? Check out my wild and wacky picks for the craziest cake pans, spaetzle makers and more.