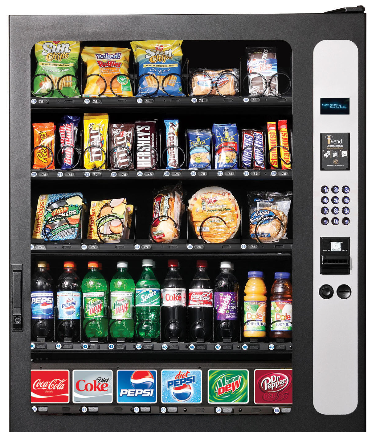 Yesterday was undoubtedly a slow day in the financial sector, which created the perfect opportunity for one of Wall Street's finest to go for the gold in the well-known "vending machine bet." His challenge? Consume one of every item in the vending machine in an undisclosed amount of time and earn a cash reward of $1,000.
One JPMorgan analyst took the bet, and I'm happy to report that there is good news on Wall Street – in Snackman vs. Machine, Snackman reigned supreme! DealBreaker.com had all the details of what the snackman ate, and I've been told the following was consumed in just under 4 hours:
Special K bar, Wheat Thins, Oreo Snack cookies, Pop Corn (unpopped), Lays Potato Chips, Kit Kat, Gold Roll Pretzels, M&Ms Peanuts, Doritos, Almond Joy, Cheetos, Sun Chips Cheddar, Frito Lays Original, Cheez-It, Gold Honey Wheat Braids, Fig Newtons, Oreo Cookies, Short Bread Cookies, Pop Tarts Strawberry, Famous Amos Chocolate Chips, Animal Crackers, Twizzlers, Snack Wells Crème Sandwich, Twix, Rice Krispy Treat, M&Ms, Starburst, Ruger Wafers Chocolate, Ruger Wafers Vanilla, Snickers, 3 Musketeers, Hershey Bar, Raisinets, Welch's Fruit Snacks, Skittles.
The sheer quantity of candy bars and snack crackers is impressive, but unpopped popcorn?! That takes some serious gastronomical guts.
When all was said and eaten, the snackman had consumed more than 9,600 calories, all in less than half a day's work. Thank you, JPMorgan, for keeping our economy and our bellies growing. If only the recession was so easy to beat.