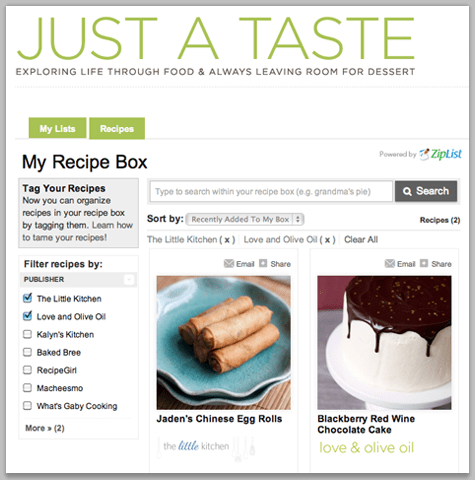 I'm excited to share a brand new feature on Just a Taste that makes saving, sharing, and shopping for recipes an easy and organized activity. Introducing your brand new personalized Recipe Box, courtesy of ZipList!
I've partnered with ZipList to add these functions to Just a Taste, giving you the ability to save recipes from Just a Taste and other participating sites such as Leite's Culinaria, Joy of Baking and more. All it takes is a single click to build and organize your collection of recipes from across the Web.
Access your personal Recipe Box via one of two ways on Just a Taste. The first is to click the Recipe Box link in the top navigation bar (pictured below).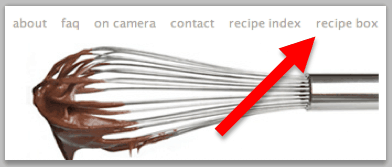 You'll be prompted to create a free account or sign in if you already have a ZipList login. Once you're logged in, it's time to start saving recipes! Simply click on the Save button (pictured below) that appears next to the Print button on every recipe on Just a Taste (and other participating sites).

Once you click Save, you'll be prompted with two options to either Add Recipe to Box or Add to Shopping List. If you add the recipe to your Recipe Box you'll be able to access it, along with recipes you've added from any other site, in your universal Recipe Box. But it gets even better! If you add the recipe to your Shopping List, you'll be provided with a custom grocery list for the recipes you've selected (pictured below).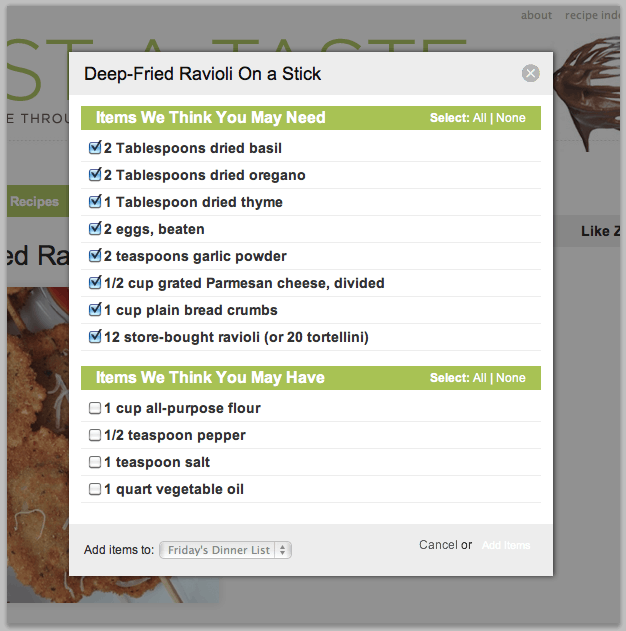 Build your personal grocery list by adding and subtracting ingredients from your custom lists. Easily switch between your saved recipes and your grocery lists with the click of a button and filter your lists by saved recipe (pictured below).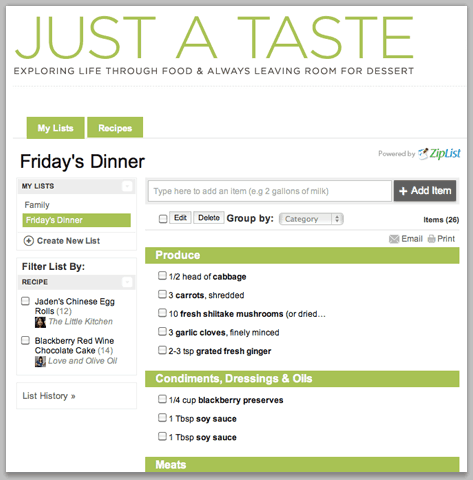 You can access your Recipe Box and Shopping List from Just a Taste and ZipList.com so you can plan for meals far in advance or at the last minute. I hope you enjoy this enhanced function on Just a Taste and I look forward to your feedback!