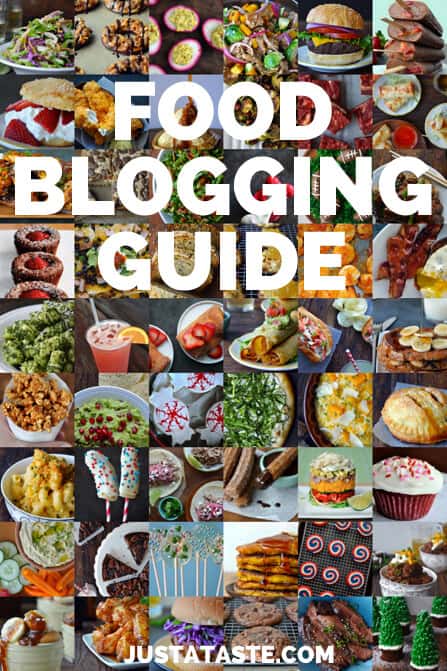 If you've found your way here, chances are you love food. You either love to cook it, love to eat it, love to photograph it, love to talk about it, or, if you're like me, you are so in love with it all that you just can't help but want to share that love with others. Great news! You've come to the right place.
As the author of Food Blogging For Dummies, I get a lot of questions about what steps you should take to start, design, maintain, market and monetize a food blog. And while the book goes into great detail—320 pages of detail, to be exact—about all of the topics below, I've summarized the major concepts to provide an online resource for food lovers who are either looking to start a food blog or take their existing food blog to the next level.
The information in this guide provides suggestions and recommendations for various services, but by no means does it cover every available option for domain registrars, Web hosts, backup programs or other services. And I want to disclose that some of the links below are affiliate links, as these are the very services I use and/or feature in my book.
I've sampled a wide variety of technical setups since launching my blog in 2008, but here's a quick snapshot of my current setup for Just a Taste:
Ready to dig in? Begin at the top for a step-by-step guide to starting your food blog, or scan and scroll to your heart's content. Just here to drool? No problem. I've got you covered, too.
Choosing a Hosted vs. Self-Hosted Blogging Platform
Before you register your domain or pick a Web host, the first step to starting a food blog is deciding on whether you're going to use a hosted or self-hosted blogging platform.
Hosted: A hosted blogging platform is one in which a company houses and maintains your blog on its servers
Self-hosted: A self-hosted blogging platform is one in which you maintain total control of your site
Here's a basic breakdown of the pros and cons for each option, which also highlights the differences between two of the most popular platforms, WordPress.com and WordPress.org:
Hosted
Self-Hosted

✔

Pros: Cheap or free to use; No technical knowledge required; Handles backups and updates; No need to register or pay for your domain

✔

Pros: Total control over your blog; Endless customizations are possible; Plugins can be used; You can use a custom domain name (Ex. www.blogname.com)

✔

Cons: Limited design options; Possible restraints with running ads; Domain may be a sub-domain of your host (Ex. www.blogname.wordpress.com)

✔

Cons: Requires paying for domain registration and a Web host; Requires installing blogging software; Requires technical knowledge for setup and maintenance

✔

Examples: WordPress.com; Blogger

✔

Example: WordPress.org
If you opt for the hosted route, you can simply head over to your preferred platform and get your blog up and running. If you opt for the self-hosted route, you can move on to the next step by registering your domain…
Registering Your Domain
A domain registrar is a company that helps you secure your desired domain by claiming the URL, such as www.yourfoodblog.com. By registering your domain you claim sole ownership of that domain name.
There are countless domain registrars available, and which one you choose will depend entirely on your specific needs and desired price point. I'm a big fan of the domain registration services provided by the following companies:
✔ Tip: When choosing your domain, it's best to opt for an available URL with the ".com" suffix (Ex. www.yourfoodblog.com), as it's the most popular suffix and has the highest recall among online users. And while the ".com" suffix is the most critical domain to register, I also suggest registering any available variations of your domain (Ex. yourfoodblog.net, yourfoodblog.org, yourfoodblog.biz, etc.). Owning additional suffixes is important if your blog happens to be an actual business or organization and helps you control your blog's online presence as a larger brand.
Selecting a Web Host
A Web host is a company that gives you space on its servers to house all of your blog's information, such as files, photos and emails.
Much like domain registrars, there are countless companies that offer Web hosting services. And while every bloggers' Web hosting needs will vary, there are four key elements to consider when selecting a Web host:
Reliability – Is your Web host a trusted company?
Sufficient capacity – What drive space and bandwidth options does your Web host offer?
Security – How secure are your Web host's servers and what spam protection do they offer?
Customer service – Is a representative from your Web host available 24/7?
Based on these factors, I recommend the Web hosting services provided by the following companies:
This* Web Host

(Use the promotional code "JUSTATASTE" to receive a 25% discount on any hosting package when signing up via this link!)
Bluehost
iPage
✔ Tip: Don't use the same company to register your domain and host your blog. Relying on one company to perform both duties can be risky, as one failure on its behalf can mean two major headaches for you.
Backing Up Your Blog
I cannot stress this enough. Back up your blog. And then back it up again … and again … and again. Failing to back up your blog is one lesson you never want to learn firsthand, but you never know when a random plugin may malfunction or a database may be accidentally deleted.
There are countless options for how to back up your blog. I back up my site once a week via a WordPress plugin called BackWPup and also use the Comcure cloud-based system as a secondary form of backup. Backups take less than five minutes to perform and they can save you hours of potential heartache.
Food Blogging Books and Online Resources
Food Blogging For Dummies – I wrote Food Blogging For Dummies as a comprehensive guide to starting, maintaining, marketing and monetizing a food blog. It also includes countless tips and resources dedicated to food styling and photography. The book is available in hard copy and as an eBook on Amazon and in bookstores nationwide.
Food Blog Alliance – The Food Blog Alliance is a wonderful online resource created by Elise Bauer of Simply Recipes. Check out the Food Blog Alliance for guidance on a wide range of topics, from food photography to recipe copyright and beyond.
I'll continue to update this guide as I discover new resources and test out the latest services. But if you have any questions, comments or suggestions, feel free to email me at kelly@justataste.com and stay in touch via the below sites for all of the latest updates:
This post may contain affiliate links.