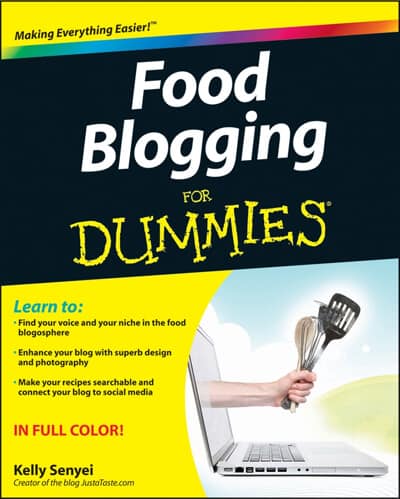 I am ecstatic to share that my book, Food Blogging For Dummies, will be on bookshelves worldwide and available as an eBook this spring, and it is also currently available for pre-order!
I have had the absolute pleasure of working with the talented team at Wiley to make this dream of a book into a reality. I never could have imagined having this opportunity back in 2008 when I launched Just a Taste so I could share my family's rich recipe history. To now be staring at the black and yellow cover with my name on the front is one of the most thrilling, emotional and outright fantastic moments of my life.
I truly enjoyed every aspect of writing Food Blogging For Dummies, including all of the researching, outlining, surveying, interviewing, analyzing, caffeinating and apartment reorganizing (three words: food photo shoots) that came along with it. The result is a 320-page guide that walks you through every single aspect of the world of food blogging, from the technical and the practical, to the artistic and the linguistic.
Food Blogging For Dummies covers every single tip, trick and technique, including:
Setting up the technical elements of your blog, from registering a domain to choosing a Web host
Finding your food niche, honing in on a blog title, and making the most of layout and design
Determining a mix of content by evaluating guest posts, giveaways and every option in between
Joining the thriving food blogging community through online and offline interactions
Styling, propping and photographing food using resources you already own
Mastering the ins and outs of marketing and promoting your blog while earning an income
And that's just a taste of everything I squeezed in!
I owe a huge thank you to countless people who provided their guidance and inspiration, especially Elise Bauer, Elaine Wu and the entire BlogHer team, as well as everyone who participated in the nationwide State of the Food Blogosphere survey, the results of which proved to be a strong foundation for many topics in the book. Stay tuned for more details to come, including behind-the-scenes photos and anecdotes from the incredible five-month journey of writing a For Dummies book.
For all of the latest updates about Just a Taste and Food Blogging For Dummies, become a fan on Facebook and follow me on Twitter! 
This post may contain affiliate links.