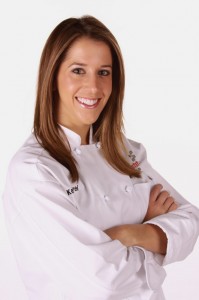 "The only real stumbling block is fear of failure. In cooking you've got to have a 'What the hell?' attitude."  – Julia Child
I am ecstatic to celebrate the official one year mark of the launch of Just a Taste. It's amazing how much can change in a year, so I wanted to update you all on some exciting news about what's in store for the site and where I'm headed next.
A year ago this month I was setting out to explore the beat I was assigned to cover while in journalism grad school here in New York City. I will never forget riding the 4 train for the first time and getting off on Hunts Point Avenue in the south Bronx.
I was armed with my reporter's notebook and a pink taser as I wandered the streets for the next three months, looking for stories and truthfully, trying not to become the story. I came home every night and cooked as a way to decompress from the day. Cooking and baking became my welcome distraction each night, and Just a Taste became a way for me to share that release and love with others.
As the site has grown, so too has my passion and dedication to pursuing a career in a field that started off as a childhood hobby. This next step is one that I've wanted to take for the past five years, and as of tomorrow I will be living that dream – culinary school here I come!
It's my goal to bring you along for the ride by sharing my insights from the professional world of food. I'm also happy to announce that I'm now a Featured Publisher with Foodbuzz, an online community of food blogs that promotes and organizes content from more than 10,000 blogs worldwide.
I'm looking forward to bettering my skills as a chef and as a food journalist and I'm diving headfirst into this new experience with every hope of making that happen. So grab a fork, tie on that apron tight and get ready to dig in for an exclusive look at life behind the burners.
This post may contain affiliate links.