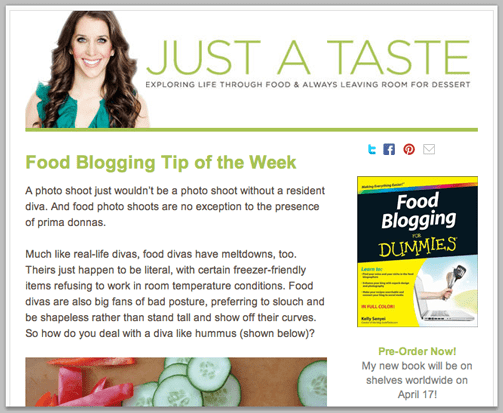 I'm thrilled to announce the launch of the Just a Taste newsletter! I'll still be serving up a new recipe each week on the site, but now you can also sign up for additional content delivered fresh to your inbox each week. The Just a Taste newsletter will include a mix of:
Food blogging tips covering every topic from technical setup to food styling tricks
Restaurant reviews and recommendations from coast to coast
Behind-the-scenes studio and prop setups for photos appearing on Just a Taste
Roundups of the week's biggest and best food stories from across the Web
You'll find a blend of all of these topics and more, including sneak peeks at my forthcoming book, Food Blogging For Dummies, which will be on shelves worldwide and available as an eBook on April 17 (giveaways coming soon, stay tuned!).
So how do you sign up for this weekly serving from Just a Taste? Simply enter your email address in the Subscribe field on the right sidebar (designated below with a red arrow).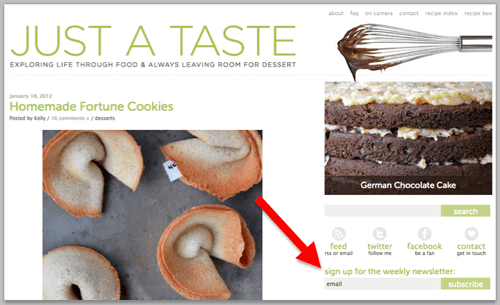 Once you've entered your email you'll receive a subscription confirmation, and then you're all set. I look forward to even further opening up the dialogue about all things food blogging, and as always, I welcome your comments and questions!