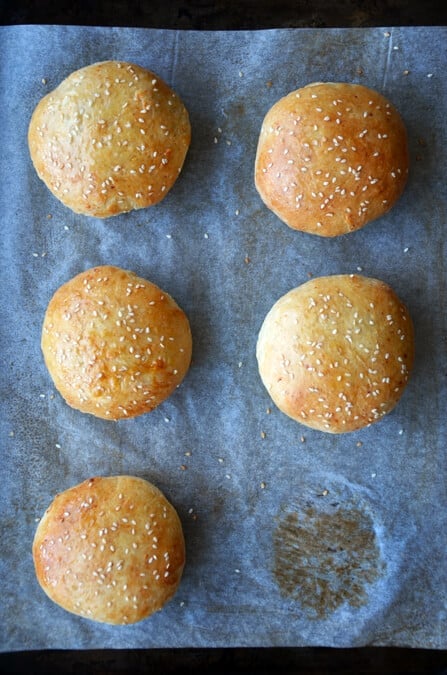 I recently caught myself glaring at the wide array of hamburger buns in my local supermarket with the kind of epic eye-roll generally reserved for a Real Housewives reunion. All those buns. All those lifeless and on-the-brink-of-expiration buns. Are they any way to greet a stack of perfect hamburger patties?
I'm the girl in the supermarket who reaches as far back as humanly possibly to retrieve what I can only imagine is the freshest bag of burger buns. As if somehow, magically, that bag that's just barely out of reach is going to far surpass its aging counterpart parked conveniently in front of my huffing and puffing face. Retracting my Go Go Gadget limb, I reappear from the tower of carbs while firmly grasping my prize: a bag of only slightly less smashed burger buns.
Needless to say, I go to great lengths to acquire the best buns a store has to offer. But there will be no more grocery store aisle contortion routines from this girl. I am now a homemade burger bun enthusiast. And, yes. They're easy. As in mix, proof, shape and bake easy. Absolutely zero kneading required! Of course there are two rounds of proofing, which results in a fluffy, doughy texture, but you can speed up the process with my go-to proofing machine …
That right there is my super-high-tech-latest-and-greatest-most-expensive-model-on-the-market … dryer. Yep. My ugly, old dryer. Remember the Pepperoni Pizza Pull-Apart Bread? Different recipe, same technique.
So as we transition our way into prime burger season, I'd like to invite you to spare yourself the store-bought varieties of hamburger buns. Spare yourself the crumbly texture and the cardboard taste. And instead, give a little love to your patties with easy, cheesy homemade hamburger buns.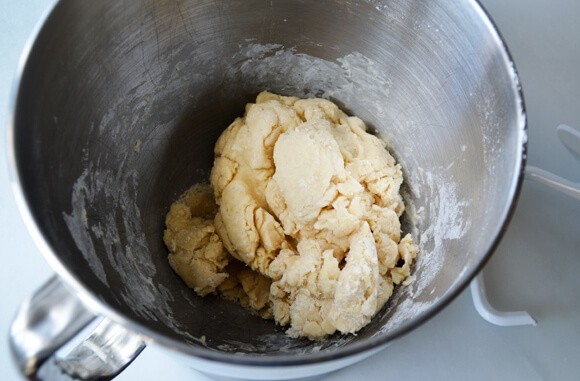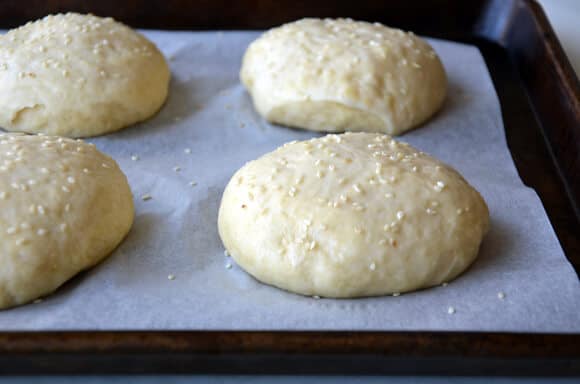 Craving more? Sign up for the Just a Taste newsletter for a fresh serving of content delivered every week to your inbox! And stay in touch on Facebook, Twitter and Pinterest for all of the latest updates.
Easy Homemade Parmesan Hamburger Buns

Yield: 6 big buns or 12 slider buns

Prep Time: 3 hours (includes proofing)

Cook Time: 20 min

Ingredients:

For the buns:
2 3/4 cups unbleached all-purpose flour
1/2 cup finely grated Parmesan cheese
1 teaspoon salt
1 teaspoon onion powder
1 Tablespoon sugar
2 1/2 teaspoons instant yeast
4 Tablespoons unsalted butter, softened
1 large egg
2/3 to 3/4 cup lukewarm water (See Kelly's Notes)
Vegetable oil, for greasing

For the topping:
1 egg white
2 teaspoons sesame seeds (optional)

Directions:

Combine all of the ingredients for the buns in the bowl of a stand mixer fitted with the dough hook attachment. Beat the ingredients at high speed for 2 minutes until they begin to come together around the dough hook.

Lightly grease a large bowl with vegetable oil. Gather the dough into a ball and transfer it to the bowl. Cover the bowl with plastic wrap and allow the dough to rise in a warm, dark place for 60 to 90 minutes until it has visibly puffed.

Line a baking sheet with parchment paper. Gently deflate the dough and divide it into 6 equal pieces for regular-sized buns or 12 equal pieces for slider-sized buns.

Shape the dough pieces into balls, tucking the edges under to make smooth tops, and then place them on the baking sheet, spacing them apart so they do not touch. Gently flatten the balls so they're about 3 1/2 inches wide for regular-sized buns or 2 inches wide for slider-sized buns. Cover the baking sheet with plastic wrap and let the dough rise for an additional 60 to 90 minutes until the buns are noticeably puffy.

Place the rack in the center of the oven and preheat it to 350°F. Whisk the egg white with 2 teaspoons of water. Brush the tops of the buns with the egg white mixture and then sprinkle the buns with the sesame seeds (optional).

Bake the buns for about 20 minutes, until they're light, golden brown.

Remove the buns from the oven, transfer them to a rack and allow them to cool completely.

Kelly's Notes:
The amount of water used in the recipe depends on how humid your environment is. Use 2/3 cup water in summer months or more humid climates and use 3/4 cup water in winter months or in drier climates.

The egg white wash isn't essential, but it's what gives the buns their attractive sheen and golden brown crowns.

The buns can be stored in an air-tight container at room temperature.