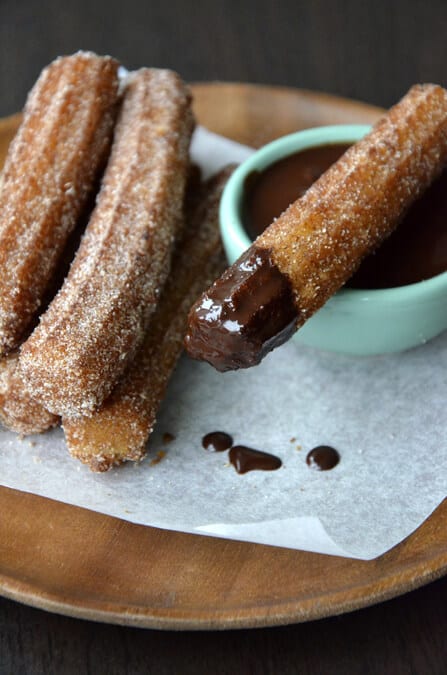 My love affair with churros began at the age of 8, when I visited Disneyland with my best friend Jenny. I ate six churros that day and didn't share a single bite of the foot-long magical wands of dough. But inch by inch they'd shrink in size until all that remained was the sugar-dusted tissue paper—a welcome reminder that the only thing left to do when you reach the end of a churro is cry.
I never could've imagined that 19 years later I'd be making churros 3,000 miles away in my kitchen in New York City. But last weekend I found myself perched in front of my stove, squeezing dough into a pot of boiling oil, and fishing out each golden brown churro as it bobbed up and down in a dangerous game of Whac-A-Mole.
Of course a churro isn't a churro without a cinnamon-sugar shower. But I couldn't stop there. The crispy batons beg to be dipped and dunked, so I've included a quick-fix recipe for warm chocolate dipping sauce. Dip once, dip twice, or dip three times with additional recipes for butterscotch sauce and raspberry sauce.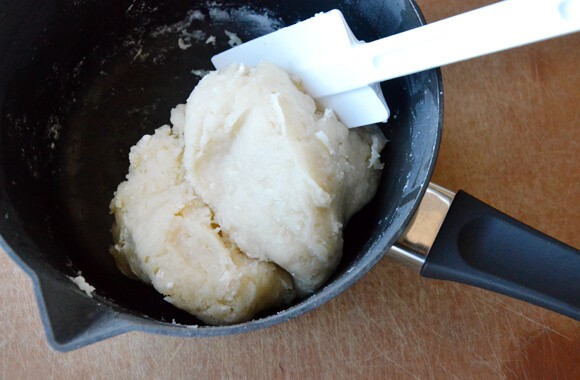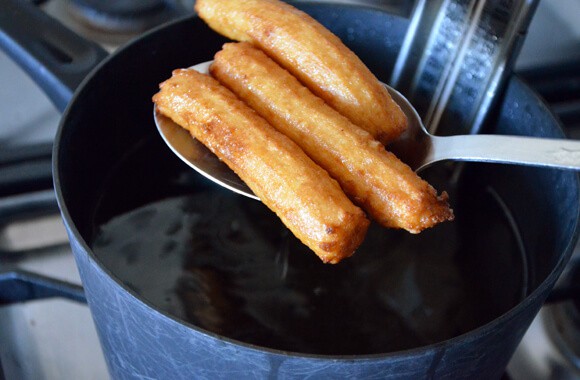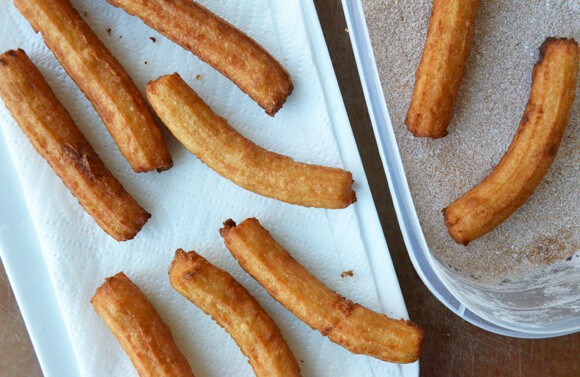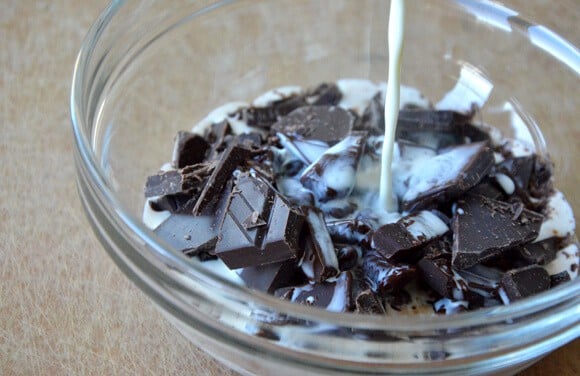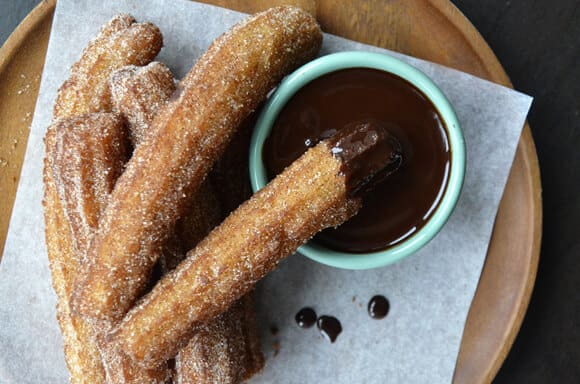 Craving more? Sign up for the Just a Taste newsletter for a fresh serving of content delivered every week to your inbox! And stay in touch on Facebook, Twitter and Pinterest for all of the latest updates.
Homemade Churros with Chocolate Sauce

Yield: About 10 (4-inch) churros

Prep Time:

Cook Time:

Ingredients:

For the churros:
1/2 cup plus 1 1/2 Tablespoons sugar, divided
1 1/2 teaspoons ground cinnamon
1 cup water
1/2 teaspoon salt
2 Tablespoons plus 2 quarts vegetable oil, divided
1 cup all-purpose flour
For the chocolate sauce:
3 1/2 ounces dark chocolate, chopped
1/2 cup heavy cream
Equipment: a cloth pastry bag or heavy-duty plastic pastry bag; a large star pastry tip (such as Wilton #2110)

Directions:

Make the churros:
Combine 1/2 cup sugar with the cinnamon in a shallow bowl. Set aside. Line a plate with paper towels.
In a small saucepan over medium heat, whisk together the water, 1 1/2 tablespoons sugar, salt and 2 tablespoons vegetable oil. Bring the mixture to a boil then remove it from the heat. Stir in the flour, mixing until it forms a ball.
Heat 3 to 4 inches of vegetable oil in a large, heavy-bottomed pot set over medium-high heat until it reaches 375ºF. (There should be a minimum of 3 inches above the oil to prevent it from bubbling over.)
Transfer the dough to a cloth pastry bag or heavy-duty plastic bag fitted with a large star tip.
Pipe the dough over the pot of oil to a length of about 4 inches, then using scissors or a sharp knife, cut it so it releases into the oil. (Stand back to avoid any splatters.) Pipe two to three churros into the oil at a time, frying them until they're golden brown and cooked through. Transfer the churros to the paper towel-lined plate to drain for 2 minutes, then roll them in the cinnamon-sugar mixture. Repeat the frying and coating process with the remaining dough.
Serve the churros with the warm chocolate sauce (recipe below).
Make the chocolate sauce:
Place the chopped chocolate in a small bowl.
Warm the heavy cream in small saucepan. (Do not let it boil.) Pour the heavy cream over the chopped chocolate. Let it sit for 1 minute then stir to combine.
Kelly's Notes:
It's important to use a cloth or heavy-duty plastic pastry bag, as a regular resealable plastic bag is not thick enough and will split open if you try to pipe the churro dough through it.
The chocolate sauce will thicken as it cools, so it's best to make it right before you're ready to serve it with the churros.
A pastry tip isn't essential, however using the large star-shaped tip will give the churros the textured lines you see in the photos.
This churro recipe can be easily doubled.