In a moment of nostalgia a few weekends ago, I found myself digging through my massive bin of culinary school mementos—oil-stained notebooks, tattered chefs' coats, broken vegetable peelers, a paper toque, and buried within a folder of class notes, a recipe for homemade falafel.
Just a few days prior I'd planned dinner with my friend Kamran at Taim, a legendary falafel spot in New York City. But a bustling crowd and minimal seating prevented us from ever making it inside the shoebox-sized eatery, and instead we settled on crispy chicken chunks and chips at A Salt & Battery down the street. A satisfying alternative, but still not the answer to my falafel craving.
Discovering the recipe among the mountains of note cards and textbooks was the only sign I needed to finally get serious about my falafel fix. I was soon pulsing together cups of chickpeas and fresh herbs, and after a quick sauté, my hand was home to a warmed pita stuffed with four bright green patties dripping with cool and creamy tahini sauce. Check out my step-by-step photos of this surprisingly simple dish, and then weigh in below with your favorite falafel spots across the globe!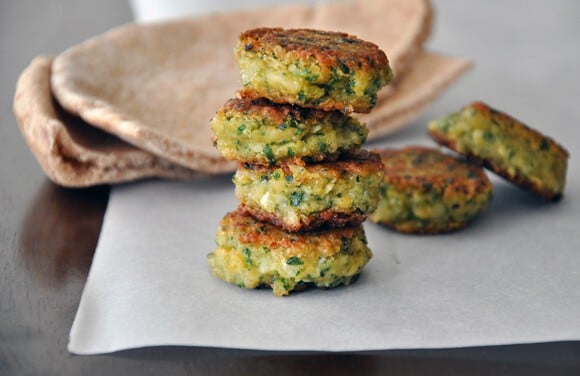 Homemade Falafel with Tahini Sauce

Yield: 6-8 servings

Prep Time:

Cook Time:

Ingredients:

For the falafel:
2 cups roughly chopped white onion
6 garlic cloves
2 cups cooked chickpeas, drained
1 cup lightly packed parsley leaves
1 cup lightly packed cilantro leaves
1 teaspoon salt
¼ teaspoon chili powder
2 teaspoons cumin
2 teaspoons baking powder
½ cup all-purpose flour
Canola oil, for sauteing
Pita bread, for serving
For the tahini sauce:
1¼ cups plain yogurt (full fat or non-fat)
¼ cup tahini (sesame paste)
2 Tablespoons fresh lemon juice

Directions:

Add the onion and garlic cloves to the bowl of a food processor and pulse just until they are finely minced. Remove the mixture and set it aside.
Add the chickpeas, parsley, cilantro, salt, chili powder, and cumin to the bowl of the food processor and pulse until they are roughly blended but not pureed.
Return the onion mixture to the food processor, along with the baking powder and just enough flour so that when you pulse the processor, the mixture begins to form a small ball and is not sticky. (Note: Start by adding ¼ cup of flour, and then the remaining ¼ cup. You can add more if the mixture is still too wet.)
Transfer the falafel mixture to a bowl, cover it with plastic wrap and refrigerate it for 1 hour.
While the falafel mixture is chilling, prepare the tahini sauce by whisking together the yogurt, tahini and lemon juice. Season it with salt and pepper, cover it and place it in the fridge.
Once the falafel mixture has chilled, use a small ice cream scoop or spoons to form the mixture into balls (roughly 3 Tablespoons per ball). (Note: You can also add additional flour at this point, if the mixture is too wet to scoop.)
Set a large sauté pan over medium heat and add a liberal amount of canola oil so that the pan is well-coated. Let the pan pre-heat for 3 minutes then add the falafel one by one, browning them on the first side for 3 minutes, then flipping them once and browning the second side until the mixture is cooked throughout.
Transfer the falafel to a paper towel-lined cooling wrack and immediately season them with salt. Repeat this process until you have cooked all of the falafel.
Place three or four falafel inside a halved, warmed pita and drizzle with the prepared tahini sauce.