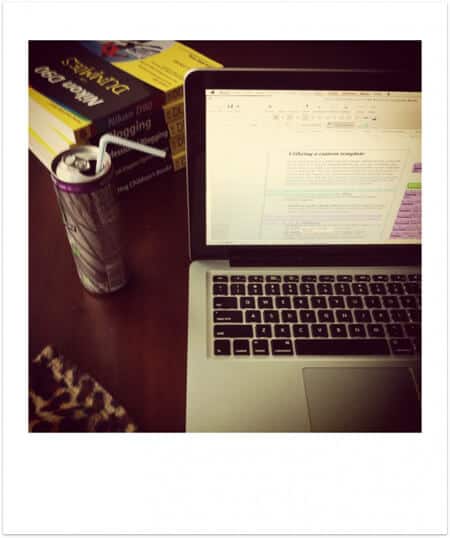 Eleven months ago I started on a journey that would begin with a single email from a publisher and end with the release of my first book, Food Blogging For Dummies. I had no clue at the time what writing a 320-page technical book would entail. But more than 125,000 words, 96 energy drinks, and countless rides on an emotional roller coaster later, and I am less than a month away from finally getting to share the end goal with you.
As I anxiously count down the next 29 days, I'll be providing an inside glimpse of the book writing process. And to celebrate the book's release, I'm also giving away a copy of Food Blogging For Dummies every week until April 17. Check out the top 10 things I learned about writing a book below and then leave a comment for your chance to win!
10. Something that's funny at 3 a.m. isn't necessarily funny at 3 p.m.
I'm a total sucker for food puns, so this book was a dream come true to write. But I quickly discovered that the content I wrote had to be funny to people other than myself, which meant the jokes I found knee-slappingly hilarious during my state of delirium at 3 a.m. often fell flat when I (or my beyond patient editor) read them in a normal state of consciousness.
9. You often have to cut your favorite parts to make the bigger whole better.
There were endless times when I had to cut sentences I deemed funniest/wittiest/most amusing because they just didn't strengthen the overall concept. Yes, the book is entertaining, but above all else, it's informative. It took some getting used to, but I am now one with the DELETE button.
8. Practice sitting comfortably.
I spent a large amount of time over the past year sitting. It sounds like a strange observation, but it's one of those things you just don't pay much attention to until you're in a situation where you're repeatedly doing it. There was only one thing I could do to make the non-stop sitting a pleasant experience: Purchase a leopard-print Snuggie.
7. Reading out loud is the best way to edit.
I discovered the best and most efficient way of writing and editing the book was to read every last typed word out loud to myself. There's something about hearing the rhythm of the sentence structures and the pacing of the paragraphs that makes the end product so much clearer and more concise.
6. Accept the fact that there will be sacrifices.
I knew the day I signed my contract would be the day I signed away any semblance of a social life for the next year, and that was a sacrifice I was more than willing to make. But I also can't deny that missing countless weddings, birthday dinners, weekend trips, concerts and Yankees games stung. I let myself feel disappointed once, and then I got over it.
5. Never underestimate the power of a one-person dance party.
I developed a nightly routine of awarding myself with one five-minute dance party for every two hours of writing/editing. Strange as it may sound, those dance parties were my salvation. They gave me a chance to (a). clear my head (b). get my heartbeat up and (c). keep my moves fresh for my glorious return to the dance floor.
4. Let perfection be the enemy of good.
Long after I climbed into bed each night, I'd lie awake making edits in my head, brainstorming better photo setups, redoing the book's outline, re-thinking section layouts, and the list goes on and on. It became impossible to not strive for perfection, which leads me to…
3.  Your perfection isn't everyone else's perfection.
In one word, the editing phase of the publishing process was humbling. But the process taught me an incredibly valuable lesson: You cannot view edits as personal. The instant this notion clicked, I was able to understand the sole purpose of editing as making the book the absolute best it could be.
2. It's critical to develop writing zones.
Writing in one location for too long drove me insane, so I found it helpful to designate different parts of my apartment as "writing zones." The dining table was for hardcore writing. The couch was for researching and editing photos. The kitchen counter was for final edits. And the bed was for any writing/editing that took place past the hours of 2 a.m.
1. I have a PhD in Procrastination.
Enough said.
*UPDATE: THIS GIVEAWAY IS NOW CLOSED.
To enter to win a copy of Food Blogging For Dummies, leave a comment below that answers the following question:
What is the biggest lesson you've learned in the kitchen?
A single winner will be selected via Random.org and announced on Monday, March 26. This giveaway closes on Sunday, March 25 at 12 p.m. EST.
Craving more? Sign up for the Just a Taste newsletter for a second fresh serving of content straight to your inbox each week! And stay in touch on Facebook and Twitter for all of the latest updates.