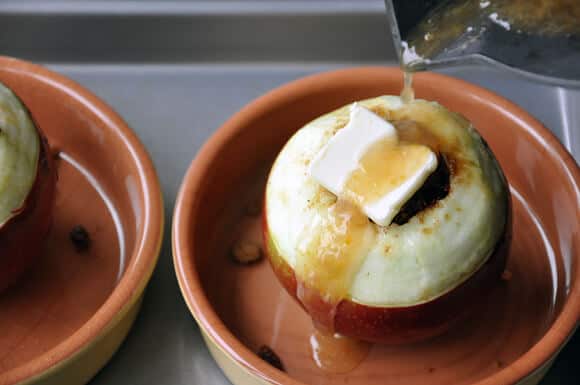 I wish I could say Baked Apples with Apricot Glaze are the perfect dessert for these chilly late-September nights, but it's currently 73ºF in New York City. One more time: 73ºF.
The name of the month doesn't group it into the "summer" category. And the temperatures are causing less bundling up and more stripping off. So I'm not quite sure what season we're currently enjoying. All I know is the farmers' markets are bursting with apples of every color, flavor and size, and I've been anxiously awaiting making them the stars of one of my favorite fall recipes.
While Rome Beauty apples are the standard for most baked apple recipes, I prefer the McIntosh variety because they have a bit more tang. Pair that tartness with dark brown sugar, dried cranberries and a sticky sweet apricot glaze, and we are in business. And don't forget to remove the top one-third of skin to avoid having to scrape apple schrapnel from the insides of your oven (step-by-step pics for getting that clean edge are after the jump).
But of course you know that a baked apple is only half the recipe. The other half is sitting in your freezer (and rhymes with schmice schream).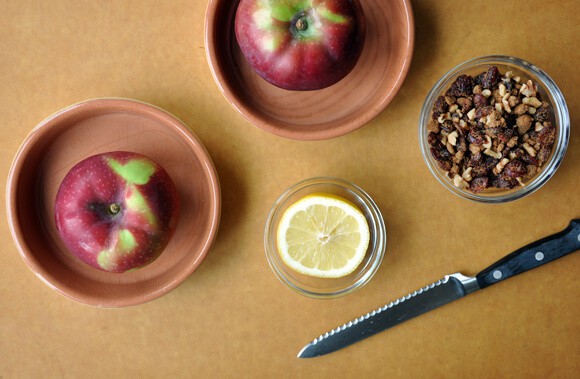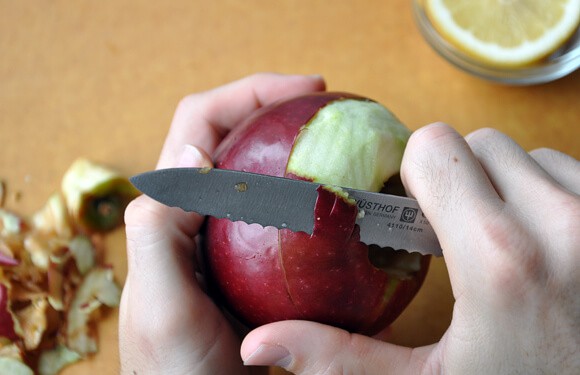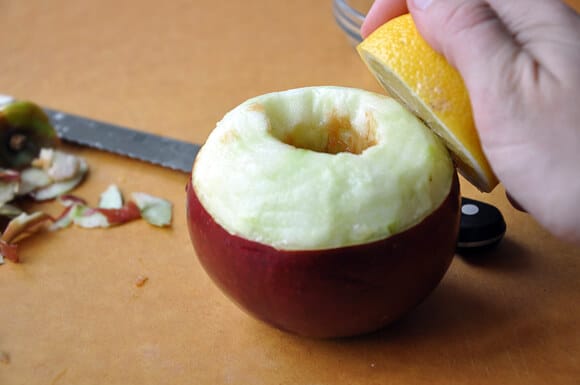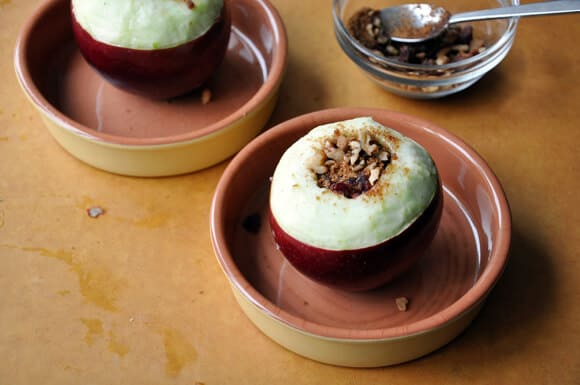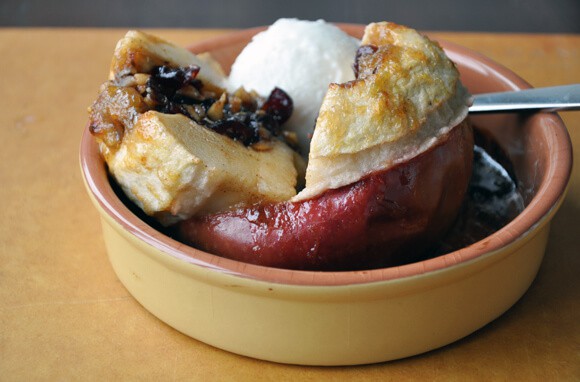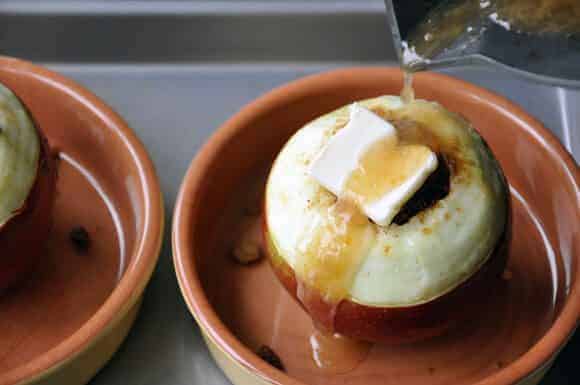 Ingredients
2

large McIntosh apples

1/2

lemon

2

Tablespoons

dried cranberries

1/4

cup

chopped walnuts

1/4

cup

dark brown sugar

1/2

teaspoon

ground cinnamon

3

Tablespoons

apricot preserves

2

Tablespoons

water

Unsalted butter
Instructions
Preheat the oven to 350ºF.

Carefully core the apples by cutting around the top stem and removing all but the bottom ½-inch of the core (if you remove the entire core, the filling will fall out).

Remove the top one-third of the skin by scoring a line around the entire apple, then peeling away the skin. Rub the exposed flesh with the lemon to prevent it from browning. Repeat the process with the second apple.

Place the prepared apples in individual baking dishes or in one larger baking dish (if using individual dishes, place them on a sheet tray for easier handling). Combine the dried cranberries, chopped walnuts, dark brown sugar and cinnamon in a small bowl, then fill each cored apple by packing it firmly with half of the mixture. Top each apple with a pat of butter.

Whisk together the apricot preserves and water in a small saucepan over low heat, just until the preserves melt.

Pour half of the preserves over each apple then transfer them to the oven.

Bake the apples for 35 to 40 minutes.

Serve the baked apples warm and paired with vanilla bean ice cream.

★ Did you make this recipe? Don't forget to give it a star rating below!
Nutrition
Calories:
422
kcal
,
Carbohydrates:
88
g
,
Protein:
3
g
,
Fat:
10
g
,
Sodium:
23
mg
,
Potassium:
356
mg
,
Fiber:
7
g
,
Sugar:
69
g
,
Vitamin A:
160
IU
,
Vitamin C:
25.3
mg
,
Calcium:
61
mg
,
Iron:
1.2
mg