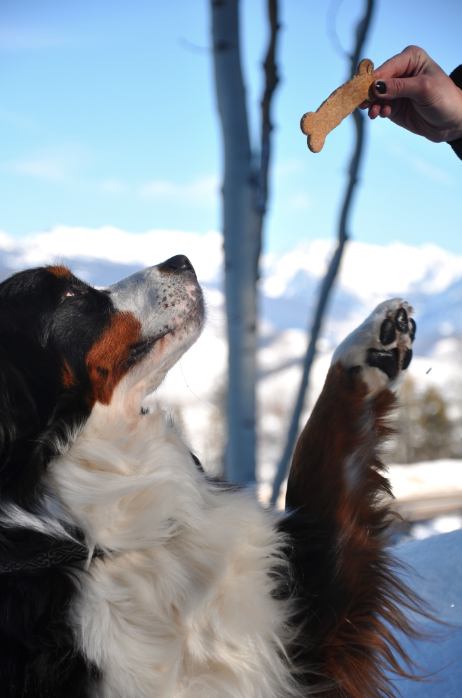 Our three dogs have affectionately come to replace my brother, sister and me now that we no longer live at home. The three boys, Bacsi (English Yellow Labrador), Buckley (English White Labrador) and Becks (Bernese Mountain Dog) are more human than pet, and they are collectively 270 pounds of pure love.
What better way to show them affection than with a homemade treat? These DIY dog biscuits are made with just four ingredients. Simply mix whole wheat flour and oats with peanut butter and hot water, then use your favorite cookie cutters to stamp out shapes.
To make the dog biscuits, you'll need:
1 cup oats
2 cups whole wheat flour, plus more for dusting work surface
⅓ cup peanut butter
1 ¼ cups hot water
Begin by preheating the oven to 350°F. Then in a large bowl, stir together the oats and whole wheat flour then add the peanut butter and hot water and stir (or knead) until the mixture is combined.
Turn the dough out onto a lightly floured work surface and using a rolling pin, roll the dough until it is approximately 1/4″ thick. Using a sharp knife or cookie cutter, cut out shapes from the dough and arrange them on a parchment paper-lined baking sheet.
Bake the dos biscuits for 30 minutes or until they're crunchy. Remove them from the oven then transfer them to a rack to cool completely before serving to your best furry friends!
This post may contain affiliate links.