Skip the store-bought snacks and whip up a top-rated recipe for hot, crispy Homemade Barbecue Potato Chips tossed with the ultimate DIY barbecue seasoning blend!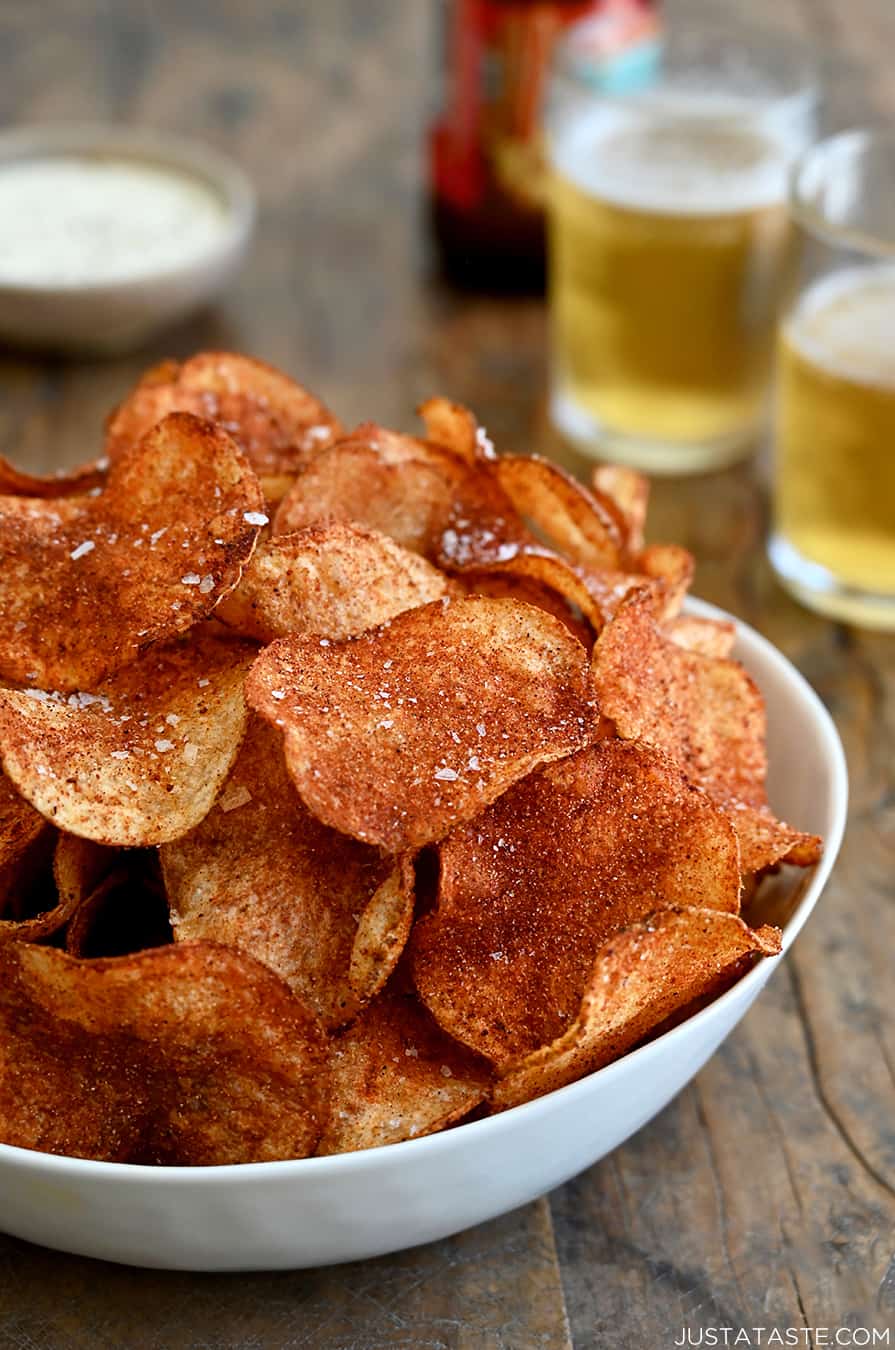 Few foods capture my undivided attention like a bowl of freshly made potato chips. They're hot, crispy, salty and oh-so-perfect for snacking. Add a Diet Coke with crushed ice to the equation and game over.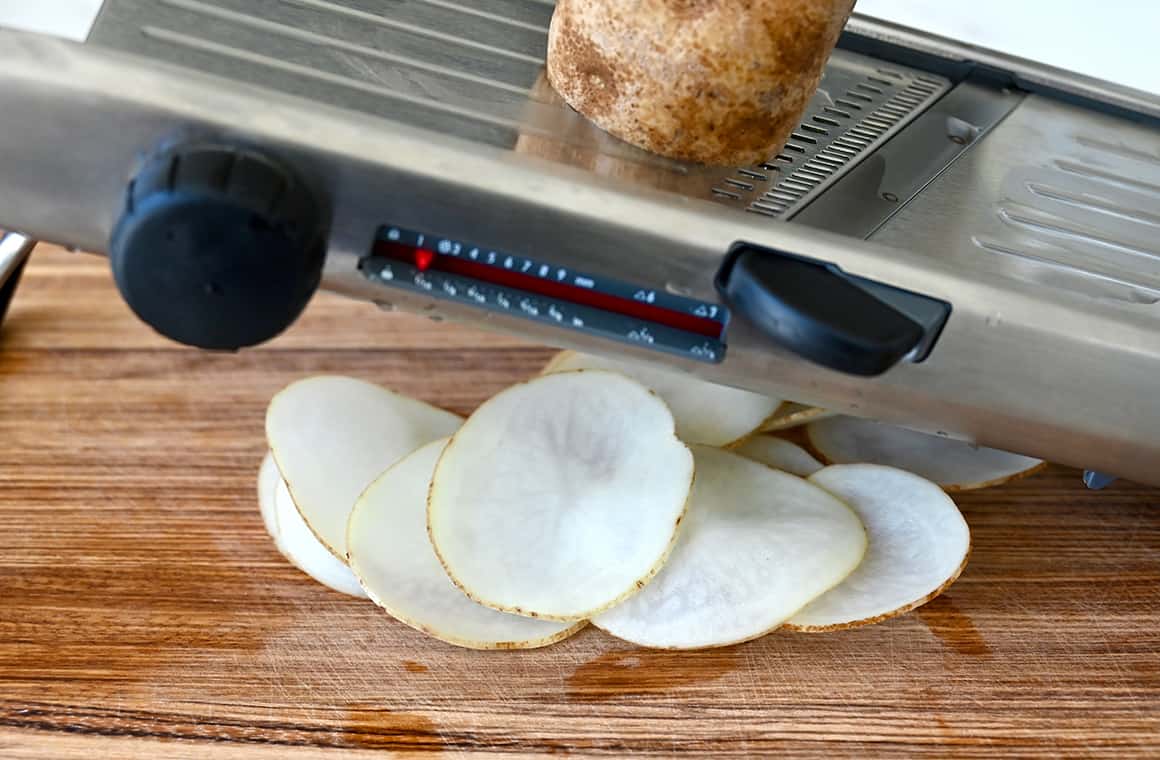 The real allure with this recipe is two-fold: the potatoes are sliced extra-thin, which means they become shatteringly crispy when fried; and then they're tossed in a homemade barbecue seasoning blend that's equal parts savory, smoky and sweet.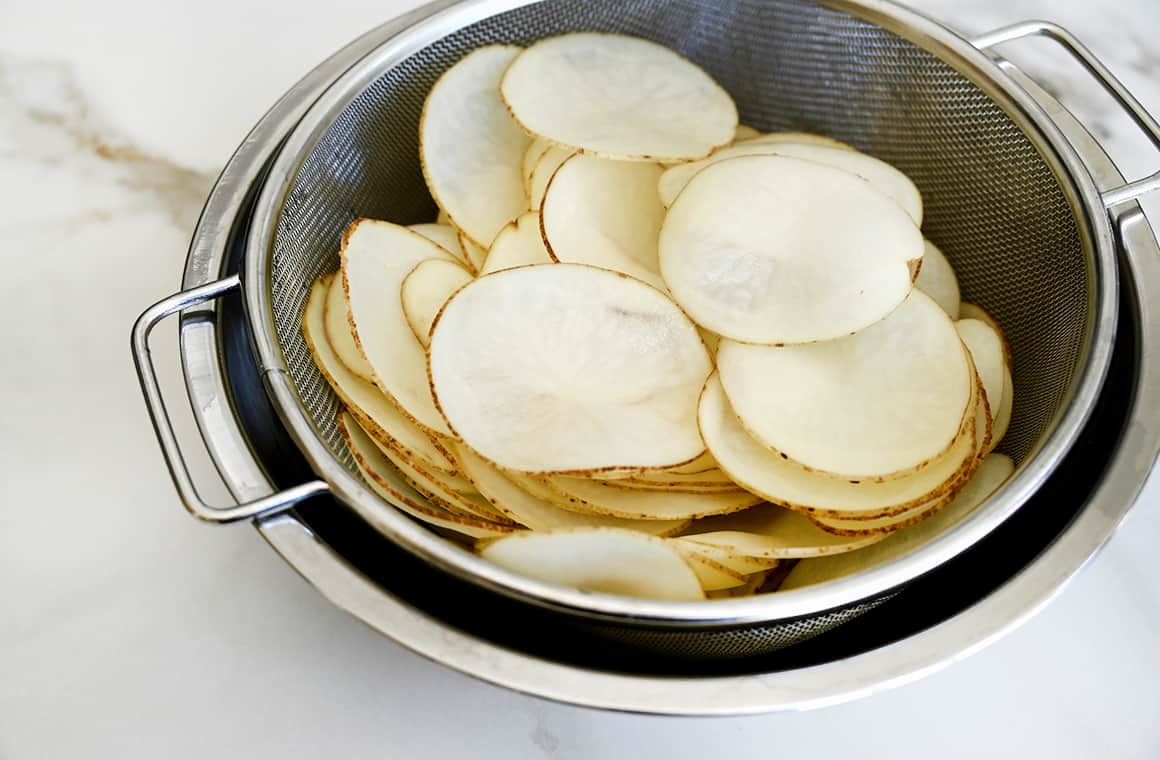 How Do You Keep Homemade Potato Chips Crispy?
It's the #1 question in the DIY salty snack space and I have got answers aplenty for you! It all comes down to consistency across the board, from chip thin-ness to oil temp.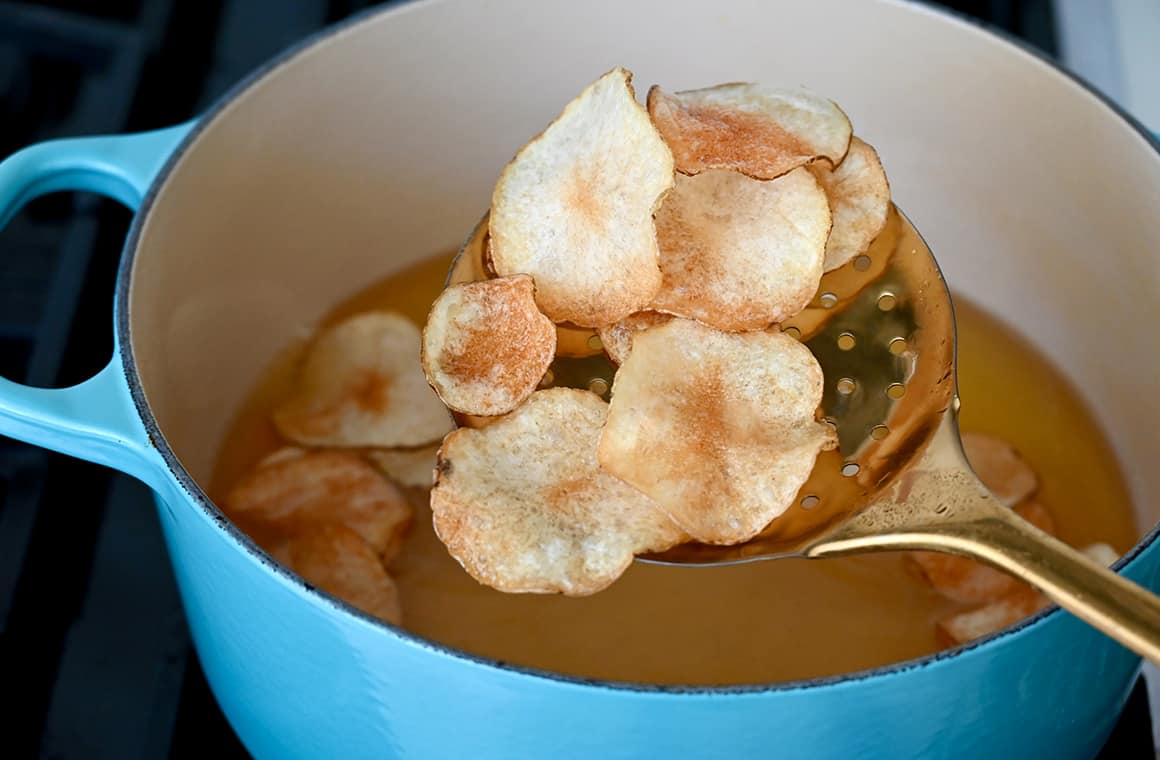 Mandoline for the Win: First things first, we need to start with paper-thin slices of potato in order to get the best shot at extra-crispy chips. Opt for a mandoline at the 1/16-inch setting. No mandoline? Sharpen that chef's knife and get to slicing!
Consistency is Key: Whether you're using a mandoline or a knife, slicing the potatoes to a routine thin-ness will guarantee they all fry at the same rate and time.
Bring the Oil to a Boil: Successful deep-frying comes down to monitoring the oil temperature, which means a deep-fry thermometer is key. The ideal temperature to deep-fry potato chips is 360°F. Most importantly, it is essential to return the oil to 360°F between each batch.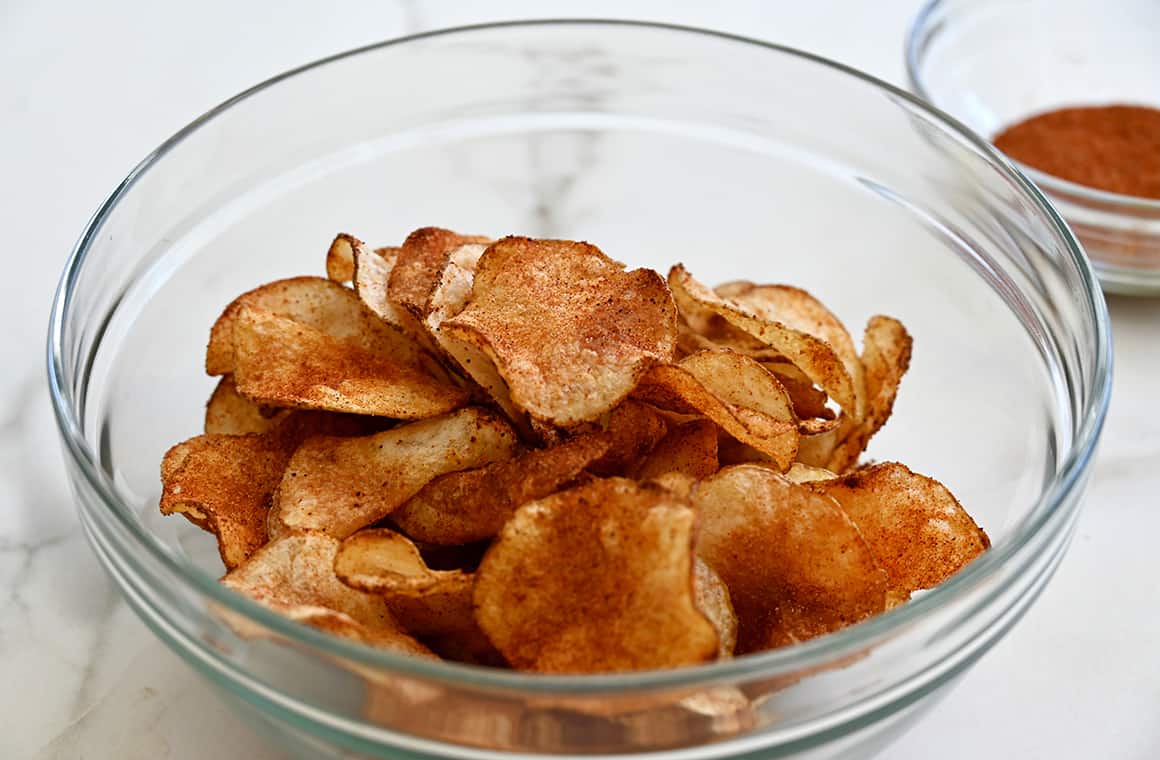 Why Soak Potatoes When Making Chips?
Soaking the sliced potatoes in water draws away the starch, which is what can cause the chips to stick to each other during the frying process. The more starch you can remove, the less sticky the potatoes will be. Translation: This is a clump-free zone!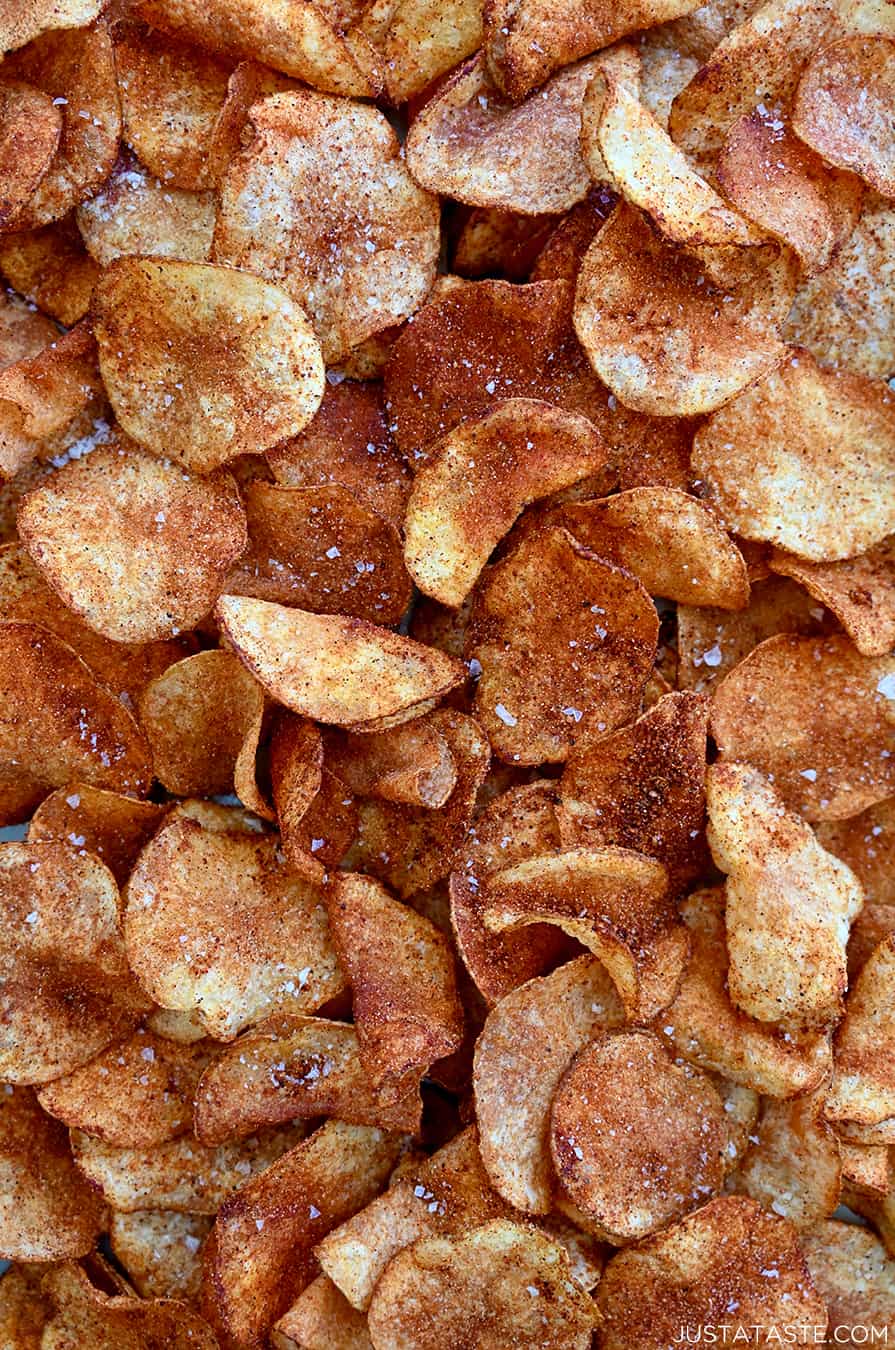 How to Store Homemade Potato Chips
An air-tight container, whether in the form of a sealable plastic bag or a Tupperware-like vessel, is essential. Air is the enemy when it comes to crispiness. The more airtight the chips are, the crispier they will remain. Stash your bag or container at room temp for maximum freshness.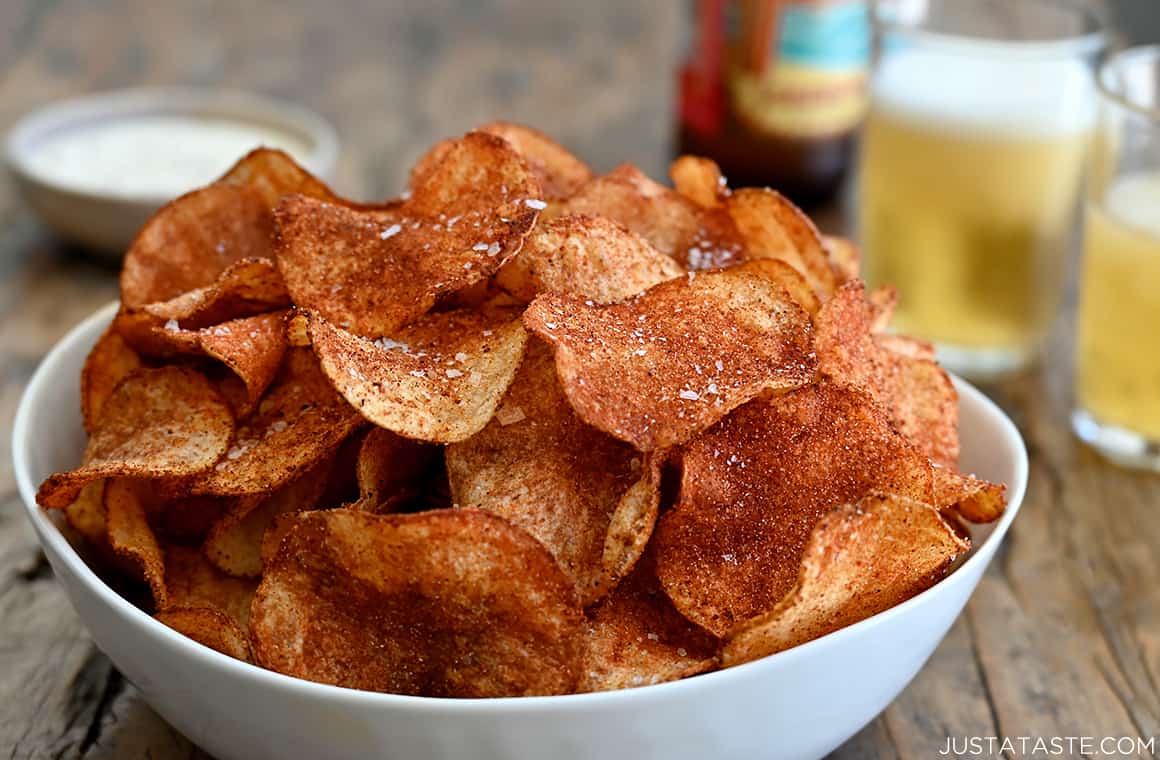 Craving more?
Subscribe to Just a Taste
to get new recipes, meal plans and a newsletter delivered straight to your inbox! And stay in touch on
Facebook
,
Twitter
,
Pinterest
and
Instagram
for all of the latest updates.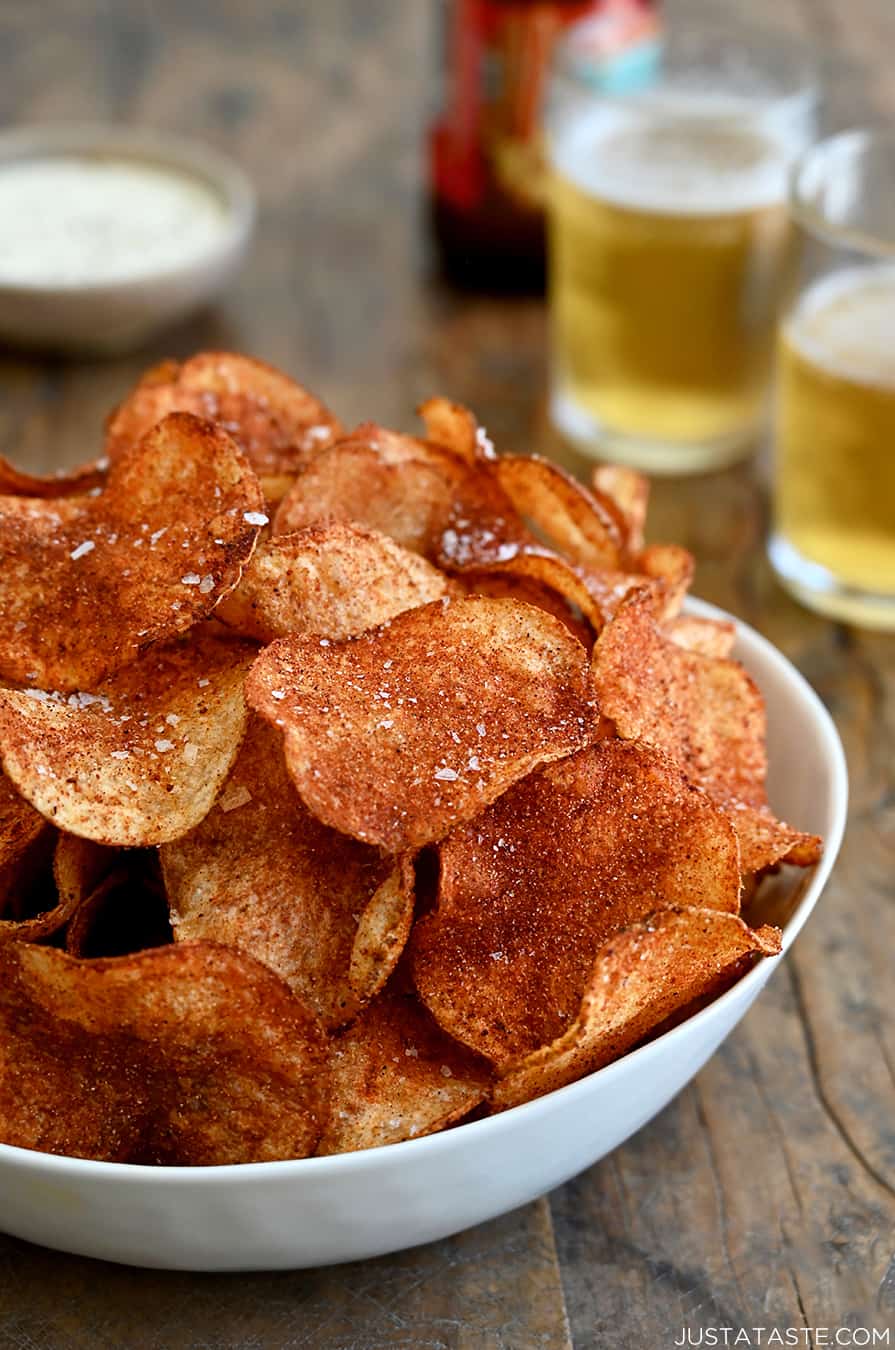 Ingredients
2

teaspoons

paprika

2

teaspoons

light brown sugar

1

teaspoon

garlic salt

1

teaspoon

onion powder

1/2

teaspoon

chili powder

1

teaspoon

Lawry's Seasoned Salt

1/2

teaspoon

kosher salt, plus more to taste

1/2

teaspoon

fresh black pepper

2

large baking potatoes, scrubbed

Vegetable oil, for frying
Instructions
In a small bowl, stir together the paprika, light brown sugar, garlic salt, onion powder, chili powder, Lawry's Seasoned Salt, salt and pepper. Set the mixture aside.

Using a mandolin or a very sharp knife, slice the potatoes to 1/16-inch thick. Place the slices in a bowl of water so that they are fully submerged. Soak the potatoes for 30 minutes.

Remove the potatoes from the ice water and transfer them to a paper towel-lined plate. Pat them completely dry.

Fill a heavy-bottomed stock pot with 2 inches of oil and heat it over medium-high heat until the oil reaches 325ºF. Line a large baking sheet with paper towels.

Fry the potatoes in batches, flipping them constantly in the oil until they turn golden brown, 3 to 4 minutes. Use a slotted spoon to transfer the potatoes to the paper towel-lined baking sheet. Let them cool for 30 seconds before transferring them to a large bowl. Sprinkle the hot chips with a portion of the seasoning mixture and lightly toss them until they're evenly coated. Repeat the frying and seasoning process with the remaining potatoes.

Let the chips cool completely before storing them in an airtight container at room temperature.

★ Did you make this recipe? Don't forget to give it a star rating below!
Nutrition
Calories:
72
kcal
,
Carbohydrates:
17
g
,
Protein:
2
g
,
Fat:
1
g
,
Saturated Fat:
1
g
,
Polyunsaturated Fat:
1
g
,
Monounsaturated Fat:
1
g
,
Sodium:
938
mg
,
Potassium:
376
mg
,
Fiber:
1
g
,
Sugar:
1
g
,
Vitamin A:
258
IU
,
Vitamin C:
5
mg
,
Calcium:
16
mg
,
Iron:
1
mg
This post may contain affiliate links.