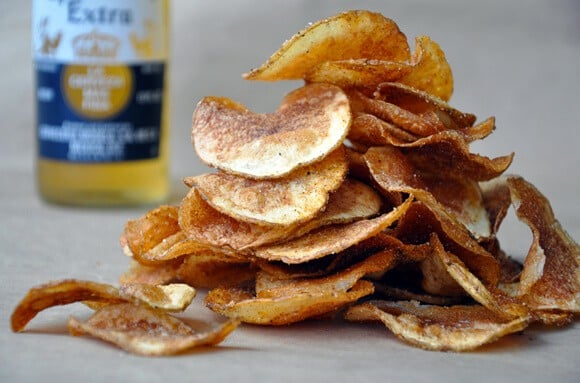 I suppose the best way to convey the addiction factor of Homemade Barbecue Potato Chips is to point you to the greasy residue on my camera. Dang it, Kelly.
I actually had to place a physical barrier between myself and the giant bowl of hot, crispy chips. In this case, the barrier was a tightly-sealed layer of plastic wrap, which I then poked a hole through to have just. one. more.
You can opt for my sweet and tangy barbecue mix, or keep it classic with simple sea salt and cracked black pepper. Regardless of how you season your batch, I can guarantee you won't be able to stop at a single handful.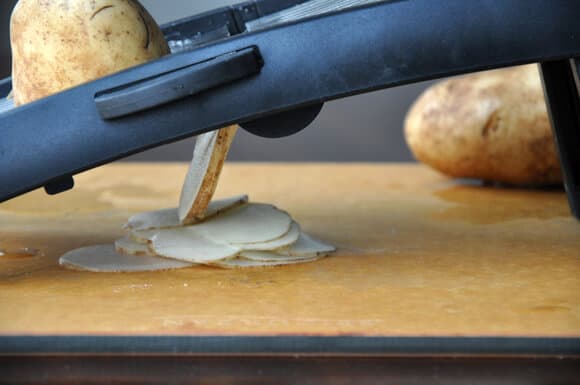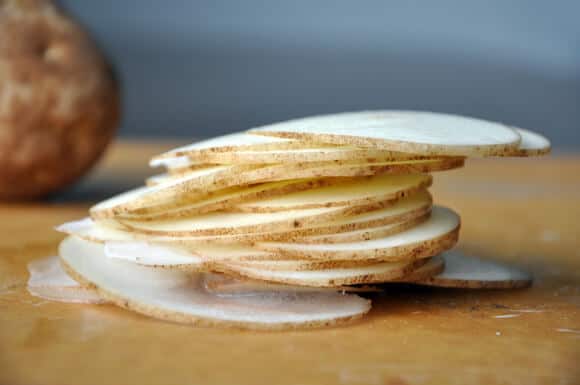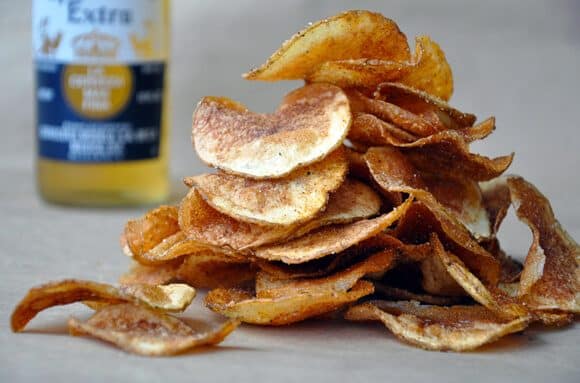 Ingredients
1

teaspoon

paprika

1

teaspoon

brown sugar

1/2

teaspoon

garlic salt

1/2

teaspoon

onion powder

1/4

teaspoon

chili powder

1/2

teaspoon

Lawry's Seasoned Salt

1/2

teaspoon

salt

1/4

teaspoon

fresh black pepper

2

large baking potatoes, scrubbed

Vegetable oil, for frying
Instructions
Combine all of the seasonings in a small bowl. Set aside.

Using a mandolin, or a very sharp knife, slice the potatoes to 1/8-inch thick. Place the slices in a bowl of ice water so that they are fully submerged. Soak the potatoes for 30 minutes.

Remove the potatoes from the ice water and transfer them to a paper towel-lined plate. Pat them completely dry.

Fill a heavy-bottomed stock pot with 2 inches of oil and heat it over medium-high heat until the oil reaches 375ºF.

Fry the potatoes in batches, flipping them constantly in the oil until they turn golden brown (approximately 3 to 4 minutes). Use a slotted spoon to transfer the potatoes to a paper towel-lined plate. Let them cool for 30 seconds before transferring them to a large bowl. Sprinkle the hot chips with a portion of the seasoning mixture and lightly toss them until they're evenly coated. Repeat the frying and seasoning process with the remaining potatoes.

Store the chips in an airtight container.

★ Did you make this recipe? Don't forget to give it a star rating below!