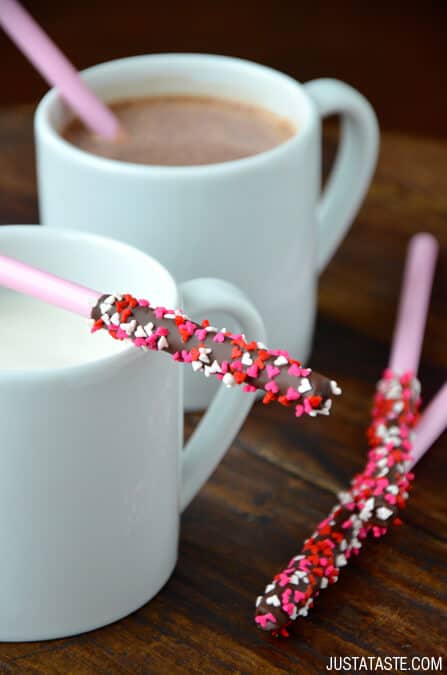 Love it or dread it, Valentine's Day is just around the corner, which means the Interwebs are a flutter with pink sprinkles, candy conversation hearts, chocolate-dipped strawberries, and red velvet everything. Needless to say, I'm joining the sugar-coated celebration.
Regardless if you're dining with your sig-o or going solo this February 14, the good news is that chocolate stir sticks can be made for one or one hundred and will inevitably become  your mug's new best friend. Not only do they turn warm milk into instant hot chocolate, they also add a sweet kick to coffee for the ultimate mocha. I tested out a few options—from single-dipped dark chocolate straws to milk chocolate heart molds—so read on for a few tips for kicking up your cocoa this Valentine's Day.
Begin by melting your choice chocolate in a double-boiler on the stove or in a microwave-safe bowl (stirring every 20 seconds). There are a few ways to go about crafting the stir sticks, either by using straws, spoons, or a mold (such as the heart-shaped one below).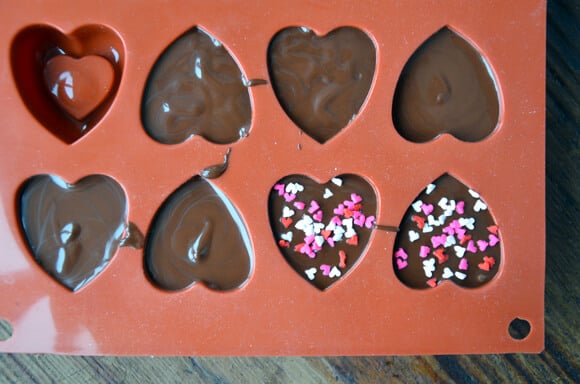 If you're using straws or spoons, simply dip them in the warm chocolate and opt for a festive touch with a dash of sprinkles. If you're using a mold, pour the chocolate (and add the optional sprinkles), and then stick in the straws. They won't stand on their own, so I used a photo clamp to hold them upright. Once the dipped straws or spoons have dried, warm up a mug of milk or coffee, and then stir and sip your way from simple to spectacular.