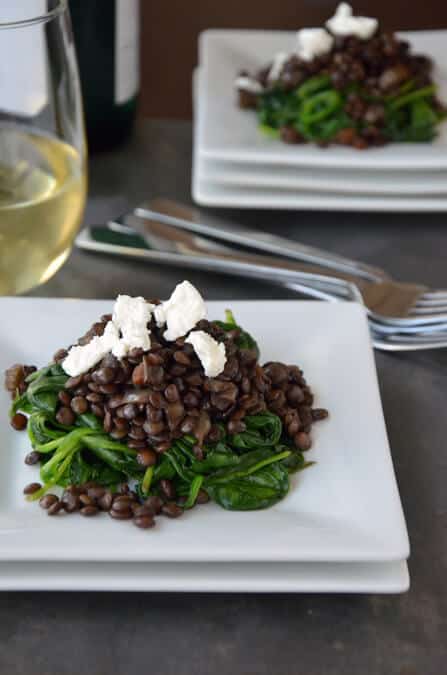 Simplicity seems to be a common theme among New Year's resolution makers this year. And chances are if you aren't vowing to simplify your life, then you're vowing to slim down, shape up or achieve some combination of the two in 2012.
Every year when January 1 rolls around, I find myself making a mental promise that I'll eat healthier. I'll forgo the soda in place of water. I'll skip the fries in favor of fruit salad. I'll not eat eat less dessert. And then for one week, I cook and eat like I'm training for the Tour de France.
But then day 8 rolls around. Dang it, day 8. You ruin my resolution faster than I can concede that yes, the greasy, cheesy residue on my fingertips is in fact evidence linking me to a caloric crime involving a ShackBurger, fries and a Diet Coke.
But today is day 4. And I'm still reveling in the glory of eating like an Olympic athlete, which is what led me to this recipe for Lentils with Spinach and Goat Cheese. It checks out with both of my resolutions to not only eat healthier, but to live more simply. Combine lentils, mirepoix (a mix of onions, carrots and celery), a splash of chicken broth, leafy spinach and a few crumbles of goat cheese. Sticking to a New Year's resolution (for now, at least) has never tasted so good.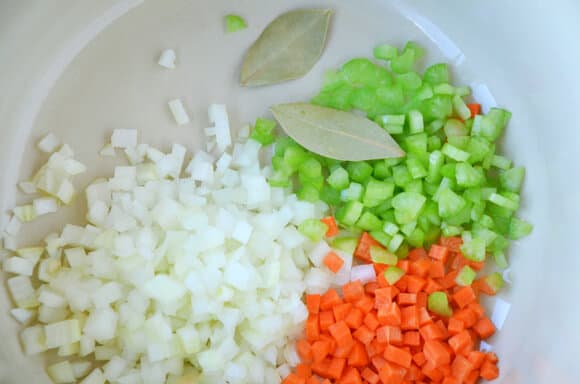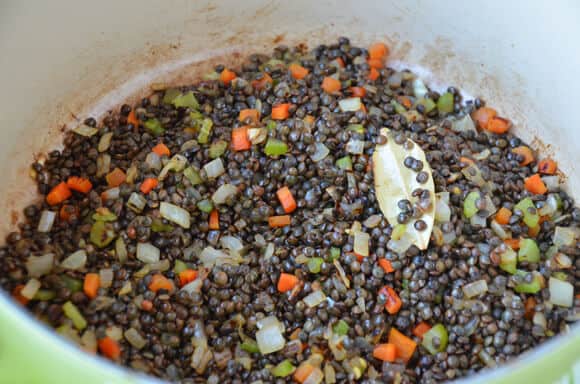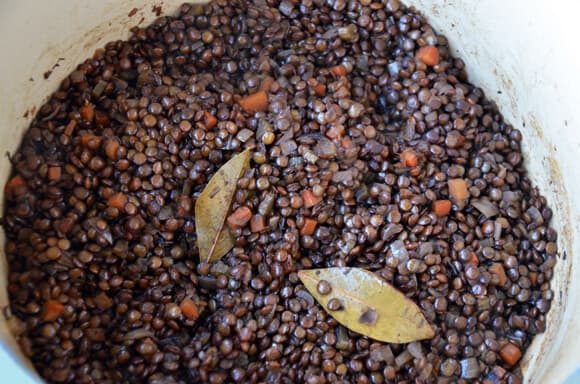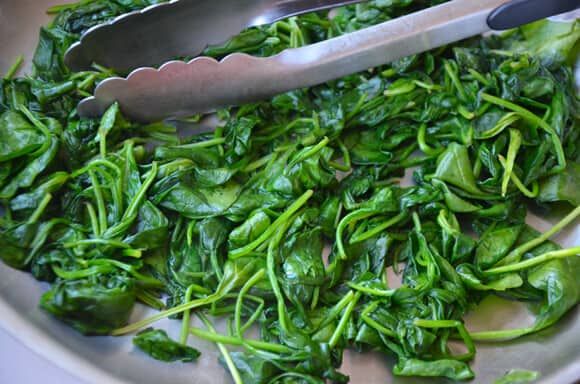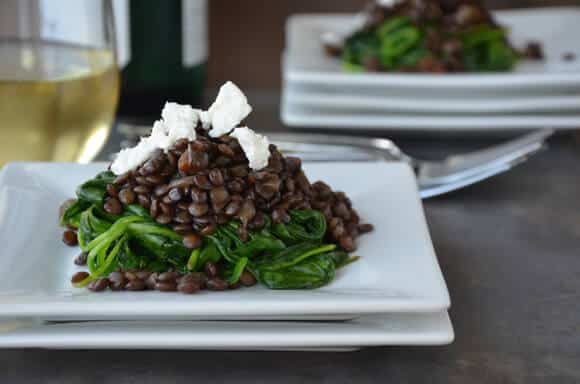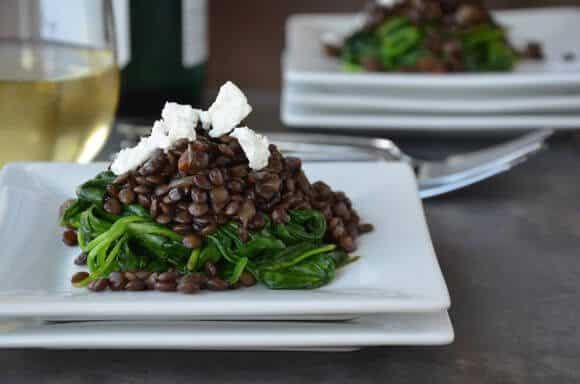 Ingredients
1

Tablespoon

olive oil

1

cup

diced onion

1/3

cup

diced celery

1/3

cup

diced carrots

2

bay leaves

1 3/4

cups

French green lentils

4

cups

low sodium chicken broth

1

Tablespoon

butter

1

pound

fresh spinach leaves

5

ounces

soft fresh goat cheese, crumbled
Instructions
Heat the olive oil in a large heavy-bottomed pot (Dutch oven) over medium-high heat, and then add the diced onion, celery, carrots and bay leaves. Sauté until vegetables are golden brown, 5 to 7 minutes.

Add the lentils to the pot and cook for 1 minute. Add the chicken broth and reduce the heat to medium-low, simmering until the lentils are fully cooked and nearly all of the liquid has been absorbed, about 40 minutes.

Discard the bay leaves and season to taste with salt and pepper.

Melt the butter in a large sauté pan and add the spinach, cooking just until wilted.

Plate the spinach, top it with the lentils and crumbled goat cheese, and serve.

★ Did you make this recipe? Don't forget to give it a star rating below!
Nutrition
Calories:
256
kcal
,
Carbohydrates:
29
g
,
Protein:
17
g
,
Fat:
8
g
,
Saturated Fat:
4
g
,
Cholesterol:
11
mg
,
Sodium:
168
mg
,
Potassium:
855
mg
,
Fiber:
13
g
,
Sugar:
2
g
,
Vitamin A:
6470
IU
,
Vitamin C:
19.6
mg
,
Calcium:
116
mg
,
Iron:
5.1
mg
Recipe adapted from Gourmet.