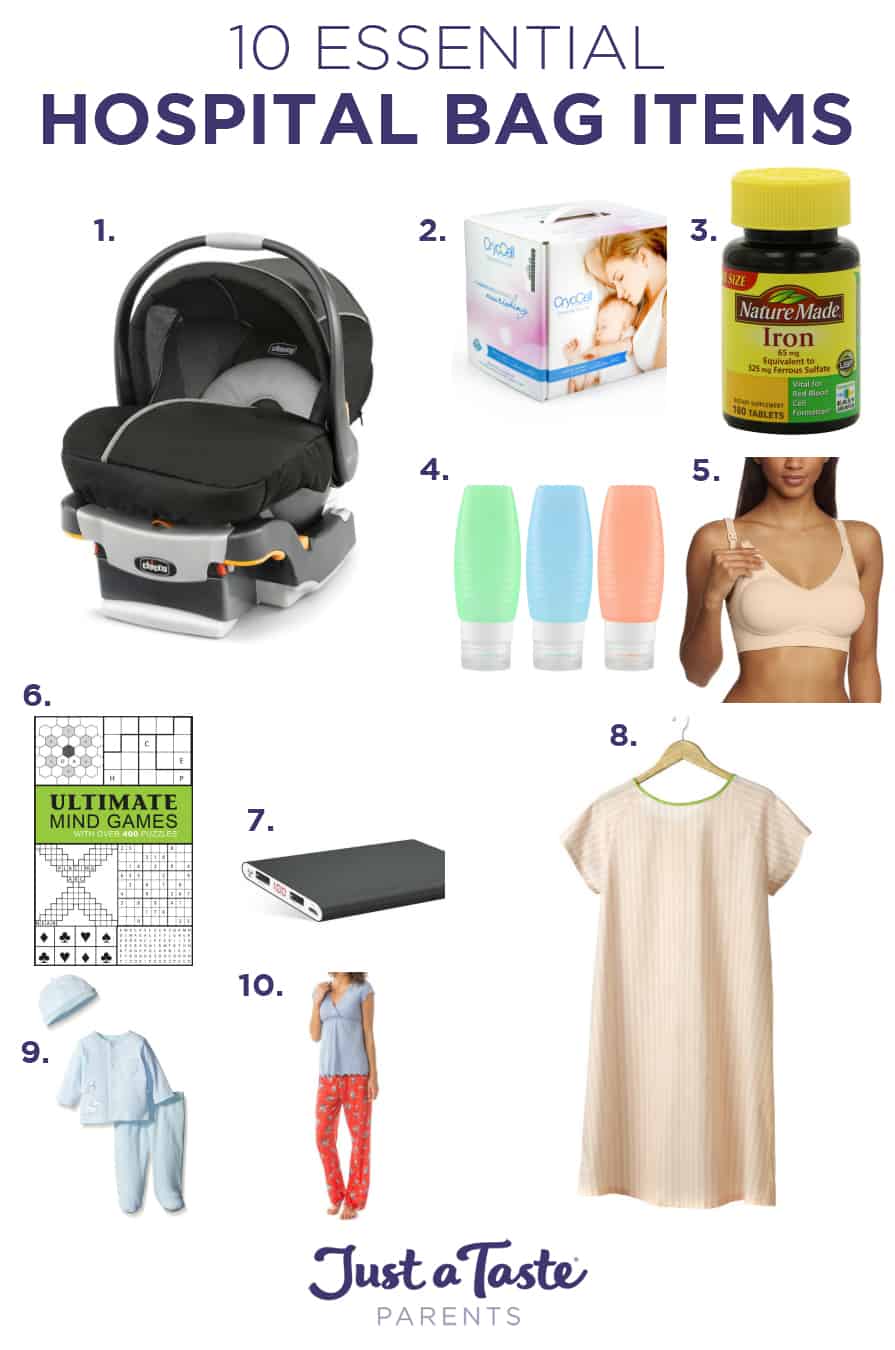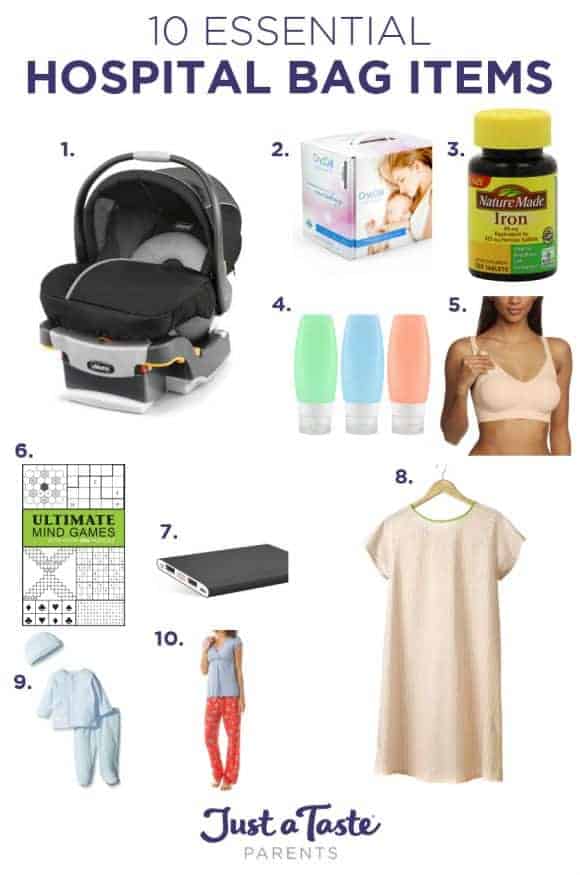 As I count down the weeks (and days, and hours and minutes!) to my little guy's arrival, I've kicked the nesting into high gear with the hope of being as prepared as possible for the big day. And high atop my list of pre-delivery musts is compiling a thorough hospital bag checklist complete with all of the essential items, plus a few can't-miss luxuries.
1. Car Seat
Crazy pregnancy nightmare #387: We are leaving the hospital and I'm holding our new bundle in my lap as we drive home. I inevitably wake up in a cold sweat and remind myself that the car seat has been installed in the car for weeks, as I drive around waiting for the day our little boy will join me on every drive. So while it may not fit directly into your actual hospital bag, the #1 item on my hospital (bag) checklist? The car seat!
2. Cord Blood Kit
Have you decided to bank your baby's cord blood? If so, don't forget to bring your cord blood kit and any required information or instructions for your doctor. To learn more about cord blood banking, check out this informative article from the Mayo Clinic.
3. Medications
Of course the hospital will handle all medications, but it's important to remember to bring any medications you're taking on a daily basis. These could include your pre-natal vitamins and any other supplements your doctor has prescribed.
4. Toiletries
Toiletries may seem like a given, but for a girl who loves her products, having my own toiletries at the hospital is a must. Don't forget the obvious ones (toothbrush, toothpaste, face wash, etc.) and the not-so-obvious ones (hair brush, hair ties, hand lotion, etc.).
5. Nursing Bra
Ditch the underwire and keep comfort high atop your list with a good quality nursing bra. Whether you're breastfeeding on Day 1 or pumping, soft undergarments will work wonders for your relief after delivery. (P.S. Don't forget about your other undergarments! Hospital-issued adult diapers don't always wow in the comfort department, so don't hesitate to pack your own.)
6. Distractions
Crossword puzzles, sudoku books, trashy magazines, Netflix binges, Candy Crush tournaments, Instagram scroll sessions — Consider any and every form of distraction (digital and otherwise) to get you from that first contraction through delivery.
7. Cell Phone Charger
The flood of calls, texts and emails accompanying your little one's birth may have your phone working double-time. Keep your battery power up and your communication lines open by remembering your phone charger, and perhaps even a super-compact extra battery.
8. Robe and Slippers
Nothing says "luxury" like a hospital-issued gown! Whether you're bringing your own gown for the big day (I'll be bringing this one) or opting for the hospital's finest couture, keep yourself comfortable with a robe and slippers from home. Familiar fabrics, familiar scents and familiar comfort for the win.
9. Homecoming Outfit for Baby
I've spent weeks debating what outfit our little boy will arrive home in, picturing his tiny body in various shades of blue onesies. In addition to the outfit, it's important to remember any important accessories, such as a hat for warmth or mittens to prevent any scratches from newborn nails.
10. Homecoming Outfit for You
Perhaps fashion will be the last thing on your mind, but don't forget that you'll be coming home from the hospital, too! Pack a comfy outfit that's easy to change into and out of for that first drive home. I am fully stocked up on my favorite Majamas Nursing Pajama Sets because they're comfortable enough for sleeping and lounging but stylish enough to pass as more than pajamas in public. (Or at least I tell myself this now!)
11 (Bonus!): Camera
This one wins the "duh!" award. A camera and/or video camera are great to have on hand to capture the happiest of days. Opt for a separate camera (I shoot with this Nikon camera) or keep it simple by turning to your smartphone to kick off your baby's birthday photos.
What's on your hospital bag checklist? I'd love to know in the comments below!
Craving more? Subscribe to Just a Taste to get new recipes, meal plans, and information about all things pregnancy, maternity and parenting delivered straight to your inbox!
Disclosure: This post contains affiliate links.