This recipe has been stamped with a gigantic "V" for VEGAN.
You're probably wondering what in the deep-fried ravioli a vegan recipe is doing on a blog that champions making biscuit dough with bacon fat drippings, but I am proud to share that I just finished a week-long vegan cleanse and I am feeling like a lean, mean vegan machine … with a routine … that's pristine … and I'm done. Seriously though, I have never had more energy or felt better!
I was in a rut after returning from a vacation in which I ate like I had a 13-year-old boy's metabolism and drank like I was a college freshman. Don't get me wrong, every single buttery bite and bubbly sip was worth it. But upon my return I realized I needed an eatitude adjustment. I did some research, talked to a fellow vegan and set myself up for the challenge.
I'll be honest: I had some concerns about eating vegan (even just for one week). No meat? No eggs? No milk? No problem. But no cheese? NO #@&*!%$ CHEESE?! Cheese is my favorite food on the planet, and I knew that was going to be tough. Aside from my Parmesan withdrawals, my other concern was being hungry, as those who know me best will tell you that I am one cranky kitty when I don't eat. But the total absence of hunger pangs was the biggest surprise of my week-long journey. Not once was this doughnut-loving girl hungry.
I'm not here to tell you to go vegan—not for a day, not for one week, not for a lifetime. But I am here to share that eating vegan has completely changed my approach to food. I have so much more respect for the power of whole grains and soy in our daily diet. While I could never be entirely vegan (blue cheese is my kryptonite), I will continue doing these week-long cleanses whenever I'm in need of a fresh start. So have no fear! Just a Taste is definitely not morphing into a health blog. Stay tuned for all of the usual cheese-stuffed, butter-loaded favorites, along with a few more diet-friendly options sprinkled in along the way.
Enough already, let's get on to the food! This is my favorite go-to (vegan) pasta sauce that I spoon over whole wheat shells, or eat straight from the bowl. Arrabiata is a classic Roman sauce made with olive oil, garlic, tomatoes and crushed red pepper flakes. It's fast, fresh, spicy and the perfect dish for weeknight dinners. Grab a fork and dig in!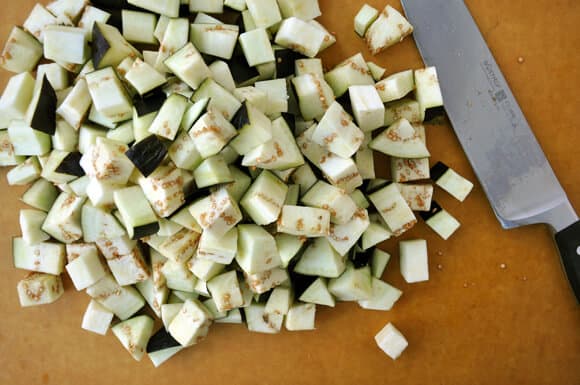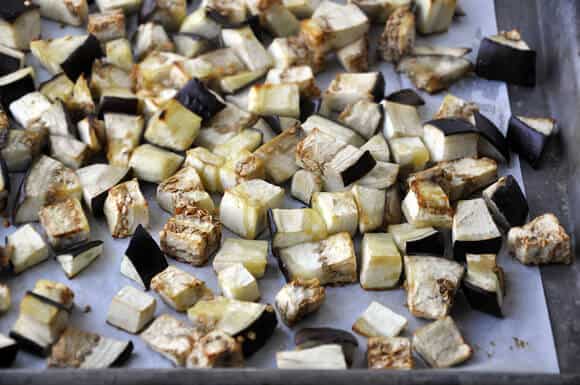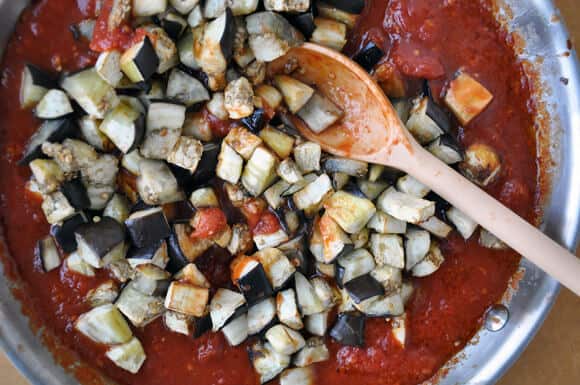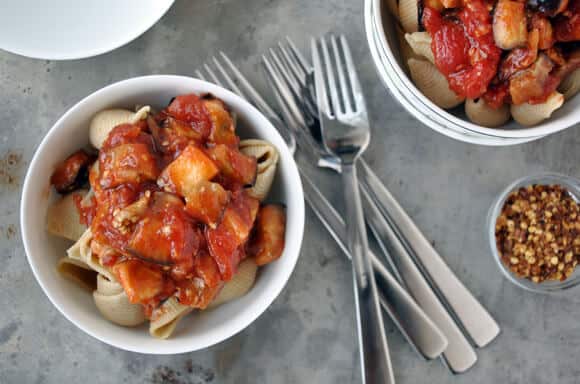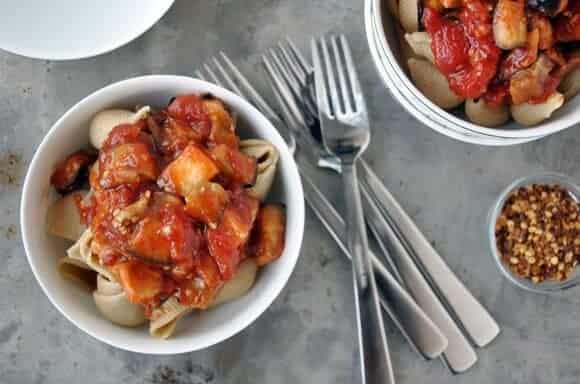 Ingredients
1

eggplant (1 ½ lbs.)

Olive oil

4

garlic cloves, minced

1

(28-oz.) can crushed tomatoes, (Recommended: San Marzano)

1

teaspoon

crushed red pepper flakes

1

pound

whole wheat pasta shells
Instructions
Preheat the oven to 400ºF and line a large baking sheet with parchment paper.

Dice the eggplant into bite-sized cubes and toss them onto the baking sheet (even rows aren't necessary, just make sure they're spread out far enough so they're not touching). Drizzle the eggplant with olive oil and sprinkle with salt and fresh cracked black pepper. Roast the eggplant for 20 to 25 minutes, rotating the baking sheet half-way through the roasting time.

Make the arrabiata sauce by heating a large pan over medium heat. Add 2 tablespoons olive oil, then add the minced garlic and cook for 3 minutes until it's golden. Add the crushed tomatoes and red pepper flakes.

Bring the sauce to a simmer and let it cook for 20 minutes. Season it with salt and pepper to taste.

Make the pasta according to package directions.

Once the eggplant is done roasting, add it to the arrabiata sauce, tossing to coat.

Spoon the eggplant arrabiata sauce over a bowl of pasta and serve.
Kelly's Notes:
You may have to simmer your sauce longer depending on the amount of liquid in your crushed tomatoes. I prefer the San Marzano brand because the tomatoes come in their natural, thick pureé rather than water, which dilutes the sauce.

You can up the crushed red pepper flakes to 1½ or even 2 teaspoons if you like more of a kick.

★ Did you make this recipe? Don't forget to give it a star rating below!
Nutrition
Calories:
286
kcal
,
Carbohydrates:
62
g
,
Protein:
11
g
,
Fat:
1
g
,
Sodium:
13
mg
,
Potassium:
351
mg
,
Fiber:
2
g
,
Sugar:
2
g
,
Vitamin A:
115
IU
,
Vitamin C:
2.3
mg
,
Calcium:
41
mg
,
Iron:
3
mg