Get ready to experience banana bread like you've never experienced it before. I'm talking about one recipe, three ways. The option you choose depends entirely on how badly you want to swap your slim-fit jeans for anything with an elastic waistband.
Option 1: Keep it simple by baking this tried and tested recipe for basic banana bread. If you're feeling a bit wild, stir in 1/2 cup of any of the following: pecans, walnuts, chocolate chips, peanut butter chips or sweetened coconut flakes.
Option 2: Get your streusel on by sprinkling the batter with a quick-fix crumble topping. In a small bowl, combine 1/2 cup all-purpose flour, 1/2 cup packed light brown sugar and 4 tablespoons butter (slightly softened and cut into pieces). Work the mixture together with a fork until it resembles pea-sized crumbles and sprinkle it atop the batter before baking.
Option 3: Ready to make the jump from JV to Varsity? Start with either Option 1 or Option 2, then slice, batter and fry the bread for the ultimate banana bread French toast.
My pick? I'd stir in pecans, walnuts, chocolate chips, peanut butter chips and toasted coconut, crumble on the streusel topping, batter and fry the slices, and then top them with fresh bananas and a drizzle of maple syrup. Moo moo, party of 1, your table is now ready.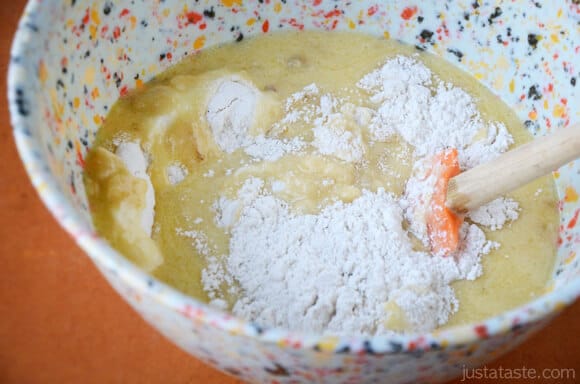 Craving more? Sign up for the Just a Taste newsletter for a second fresh serving of content delivered straight to your inbox each week! And stay in touch on Facebook and Twitter for all of the latest updates.
Banana Bread French Toast

Yield: 6-8 servings

Prep Time:

Cook Time:

Ingredients:

2 cups all-purpose flour
3/4 cup sugar
3/4 teaspoon baking soda
½ teaspoon salt
3 very ripe, soft, darkly speckled large bananas mashed well (about 1 1/2 cups)
1/4 cup buttermilk
6 large eggs
6 Tablespoons butter, melted and cooled, plus additional for frying
1 teaspoon vanilla extract
3/4 cup whole milk
2 teaspoons cinnamon
Maple syrup, for serving
Sliced bananas, for garnish (optional)

Directions:

Preheat oven to 350ºF.
Grease and flour a loaf pan and set aside.
Whisk together the flour, sugar, baking soda and salt in a large bowl. Set aside.
In a separate bowl, mix mashed bananas, buttermilk, 2 eggs, 6 tablespoons butter and vanilla until well combined.
Lightly fold banana mixture into dry ingredients with rubber spatula just until combined and batter looks thick and chunky.
Scrape batter into prepared loaf pan. Bake about 55 minutes, or until toothpick inserted comes out clean.
Allow the banana bread to cool fully, then slice into ½-inch thick slices.
In a medium, shallow pan, whisk together the remaining 4 eggs with the whole milk and cinnamon. Set aside.
Heat a large non-stick pan over medium heat. Add 2 to 3 tablespoons of butter to the pan.
Dip one of the slices of banana bread into the egg mixture, coating it on both sides. Allow the excess liquid to drip off then transfer the coated bread to the hot skillet. Pan-fry the bread for about 3 minutes per side, then repeat the coating and frying process (adding more butter to the pan as needed) with the remaining slices of bread.
Serve the banana bread French toast warm, topped with maple syrup and sliced bananas (optional).

Recipe adapted from Cook's Illustrated.