Add a festive pop of color to your holiday dessert spread with a slice-and-bake recipe for Christmas Pinwheel Cookies.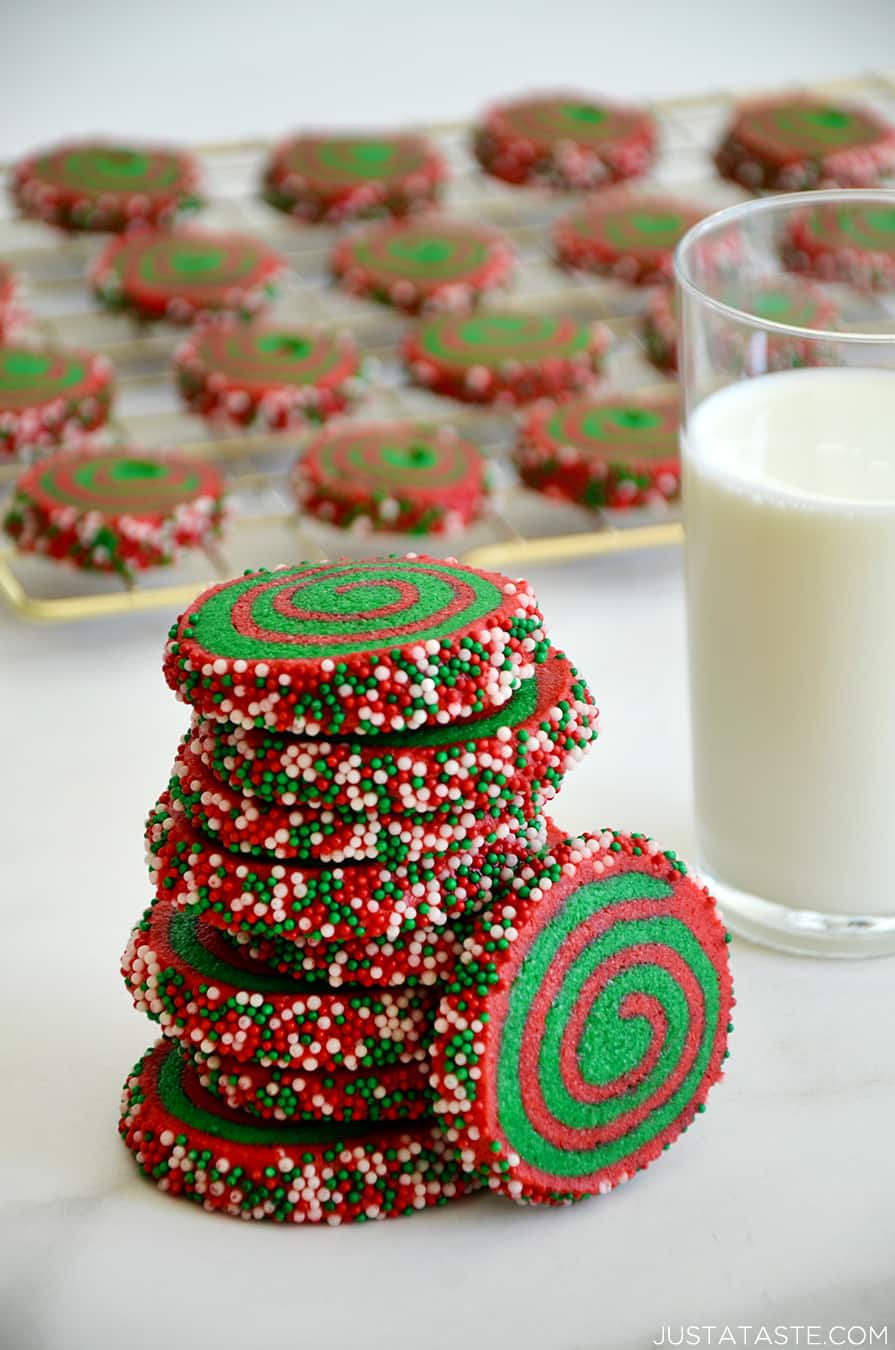 Nothing says "Merry Christmas!" quite like a stack of vibrantly-colored red and green pinwheel cookies complete with festive sprinkles. These stunning sweets are certain to steal the cookie box show!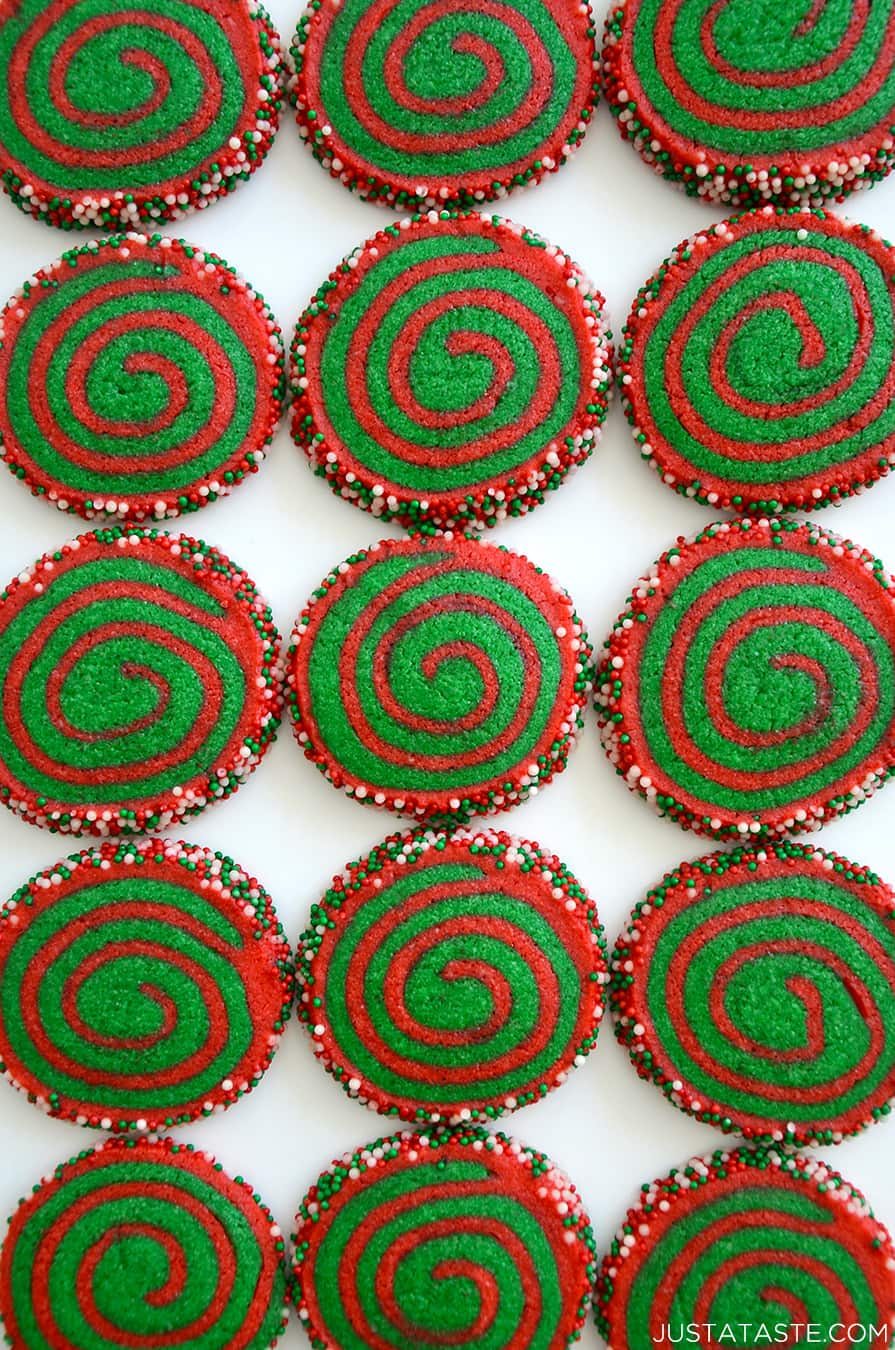 How to Make Christmas Pinwheel Cookies
This classic cookie stars my all-time favorite sugar cookie dough that's dyed vibrant red and green. The flavor is buttery with a hint of vanilla, but you can easily swap in almond, coconut or mint extract for more flavor flair.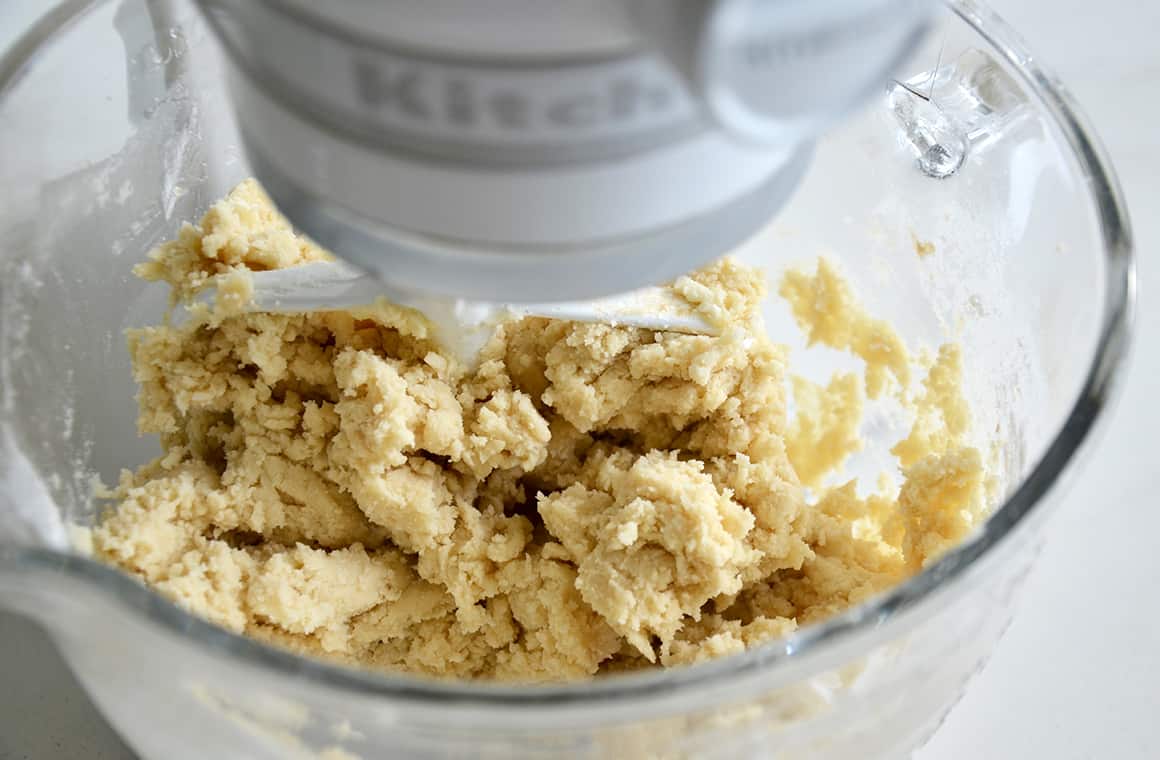 The Best Food Coloring for Sugar Cookies
I swear by gel-based food coloring for any and all of my needs in the kitchen! Gel food coloring (unlike water-based food coloring) creates a very rich color with just a few drops.
For the below colors, I used bright red and leaf green to achieve a vibrant look. Keep in mind that the colors will darken slightly as they bake.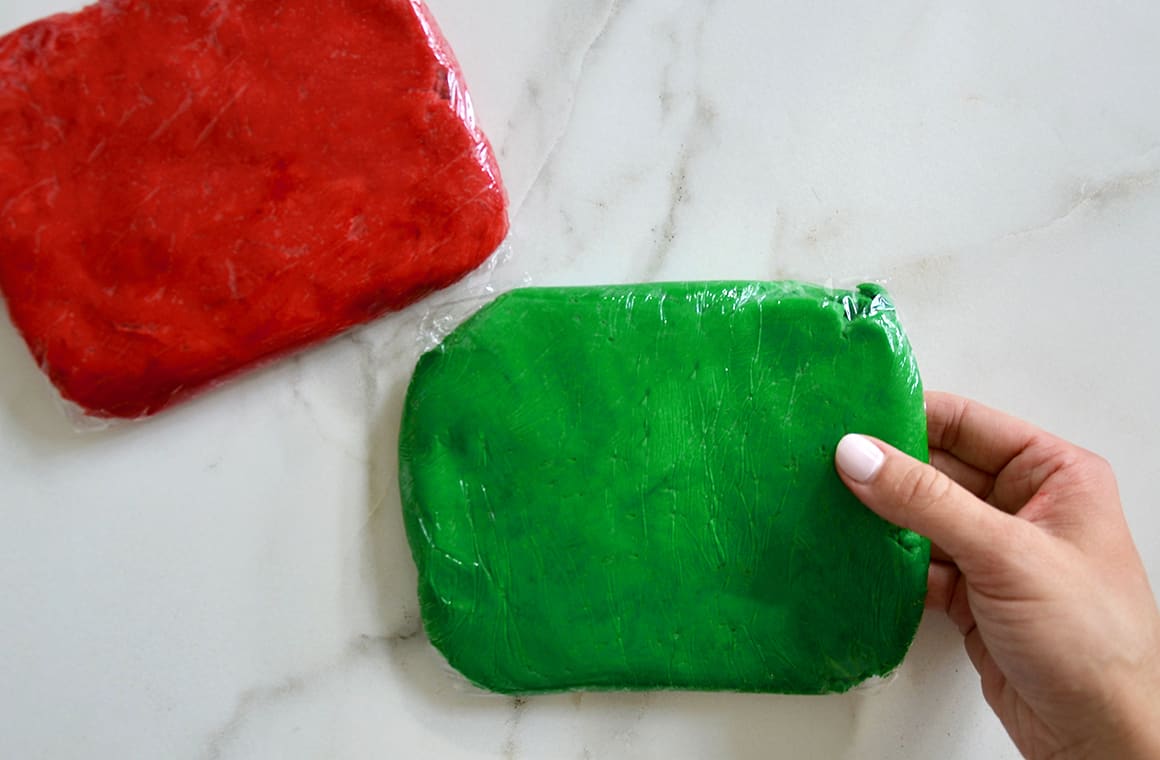 How to Transfer Cookie Dough
This buttery dough can get tough to handle, especially as it gets to room temperature. The easiest way to roll it out and transfer the two doughs on top of each other is to use parchment or wax paper. This allows you to peel back the top layer of paper and stick the red and green sheets of dough together.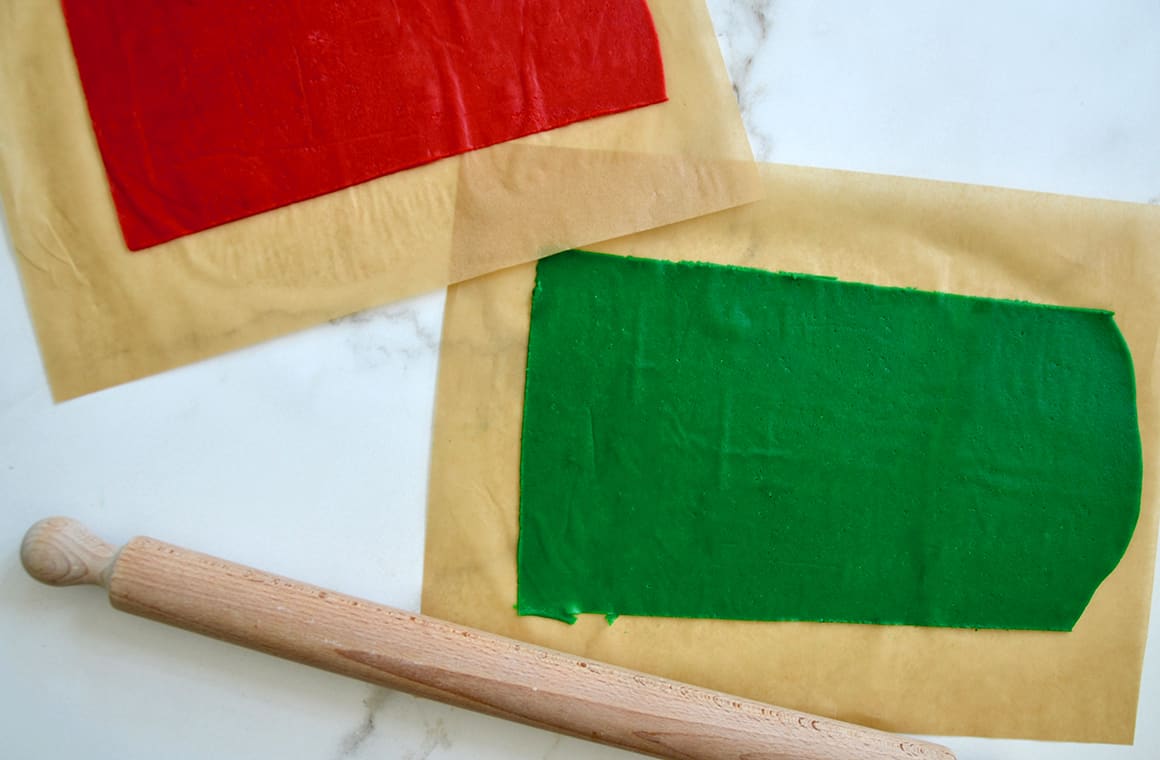 It also makes it much easier to roll the dough sheets up into a log, as you can gently peel away the parchment or wax paper as you roll.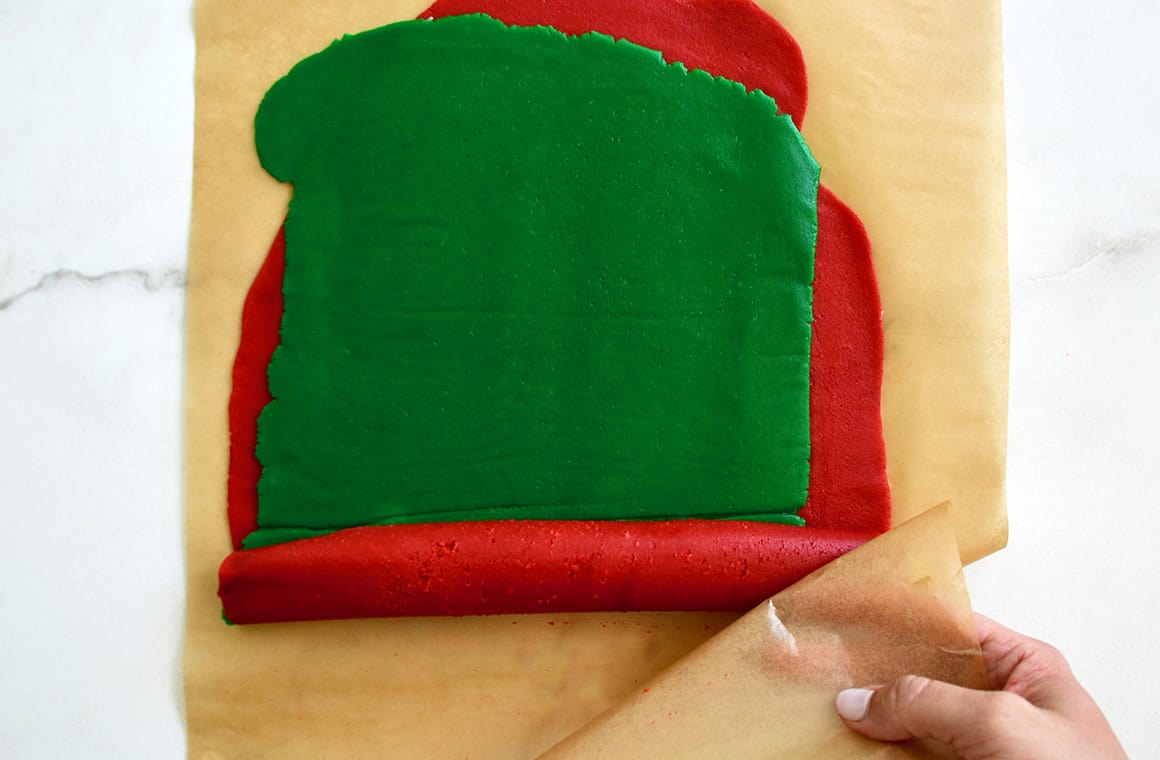 How to Make Sugar Cookies Rolled in Sprinkles
No Christmas Pinwheel Cookies would be complete without the essential color and crunch provided by holiday sprinkles. It's important to chill the dough before rolling it in sprinkles so that the sprinkles stick to the outermost layer without melting too far into the dough log.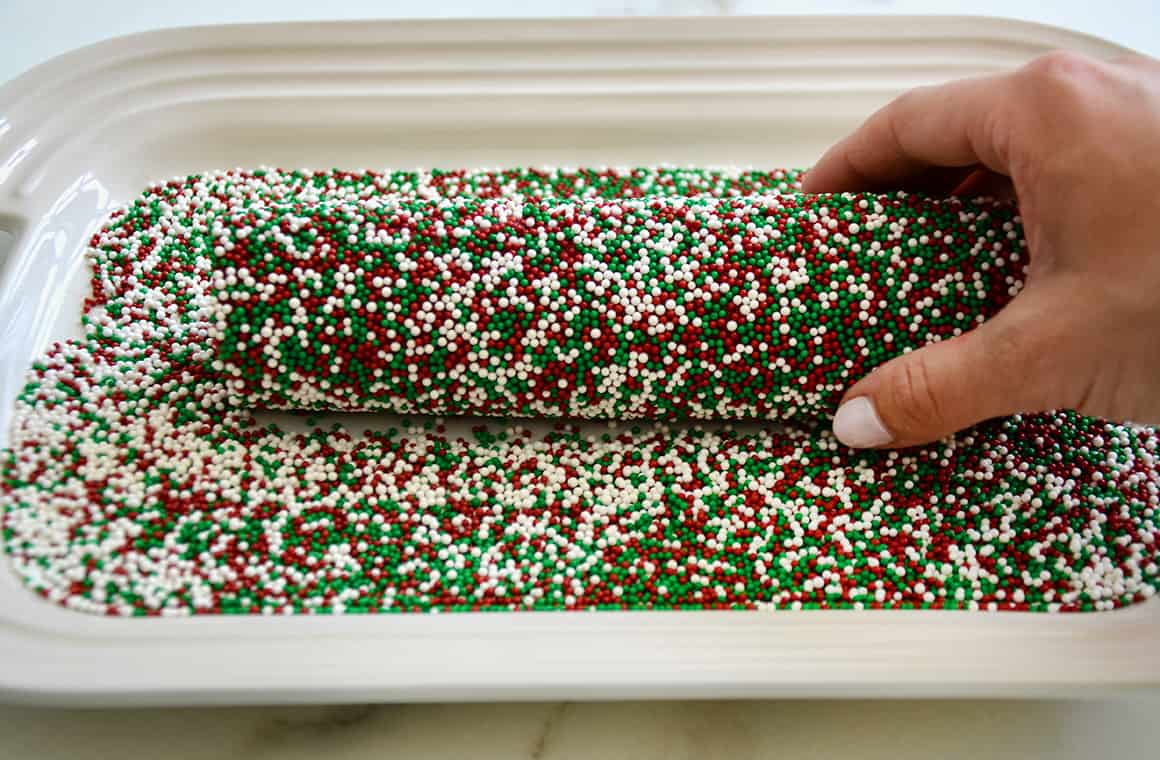 They're just as beautiful before baking as they are after! Just look at those colors and eye-catching spirals…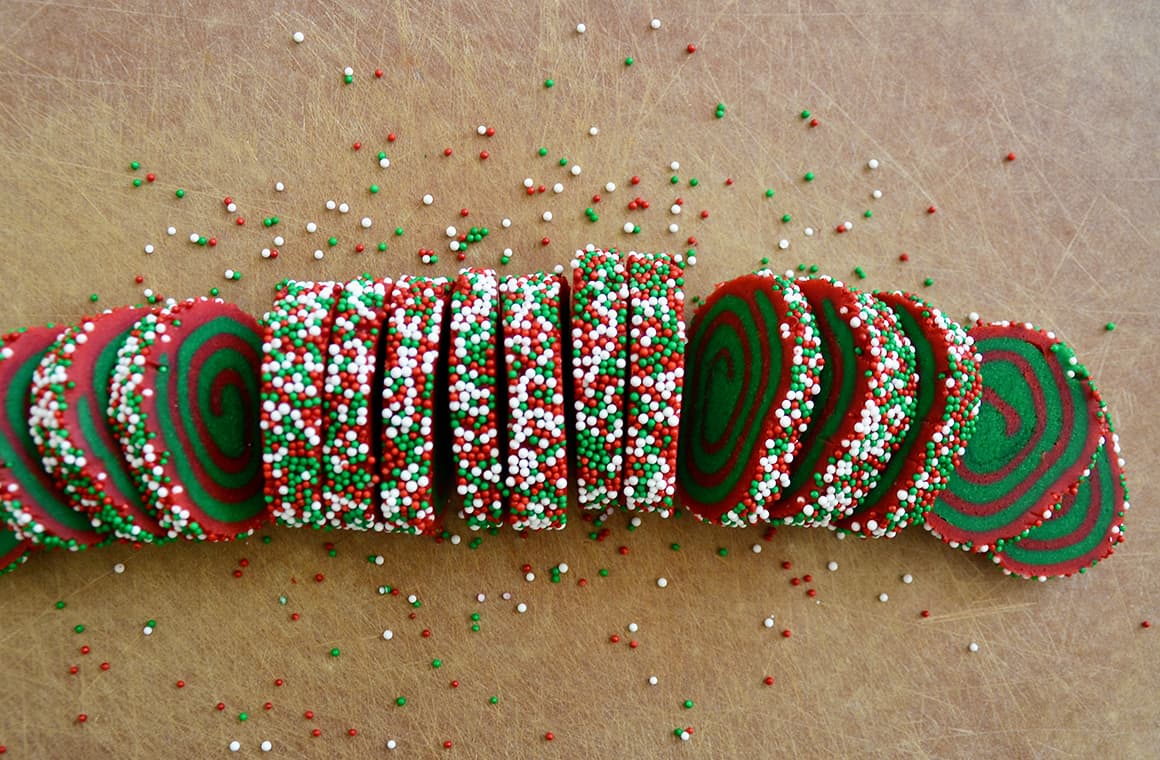 The chilling of the logs is the crucial step when it comes to ensuring Pinwheel Christmas Cookies will maintain their shape and keep their tight spirals.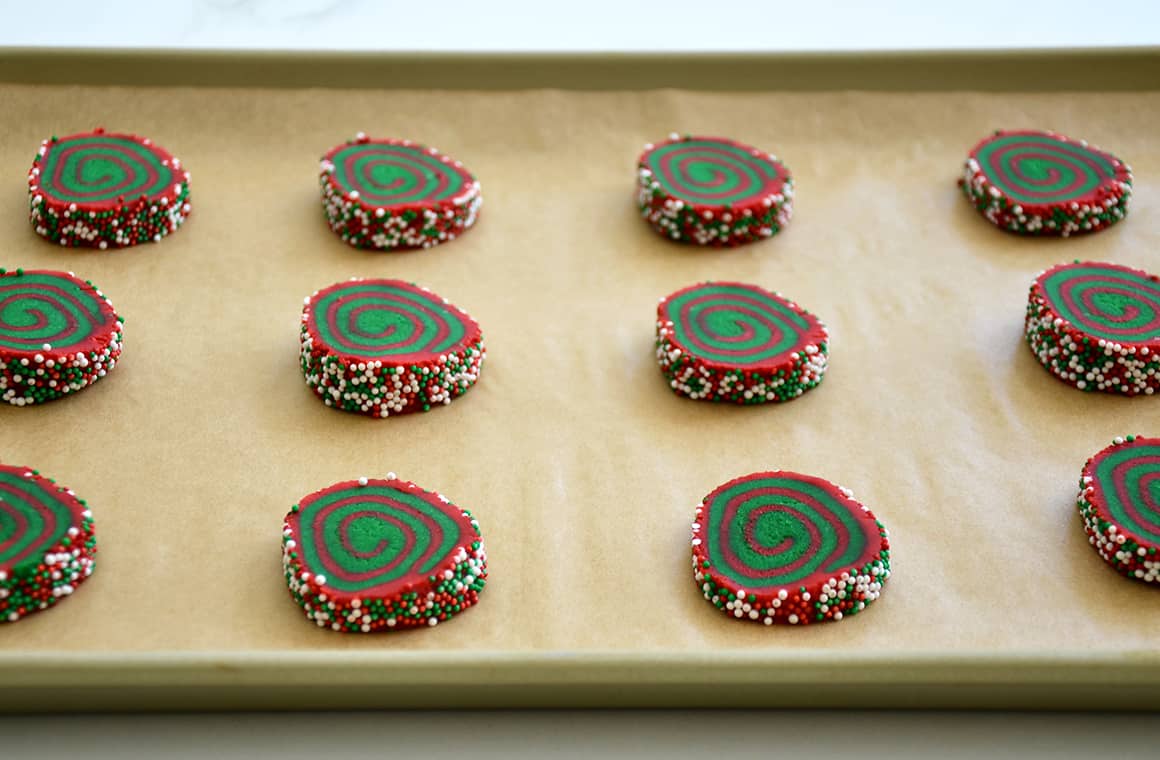 And don't forget that Christmas colors are just the beginning for this classic cookie! Imagine all of the holiday options, from black and orange for Halloween to red, white and blue for the 4th of July (I tested this tri-color option and it was next level!).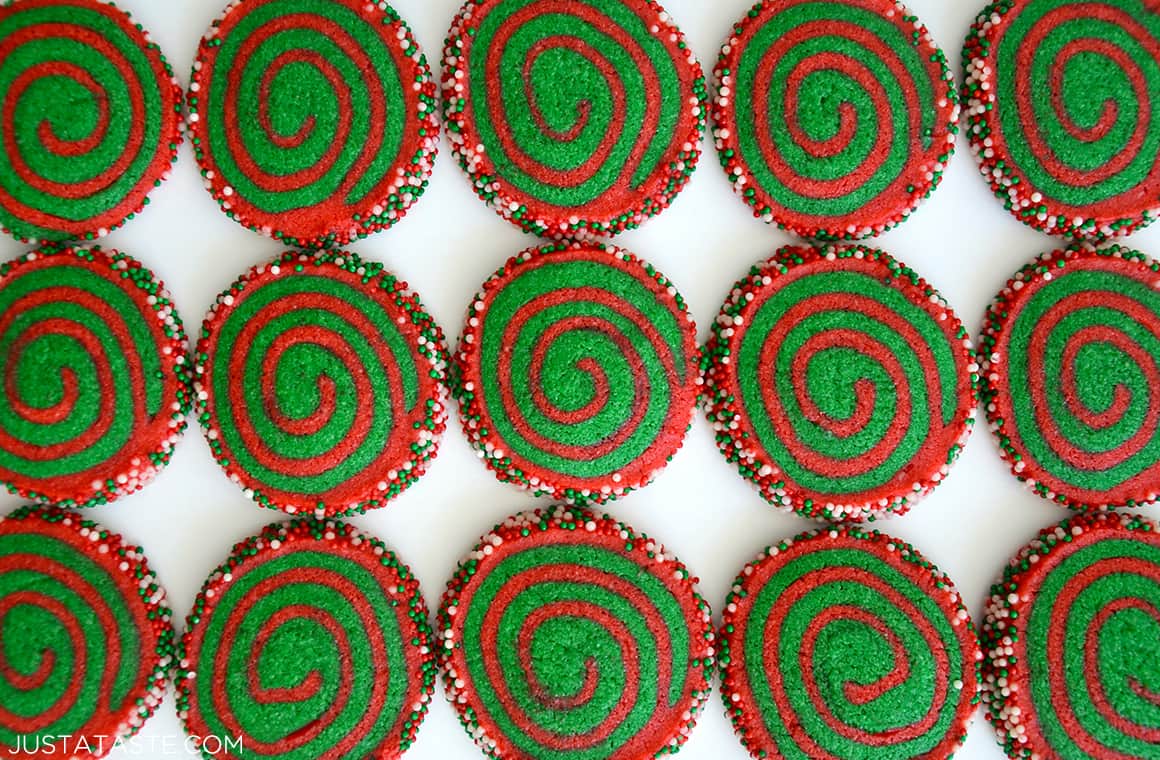 Craving more?
Subscribe to Just a Taste
to get new recipes, meal plans and a newsletter delivered straight to your inbox! And stay in touch on
Facebook
,
Twitter
,
Pinterest
and
Instagram
for all of the latest updates.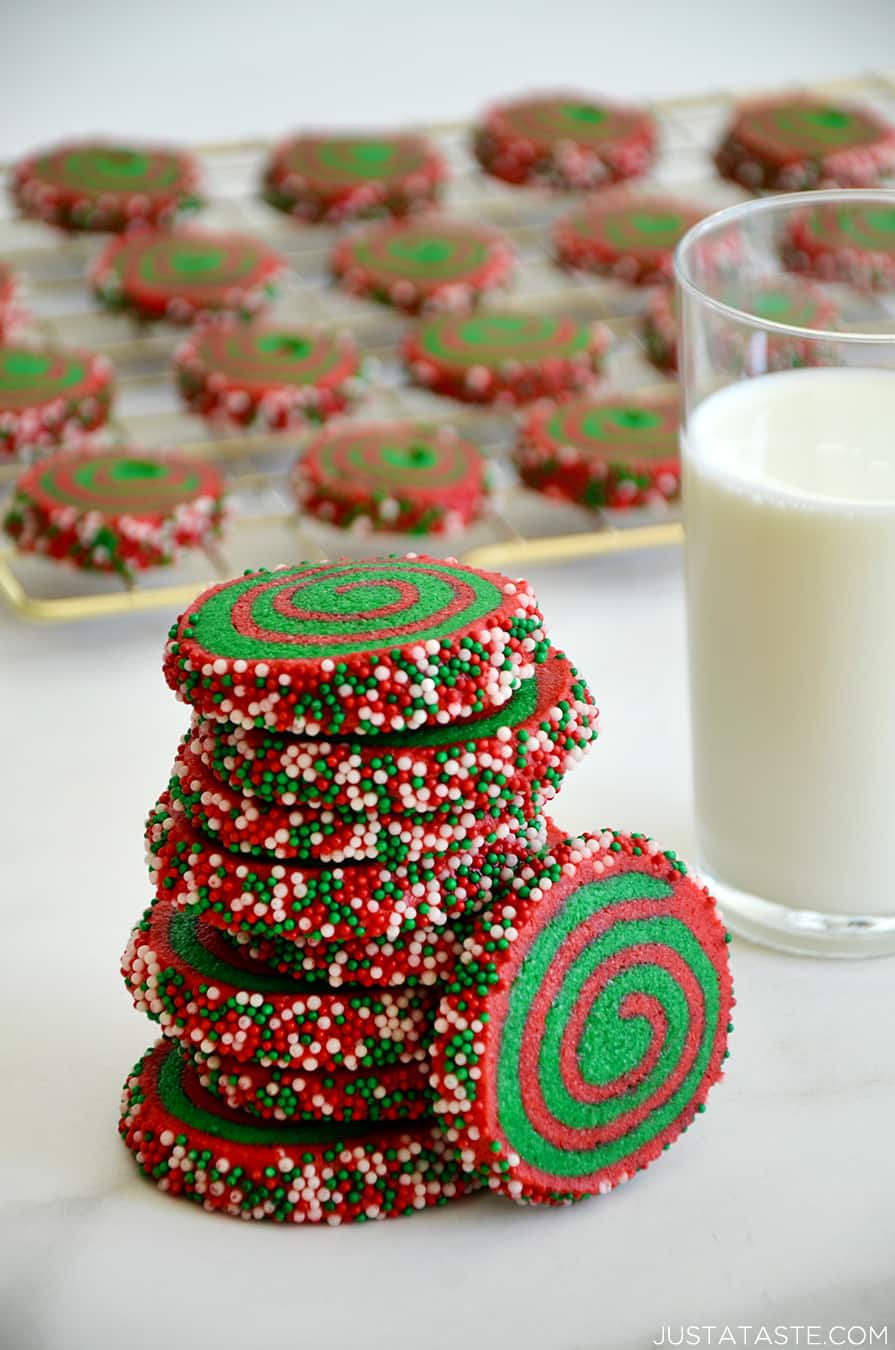 Ingredients
3

cups

all-purpose flour

1/2

teaspoon

baking powder

1/2

teaspoon

salt

1

cup

unsalted butter, cold

1 1/3

cups

sugar

2

large eggs

2

teaspoons

vanilla extract

Red and green food coloring

Sprinkles
Instructions
In a medium bowl, sift together the flour, baking powder and salt. Set aside.

In the bowl of a stand mixer fitted with the paddle attachment, cream the butter until smooth, about 2 minutes. Add the sugar and continue beating until light and fluffy. Add the eggs one at a time, beating between each addition and stopping the stand mixer to scrape down the sides as needed. Beat in the vanilla extract.

Turn the mixer off then add the flour mixture and beat just until combined. Remove the dough and divide it in half.

Return half of the dough to the stand mixer along with your desired amount of red food coloring. Mix until the dough is a cohesive red color. Transfer the dough to plastic wrap, shaping it into an 8-inch square. Wrap it securely and place it in the fridge. Repeat the coloring process with the other half of dough, mixing it with your desired amount of green food coloring. Wrap the green dough in plastic wrap and refrigerate both doughs for 30 minutes.

Remove the doughs from the fridge and cut each in half to form two rectangles of red dough and two rectangles of green dough. Refrigerate one red and one green piece of dough while you roll out the others.

Roll each piece of dough between two pieces of wax paper until it is a rectangle about 1/8-inch thick. Peel off the top layer of wax paper from the green dough then invert it atop the red, peeling off the wax paper so that you have red and green dough stacked atop one another. Lightly roll the two layers together then trim the shorter end of the rectangle so that you have a straight line. Starting on the shorter (trimmed end), roll the dough up, peeling off the wax paper as you tightly roll. Wrap the dough log securely in plastic wrap and refrigerate it for 1 hour. (To avoid a flat edge, roll the dough log every 20 minutes.) Repeat the rolling, stacking and refrigerating process with the remaining two pieces of dough.

Place the sprinkles in a large shallow pan. Remove the plastic wrap from the dough logs then roll them in the sprinkles.. Re-wrap the dough logs in plastic wrap and refrigerate them an additional 2 hours until firm. (At this point, the dough logs can be stored in the fridge for up to 1 week if wrapped securely in plastic wrap.)

When ready to bake, preheat the oven to 350°F and line two baking sheets with parchment paper.

Remove the dough from the fridge and slice each log into 1/4-inch rounds. Arrange the cookies on the baking sheet, spacing them about 2 inches apart. 

Bake the cookies just until set, 9 to 11 minutes. Remove them from the oven then let them cool on the baking sheets for 5 minutes before transferring them to a rack to cool completely.
Kelly's Notes:
The unbaked dough logs can be stored in the fridge, wrapped securely in plastic wrap, for up to 1 week.

When in doubt, and to ensure a soft and chewy consistency, undertake these cookies. They will continue to bake as they rest on the hot baking sheets once removed from the oven.

★ Did you make this recipe? Don't forget to give it a star rating below!
Nutrition
Calories:
130
kcal
,
Carbohydrates:
17
g
,
Protein:
2
g
,
Fat:
6
g
,
Saturated Fat:
4
g
,
Polyunsaturated Fat:
1
g
,
Monounsaturated Fat:
2
g
,
Trans Fat:
1
g
,
Cholesterol:
25
mg
,
Sodium:
91
mg
,
Potassium:
25
mg
,
Fiber:
1
g
,
Sugar:
8
g
,
Vitamin A:
192
IU
,
Calcium:
8
mg
,
Iron:
1
mg
This post may contain affiliate links.