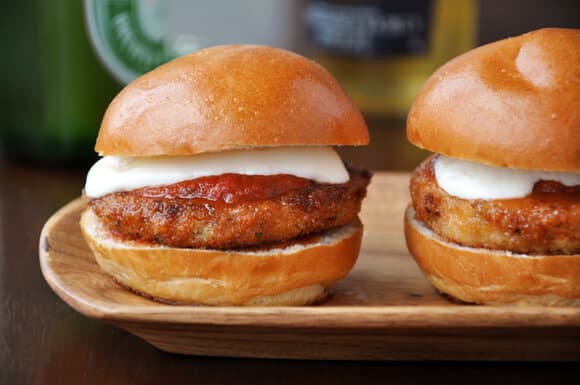 Football season is in full swing and I am soaking up every single minute of it. I generally cheer on my San Diego Chargers with a Bloody Mary in one hand and and a Soft Pretzel in the other, but this past weekend I was feeling inspired and dreamt up an original creation: Eggplant Parmesan Sliders.
Did you notice the perfectly circular eggplant patties? Those bad boys weren't an accident, as all my fellow obsessive compulsive cooks can attest to the sense of satisfaction derived from stacking circular patties atop circular buns. No overhang. No excess. Just geometric glory.
Top off the patties with homemade tomato sauce and a slice of fresh, melted mozzarella and you just scored a touchdown with carnivores and vegetarians alike.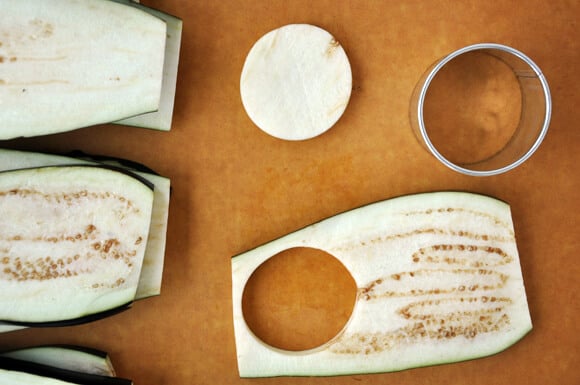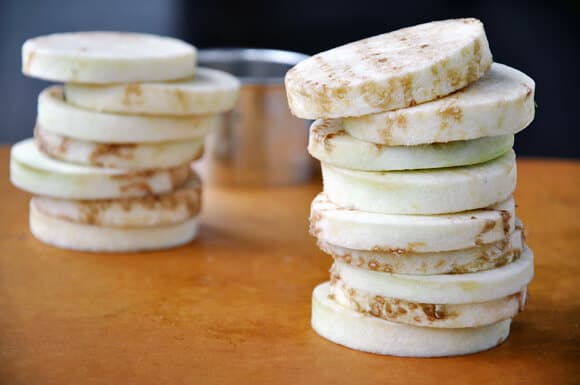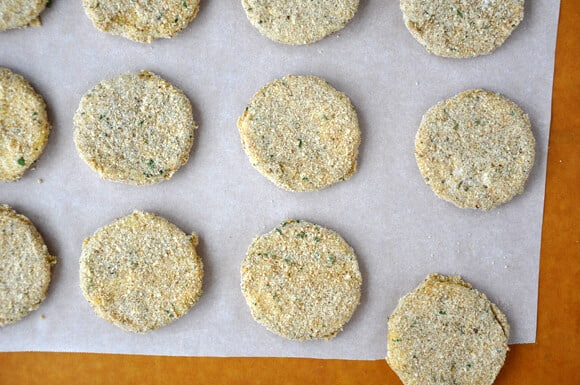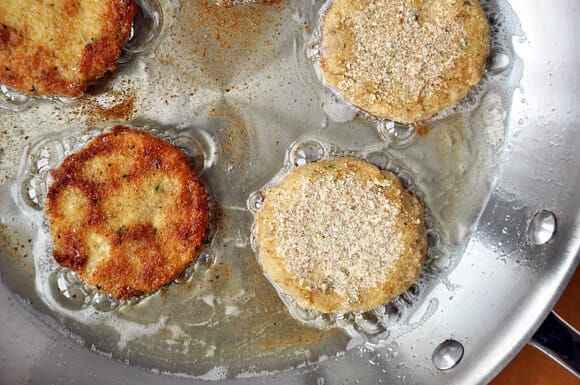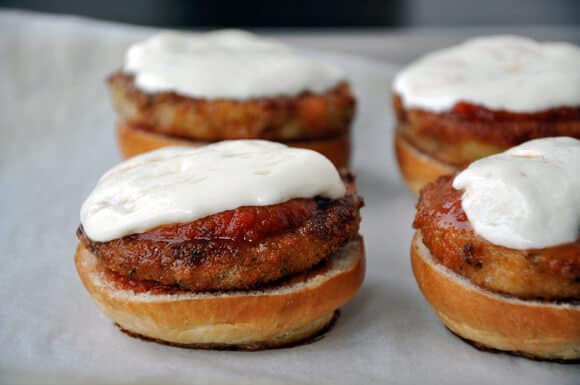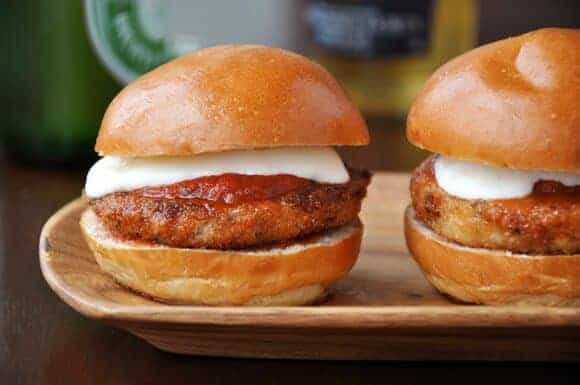 Ingredients
2

eggplants (2 ½ lbs)

1

cup

all-purpose flour

3

eggs, beaten

2

cups

Italian-style breadcrumbs

1

lb.

fresh mozzarella cheese, sliced into rounds

Vegetable oil, for frying

2

cups

tomato sauce, store-bought or homemade

2

dozen brioche slider rolls
Special Equipment:
3

inch round cookie cutter
Instructions
Slice the eggplants lengthwise into ½-inch thick slices, then use the cookie cutter to cut out two rounds from each of the slices.

Place the eggplant rounds in a colander and toss them with 1½ teaspoons salt. Let them drain in the colander over a bowl in the sink for 45 minutes to remove excess moisture.

Bread the eggplant rounds in batches by coating them in the flour, then the eggs and then the breadcrumbs.

Heat a large skillet over medium heat and add enough oil to liberally coat the bottom of the pan. Pan-fry the breaded eggplant rounds in batches for 2 to 3 minutes, flipping them once until both sides are golden brown. Remove the cooked eggplant rounds and immediately transfer them to a paper towel-lined plate. Continue the pan-frying process, changing the oil as necessary, until all of the rounds are cooked.

Halve the brioche slider rolls and add 1 tablespoon of tomato sauce to the bottoms of the rolls. Stack an eggplant round atop the sauce, top it with another tablespoon of sauce and a piece of sliced mozzarella. Repeat the assembling process with all of the buns, transferring them to a cookie sheet lined with parchment paper.

Turn your broiler to high and carefully slide the cookie sheet under the broiler just long enough until the cheese melts. Immediately cap off the sliders with the tops of the buns and serve.
Kelly's Note:
Chop up the discarded eggplant from the cutouts and roast it for a simple side dish, or use it to make Pasta Arrabiata with Roasted Eggplant.

★ Did you make this recipe? Don't forget to give it a star rating below!
Nutrition
Calories:
178
kcal
,
Carbohydrates:
19
g
,
Protein:
9
g
,
Fat:
7
g
,
Saturated Fat:
3
g
,
Cholesterol:
47
mg
,
Sodium:
400
mg
,
Potassium:
266
mg
,
Fiber:
2
g
,
Sugar:
4
g
,
Vitamin A:
340
IU
,
Vitamin C:
3.1
mg
,
Calcium:
162
mg
,
Iron:
1.5
mg