Get ready for the ultimate tried-and-tested recipe for Easy Homemade Soft Pretzels that are pillowy soft, classically chewy and perfectly golden brown.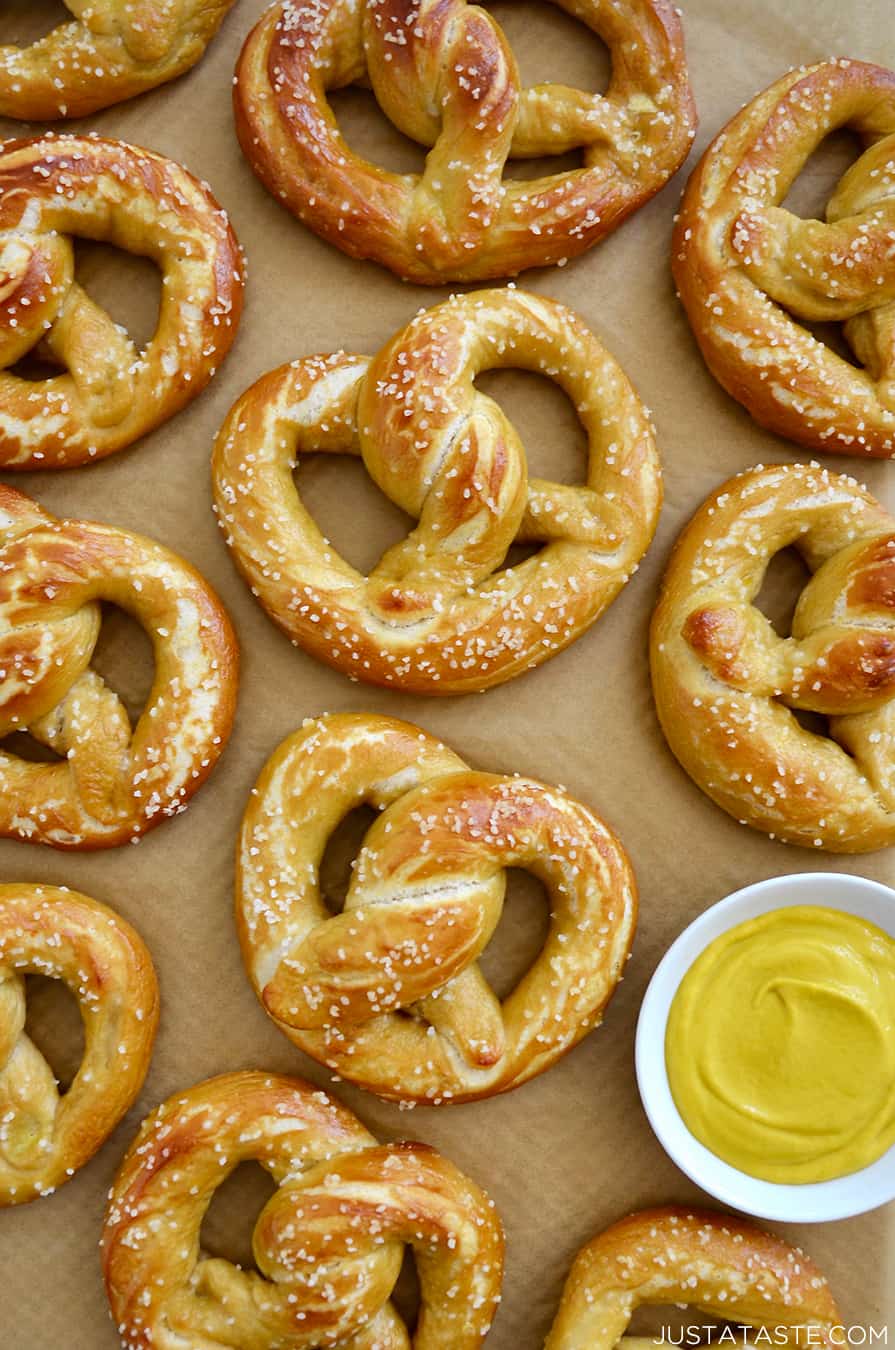 Few foods get me as excited as soft pretzels. No matter the venue, if soft pretzels are available, I'm tracking them down. Baseball game? First inning essential snack. The zoo? I'll trudge all three kids alllll the way to the polar bear exhibit just to hit up the single snack cart with the soft pretzel stash. Movie theater? Not the finest twisted dough available, but I'll take it.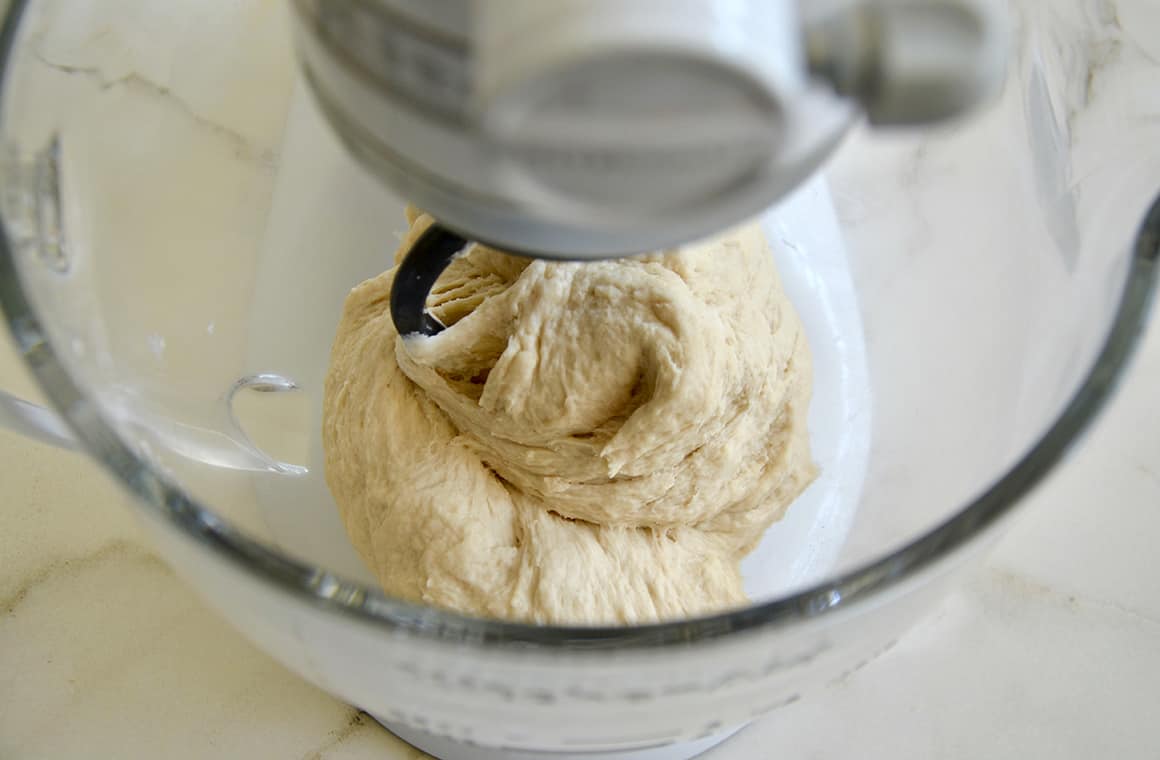 Bottom line: I am a soft pretzel aficionado that has gone to great lengths to ensure this chewy carb can be made from the comfort of your own kitchen. Let's get the Easy Homemade Soft Pretzels party started!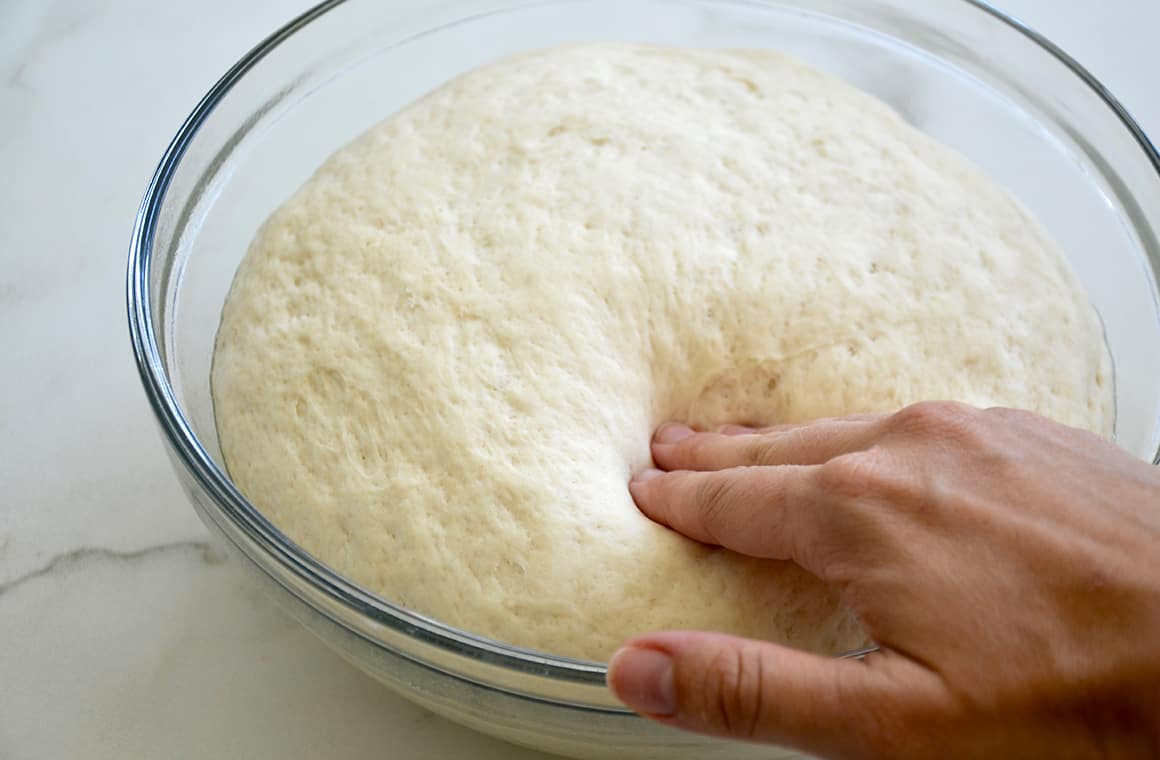 Soft Pretzels Without Lye
When it comes to achieving pretzels' characteristic chewiness and dark-golden brown color, it all comes down to the quick boiling water bath the pretzels are plunged into prior to baking.
Traditionally, soft pretzels are soaked in a mixture of hot water and lye (a.k.a. sodium hydroxide). To avoid a lengthy science lesson, baking soda can achieve a very similar, if not identical, result as lye. So whatever you do, don't skip this critical step in the recipe!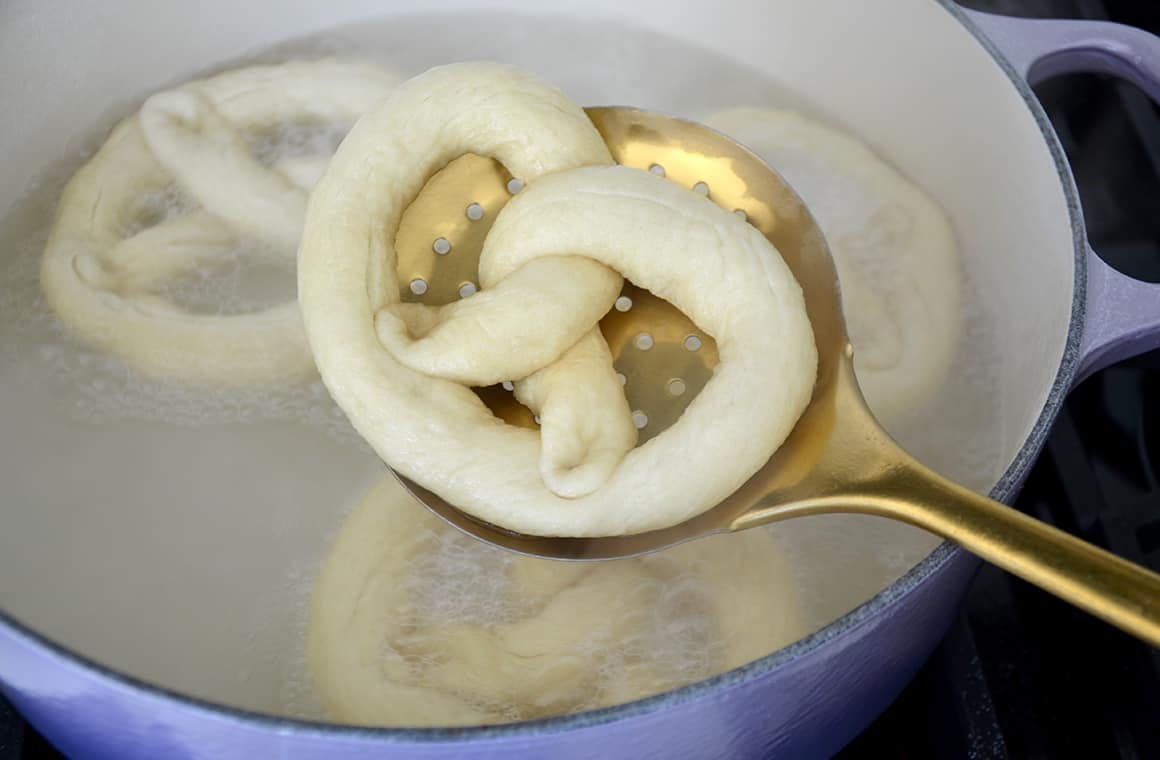 How to Shape Soft Pretzels
Soft pretzels come in every shape and size. We've masted the twists, the nuggets, the bites and even the famous soft pretzel bagels (these are a must!).
In this recipe, I've stuck to the classic soft pretzel shape and detailed the process below:
Divide: Begin by dividing the dough into equal-sized balls
Roll: Roll each ball on an un-floured work surface (this is key, as you need the dough to cling to the work surface and not slip) into a 24-inch rope. This will seem way too long but trust me!
Twist: Holding the two ends of the rope, cross them together and downward then firmly pinch the ends into the tops of the pretzels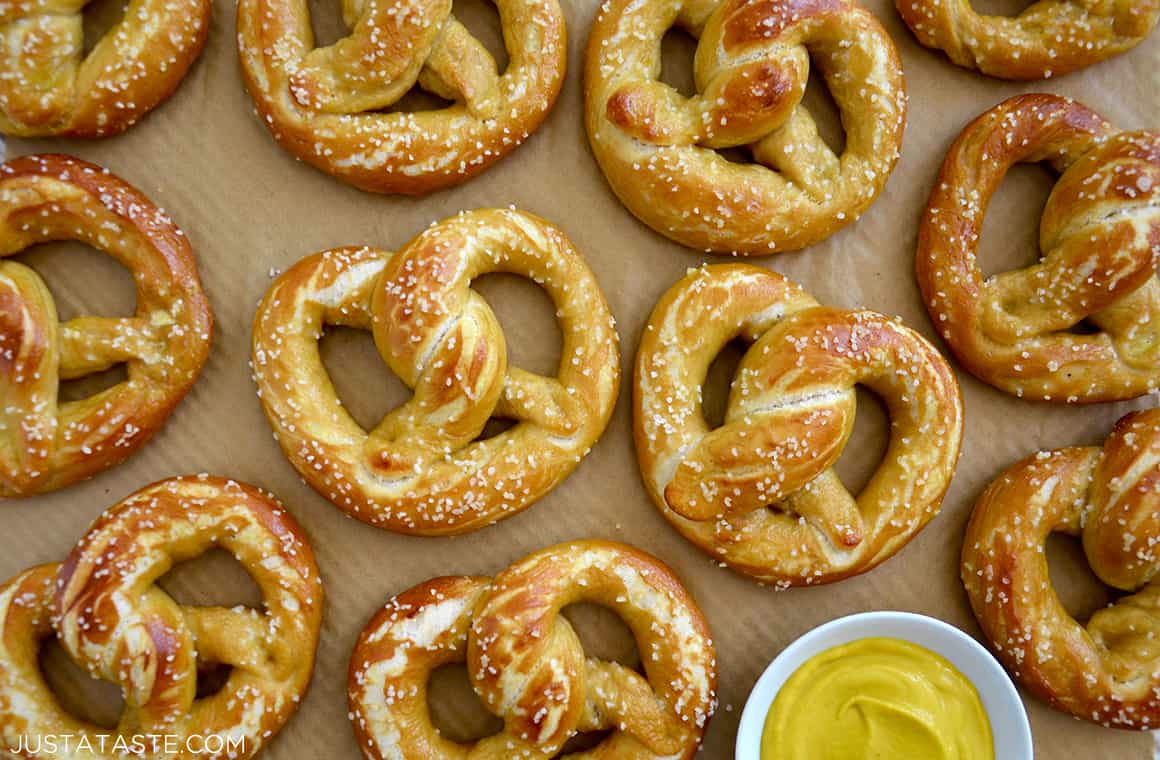 Now all that's left to do is decide if you're going to dip and dunk your perfect pretzels in mustard or cheese sauce, or if you're going to keep it simple and just dig right in!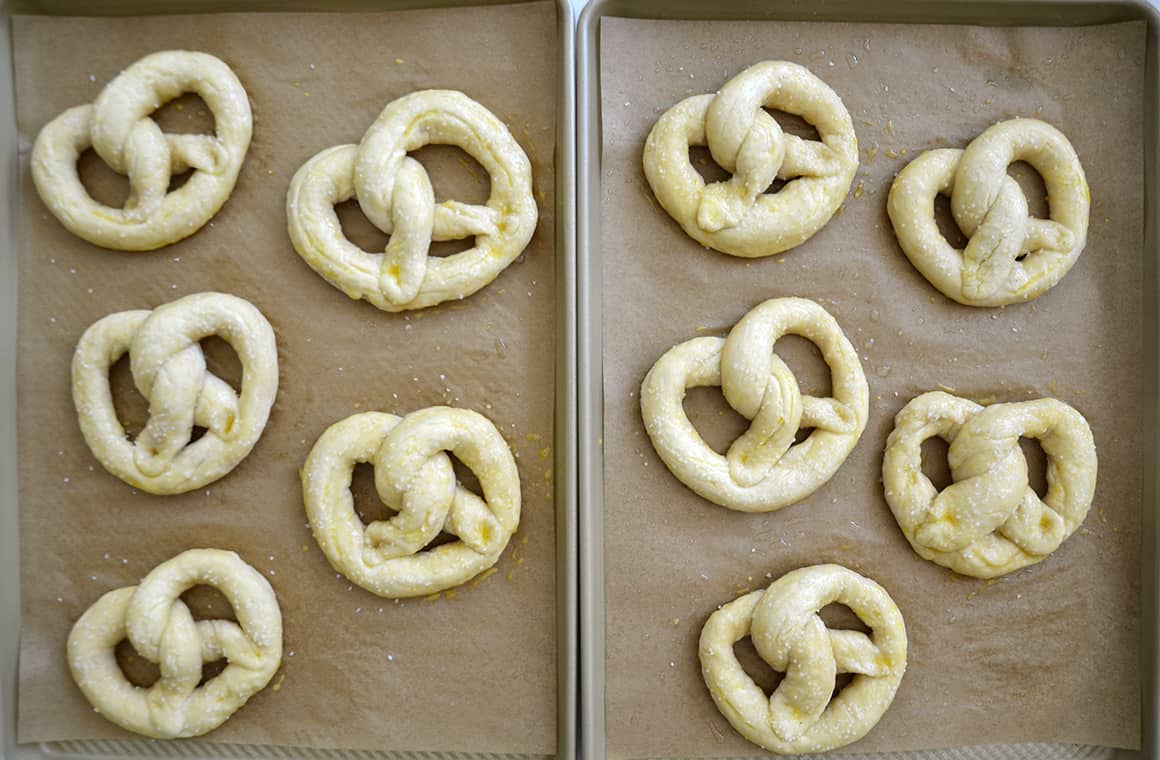 Craving more? Subscribe to Just a Taste to get new recipes, meal plans and a newsletter delivered straight to your inbox! And stay in touch on Facebook, Twitter, Pinterest and Instagram for all of the latest updates.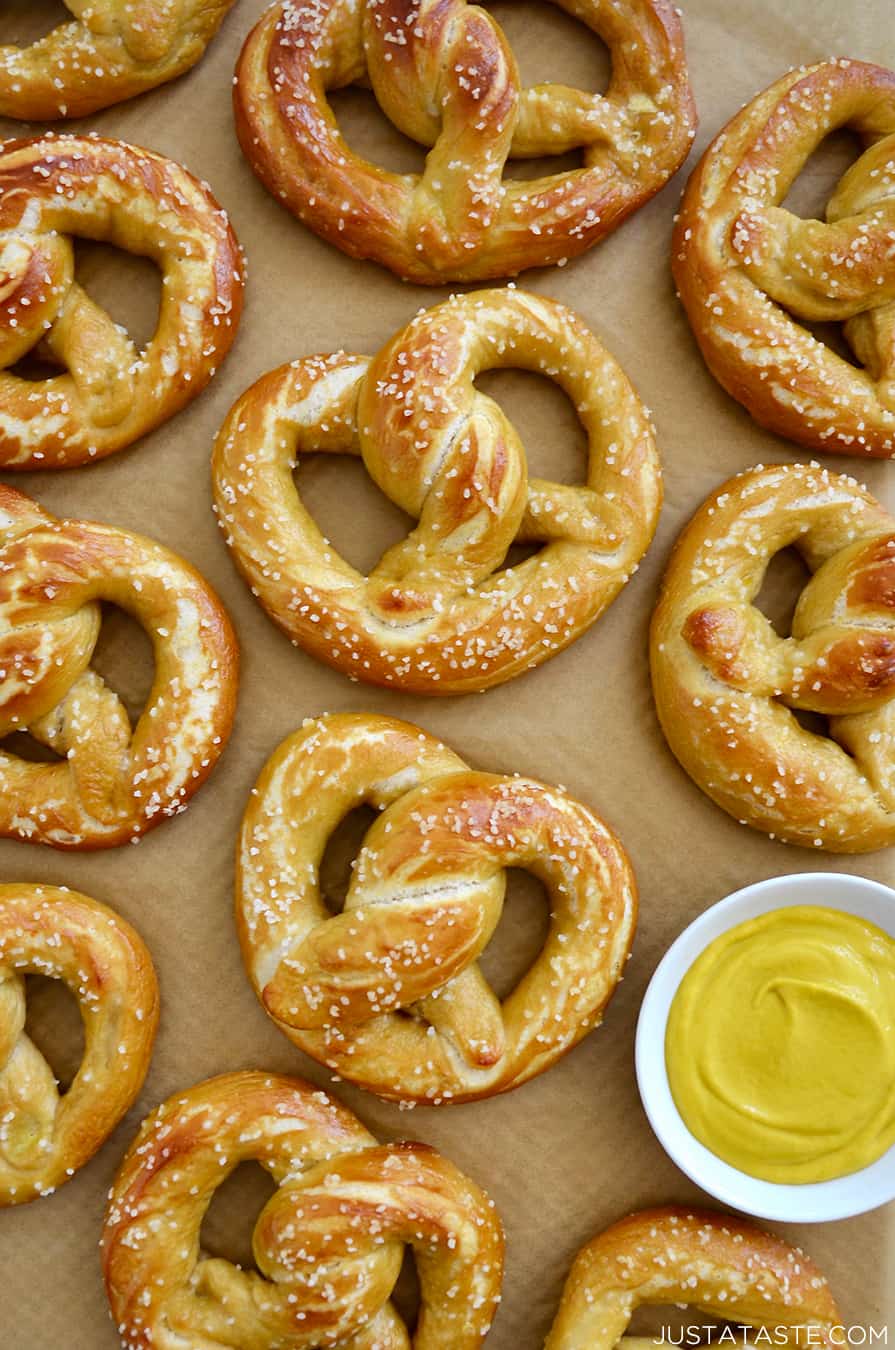 Servings
10
soft pretzels
Ingredients
1 1/2

cups

warm (110 to 115ºF) water

1

Tablespoon

white sugar

2

teaspoons

kosher salt

1

(1/4-oz.)

package active dry yeast

4 1/2

cups

all-purpose flour

4

Tablespoons

unsalted butter, melted

Vegetable oil, for greasing

2/3

cup

baking soda

1

large egg yolk beaten with 1 Tablespoon water

Pretzel salt or kosher salt, for topping (optional)
Instructions
In the bowl of a stand mixer fitted with the dough hook, combine the hot water, sugar and salt. Sprinkle the yeast on top of the mixture and allow it to sit undisturbed until it begins to form and puff up, 7 to 10 minutes.

Add the flour and melted butter to the bowl and mix on low speed just until combined.

Increase the speed to medium and continue mixing until the dough is smooth and pulls away from the side of the bowl, 4 to 5 minutes.

Grease a large bowl with vegetable oil. Transfer the dough from the stand mixer bowl into the greased bowl then cover it with plastic wrap. Place the bowl in a warm, dark place to allow the dough to rise and double in size, about 1 hour. (See Kelly's Note.)

Preheat the oven to 450ºF.

Line two sheet trays with parchment paper and then grease them lightly with vegetable oil.

In a large, heavy-bottom stock pot or Dutch oven set over medium-high heat, whisk together 10 cups of water with the baking soda. Bring the mixture to a rolling boil.

While the water comes to a boil, transfer the dough onto your work surface and divide it into 10 equal pieces.

Roll out each piece of dough into a 24-inch rope. Shape the ropes into pretzels then return them to the cookie sheets.

Plunge the pretzels, one by one, into the boiling water for 30 seconds. Remove each of them from the water using a large slotted spoon and return them to the cookie sheet.

Brush the pretzels with the egg wash then sprinkle them with salt (optional).

Bake the pretzels until they are dark-golden brown in color, 12 to 14 minutes. Remove them from the oven and let cool slightly before serving.
Kelly's Note:
My favorite place to proof dough is in the dryer. Run your dryer for 5 minutes then turn it off (this is important!). Place the covered bowl of dough inside and close the dryer door. The dough will now thrive in a warm, dark and humid environment!
Nutrition
Calories:
256
kcal
,
Carbohydrates:
44
g
,
Protein:
6
g
,
Fat:
6
g
,
Saturated Fat:
3
g
,
Polyunsaturated Fat:
1
g
,
Monounsaturated Fat:
1
g
,
Trans Fat:
1
g
,
Cholesterol:
32
mg
,
Sodium:
2657
mg
,
Potassium:
65
mg
,
Fiber:
2
g
,
Sugar:
1
g
,
Vitamin A:
166
IU
,
Calcium:
12
mg
,
Iron:
3
mg