Skip the freezer aisle and whip up a warm batch of Easy Homemade Soft Pretzel Bites with a tried-and-tested recipe that yields perfectly chewy, pillowy soft nuggets.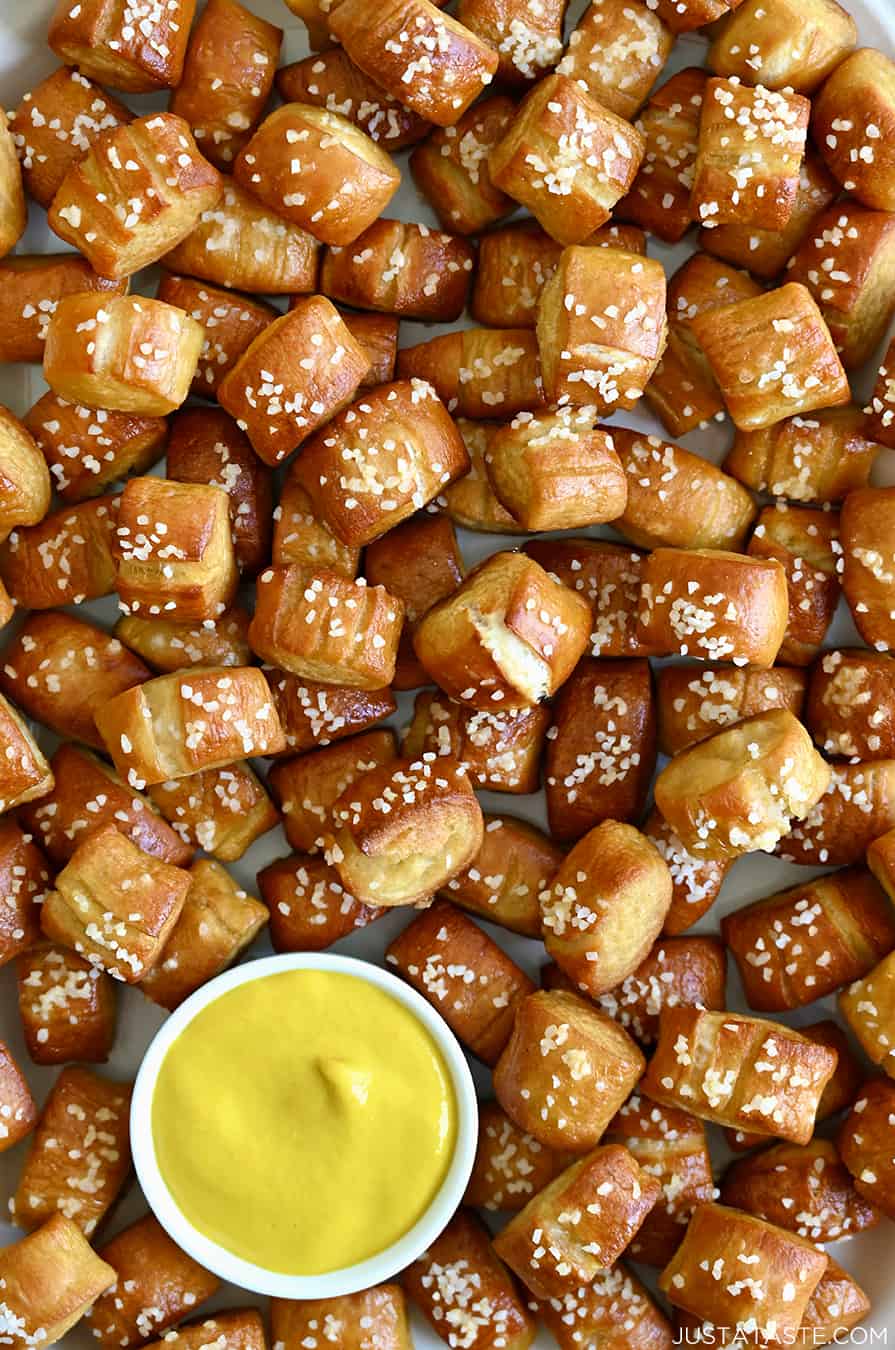 This right here is the Soft Pretzel Bites recipe of all soft pretzel bite recipes. It is the king. The master. The OG. The champion. You get the idea. If you want perfect homemade pretzel nuggets, then I am so glad you have found your way here!
Now before you read the word "yeast" in this recipe and go running for the hills (or perhaps your local grocery store's freezer aisle), allow me to calm any fears or previous frustrations when it comes to this sometimes tricky ingredient.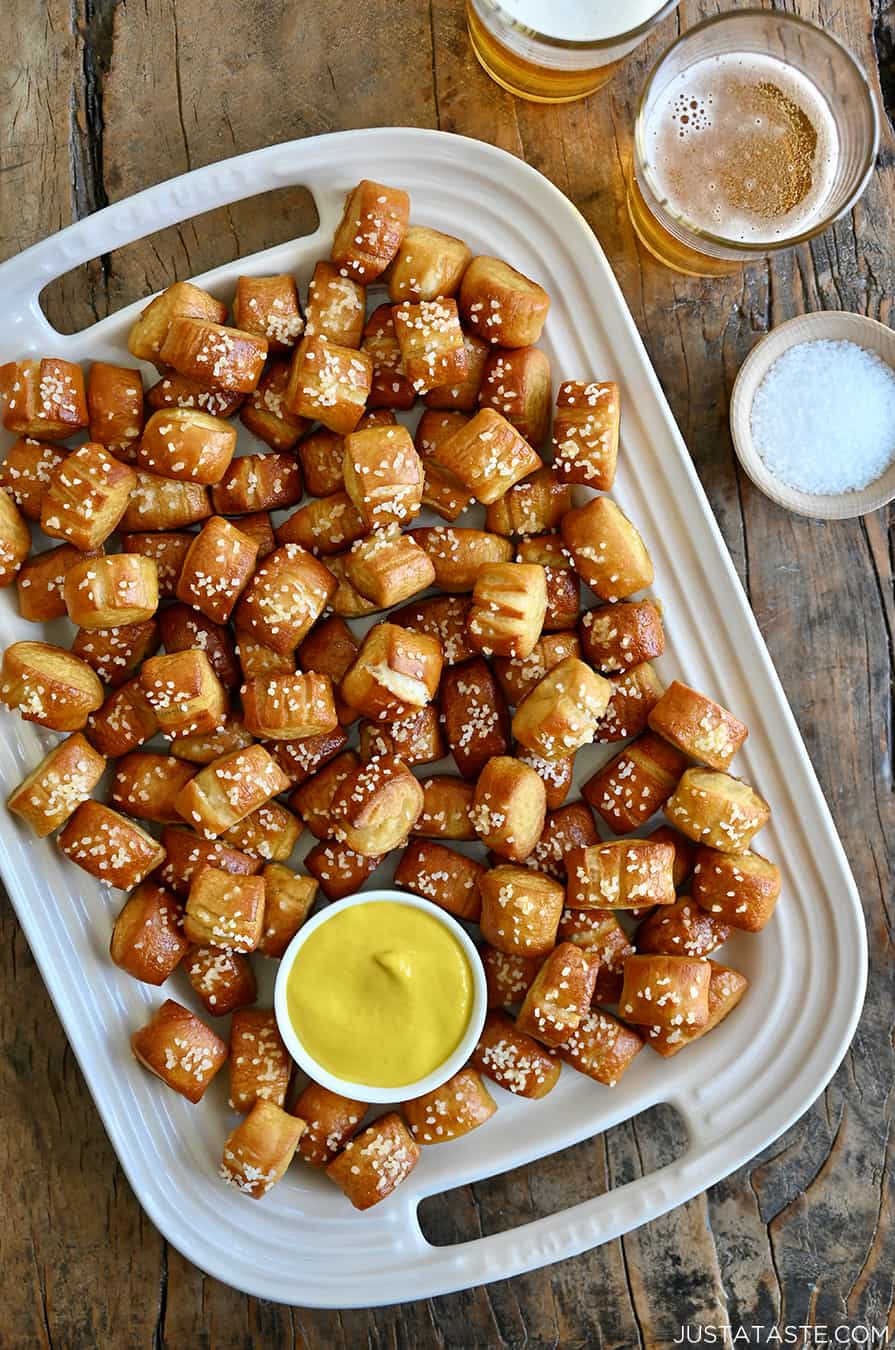 This recipe is fool-proof. I repeat: Anyone and everyone can make soft pretzel bites. There is no fancy twisting. There is no hard-to-pronounce chemical bath to get that glossy brown exterior. There is no kneading by hand.
There are just some good ol' pantry items and a few simple tricks to whipping up the easiest homemade soft pretzel bites to ever hit your lips. Your biggest dilemma, in fact, will be whether you dunk these bites in mustard or cheese sauce. And that is one predicament I'd be happy to find myself in.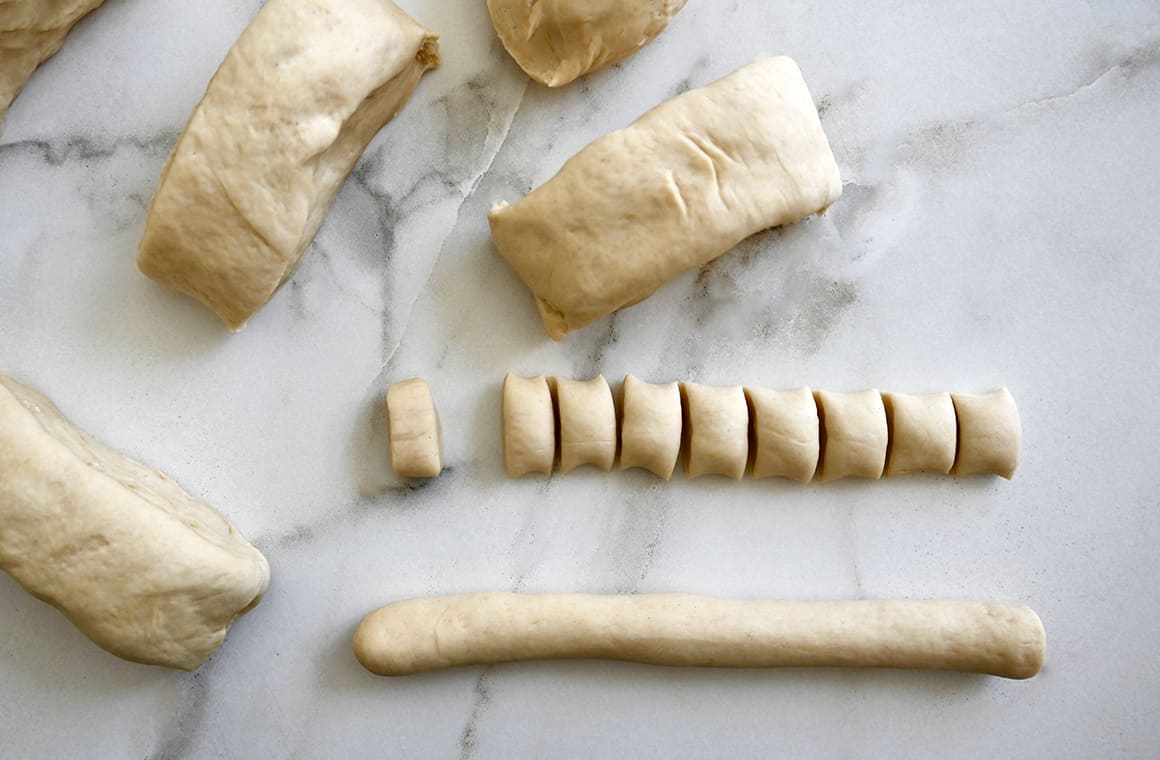 Why Do You Boil Soft Pretzels in Baking Soda?
I am so glad you asked! You may be tempted to skip this step, but truth be told, a soft pretzel isn't a soft pretzel without it.
The baking soda takes the place of lye, a very strong alkali that commercial pretzels (as in, manufactured in a factory or fancy bakery) are dunked in. I prefer to steer clear of having to sport gloves and/or goggles with home baking, and luckily, baking soda is a much milder and more readily found alternative that still does the job of delivering that deep-golden color and characteristic chewiness.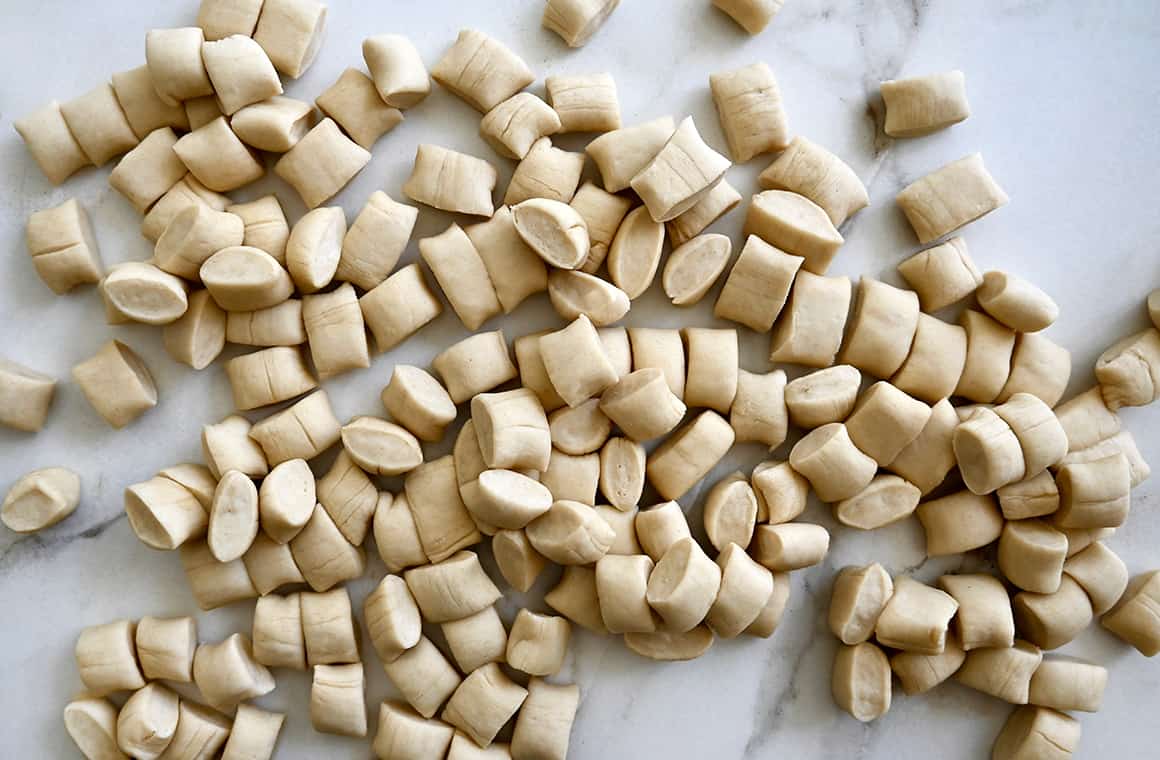 Can You Freeze Pretzel Bites?
Yes indeed you can! That is, if you have any leftover. The best way to send these nuggets into a deep-chill is to bake them sans salt, let them cool completely, and then arrange them on a baking sheet lined with parchment paper. Cover the tray with plastic wrap and pop it in the freezer. Once the nuggets are frozen solid, you can then transfer them to a sealable plastic bag and stash them in the freezer for up to 2 months.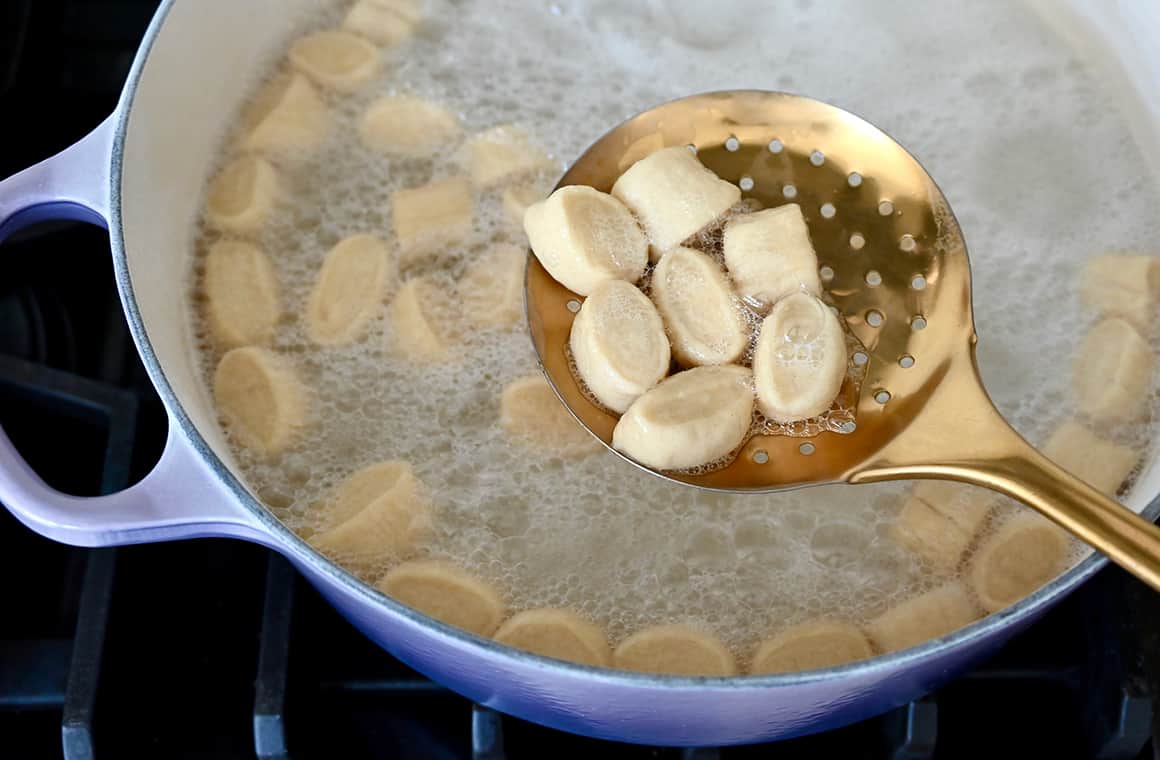 How to Reheat Frozen Pretzels
Line up your frozen (previously baked) nuggets on a baking sheet lined with parchment paper. Pop them into a 300°F oven until they're warmed through, 12 to 15 minutes.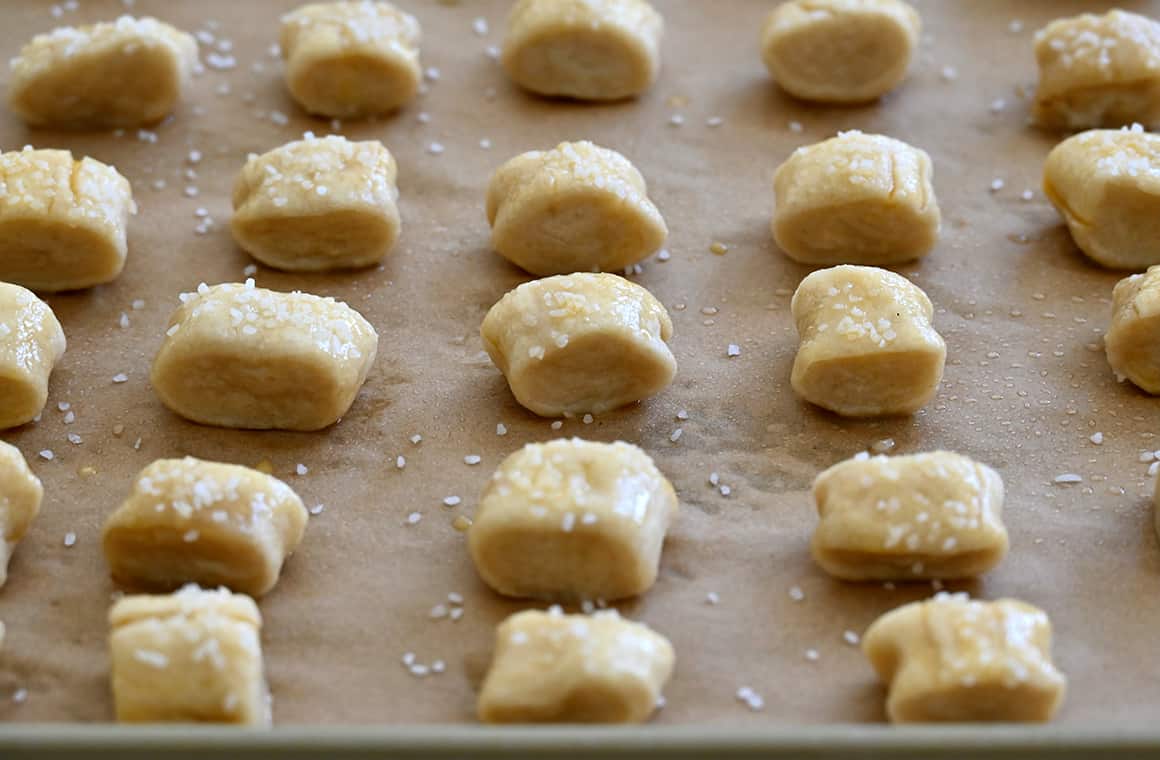 How to Make Cinnamon-Sugar Soft Pretzels
For all of those on Team Sweet, I've got just the soft pretzel coating for you. Skip the salt and instead, bathe these golden brown beauties in a bowl of melted butter after they come out of the oven and then toss them in a sealable bag of cinnamon-sugar. You are welcome!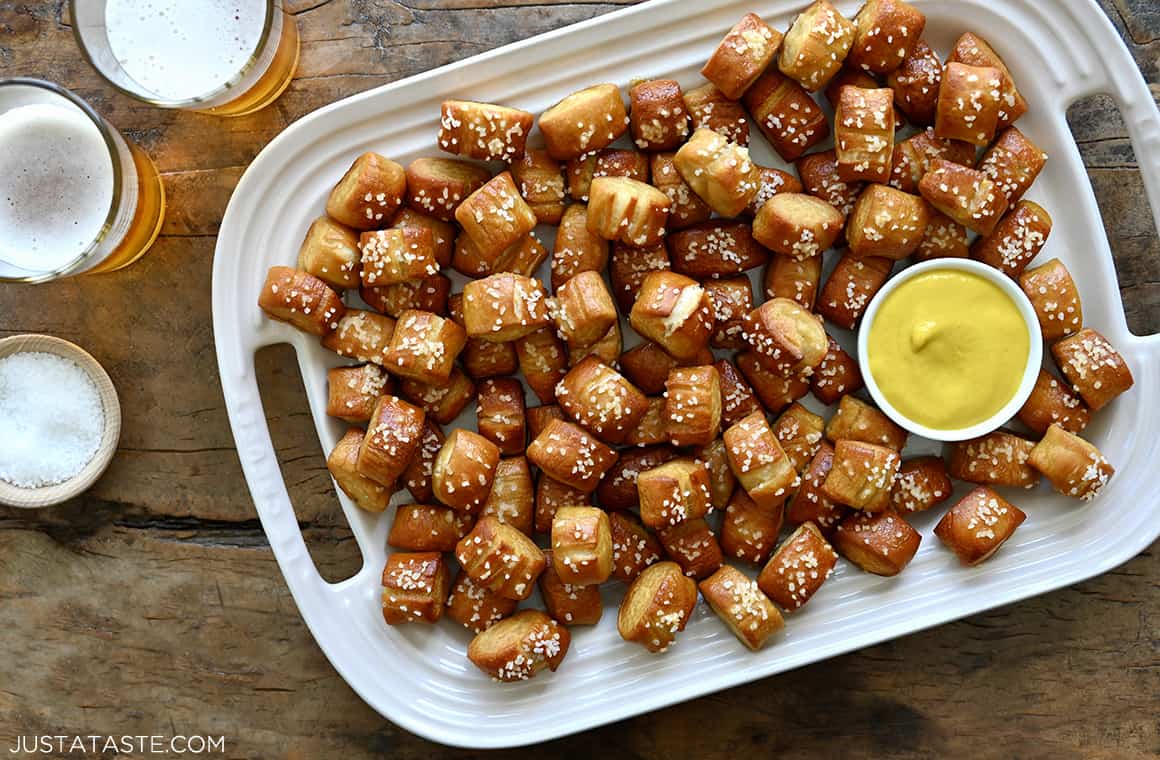 Craving more? Subscribe to Just a Taste to get new recipes, meal plans and a newsletter delivered straight to your inbox! And stay in touch on Facebook, Twitter, Pinterest and Instagram for all of the latest updates.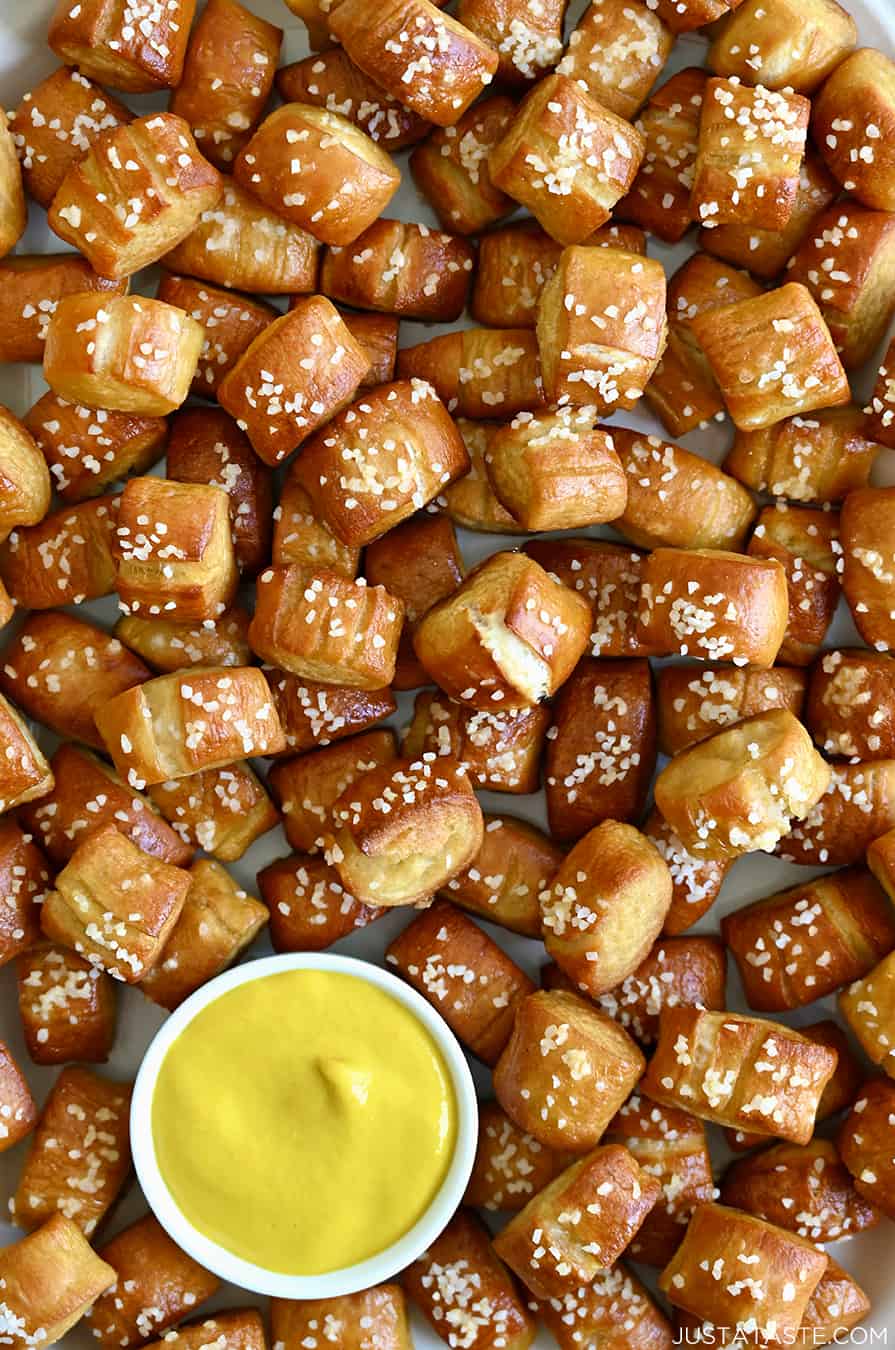 Ingredients
1 1/2

cups

warm (110-115°F) water

1

Tablespoon

sugar

2

teaspoons

kosher salt, plus more for topping

1

(1/4-ounce) package active dry yeast

4 1/2

cups

all-purpose flour

4

Tablespoons

unsalted butter, melted

Vegetable oil

10

cups

water

2/3

cup

baking soda

1

large egg yolk beaten with 1 Tablespoon water
Instructions
In the bowl of a stand mixer fitted with the dough hook, combine the water, sugar and kosher salt. Sprinkle the yeast on top and allow it to sit for 5 minutes.

Add the flour and butter to the bowl and mix on low until the ingredients are combined.

Increase the speed to medium and knead the dough until it is smooth and pulls away from the side of the bowl, about 3 minutes.

Remove the dough from the bowl. Clean the bowl, grease it with vegetable oil and return the dough to the bowl. Cover the bowl with plastic wrap and place it in a warm, dark place until it has doubled in size, about 1 hour.

Preheat the oven to 450°F and position the oven racks in the middle two positions in your oven.


Line two baking sheets with parchment paper then lightly oil the paper.


In a large, heavy-bottomed stock pot, stir together the 10 cups of water and the baking soda then bring the mixture to a rolling boil.


Turn the dough onto your work surface and divide it into 6 pieces. (Do not flour your work surface.)

Roll each piece into a rope roughly 1-inch in diameter then cut each rope into 1-inch pieces to form the pretzel bites.

In batches, add the bites to the boiling baking soda mixture for 30 seconds then use a slotted spoon to remove them onto the oiled baking sheets.

Brush the bites with the egg wash and sprinkle them with kosher salt.

Bake the bites until golden brown in color, 10 to 12 minutes, rotating the pans (between racks and turning to rotate pans) halfway through.

Remove the soft pretzel bites from the oven and serve.

★ Did you make this recipe? Don't forget to give it a star rating below!
This post may contain affiliate links.