Satisfy your soft pretzel cravings with a top-rated recipe for Homemade Soft Pretzel Twists with your choice of mustard or beer cheese dip for dunking.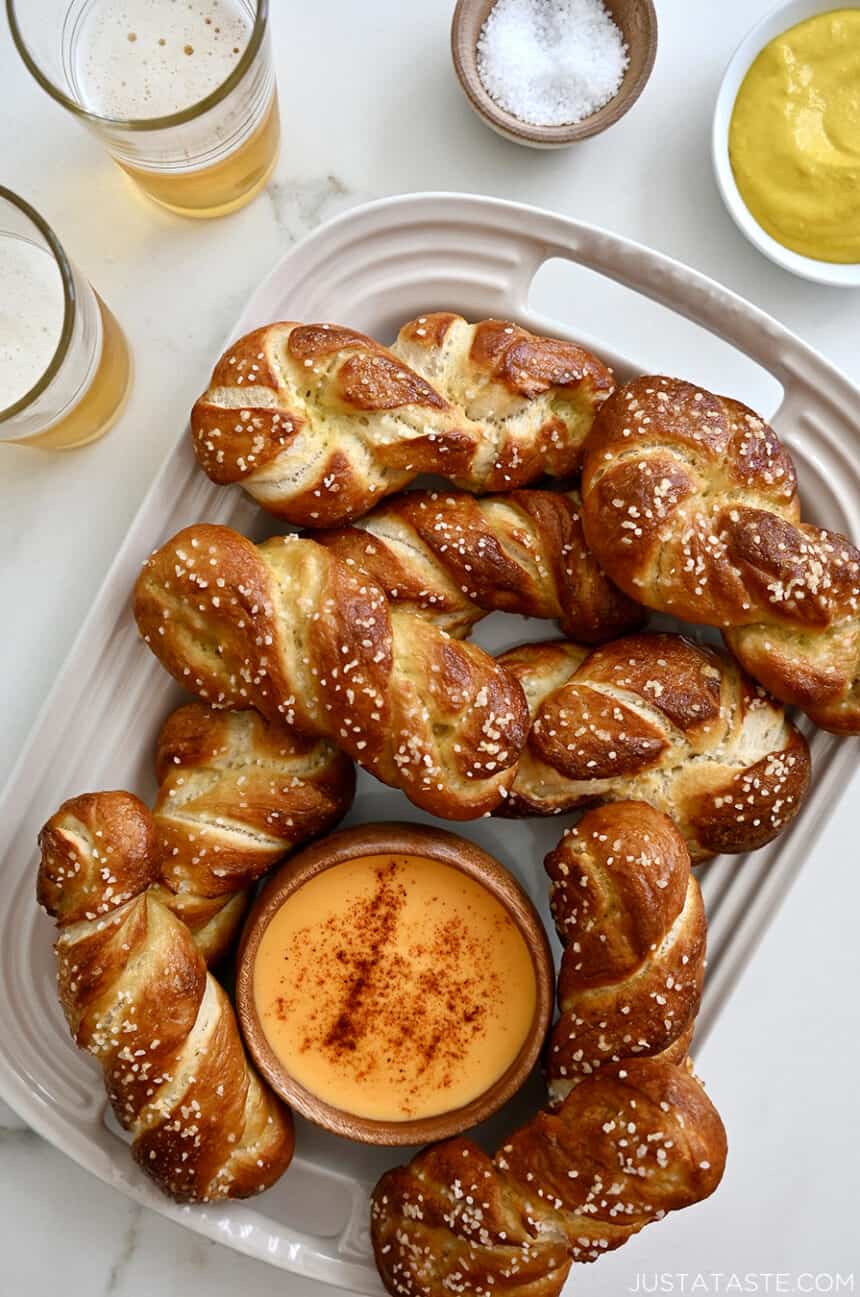 We've all been there. You're at a movie theatre or ballpark and you agree to split a soft pretzel with your friend. So you take turns tearing away portions of the doughy rope in a dangerous game of tug o' war, inching your way closer to the moment of truth: The center section, where dough overlaps dough in an intersection of perfection. So who gets that coveted bite?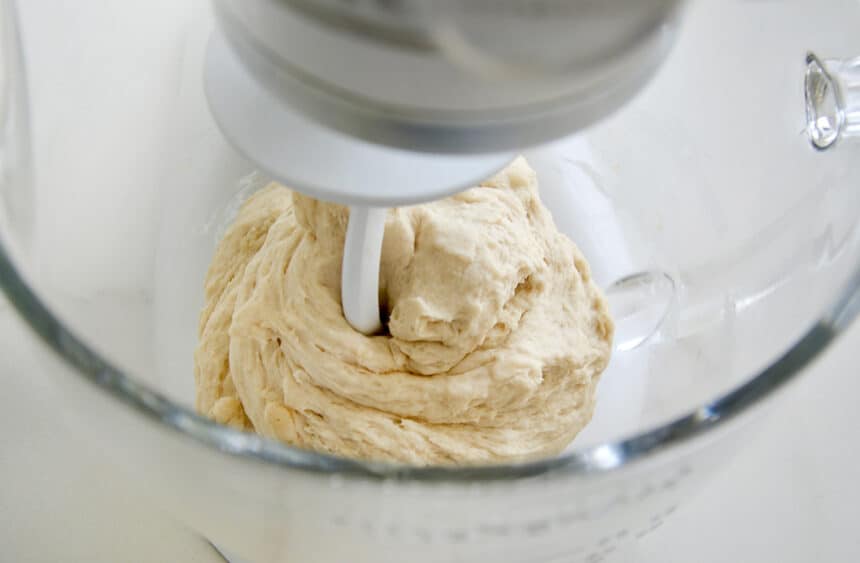 It's time to leave those uncomfortable decisions behind! I've swapped the classic pretzel shape for braided twists that serve up bite after bite of pillowy, chewy soft pretzel bliss.
It's no secret that this is my carb of choice. My love of chewy, salted pretzels has taken on so many variations in both savory and sweet form (hello, Pumpkin Spice Pretzel Bites!).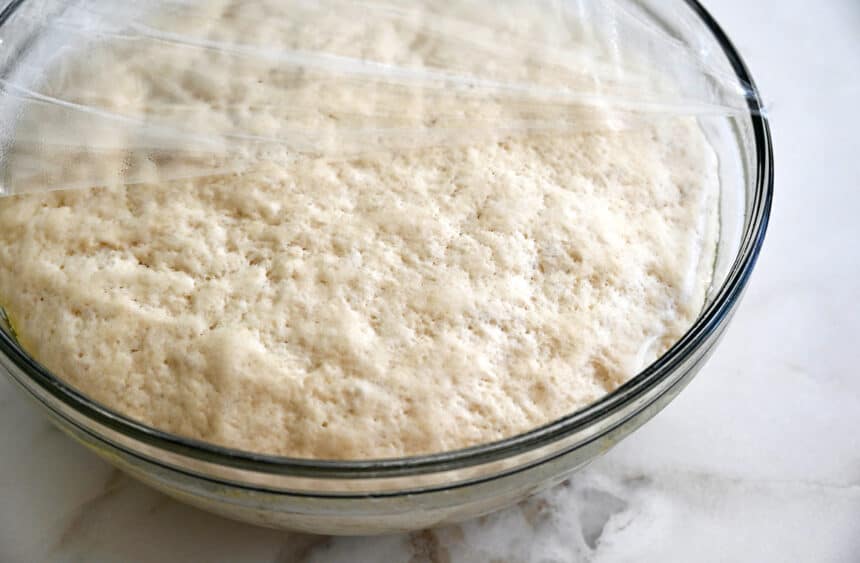 How to Twist a Soft Pretzel
Soft pretzels can take on many shapes and forms, from the classic pretzel shape and pull-apart rolls to bite-sized nuggets and even bagels (my personal favorite!). These twists are fantastic for dipping and dunking, but they also make great rolls for sandwiches or bratwurst.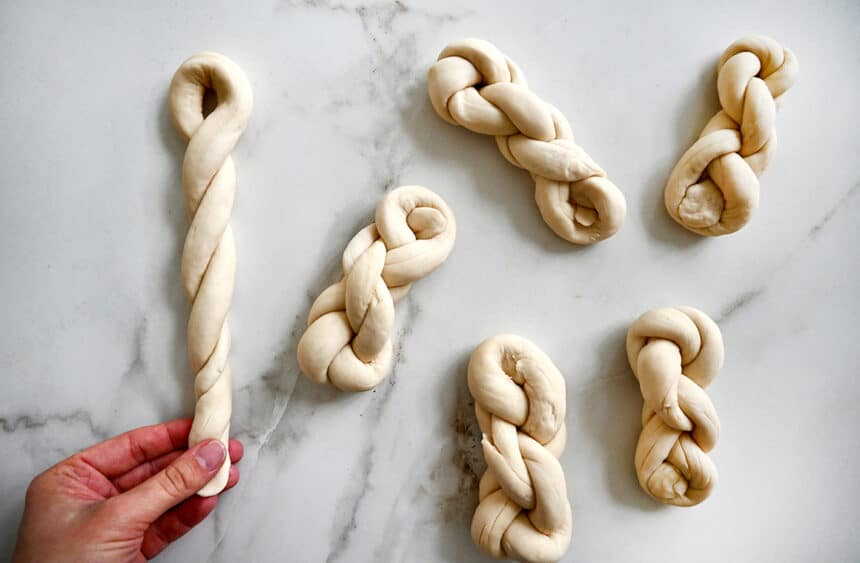 Creating the twist shape is best broken down into a series of simple steps:
Roll out the dough into a rope
Twist the rope around itself, leaving a loop at the top
Loop the twisted rope around itself, pulling it through the top loop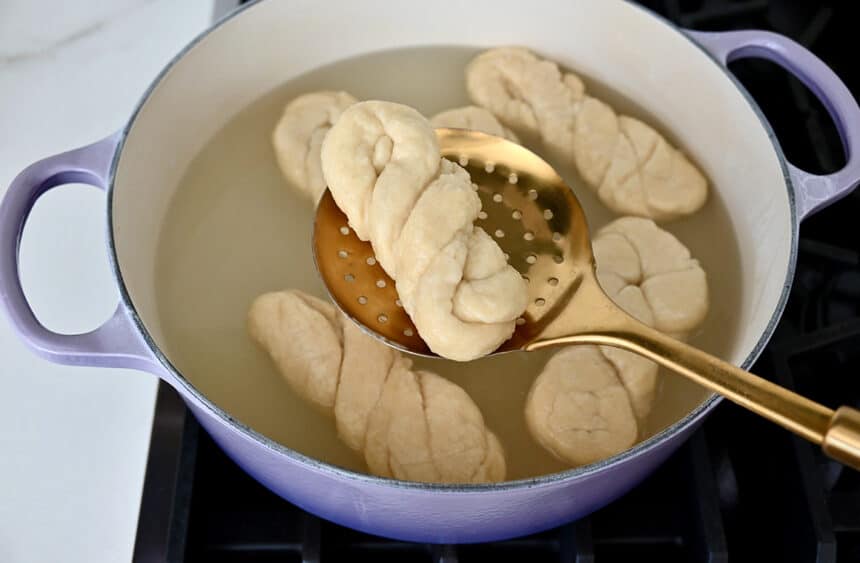 How to Reheat Soft Pretzels
Soft pretzels can be reheated in a variety of ways, all depending on your preferred textural outcome. If you like a crispier exterior, the air fryer is your friend. If you like a super-soft center, mosey on over to the microwave. And for a little bit of both, the oven is your BFF.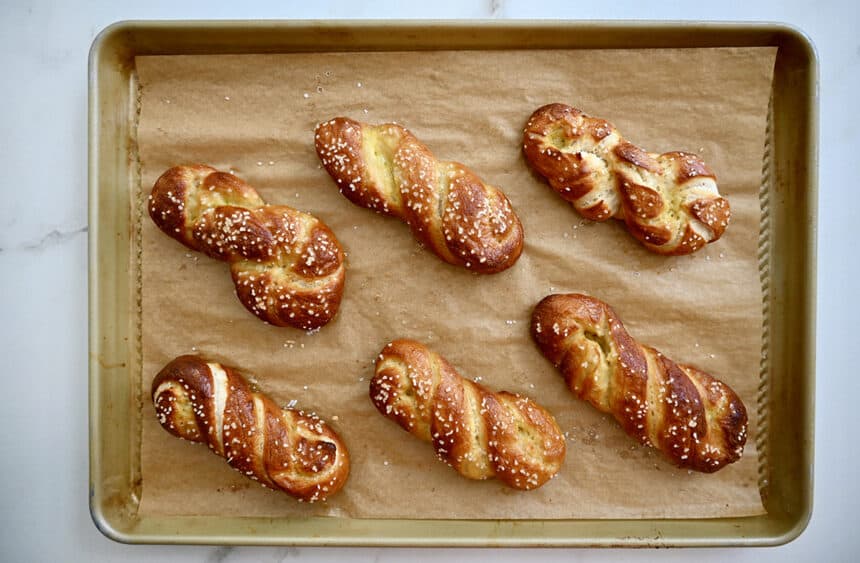 General temp and time guidelines are:
Air Fryer: 320°F for 2 to 3 minutes until warmed through
Microwave: 15-second increments until warmed through
Oven: 325°F for about 5 minutes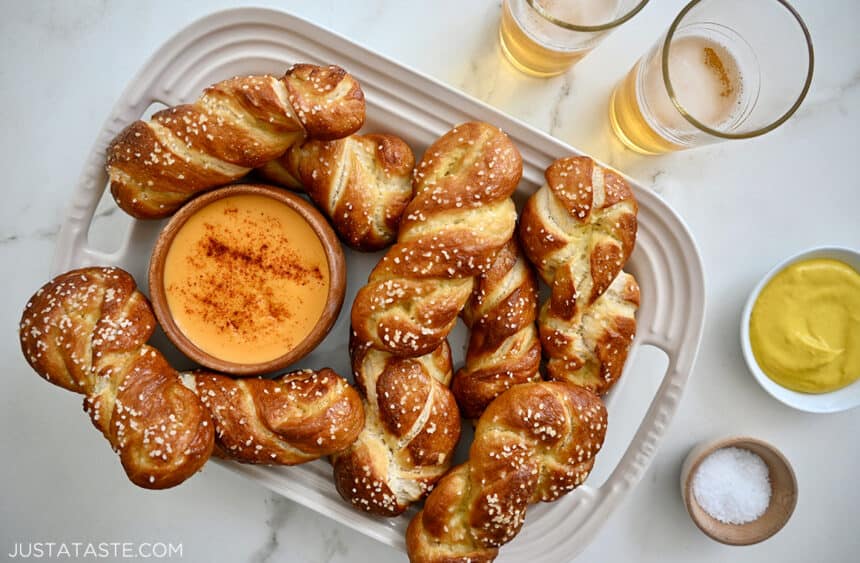 Craving more?
Subscribe to Just a Taste
to get new recipes, meal plans and a newsletter delivered straight to your inbox! And stay in touch on
Facebook
,
TikTok
,
Pinterest
and
Instagram
for all of the latest updates.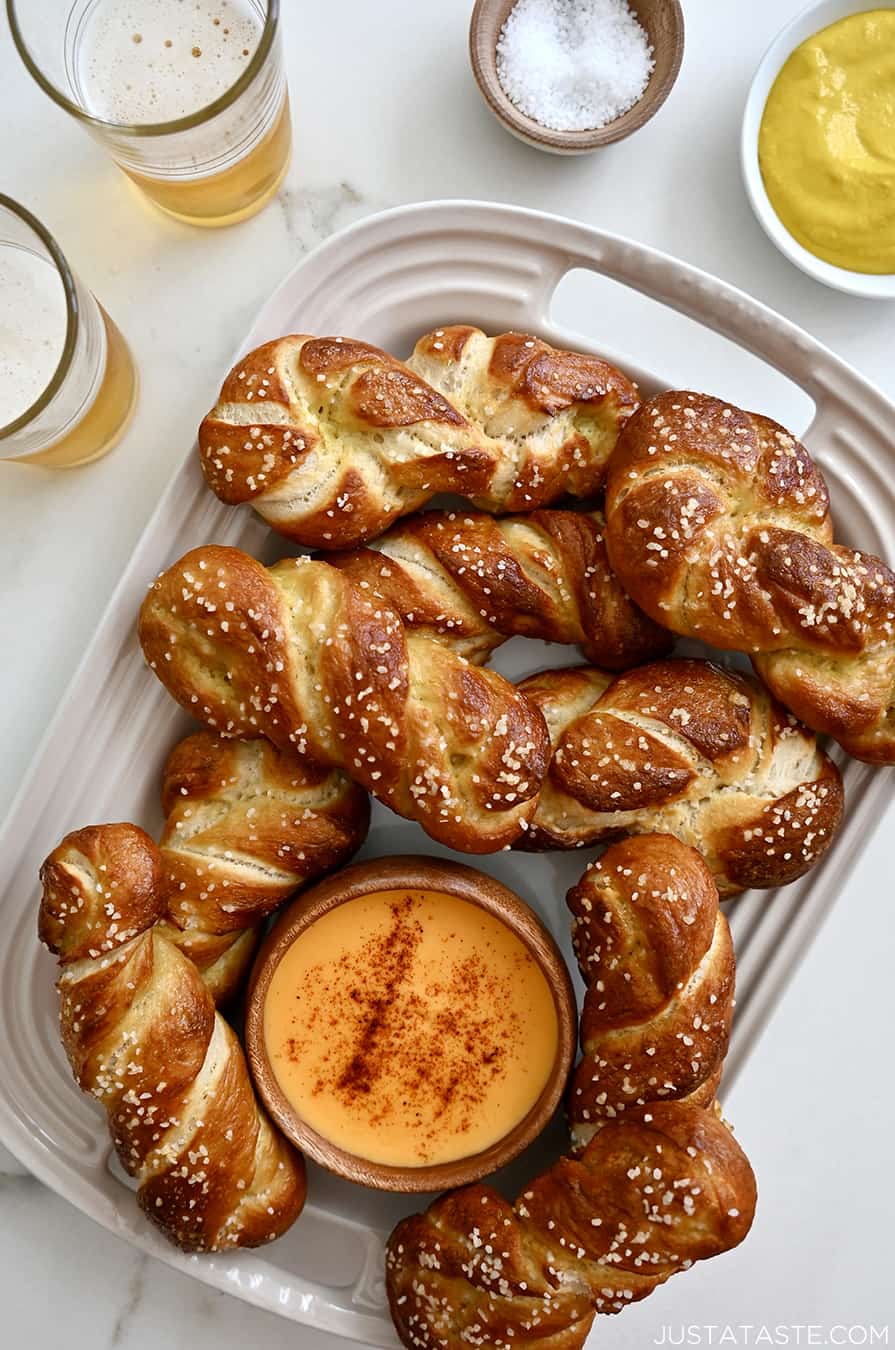 Ingredients
1 1/2

cups

warm (110-115°F) water

1

Tablespoon

sugar

2

teaspoons

kosher salt, plus more for topping

1

(1/4-ounce) package active dry yeast

4 1/2

cups

all-purpose flour

4

Tablespoons

unsalted butter, melted

Vegetable oil

10

cups

water

2/3

cup

baking soda

1

large egg yolk beaten with 1 Tablespoon water
Instructions
In the bowl of a stand mixer, combine the water, sugar and kosher salt. Sprinkle the yeast on top and allow it to sit for 5 minutes or until it begins to foam.

Secure the hook attachment to the stand mixer, then add the flour and butter to the bowl and mix on low until the ingredients are combined.

Increase the speed to medium and knead until the dough is smooth and pulls away from the side of the bowl, 4 to 5 minutes.

Remove the dough from the bowl. Clean the bowl and then grease it with vegetable oil.

Return the dough to the bowl, cover it with plastic wrap and place it in a warm place for 1 hour, or until the dough has doubled in size. (Watch my video for how to proof bread in the dryer.)

Preheat the oven to 450ºF and position the oven racks in the middle two positions in your oven.

Line two sheet trays with lightly oiled parchment paper.

Stir together the 10 cups of water and the baking soda in an 8-quart pot. Bring the mixture to a rolling boil.

While the water comes to a boil, turn the dough onto your work surface and divide it into 12 equal pieces. (Do not flour your work surface; See Kelly's Notes.)

Applying even pressure, roll out each piece of dough into an 18- to 20-inch rope. Fold each rope in half, twisting the two pieces around one another and pressing the ends together. Twist the bottom end around the top, feeding it through the top hole and pressing to secure. (See photos for shaping instructions.) Return the twists to the cookie sheet.

One by one, carefully place each twist into the boiling water for 30 seconds. Remove each twist from the water using a large slotted spoon or spatula(s) and return it to the cookie sheet. Brush the tops of the twists with the egg yolk wash and sprinkle with kosher salt (optional).

Bake the twists until golden brown in color, 12 to 14 minutes, rotating the pans (between racks and turning to rotate pans) halfway through, then remove the twists from the oven and allow them to cool for 5 minutes before serving.
Kelly's Notes:
Do not flour your work surface prior to rolling out the pretzels or the dough won't have enough traction against the surface. Using the palms of your hands, apply even pressure as you roll from the center out to form the dough into ropes.

★ Did you make this recipe? Don't forget to give it a star rating below!
Nutrition
Calories:
213
kcal
,
Carbohydrates:
36
g
,
Protein:
5
g
,
Fat:
4
g
,
Saturated Fat:
2
g
,
Cholesterol:
26
mg
,
Sodium:
2225
mg
,
Potassium:
50
mg
,
Fiber:
1
g
,
Sugar:
1
g
,
Vitamin A:
140
IU
,
Calcium:
17
mg
,
Iron:
2.2
mg
This post may contain affiliate links.