Two beloved carbs join forces in a recipe for Easy Soft Pretzel Bagels that combines traditional soft pretzel flavor with classic chewy bagel texture.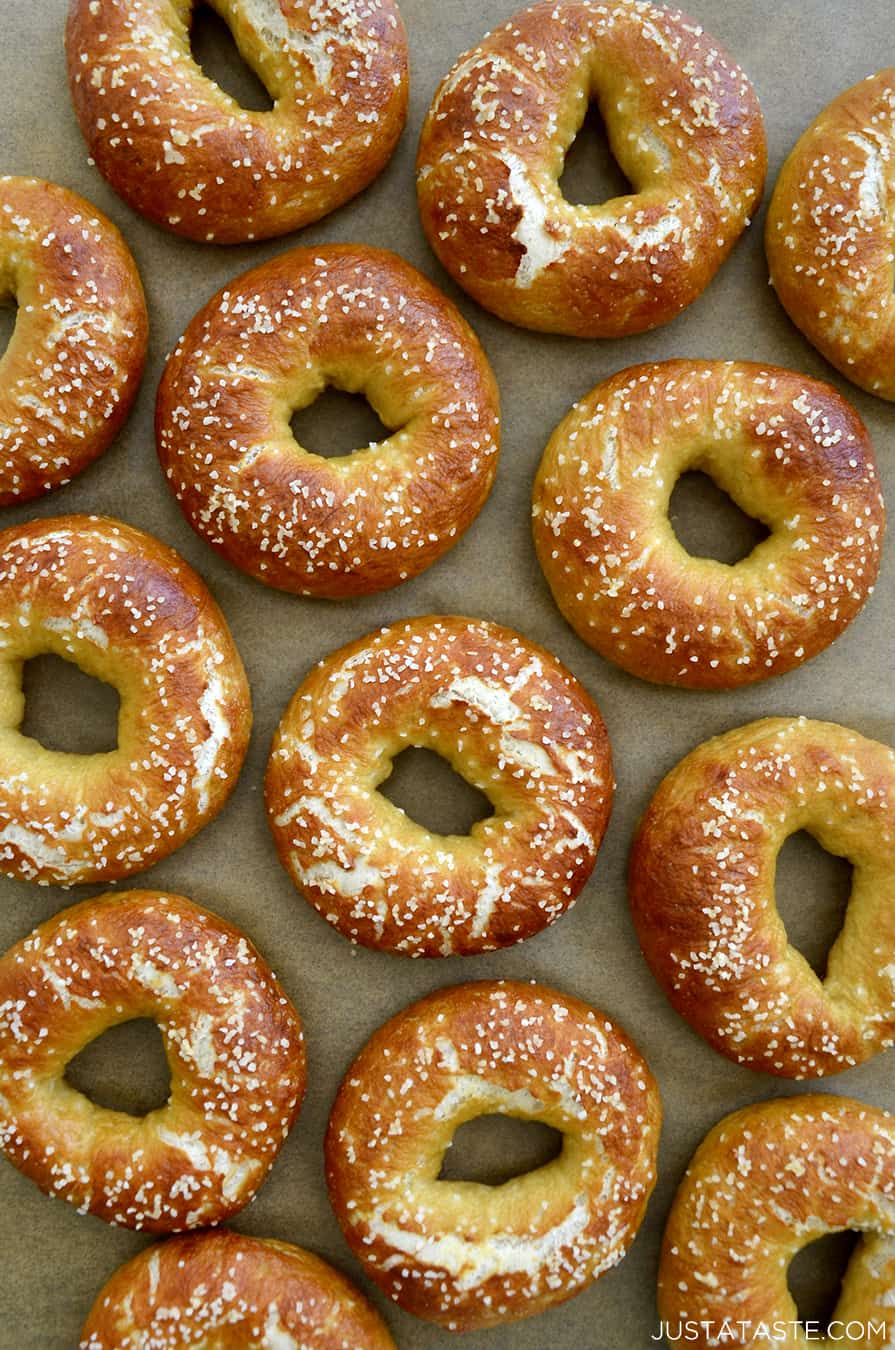 It doesn't take much time touring the pages around here to realize that I am a lover of all things soft pretzel. There's just something about the yeasted, chewy, crunchy salt-topped dough that is magical in every way, shape and form.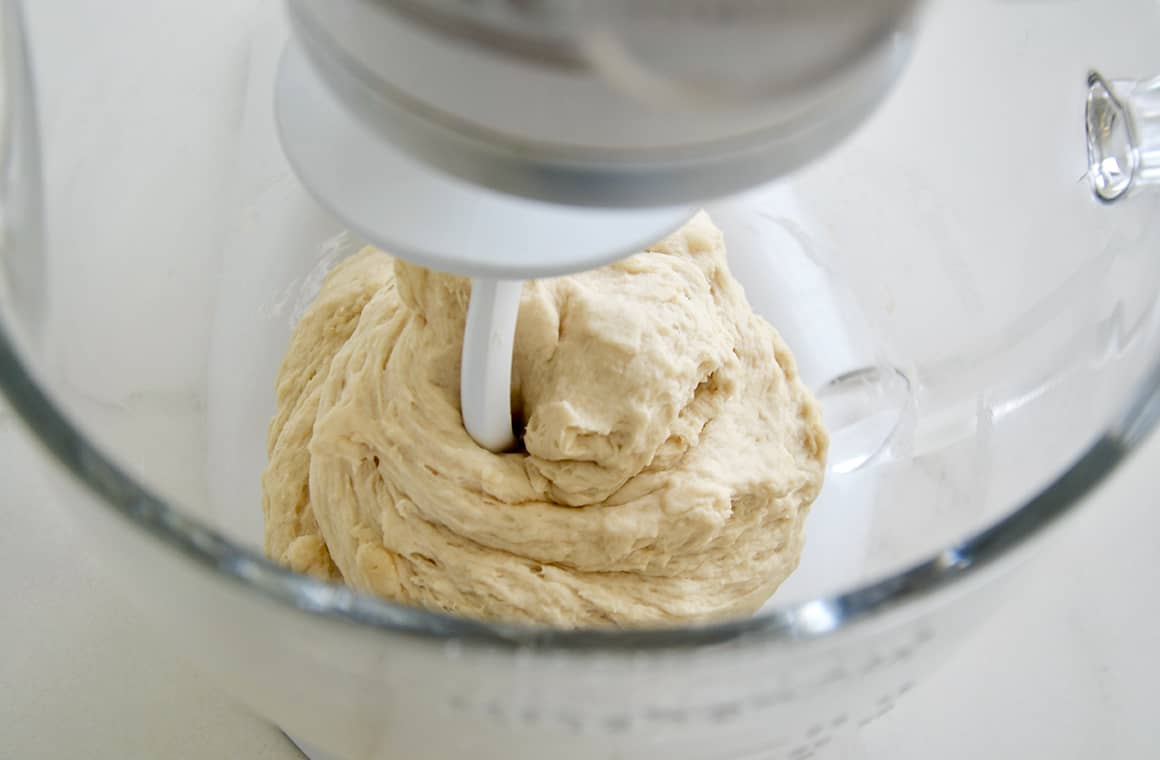 Soft Pretzel Bites? Count me in! Soft Pretzel Twists? No need to twist my arm! Everything Soft Pretzel Nuggets made with pizza dough? Store-bought for the shortcut win!
Never did I ever think I could proclaim a soft pretzel recipe my most favorite of all time. And then I dreamt up this recipe for Easy Soft Pretzel Bagels, and the competition is officially over. The winner has been declared. No one is contesting the results. Easy Soft Pretzel Bagels are the best soft pretzels you will ever taste. Period.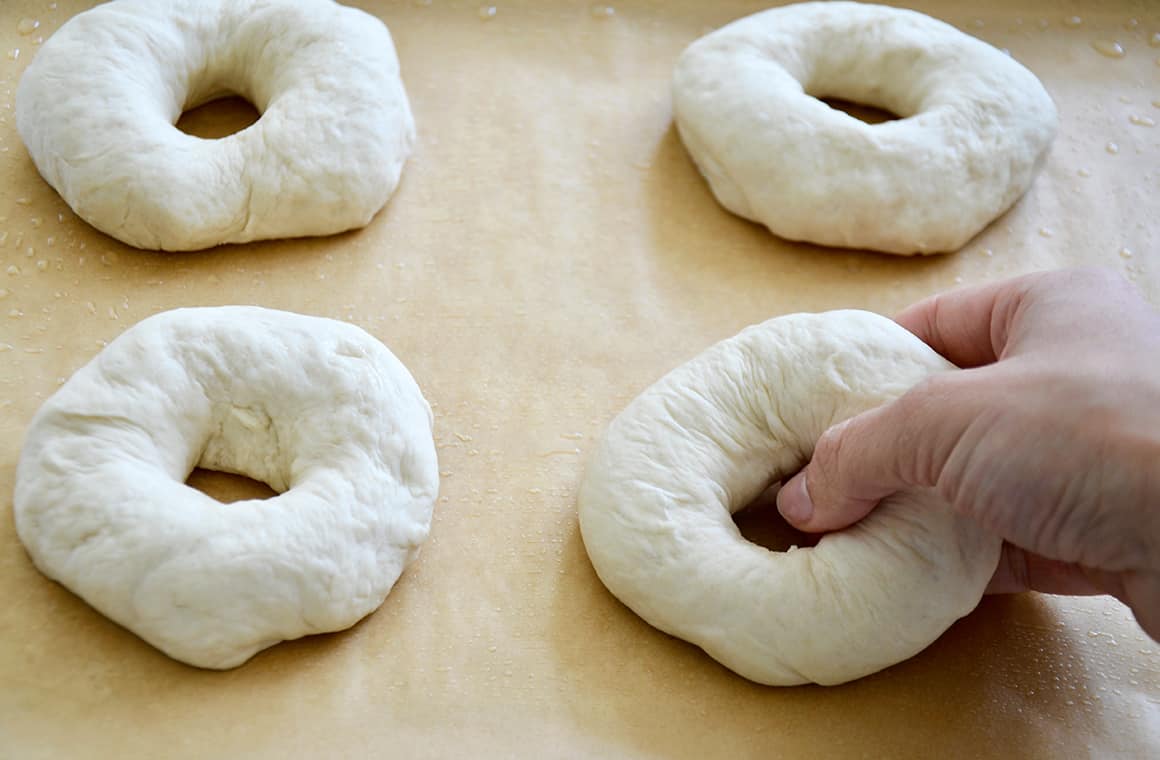 Need further convincing? When I was working on this recipe, I had not one but two family members swing by my house to take a half-dozen home. Rumor spread via the ol' family text chain that, "Kelly just combined bagels with soft pretzels" and the family came flocking!
Their ratings? "These are an 11 out of 10," my dad proclaimed. "Don't change anything… can I get six more?" my brother asked. Success!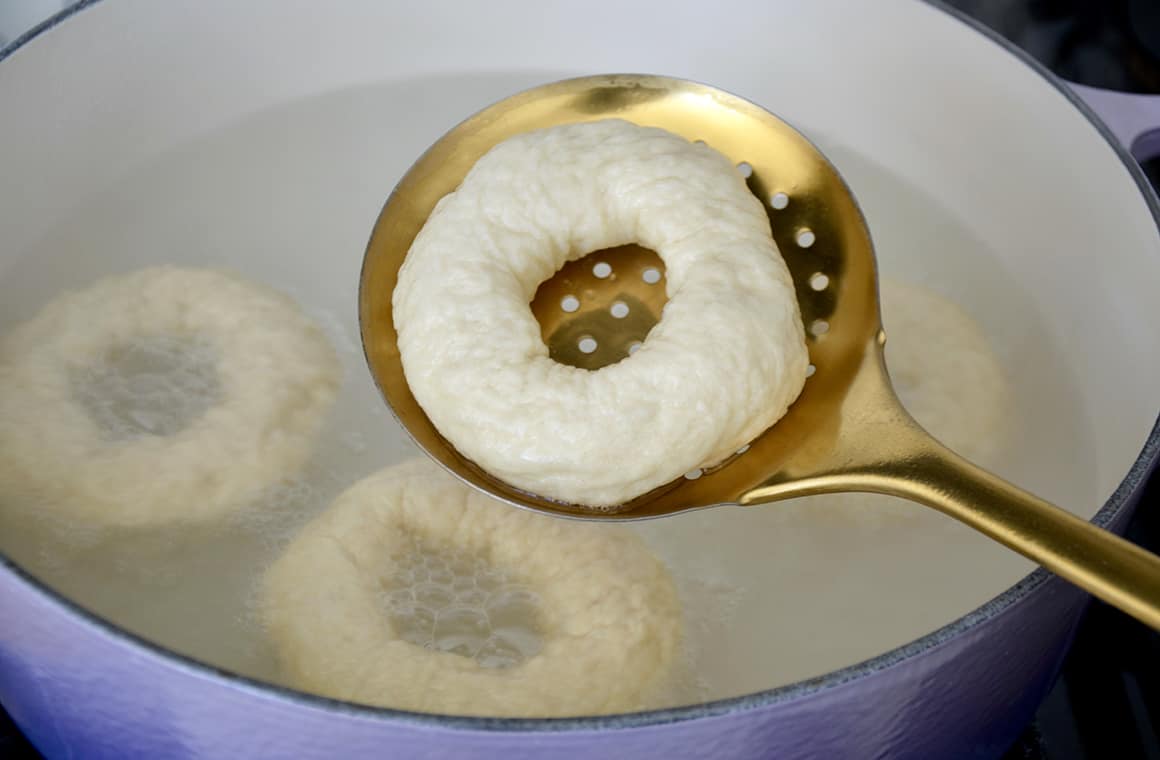 Making soft pretzels from scratch may seem intimidating, but with a few pro tips and expert tricks, you'll be baking up batch after batch with ease.
I am all about sharing my kitchen secrets, and of course my secret ingredient recipes, too, with my cookbook being full of 125 recipes starring surprisingly tasty twists, so I've included all of the guidance you'll need to go from a few simple ingredients to soft pretzel bagel perfection.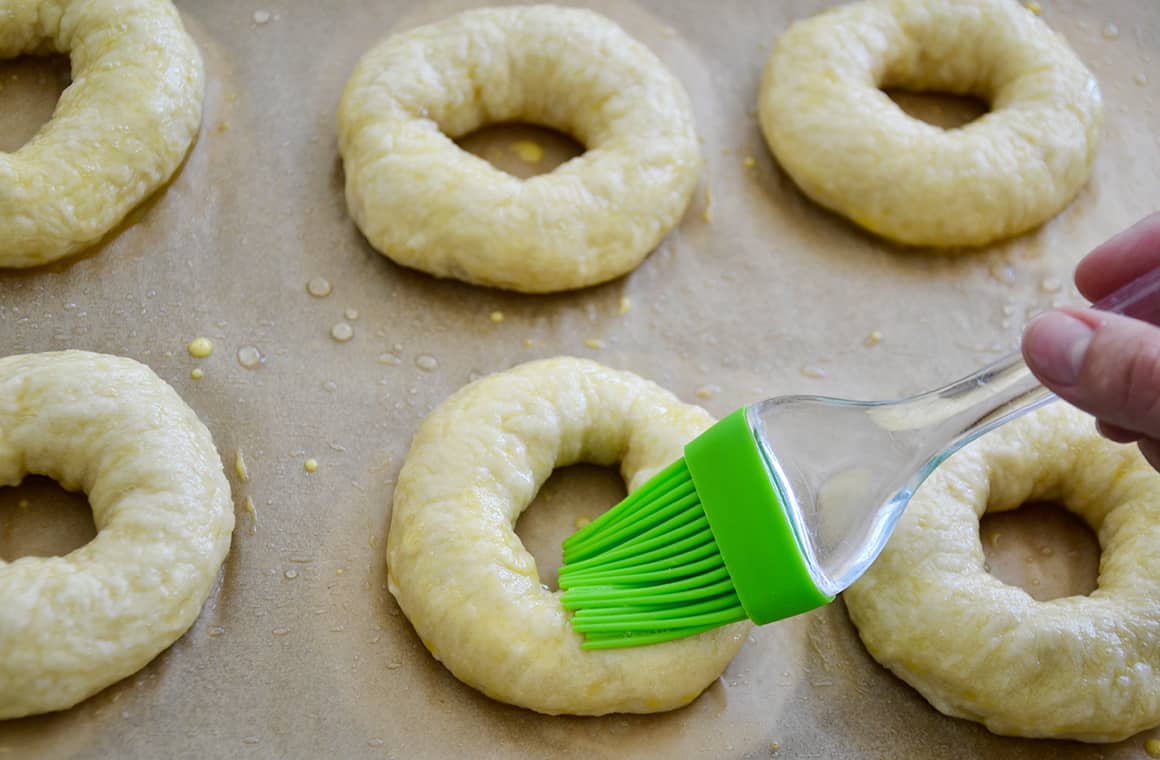 From the best place to proof your dough, to the easiest way to get the classic bagel shape without wasting time rolling out ropes of dough, read on for all of my tips for making Easy Soft Pretzel Bagels.
There's only one question left to answer: Do you serve these with cream cheese, mustard or cheese sauce?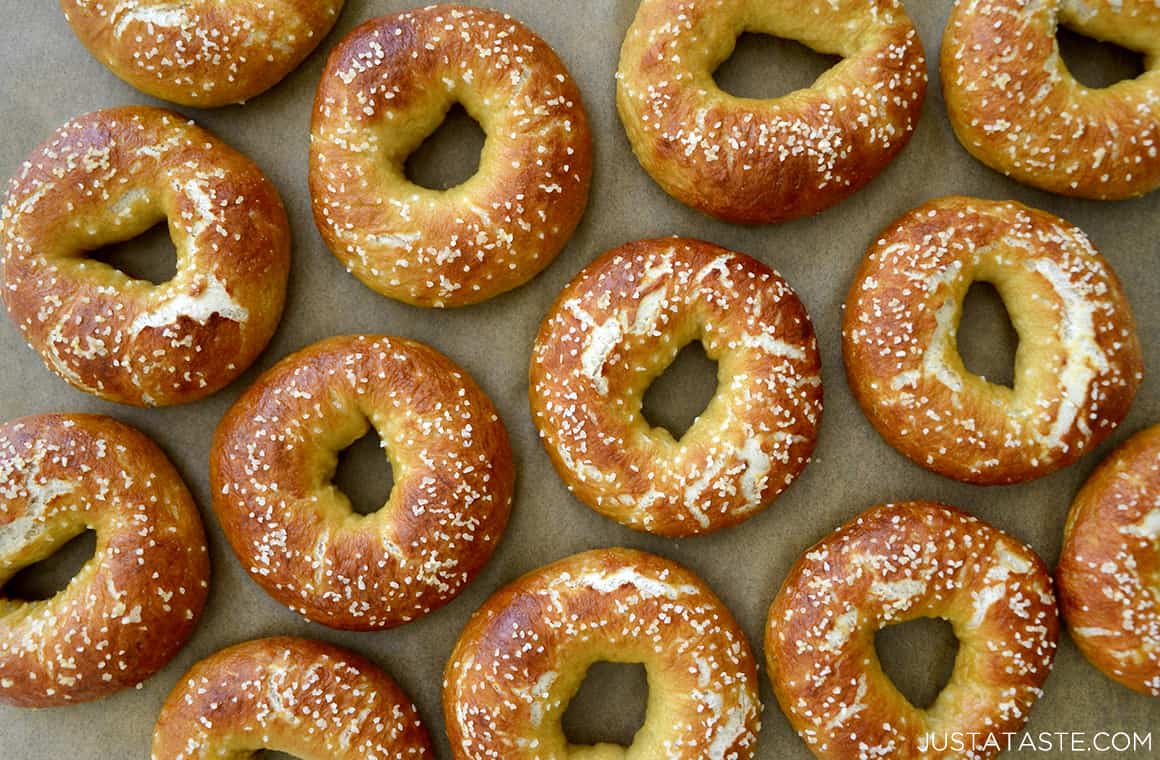 Craving more? Subscribe to Just a Taste to get new recipes and a newsletter delivered straight to your inbox! And stay in touch on Facebook, Twitter, Pinterest and Instagram for all of the latest updates.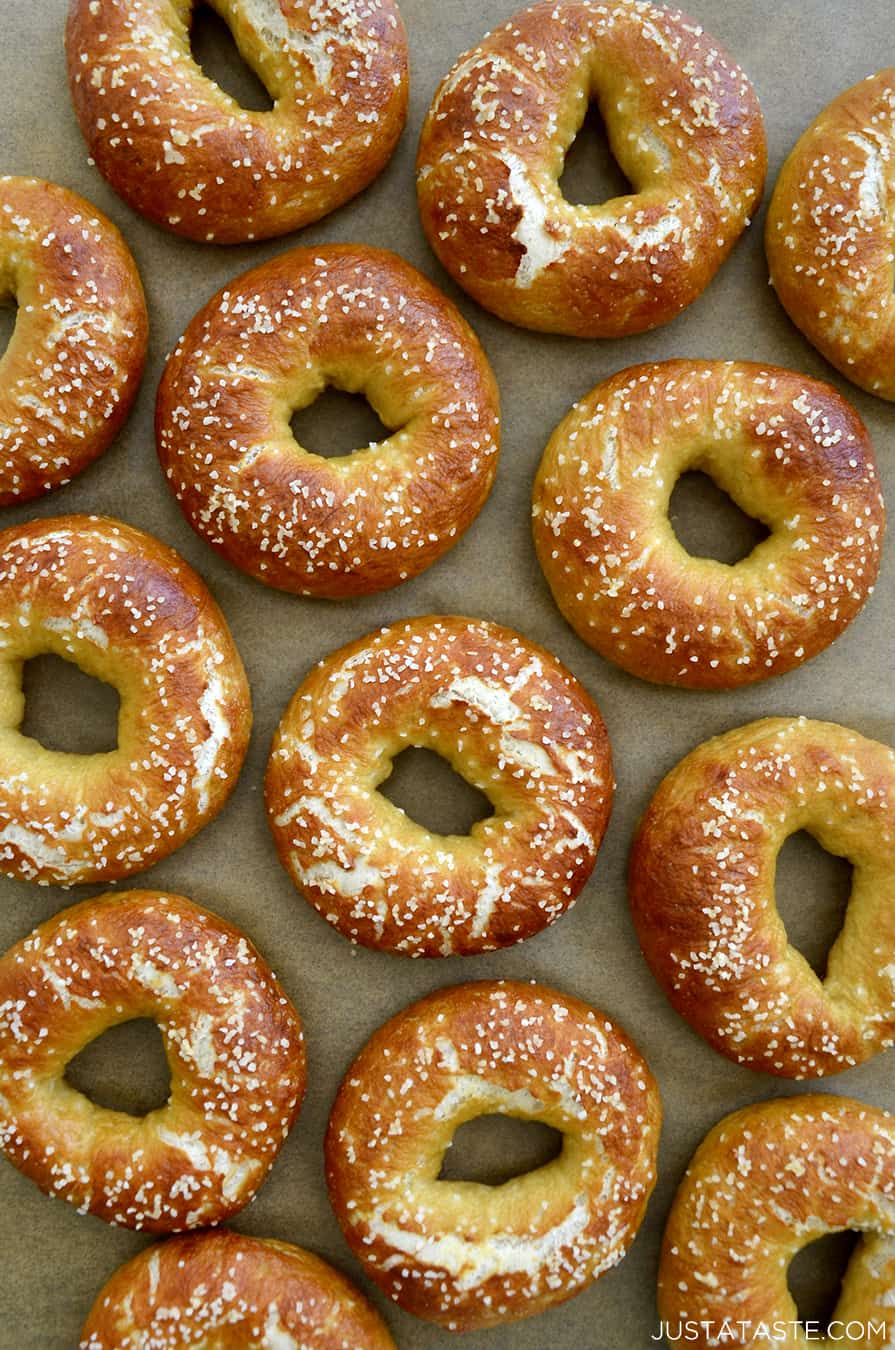 Ingredients
1 1/2

cups

warm water (110-115°F; See Kelly's Notes)

1

Tablespoon

sugar

2

teaspoons

kosher salt, plus more for topping

1

(¼ oz.)

packet active dry yeast

4 1/2

cups

all-purpose flour

4

Tablespoons

unsalted butter, melted

Vegetable oil, for greasing

10

cups

water

2/3

cup

baking soda

1

large egg yolk, beaten with 1 Tablespoon water
Instructions
In the bowl of a stand mixer fitted with the dough hook, combine the water, sugar and salt. Sprinkle the yeast on top and allow it to sit for 5 minutes until it begins to foam.

Add the flour and melted butter to the bowl and mix on low speed until the dough begins to form, then increase the speed to medium and knead the dough until it pulls away from the sides of the bowl, 2 to 3 minutes. Remove the dough from the bowl then grease the bowl with vegetable oil and return the dough to it. Cover it with plastic wrap and set it in a dark, warm place to proof until it doubles in size, about 1 hour. (See Kelly's Notes.)

Preheat the oven to 450ºF. Line two baking sheets with parchment paper and grease them with vegetable oil.

In a large pot, whisk together the water and baking soda. Bring the mixture to a rolling boil. While the mixture is coming to a boil, uncover the dough, transfer it to your work surface and divide it into 12 equal portions. (See Kelly's Notes.) Cupping your hand over each piece of dough, roll it into a ball then press your thumb through the center and stretch the dough to form a 2-inch hole in the center.

Working in batches, boil the bagels in the baking soda mixture for 30 seconds, flipping them once. Using a slotted spoon or spider, transfer the bagels onto the lined baking sheets, spacing them a few inches apart.

Brush the tops of the bagels with the egg wash then sprinkle them with salt. (See Kelly's Notes.)

Bake the bagels until they are deep-golden brown in color, rotating the pans halfway through, for a total of 12 to 15 minutes. Remove the bagels from the oven and let them cool slightly before serving.
Kelly's Notes:
The water needs to warm enough to kickstart the yeast, however it must be below 120°F, which is the temperature at which the yeast will begin to die off.

My favorite place to proof dough is in my dryer! Let the dryer run for 5 minutes then turn it off and place your covered bowl of dough inside and shut the door. The dryer is the ideal warm, dark and humid environment that let's the yeast thrive.

Do not flour your work surface, as you want the tackiness of the dough touching the surface to allow you to roll smooth balls.

Get creative with toppings by swapping the salt for everything seasoning!
Nutrition
Calories:
213
kcal
,
Carbohydrates:
37
g
,
Protein:
5
g
,
Fat:
5
g
,
Saturated Fat:
3
g
,
Trans Fat:
1
g
,
Cholesterol:
26
mg
,
Sodium:
2225
mg
,
Potassium:
54
mg
,
Fiber:
1
g
,
Sugar:
1
g
,
Vitamin A:
138
IU
,
Calcium:
17
mg
,
Iron:
2
mg
This post may contain affiliate links.