Celebrate sensory play with a recipe for Easy Homemade Playdough that requires just a few simple ingredients and no cooking.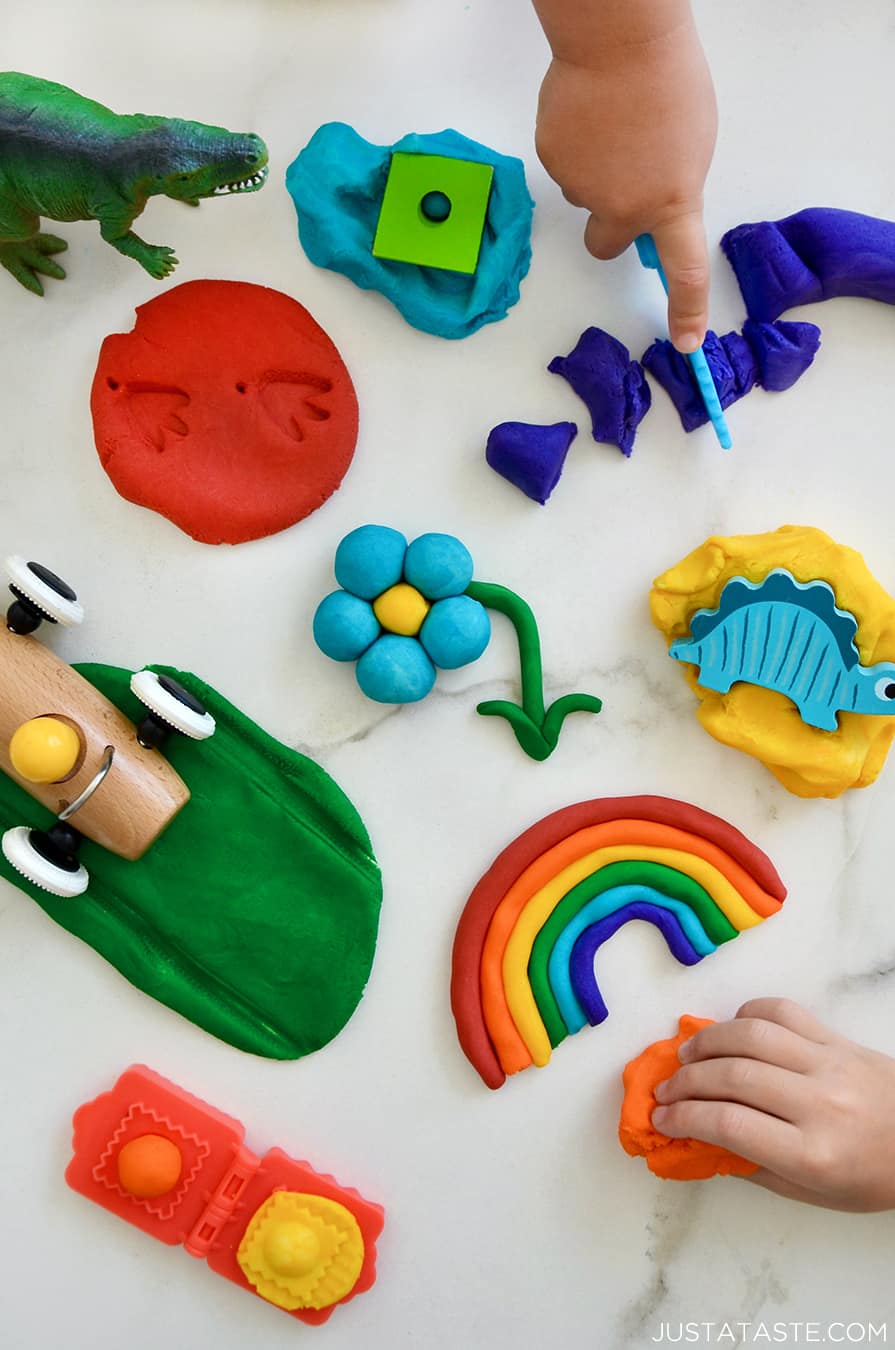 I'm not sure who enjoys making playdough more, me or my boys, and I can't think of a better activity for little ones of all ages that incorporates math, motor skills and sensory play all in one!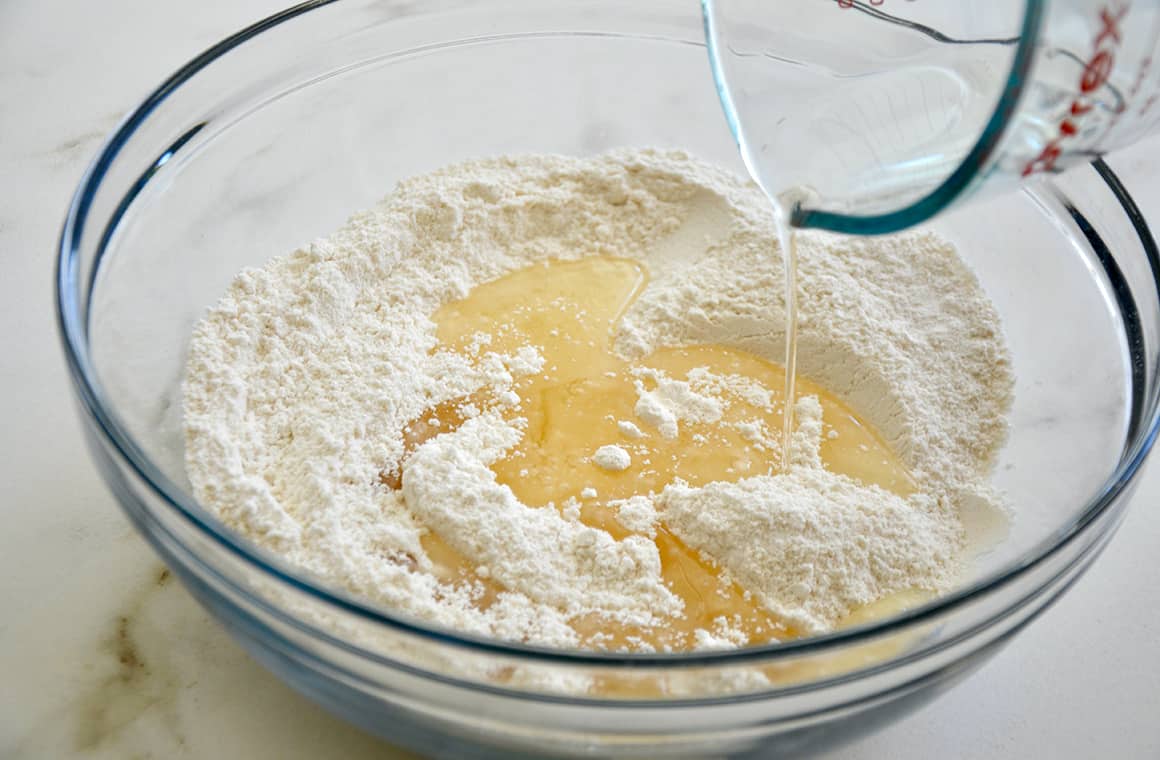 Easy Homemade Playdough is the rainy day (or any day!) activity all parents need. It's made with a few simple ingredients, but the real trick to extra-smooth playdough that lasts for up to 3 months (if you don't have three boys and a lot of carpet!) comes down to technique. Read on for how to play with dough like a pro!
How to Make Homemade Playdough (No Cook)
That's right! No cooking is needed to make silky-smooth playdough. My #1 tip for ensuring your no-cook playdough is soft, pliable and doesn't crumble (even after weeks of use) comes down to the temperature of the water you use to mix the playdough. It must be boiling. I repeat: boiling!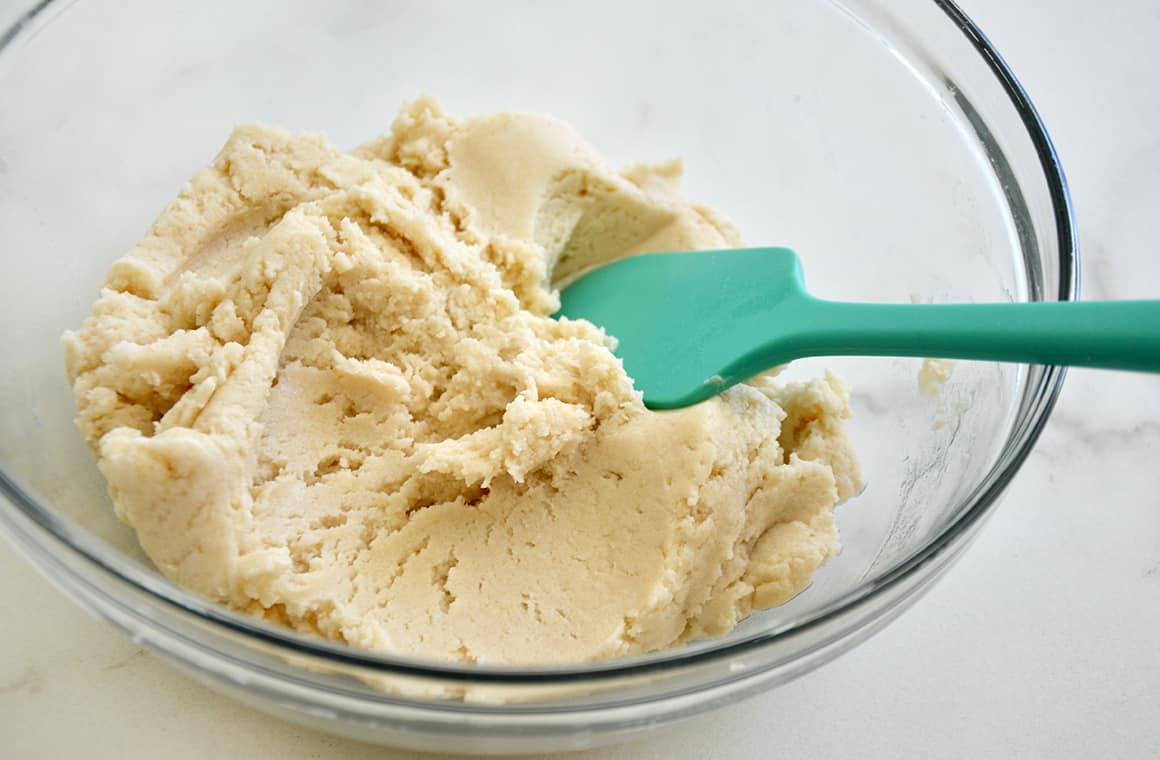 The heat helps dissolve the salt and cream of tartar (more on this below!). The result is a very smooth texture that mimics the real-deal Play-Doh.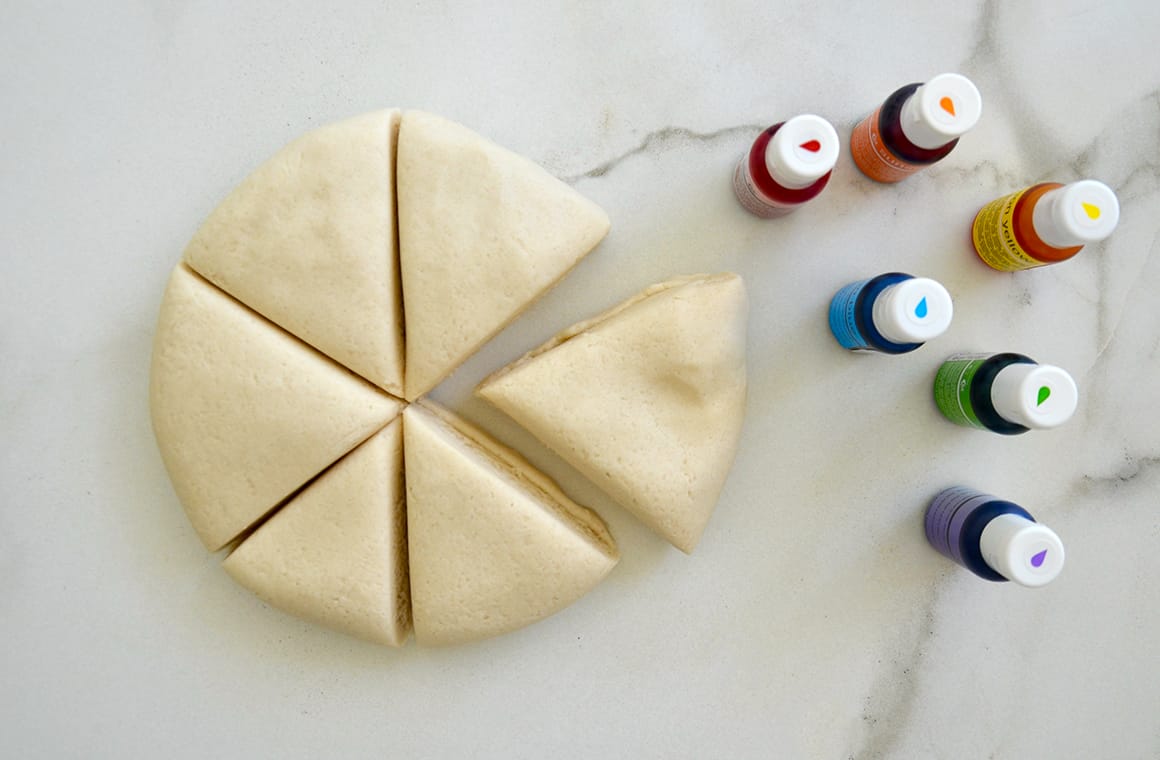 Aside from being a fun after-school or rainy day activity, the real beauty of homemade playdough is that it can be customized to be any color imaginable. I am a big fan of gel-based food coloring, rather than water-based, as you'll get a much more vibrant color.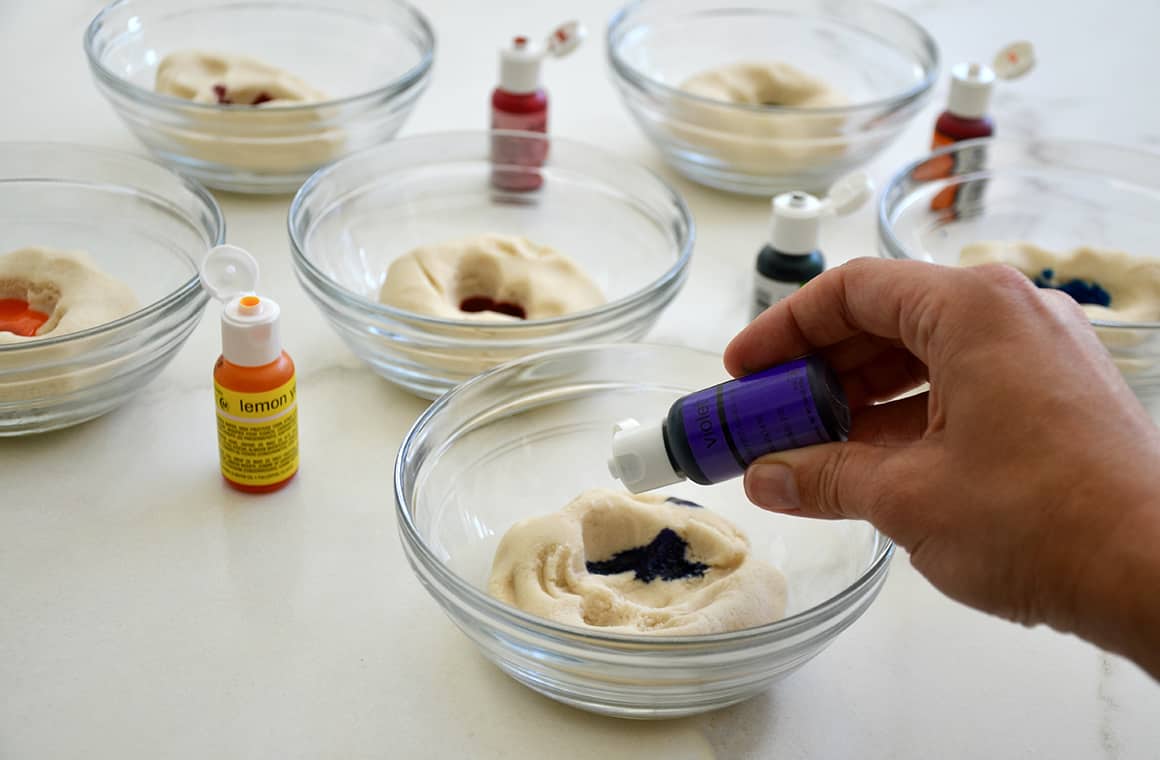 What Does Cream of Tartar Do In Homemade Playdough?
The cream of tartar makes the playdough incredibly soft and slightly elastic. It's not essential to use it in this recipe, however it will impact the overall texture and consistency.
In addition to the salt, the cream of tartar also helps preserve the playdough and will lengthen how long it'll remain pliable.
What To Do If Your Homemade Playdough Is Too Sticky
Making playdough is very similar to making Homemade Tortillas. The consistency of the dough can be impacted by your environment, particularly humidity.
If your playdough is too sticky during the mixing process, simply add more flour, 2 tablespoons at a time, until it becomes less sticky. It's important to note that as the playdough sits and cools after mixing, it'll absorb any remaining water, so when in doubt, let it rest for 5 to 10 minutes before adding more flour.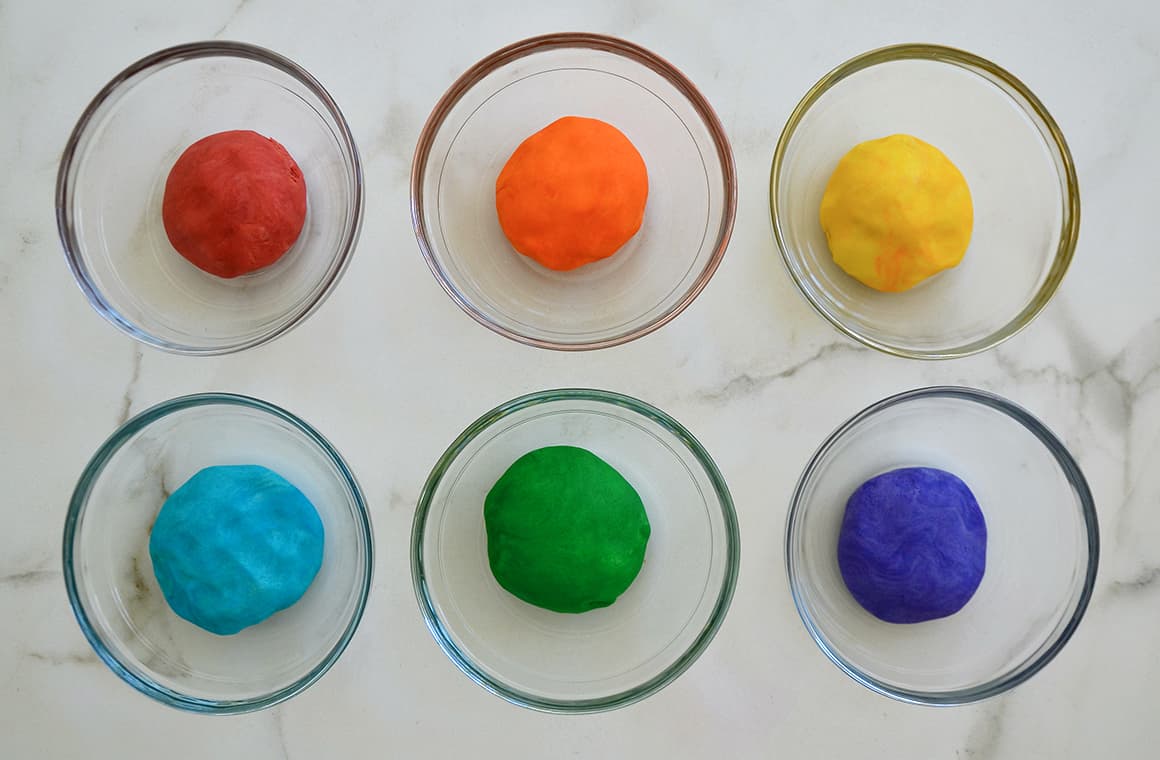 Craving more?
Subscribe to Just a Taste
to get new recipes and a newsletter delivered straight to your inbox! And stay in touch on
Facebook
,
Twitter
,
Pinterest
and
Instagram
for all of the latest updates.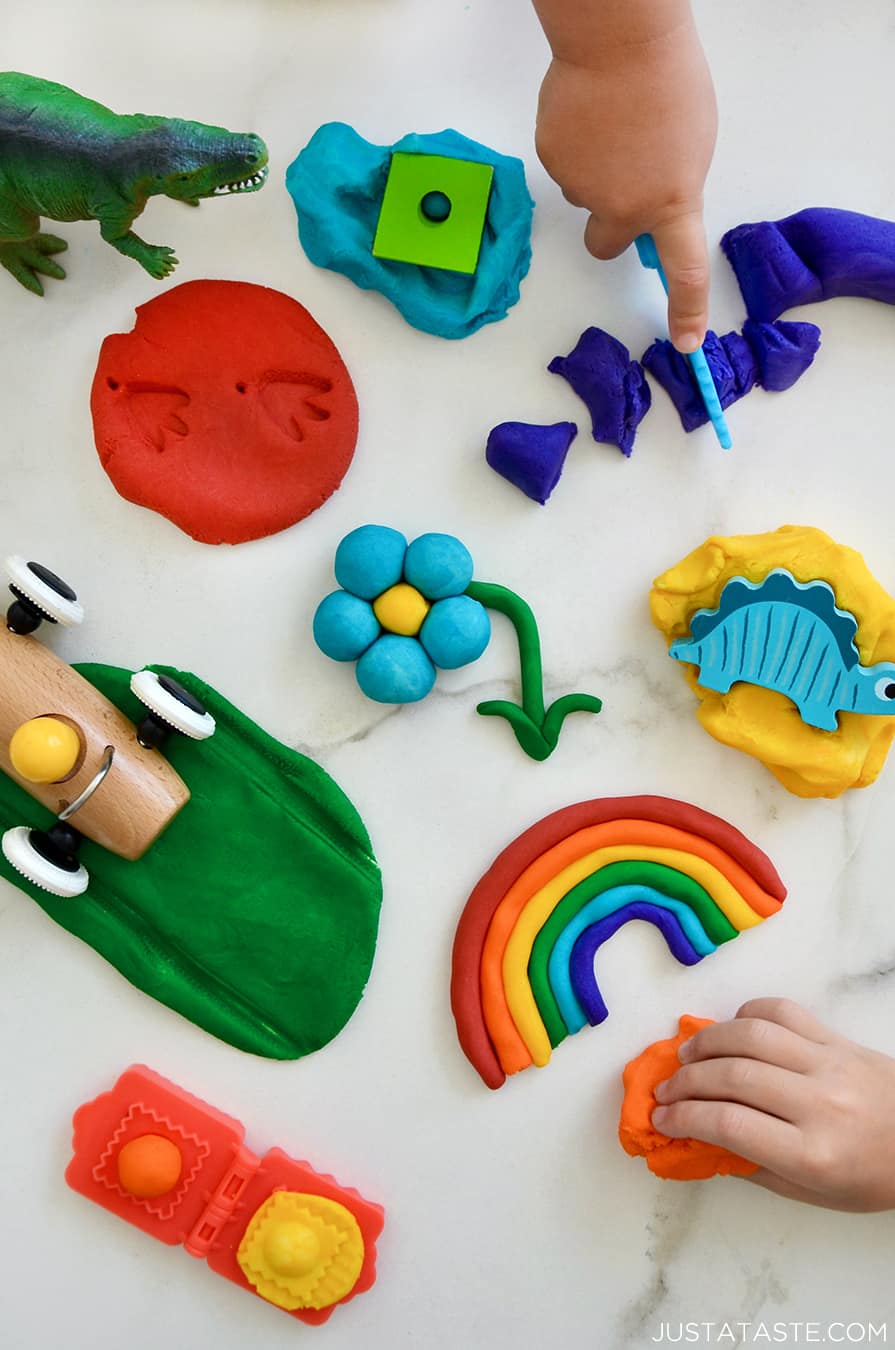 Ingredients
2 1/2

cups

all-purpose flour

3/4

cup

salt

2

Tablespoons

cream of tartar

1/4

cup

vegetable oil

1 1/4

cups

boiling water

Food coloring (optional)
Instructions
In a large bowl, whisk together the flour, salt and cream of tartar.

Add the vegetable oil and boiling water, and using a spatula, mix until combined. Once it's cool enough to handle, use your hands to knead the playdough in the bowl until it becomes smooth, about 2 minutes. (It may appear wet at first but will dry as you knead and the water gets fully absorbed.)

Turn the playdough onto your work surface and knead it until it is smooth, about 2 minutes.

Use the homemade playdough as is, or if desired, color with food coloring of your choice. (If using food coloring, it's best to mix the playdough in a bowl while wearing disposable gloves to avoid coloring your hands.)
Kelly's Note:
Homemade playdough will last for up to 2 months if stored in an airtight container at room temperature.
Nutrition
Calories:
561
kcal
,
Carbohydrates:
86
g
,
Protein:
11
g
,
Fat:
19
g
,
Saturated Fat:
15
g
,
Polyunsaturated Fat:
1
g
,
Monounsaturated Fat:
2
g
,
Sodium:
28301
mg
,
Potassium:
1744
mg
,
Fiber:
3
g
,
Sugar:
1
g
,
Calcium:
34
mg
,
Iron:
5
mg
This post may contain affiliate links.