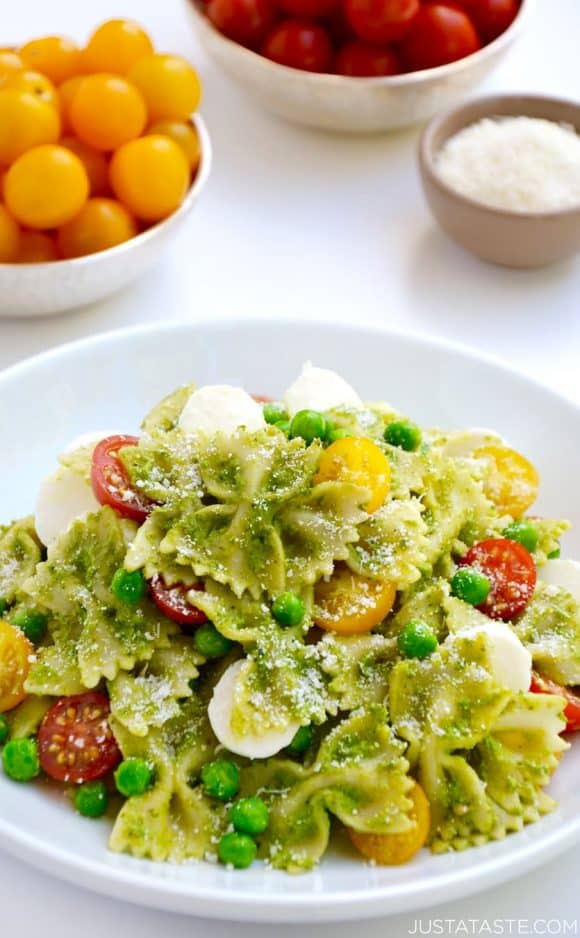 Brilliantly green and tender, peas are so much more than a frozen afterthought or simple soup. While there's nothing wrong with those varieties, nothing beats fresh, plump peas plucked straight from their pod. They add sweetness and depth of flavor to a variety of dishes, from dips and tarts to pasta salads and fried rice. Fresh peas come in and out of season quickly, and once harvested, you'll want to eat them as soon as possible because this is when they are sweetest. Ready to put this seasonal produce to work? Read on for tips on how to buy, store and prepare fresh peas!
HOW TO BUY
Select fresh English peas (also known as shell or garden peas) with firm, bright green pods. Avoid any with a mealy texture or that are discolored. One pound of whole pods yields roughly one cup of shelled peas. Select snap peas with firm, crisp pods that are a darker shade of green. Select snow peas that are crisp, light green and have small seeds.
HOW TO STORE
Peas' natural sugar begins to decline and turn to starch immediately after being picked so it's best to prepare and eat them as soon as possible (the day of purchase is ideal). Store in a plastic bag in your refrigerator's crisper drawer for a couple of days; they will stay crisp but begin to lose their sweetness.
HOW TO PREPARE
Shell peas just before using to prevent them from drying out. To shell, snap the stem end, then pull the string down the side of the pod to open. Remove the peas and rinse under cold water. Rinse snow peas and snap peas under cold water and enjoy raw or continue to prepare according to your recipe.
Find inspiration for enjoying this seasonal produce with pea recipes from around the web:
What are your favorite pea recipes?
This post may contain affiliate links.