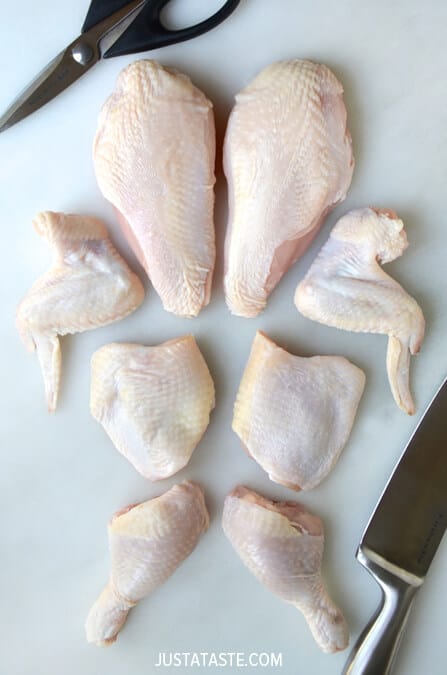 Butchering a chicken may seem like a daunting task. Do you start with the wings? How do you remove the breast bone? What's a chicken oyster? And what does one do with a spare chicken back? Find answers to all of these questions and more in my latest feature on KitchenAid's blog, The Kitchenthusiast, where I'm breaking down (food pun count: 1) the simple steps to go from whole bird to eight perfect parts.
My step-by-step visual guide will inspire you to bypass those pre-packaged chicken parts, and instead, save a few dollars per pound by butchering the bird using two simple tools: a chef's knife and kitchen shears. Head on over to The Kitchenthusiast, then put your skills to the test with recipes for Honey Balsamic Baked Chicken Thighs, Baked Cheddar Dijon Chicken Tenders, Crispy Baked Asian Chicken Wings and more of my favorite chicken recipes.
Craving more? Sign up for the Just a Taste newsletter for a fresh serving of content delivered every week to your inbox! And stay in touch on Facebook, Twitter, Pinterest and Instagram for all of the latest updates.
This post may contain affiliate links.