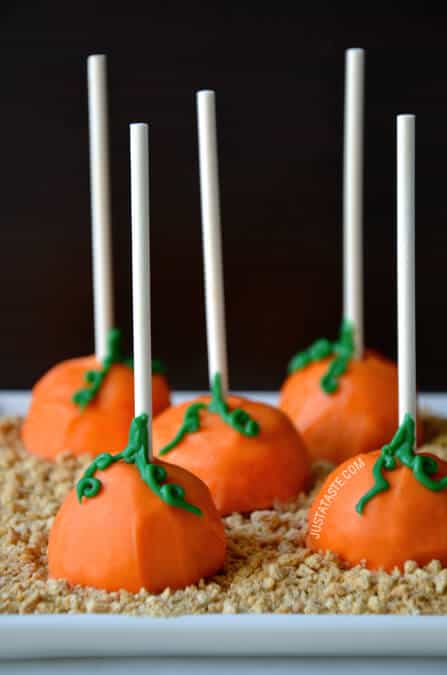 Cheesecake has made many an appearance on these pages. Cheesecake cookies, cheesecake brownies, cheesecake chimichangas. I've nearly cheesecake'd it all, folks. And now I'm adding Pumpkin Cheesecake Pops to the list.
Creamy, crustless pumpkin cheesecake stars in this finger-friendly dessert. It's baked, scooped, frozen, skewered, dunked and then served on a bed of graham cracker crumbs. And the result is one seriously sweet finale to your holiday feast. In need of a fork-free cocoa counterpart to these pops? Don't miss my No-Bake Chocolate Cookie Pops. Because food just tastes better on a stick.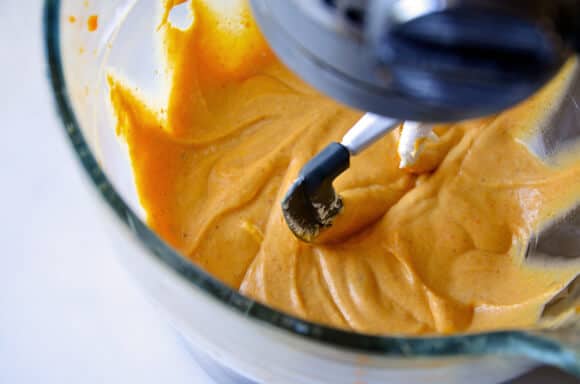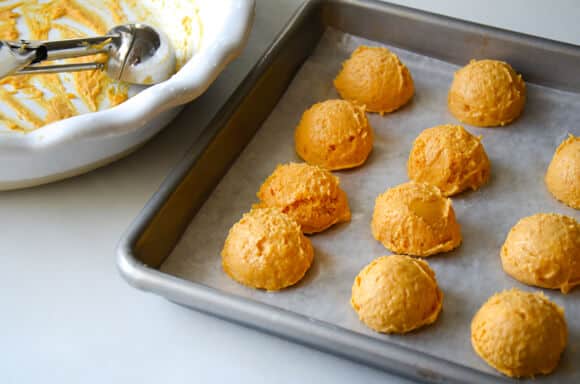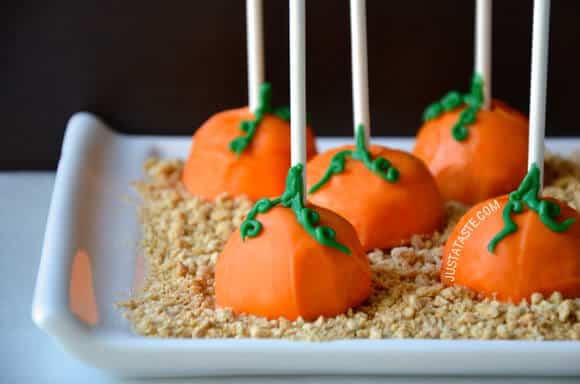 Craving more? Sign up for the Just a Taste newsletter for a fresh serving of content delivered every week to your inbox! And stay in touch on Facebook, Twitter, Pinterest and Instagram for all of the latest updates.
Disclosure: This post contains Amazon affiliate links.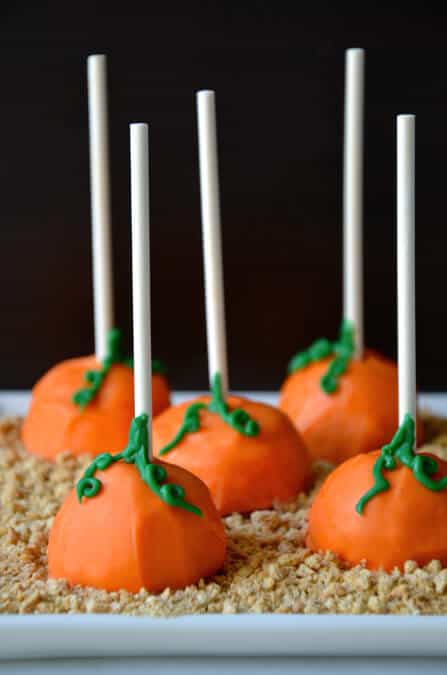 Ingredients
Vegetable oil, for greasing pie plate

1

(8-ounce) package cream cheese, softened

1/2

cup

sugar

1

large egg

1

cup

canned pumpkin

1

teaspoon

pure vanilla extract

1/2

teaspoon

pumpkin pie spice

2

cups

orange candy melts

1

cup

green candy melts

1

cup

Graham cracker crumbs
Equipment:
9-

inch glass or ceramic pie plate; Small ice cream scoop; Lollipop sticks
Instructions
Preheat the oven to 350°F with the rack in the middle. Grease a 9-inch glass or ceramic (not metal) pie plate with vegetable oil.

In the bowl of a stand mixer fitted with the paddle attachment, beat together the cream cheese and sugar until creamy and smooth, then beat in the egg until combined. Add the pumpkin, vanilla extract and pumpkin pie spice to the bowl, beating just until combined.

Pour the mixture into the greased pie plate and bake until the edges are set and the center is still a little wobbly, 25 to 30 minutes. Transfer the pie to a rack and let it cool completely. Cover the cheesecake with a round of wax paper or parchment then wrap it in plastic and refrigerate it until cold, at least 3 hours.

Line two small baking sheets with wax paper. Using a small ice cream scoop, scoop out portions of the pumpkin cheesecake, packing it into the scoop then leveling it off. Release the cheesecake onto the prepared baking sheets so that each scoop lands flat side down. Freeze the cheesecake balls until frozen solid, at least 1 hour.

Melt the orange candy melts, then working with one pan of cheesecake balls at a time (and keeping the other pan frozen), push a lollipop stick into the top of each ball then dip it in the candy melts. Use a small spatula to scrape off any excess and return the cheesecake pop to the lined baking sheet. Repeat the dipping process with the remaining cheesecake balls then return both pans to the freezer.

Melt the green candy melts then transfer them to a plastic bag or piping bag. Remove one sheet of pops from the freezer, snip off the tip of the bag and pipe on green vines and a stem. Return the pops to the freezer then repeat with the second sheet of pops.

Keep pops refrigerated or frozen until serving. Serve atop a bed of Graham cracker crumbs.
Kelly's Notes:
The cheesecake can be baked one day in advance and stored, wrapped in plastic wrap, in the fridge.

If you can't find candy melts, you can forgo the orange and green colors and simply dip the cheesecake in melted chocolate.

★ Did you make this recipe? Don't forget to give it a star rating below!
Nutrition
Calories:
126
kcal
,
Carbohydrates:
19
g
,
Fat:
4
g
,
Saturated Fat:
3
g
,
Cholesterol:
8
mg
,
Sodium:
56
mg
,
Potassium:
38
mg
,
Sugar:
15
g
,
Vitamin A:
1920
IU
,
Vitamin C:
0.5
mg
,
Calcium:
9
mg
,
Iron:
0.5
mg
This post may contain affiliate links.