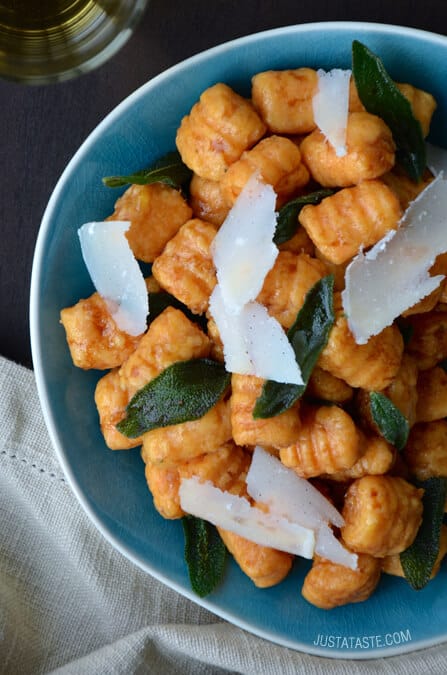 Ah, gnocchi. How I love to eat you, but oh how I loathe to make you. You see, making gnocchi is not for the culinary faint of heart. You need to be in it to win it. Have your eyes on the prize. Be ready to go big and not go home.
I want to make sure I set expectations: This is not a recipe to attempt on a busy weeknight while your ravenous self balances a glass of Pinot Grigio in one hand and a bag of Cool Ranch Doritos in the other. So if you're looking to throw together a super-quick and incredibly tasty meal, head on over to my 30-Minute Mongolian Beef. And for all those who are inspired to join the legions of gnocchi warriors, read on …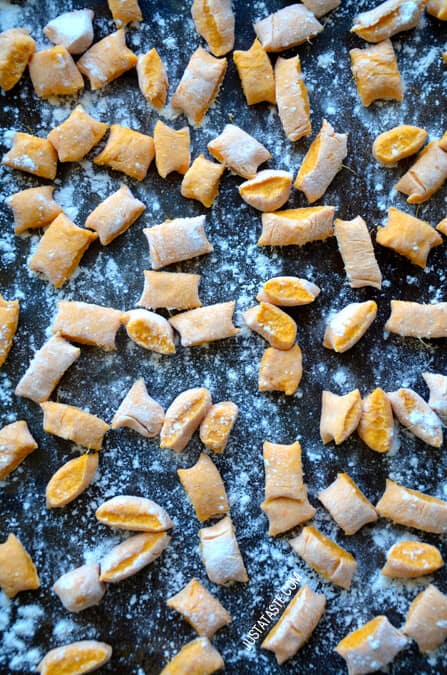 So you're in it to win it. Your eyes are on the prize. You're going big and not going home. Congratulations! You're in for a deliciously satisfying journey. Here are a few tips to help facilitate your impending gnocchi domination:
Harness Your Flour Power: The more flour you use in the gnocchi dough, the more dense it will be. If you're aiming for light, pillowy, like-the-kind-I-had-at-that-restaurant gnocchi, you'll want to review my tips in the recipe below to gauge how much flour to use.
Embrace the Indentations: While there's no law that requires you to complete the final step of rolling each gnocchi on the back of a fork to create the characteristic indentations, I would highly encourage you to do so. Those little ridges help soak up all the sauce. And when the sauce is balsamic brown butter, I guarantee you won't want to miss a drop.
Know Your Gnocchi Limits: Making homemade gnocchi requires persistence, determination and an if-she-can-do-it-I-can-do-it attitude. At the end of the day, we're dealing with flour, potatoes and cheese. Worst case scenario, you turn it all into cheesy mashed potato pancakes.
Not a fan of sweet potatoes but still dig these fluffy dumplings? Check out my recipe for traditional homemade gnocchi with kale pesto.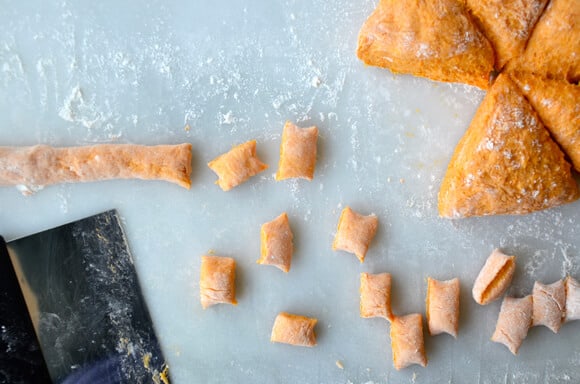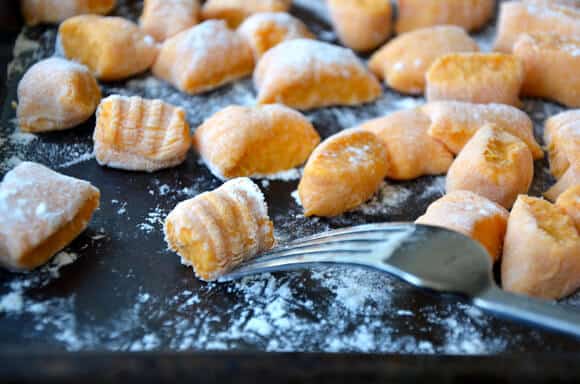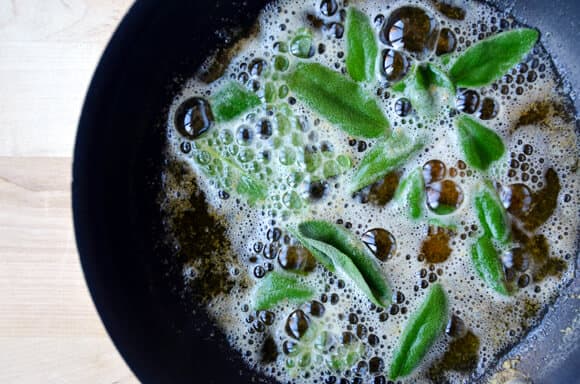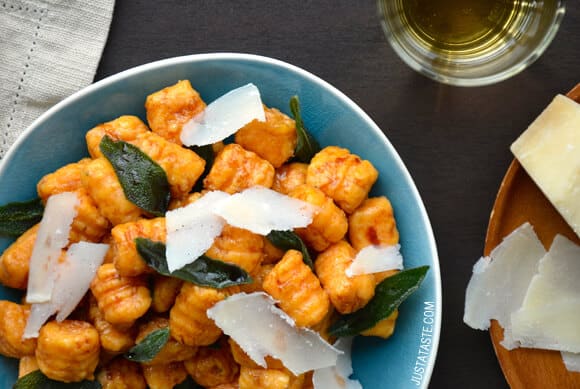 Craving more? Sign up for the Just a Taste newsletter for a fresh serving of content delivered every week to your inbox! And stay in touch on Facebook, Twitter, Pinterest, and Instagram for all of the latest updates.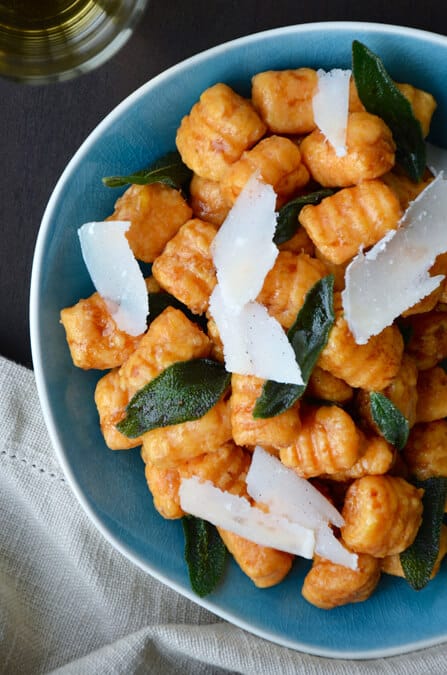 Ingredients
For the gnocchi:
1

pound

red-skinned sweet potatoes (approx. 2 potatoes)

1

(12-oz.) container fresh ricotta, strained in a sieve for 2 hours

1

cup

grated Parmesan cheese

2

teaspoons

salt

2 1/2

cups

(or more) all-purpose flour
For the brown butter:
8

Tablespoons

(1 stick) unsalted butter

1/4

cup

loosely packed sage leaves

3

Tablespoons

balsamic vinegar

1/2

teaspoon

salt

1/4

teaspoon

black pepper

Parmesan cheese, for serving
Instructions
Make the gnocchi:
Scrub and dry the sweet potatoes, then prick them all over with a fork. Place the sweet potatoes on a plate and microwave them on "high" until they're fork-tender, about 5 minutes per side. Remove the sweet potatoes from the microwave, cut them in half, and then scoop the flesh into a medium bowl. Using a fork, thoroughly mash the sweet potatoes, or alternately, pass the sweet potato flesh through a ricer.

Transfer 3 cups of the mashed sweet potatoes to a large bowl. Add the strained ricotta, stirring until thoroughly combined. Stir in the Parmesan cheese and salt, and then start adding the flour, ½ cup at a time, until a soft dough forms. (See Kelly's Notes.) Shape the dough into a large ball.

Lightly flour a baking sheet and set it aside. Lightly flour your work surface and divide the dough into six equal portions. Take one portion and roll it on your work surface or between your hands until it's about 20 inches in length. Cut the dough into 20 pieces to form each gnocchi then transfer them to the floured baking sheet. Repeat the rolling and cutting process with the remaining five pieces of dough.

Using the back of a fork, press each gnocchi into the tines to form indentations.

Prior to cooking the gnocchi, make the brown butter sauce (recipe follows).

When you're ready to cook the gnocchi, bring a large pot of salted water to a boil. Add a portion of the gnocchi to the boiling water, stir, and then let the gnocchi cook until they float back up to the top, about 1 minute.

Remove the gnocchi with a slotted spoon to a serving bowl. Repeat the cooking process with the remaining gnocchi.

Toss the warm gnocchi with the prepared brown butter sauce. Garnish with Parmesan cheese and serve.
Make the brown butter:
Melt the butter in a medium saucepan over medium heat, stirring occasionally. Cook the butter until the foam subsides and it begins to turn a golden brown color, about 3 minutes. Turn off the heat and add the sage leaves, allowing them to cook for 1 minute.

Remove the brown butter from the heat and stir in the balsamic vinegar, salt and pepper. Serve immediately with the sweet potato gnocchi.
Kelly's Notes:
Sweet potatoes will vary in how much moisture they contain, but it's important to not add too much flour or your gnocchi will be dense. The goal is to add the least amount of flour while still making a cohesive, pliable dough. You should end up using roughly 2 cups of flour to reach this point.

★ Did you make this recipe? Don't forget to give it a star rating below!
Nutrition
Calories:
475
kcal
,
Carbohydrates:
58
g
,
Protein:
13
g
,
Fat:
20
g
,
Saturated Fat:
12
g
,
Cholesterol:
54
mg
,
Sodium:
1256
mg
,
Potassium:
458
mg
,
Fiber:
4
g
,
Sugar:
6
g
,
Vitamin A:
15220
IU
,
Vitamin C:
15.3
mg
,
Calcium:
250
mg
,
Iron:
3.5
mg
This post may contain affiliate links.