Whether you spike it or not, this Watermelon Slushy (Cocktail or Mocktail) recipe is sure to keep you cool all summer long!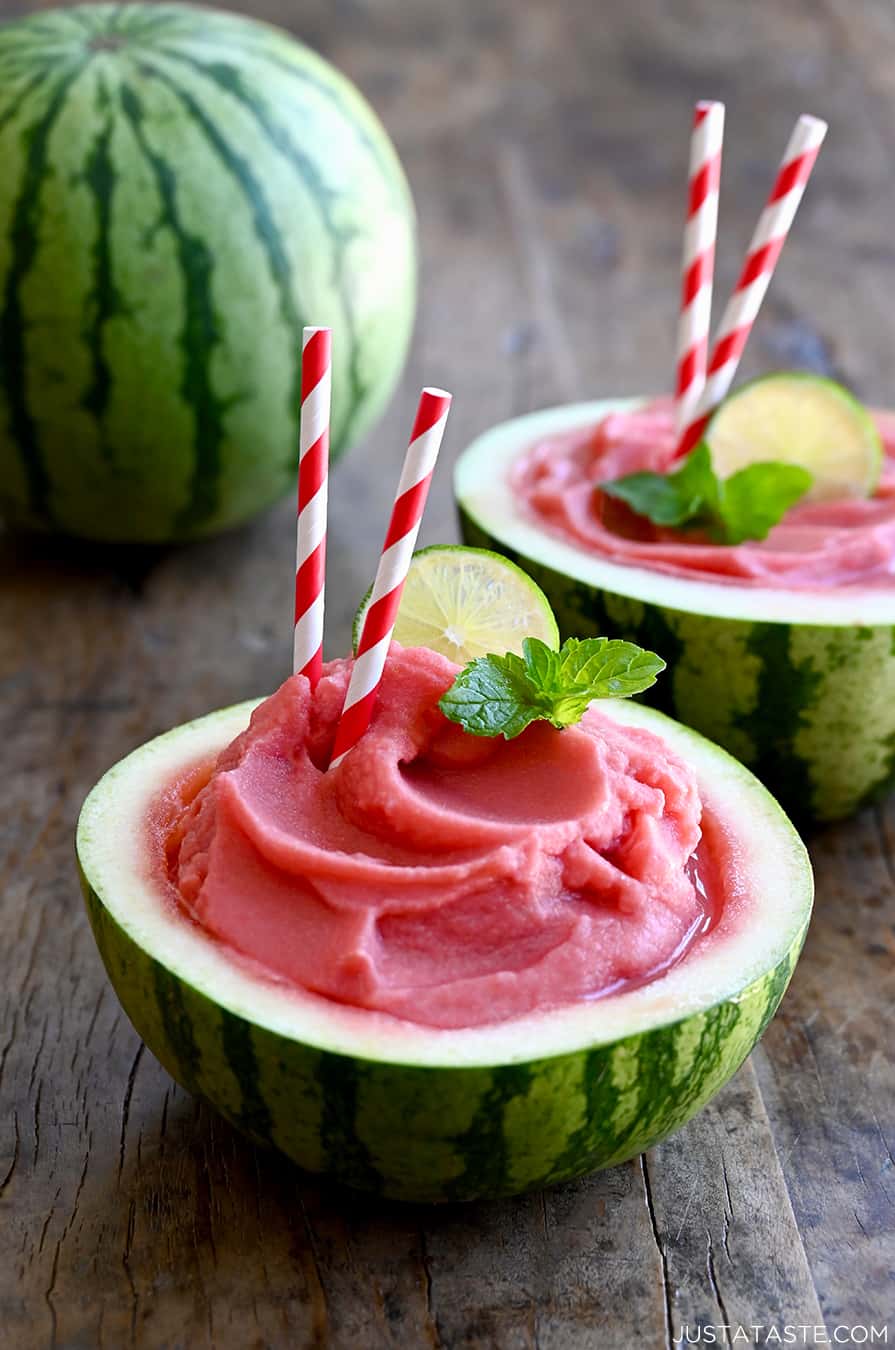 On a hot day, there's nothing that cools me down quicker than creamy, dreamy Watermelon Slushies. If it's 5 pm onwards, you can bet I'm turning that slushy into a cocktail, but it's so delicious as-is even if you're not in the mood for the hard stuff. My favorite part? Picking up a few of those beyond adorable mini watermelons at the grocery store and using them for serving individual slushies for friends and family. I call that style and substance.
The key to blending up a smooth (and not-too-icy) slushy is a mix of frozen and unfrozen watermelon cubes. After you make these Watermelon Slushies, you'll find you're always going to freeze a reserved bit of your weekly watermelon for all your favorite cocktails, mocktails and slushies.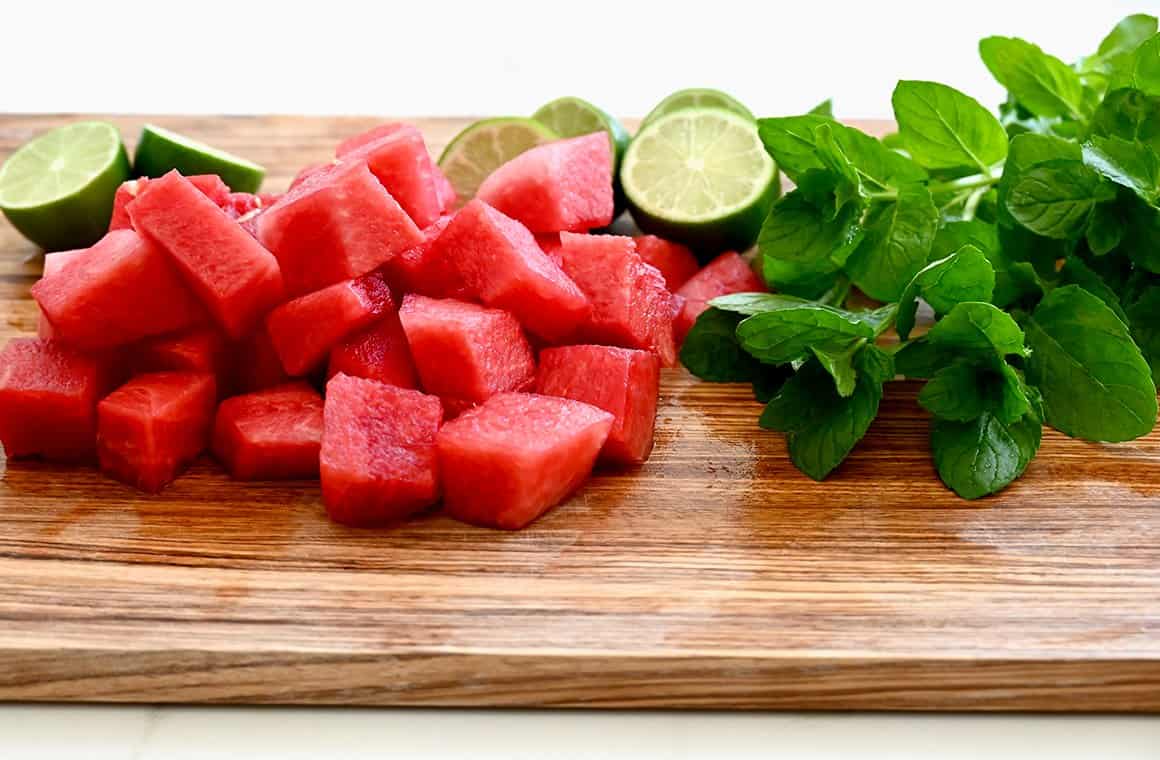 How to Find a Ripe Watermelon
Whereas you typically use your nose to suss out ripeness of fruits, you'll want to use your eyes and ears to find a ripe, sweet watermelon. First, a light tap that produces a deep, hollow sound will mean that a watermelon has more water and thus, is juicier and more ripe. A higher pitched sound typically means a rind is thick and the fruit hasn't completed its ripening process quite yet.
After your sound check, check the stem. If it's yellow or brownish, it's ready to go. Got a greener stem? Give it more time to ripen. Finding the so-called "field spot," that large patchy spot on the surface of a watermelon, is your next step. You'll want the spot to be leaning away from bright green and more of an orange or mellow, creamy yellow shade. In general, a heavy, rounded watermelon is often a sure bet for a sweet, ripe watermelon.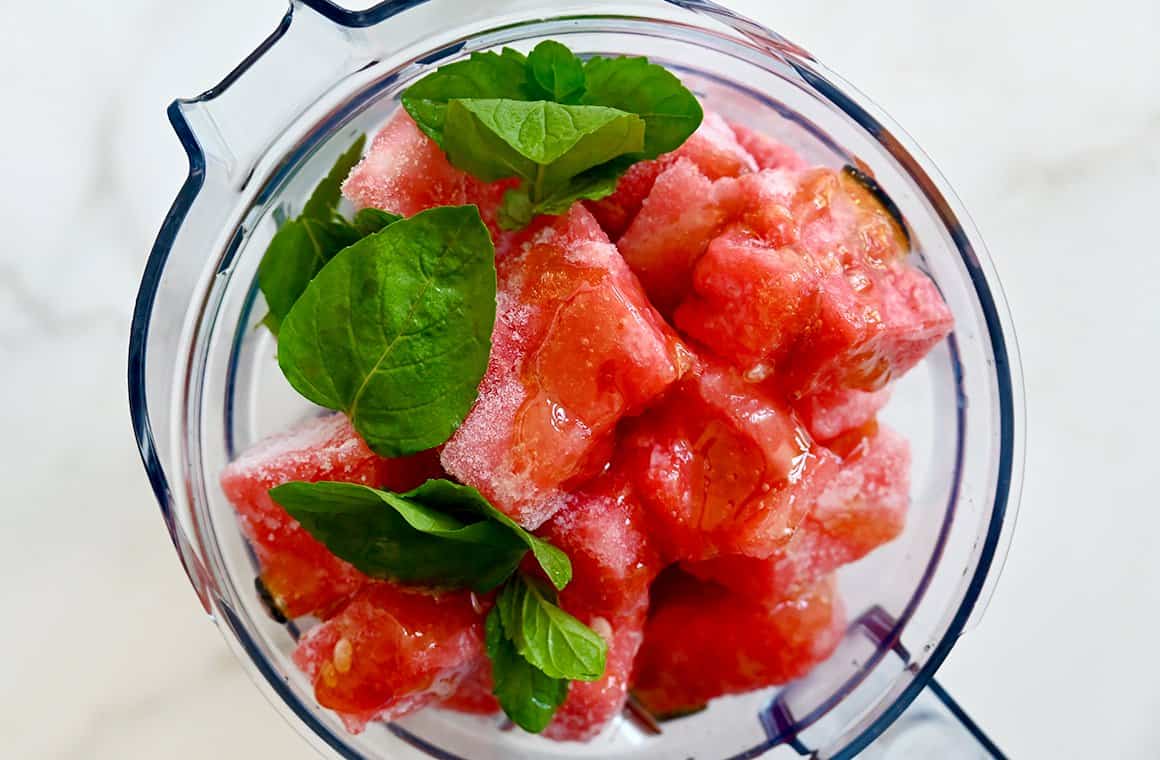 How to Cut a Watermelon
Cutting a watermelon can seem intimidating, but I promise it couldn't be simpler! For the purposes of this recipe, we'll be cubing the watermelon rather than making slices. A lot of watermelons are less than uniform and often pretty oblong, which I admit makes cutting feel tricky. A sharp kitchen knife will be your BFF in this case, as well as a sturdy, non-slip cutting board.

After you trim the ends, you'll have a level base to start cutting the watermelon rind off from top to bottom until you've gone all the way around the melon. Once all the rind is removed, you can cut the watermelon in half lengthwise, then into slices, strips, and finally, into cubes.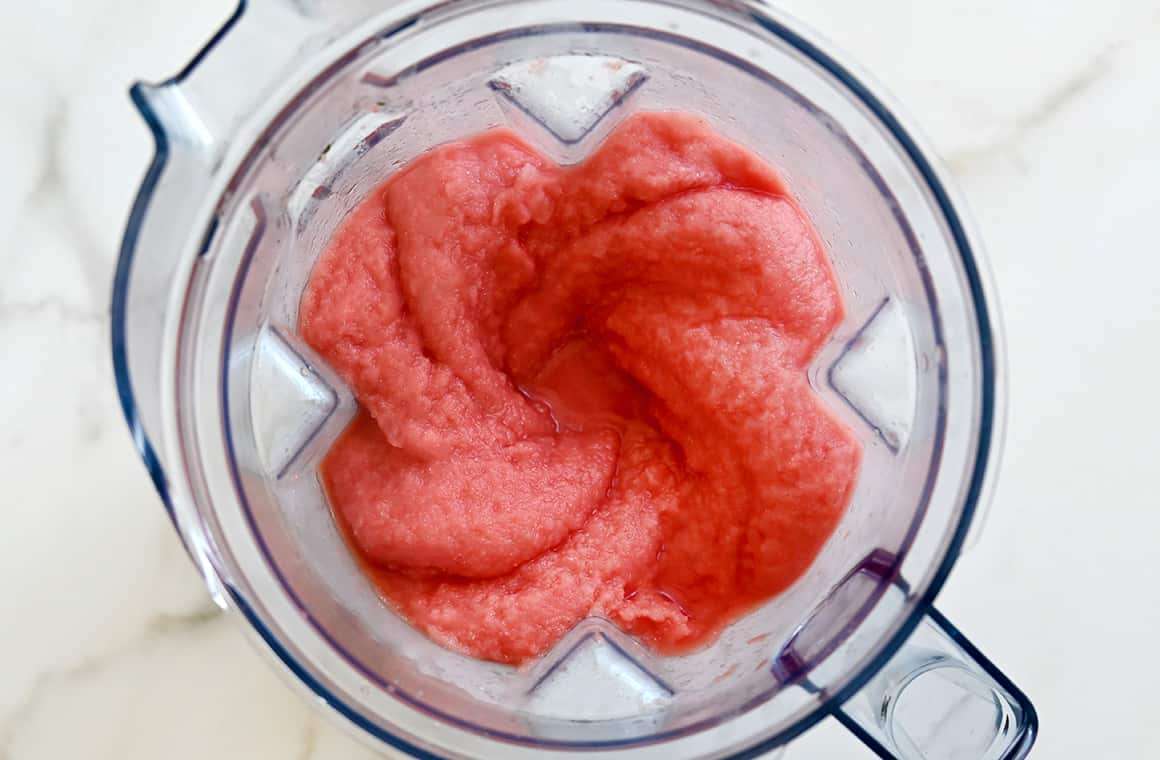 How Long Will Cut Watermelon Last in the Fridge?
Watermelon, whether it's halved, sliced, or cubed, will last when stored properly for 3 to 4 days. For cubes, you'll want to store them in the fridge in an airtight container. For slices, wrap them tightly in plastic wrap to keep in all those sweet juices.
If you've got half of a melon leftover, wrap it as tightly as you can in plastic wrap or aluminum foil and you'll be glad to use it later on in Boozy Watermelon Granita and Watermelon Salad with Balsamic Syrup. And don't forget to freeze any extras for blending into your favorite smoothies and popsicles!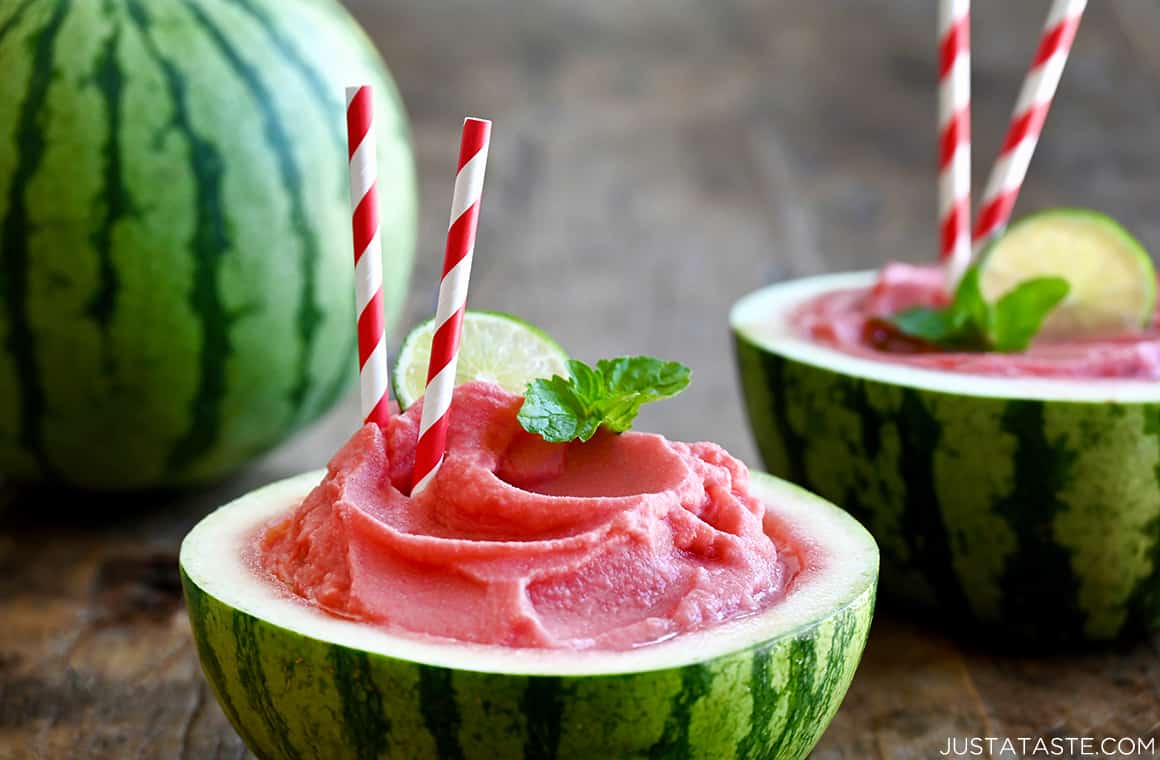 Craving more?
Subscribe to Just a Taste
to get new recipes, meal plans and a newsletter delivered straight to your inbox! And stay in touch on
Facebook
,
Twitter
,
Pinterest
and
Instagram
for all of the latest updates.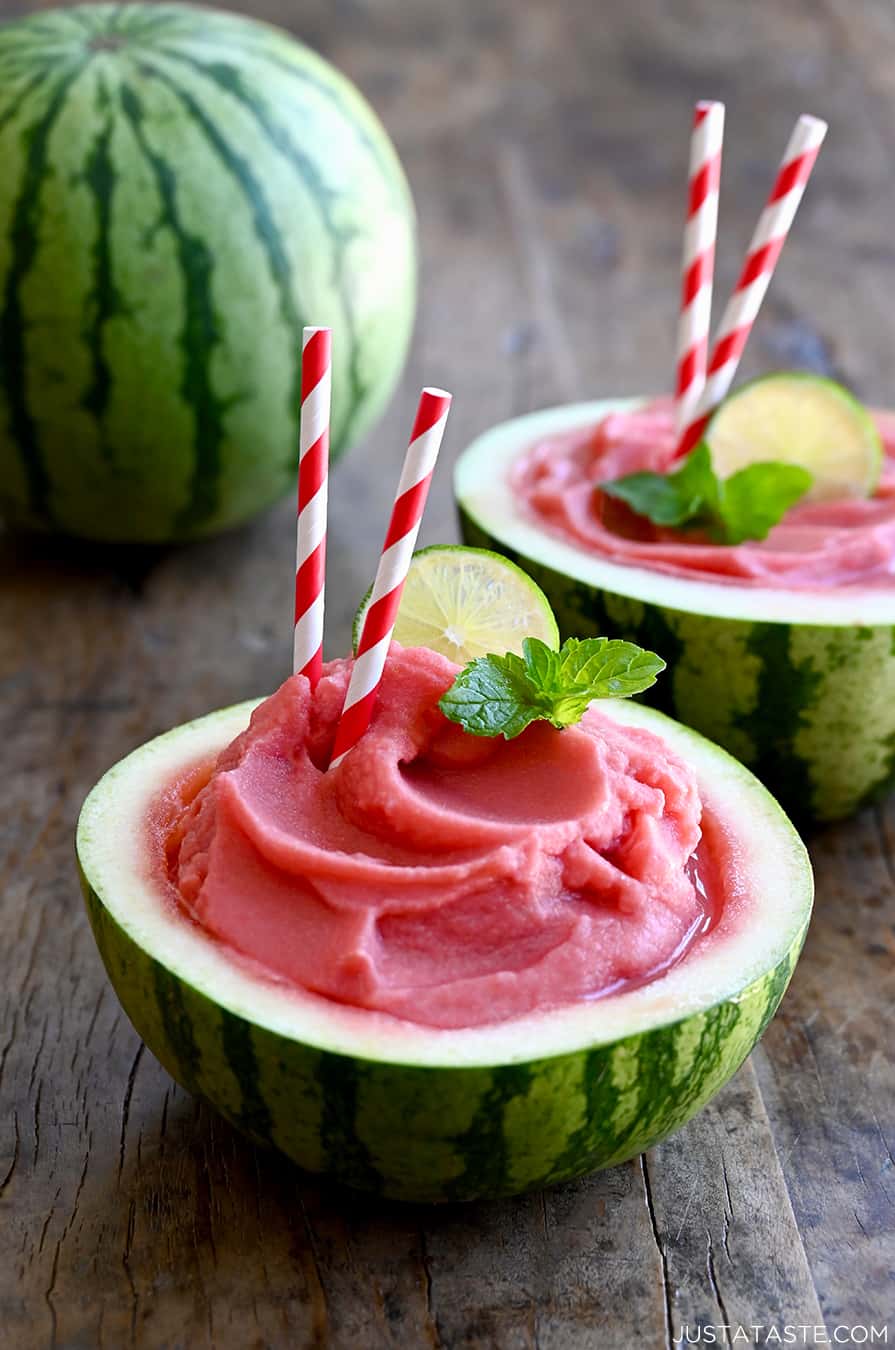 Ingredients
1/4

cup

unsweetened coconut milk

1

Tablespoon

fresh lime juice

2

Tablespoons

honey, plus more to taste 

1/4

cup

loosely packed mint leaves

1

cup

cubed, seedless watermelon (unfrozen) 

3/4

cup

vodka, tequila or rum (optional)

4

cups

cubed seedless watermelon, frozen
Instructions
In a blender, combine the coconut milk, lime juice, honey, mint, 1 cup unfrozen watermelon and alcohol (optional). Blend until pureed then add the frozen watermelon and continue blending until creamy.

Pour into glasses and serve immediately. 

★ Did you make this recipe? Don't forget to give it a star rating below!
Nutrition
Calories:
126
kcal
,
Carbohydrates:
25
g
,
Protein:
2
g
,
Fat:
4
g
,
Saturated Fat:
3
g
,
Polyunsaturated Fat:
1
g
,
Monounsaturated Fat:
1
g
,
Sodium:
6
mg
,
Potassium:
278
mg
,
Fiber:
1
g
,
Sugar:
21
g
,
Vitamin A:
1202
IU
,
Vitamin C:
18
mg
,
Calcium:
24
mg
,
Iron:
1
mg
This post may contain affiliate links.