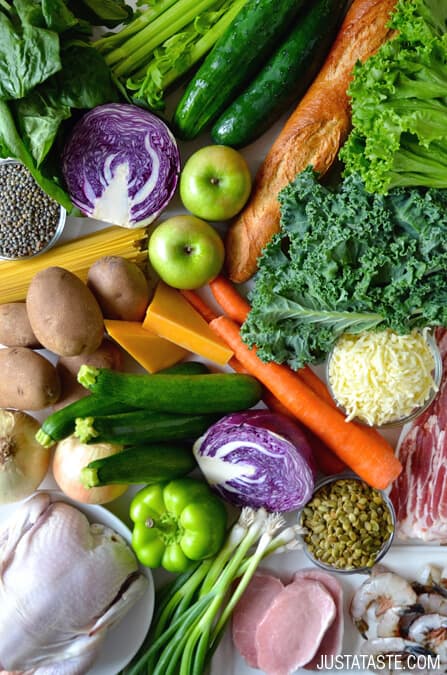 Fourteen homecooked meals with a budget of $125? It was a challenge from Whole Foods Market that I couldn't possibly refuse. My competitive spirit, and let's be honest, my longtime love of their deli counter's cranberry tuna salad, launched me into full-blown research mode to strategize on stretching every cent.
Luckily, I was able to forgo any immediate number crunching, as I'd signed up for a Value Tour at my local Whole Foods Market in Newport Beach, California. The tours are available at Whole Foods stores nationwide and give shoppers a chance to cruise the aisles with a Whole Foods team member, who will share their tips on what, when, where and how to make the most of any given store's sales and seasonal items.
Armed with a tour's worth of helpful information, my next step was to create a meal plan that would feed two people for 14 meals (and as I'd find out, with leftovers feeding up to four!). Fast forward to the next morning and I found myself breezing up and down the aisles at my local Whole Foods like a champion contestant on Supermarket Sweep. Meal plan in hand, I glided around the colorful produce bins and through the baking department, up the canned goods aisle and along the meat counter until finally arriving at the checkout stand.
Item by item was scanned and bagged … $32.54 … $61.73 … $89.51 … $122.68. I gazed down at the conveyor belt. It was empty. Success! And with $2.32 to spare. So how'd I make it happen? Read on for my top tips for shopping on a budget at Whole Foods Market, plus my meal plan that includes two brand-new recipes for budget-friendly Pumpkin Seed Pesto and Clean-Out-the-Fridge Frittata.
5 Tips for Budget-Friendly Shopping at Whole Foods 
1. Meal Plan Like a Pro: This is arguably the single most important element to stretching every cent when it comes to grocery shopping. Creating a meal plan will not only save you time while grocery shopping, but it will also prevent you from over-buying. Make a list and stick to it.
2. 'Tis the Season: Whole Foods Market has long been the standard when it comes to fresh, local and organic produce. Shopping what's in season (and better yet, what's been sourced from local purveyors) cuts costs and guarantees you'll be cooking with the best quality ingredients.
3. I Saw the Sign (and I Paid Attention to It!): All Whole Foods stores post clear and informative signs not only detailing sale items but also instructing shoppers with dietary restrictions and highlighting Whole Foods' own 365 Everyday Value brand, which brings me to …
4. Shop 365 All Day, Any Day: I have been a longtime fan of Whole Foods Market's 365 Everyday Value private line of ingredients. From pasta to chicken stock and cheese to Hoisin sauce, 365 has you covered. And best of all, 365 products are on average 10% less than similar items in the same product category. Long story short: Always look for the red "Everyday Value" signs and the 365 logo (pictured below).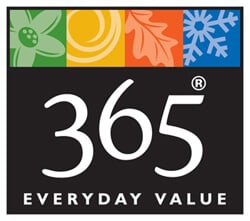 5. Go Big Small at the Bulk Bins: The long rows of bulk bins at Whole Foods, which commonly contain grains, nuts and seeds, aren't just for oversize shopping. Why buy a whole bag of quinoa if you only need ¼ of a cup? Portion out small amounts from the bulk bins and avoid paying for excess ingredients.
My 14-Meal Plan
I've detailed my meal plan below, which features 14 recipes and meal concepts. You can find a majority of the recipes on Just a Taste by clicking each recipe name, and I've provided additional information to limit the cost of each recipe. I did not make all of the recipes exactly as they are written on my site, but rather simplified the ingredient lists and stuck to the similar flavor profiles I know and love in my existing recipes.
It's important to note that this weekly meal plan came in just under $125 and didn't include the costs of everyday items I always have in my kitchen, such as olive oil, butter, garlic, vinegar, salt and pepper.
Sunday Brunch

: Breakfast Bruschetta (top with seasonal veggies)

Sunday Dinner

: Hoisin-Glazed Pork Chops (use 365 Everyday Value Hoisin sauce)
Wednesday Lunch

: Roast Chicken Quesadillas (use leftover chicken from Tuesday lunch)

Wednesday Dinner

: Loaded Baked Potato Soup (leftovers from Tuesday dinner)
Thursday Breakfast

: Egg and Bacon Breakfast Burritos (use 365 Everyday Value tortillas)

Thursday Dinner

: Pumpkin Seed Pesto with Chicken (recipe follows, see below)
Friday Lunch

: Southwestern Scramble with Veggies (use sale-priced vegetables)

Friday Dinner

: Baked Cheddar Chicken Tenders (shop for sale-priced chicken breasts and slice into strips)
Saturday Lunch

: Cacio e Pepe Pasta (shop for sale-priced cheese)

Saturday Dinner

: Clean-Out-the-Fridge Frittata (make the most of leftover odds and ends in your fridge; recipe follows, see below)
Recipe: Pumpkin Seed Pesto Pasta with Chicken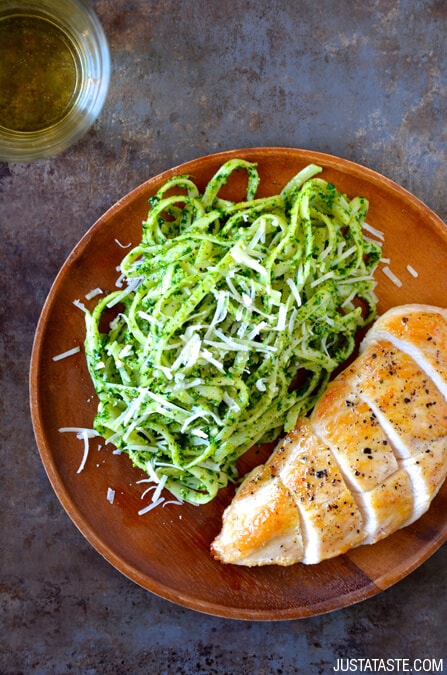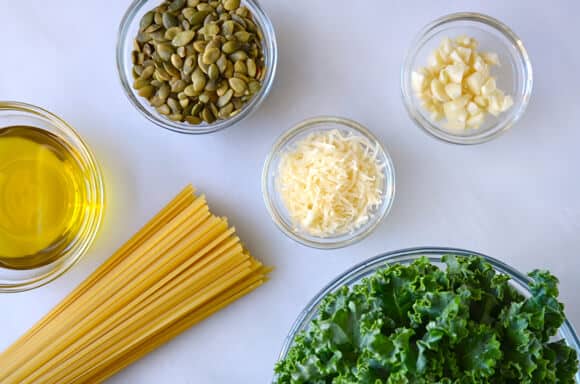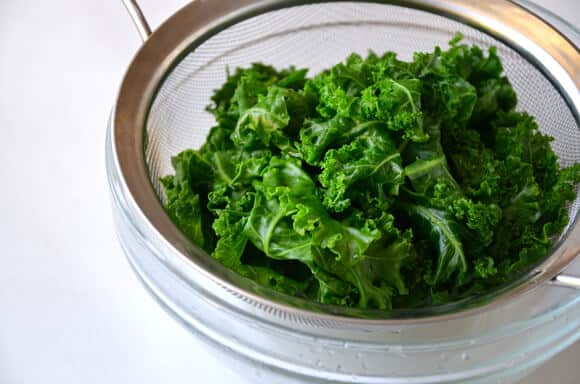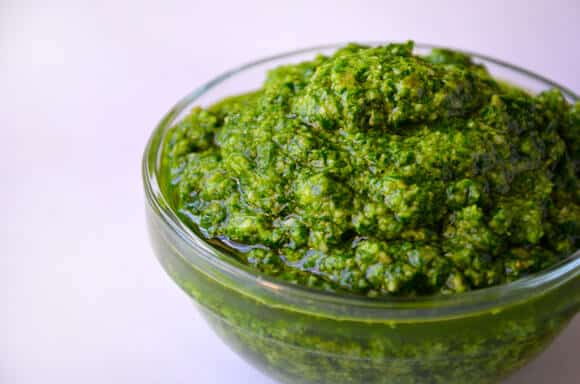 Yield: 4 servings
Ingredients
2 ½ cups lightly packed kale leaves
¼ cup pumpkin seeds, toasted
2 Tablespoons shredded Parmesan cheese, plus more for garnish
3 cloves garlic, roughly chopped
½ teaspoon salt
⅛ teaspoon black pepper
⅓ cup plus 2 Tablespoons extra virgin olive oil
1 pound linguine pasta
4 medium boneless, skinless chicken breasts
Directions
Bring a large pot of salted water to a boil. Blanch the kale leaves in the boiling water for 15 seconds then transfer them into a sieve. (Leave the boiling water on the stove to use for the pasta.) Using a spatula, press the kale leaves firmly into the sieve to release as much water as possible then transfer the kale leaves into a blender.
Add the toasted pumpkin seeds, Parmesan cheese, garlic, salt and pepper to the blender and pulse briefly to combine the ingredients. With the blender running, stream in ⅓ cup of olive oil and continue blending, scraping down the sides of the blender as needed, until the mixture is a smooth puree. Set the pesto aside.
Heat a large sauté pan over medium heat. Rinse and thoroughly dry the chicken breasts then season them liberally with salt and pepper.
Add 2 tablespoons of olive oil to the heated pan. Place the chicken breasts in the pan and allow them to cook until they naturally release from the pan. Flip the chicken breasts once and continue cooking until they reach 165°F and are no longer pink. While the chicken cooks, add the linguine to the pot of boiling salted water and cook until al dente, 9 to 11 minutes.
Drain the pasta and transfer it to a large bowl. Add the pesto to the bowl, tossing to combine. Slice the seared chicken breast and serve it alongside the pasta.
Recipe: Clean-Out-the-Fridge Frittata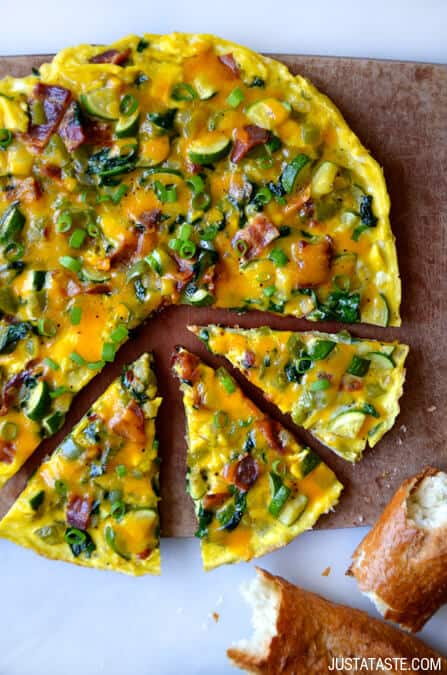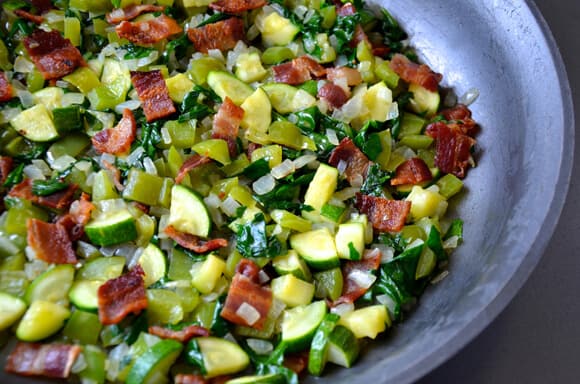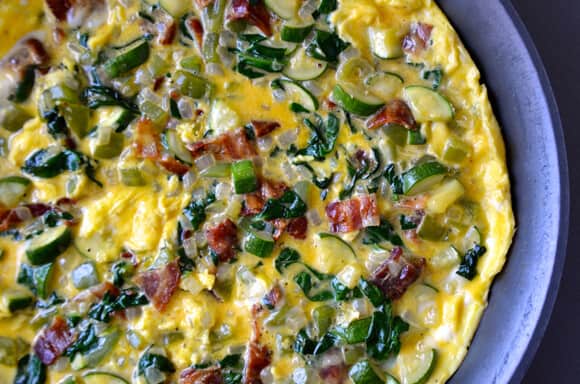 Yield: 4 to 6 servings
Ingredients
6 slices bacon, cut into 1-inch pieces
8 large eggs
1 small onion, diced
1 medium green pepper, diced
2 small zucchini, chopped
2 ½ cups spinach, roughly chopped
½ cup shredded Cheddar cheese
2 Tablespoons sliced scallions
Directions
Cook the bacon in a large nonstick skillet set over low heat. Transfer the cooked bacon to a paper towel-lined plate and pour out all but 2 tablespoons of the bacon drippings from the pan.
Increase the heat to medium and add the onions, peppers and zucchini to the pan. Cook, stirring frequently, until the onions are translucent and the peppers and zucchini are tender, about 5 minutes. Add the chopped spinach and cook just until wilted, about 1 minute. Return the cooked bacon to the pan.
In a large bowl, whisk together the eggs and season with salt and pepper. Pour the eggs into the pan and increase the heat to medium-high. Cook the mixture, lifting up the egg so that the uncooked egg flows underneath until the eggs are almost fully set. Reduce the heat to low, cover the pan and continue cooking until the eggs are fully set. Uncover the pan and turn off the heat. Sprinkle the cheese atop the frittata then cover the pan again for 1 minute (off the heat) until the cheese is melted.
Use a rubber spatula to loosen the frittata from the pan then slide it onto a serving dish and garnish with the scallions. Slice into wedges and serve.
Ready to Shop and Save?
Get recipes, coupons and inspiration delivered right to your inbox with Whole Foods Market newsletters.
Disclosure: I was compensated for this post as part of my partnership in a campaign with Whole Foods Market. All opinions expressed are my own. 
This post may contain affiliate links.