Remember the Banana Nut Pancakes I was eating by the half-dozen a few months ago? Well, they just met their match on the brunch buffet.
There are times when I'm working on a new recipe for the site and I get so enthralled with the food that I forget to take photos. (You'd be surprised how often that happens.) This Banana and Nutella Stuffed French toast is a perfect example of when I have to cook another portion to eat while taking a photo of the final dish because sometimes, well, sometimes 5 minutes is just too long to wait.
The best of the best recipes also result in an email to my family with a subject line such as "Freaking Out" or "ZOMG" or the classic "There Are No Words," which includes a snapshot and some tantalizing text. Needless to say, this recipe sparked a family email chain Sunday morning that stretched into phone calls about said Banana and Nutella Stuffed French Toast well into the night. The melted Nutella, the warmed, yet not mushy bananas, the pronounced eggy taste of the cinnamon-spiked heavy cream coating—this recipe honestly came out of nowhere, but it has become a smash hit. It's like the Jeremy Lin of breakfast foods.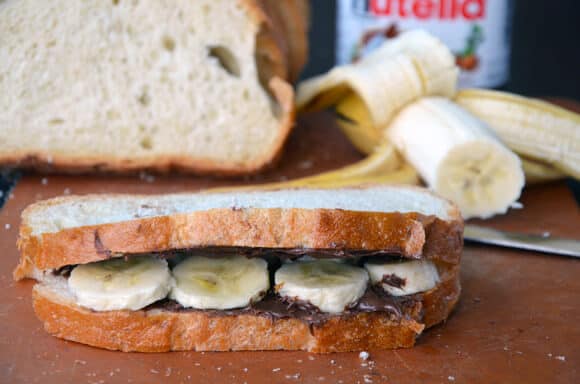 Craving more? Sign up for the Just a Taste newsletter for a second fresh serving of content delivered straight to your inbox each week! And stay in touch on Facebook and Twitter for all of the latest updates.
Banana and Nutella Stuffed French Toast

Yield: 4 servings

Prep Time:

Cook Time:

Ingredients:

8 1-inch thick slices bread
¼ cup Nutella hazelnut spread
2 bananas, sliced, plus additional for serving
¾ cup heavy cream
4 eggs, lightly beaten
2 teaspoons cinnamon
1 Tablespoon sugar
Butter, for frying
Maple syrup, for serving

Directions:

Using a sharp knife, cut a pocket inside each slice of bread being careful not to split the bread into two slices.
Spread a portion of the Nutella inside each pocket and then layer in the sliced bananas.
Pre-heat a large skillet over medium heat and add enough butter to liberally coat the bottom of the pan. You want the pan to be hot, but not smoking.
Whisk together the heavy cream, eggs, cinnamon and sugar in a medium bowl, and then dip each filled bread pocket into the mixture ensuring the bread is fully soaked on all sides. Repeat with the remaining filled bread pockets.
In batches, fry the soaked slices of bread until the egg mixture is fully cooked, about 3 minutes per side.
Top the French toast with additional banana slices and serve warm with a drizzle of maple syrup.