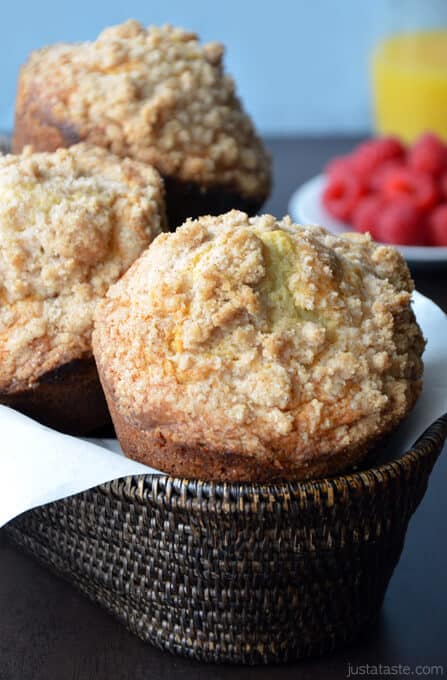 If you're like me, then you like a little coffee cake with your streusel, which is why these jumbo-sized Sour Cream Coffee Cake Muffins star alternating layers of extra-moist cake and cinnamon-sugar crumbles.
Although the words "coffee cake" may prompt you to serve these bad boys for breakfast or brunch, the truth is, they're just as good as an any-time snack as they are as dessert. Pick your choice size and shape when it comes to dishing out the batter. I opted for a large muffin mini-cake tin, but a loaf pan or even a bundt cake pan would produce an equally as moist and addicting result. I serve the muffins hot from the oven slathered with unsalted butter. And so ends my decade-long hunt for the best-ever sour cream coffee cake recipe. Sweet success indeed.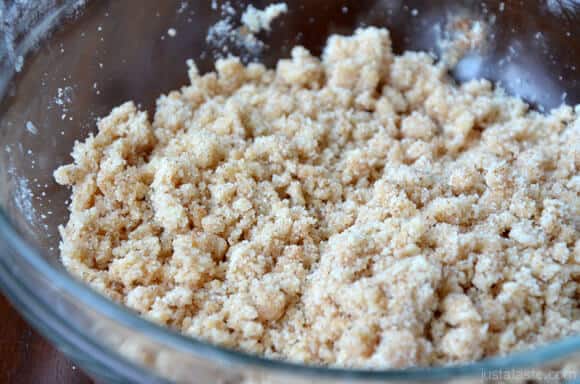 Craving more? Sign up for the Just a Taste newsletter for a second fresh serving of content delivered straight to your inbox each week! And stay in touch on Facebook and Twitter for all of the latest updates.
Sour Cream Coffee Cake Muffins with Streusel

Yield: About 12 jumbo muffins

Prep Time:

Cook Time:

Ingredients:

For streusel:
1/2 cup all-purpose flour
1/2 cup white or packed light brown sugar
4 Tablespoons butter, slightly softened and cut into pieces
1 teaspoon ground cinnamon
For batter:
2 1/4 cups all-purpose flour
2 teaspoons baking powder
1/2 teaspoon baking soda
1/4 teaspoon salt
1/3 cup (5 tablespoons) butter, softened
1/3 cup vegetable oil
1 cup sugar
2 large eggs
1 cup (8 oz.) sour cream
2 teaspoons vanilla extract

Directions:

Preheat oven to 350°F. Grease muffin tin with cooking spray.
Prepare the streusel topping by combining all ingredients in a small bowl, using a fork to cut the butter evenly into the dry ingredients until well incorporated. (It should be the consistency of wet sand.) Set aside.
In a medium bowl, combine the flour, baking powder, baking soda and salt. Set aside.
In the bowl of a stand mixer fitted with the paddle attachment, beat the butter, oil and 1 cup sugar on medium speed until well mixed. Add the eggs, one at a time, beating well after each addition.
Reduce mixer speed to low, and then gradually beat in the flour mixture, sour cream and vanilla just until combined. (Do not overmix!)
Layer the batter and streusel in the prepared muffin tin by spooning a portion of the batter, then a sprinkle of streusel, topped by another portion of batter and a final sprinkle of streusel on top.
Bake muffins for about 25 minutes, or until a toothpick inserted comes out clean. (See Kelly's Notes.)
Remove muffins from oven and let cool in tin for 5 minutes before transferring to a cooling rack.
Kelly's Notes:
The baking time will vary based on the size of your muffins. I opted for oversize muffins, however regular-sized muffins could take anywhere from 15 to 20 minutes. The key is to rely on the toothpick test to determine doneness.